Mexico City with kids
By Michelle Rae Uy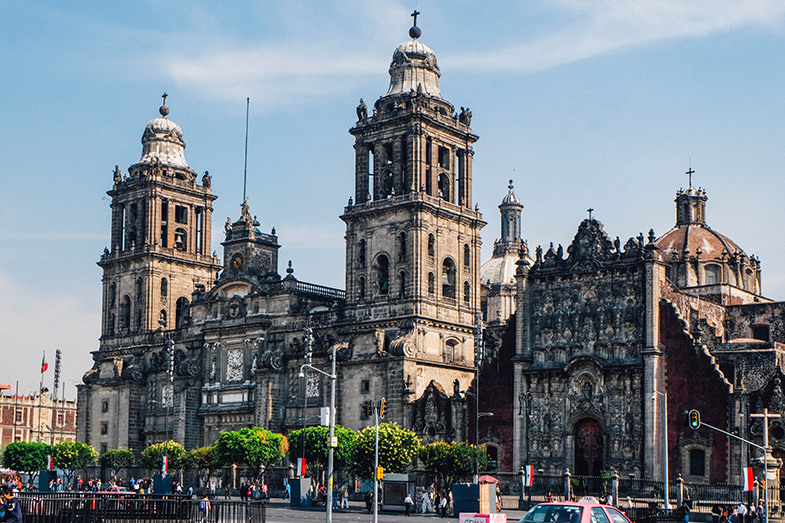 Looking for some of the best things to do for families in Mexico City? Here are some ideas. (Photo: Michelle Rae Uy)
If you have never been to Mexico City, it's a good time to add it to this year's bucket list. The pulsating metropolitan—and Mexico's capital city—oozes with culture, culinary delights, and an endless amount of charm.
Mexico City is an excellent venue for a rich and unforgettable vacation with the kids. Its cobblestone streets and vibrantly painted walls provide the setting. Its artistic and dreamy vibe sets the tone. Its museums, formidable restaurants, street and outdoor art, thriving music scenes, and magnificent architecture, present epicurean experiences.
Here are five of its best things to do for families.
(MORE: Mexico's Prettiest Towns For Family Travelers)
See the Stunning Architecture in the Historic Core
Mexico City's kid-friendly Historic Center may attract the most tourists, but it's far from a tourist trap. With its historic buildings and streets, it is, without a doubt, one of the best things to do for families in the city. The main square, home to the National Palace and the Metropolitan Cathedral, was built atop the Aztec settlement of Tenochtitlan.
Start your walking tour here where the ruins of Templo Mayor and Mexico's first university are nearby. Stop by to refuel at Maison Kayser whose delicious sweets are adored by both kids and adults. Continue on to Palacio Postal to see its stunning interior and pop into The House of Tiles to admire the exquisite tile work.
There are many other historic treasures in the area, so embrace a languid pace and meander about. For dinner, the enchanting Azul Historico is just the ticket for delicious Mexican fare and cocktails.
Admire Palacio de Bellas Artes and the Sculptures in Alameda Central
Cross the street from Palacio Postal to admire the Palacio de Bellas Artes. Its iconic Art Nouveau façade and Art Deco interiors are two of Mexico City's most photographed spots. The cultural center is nothing short of spectacular, and definitely worth pulling over for. Visiting this landmark is one of the best things to do for families in the city. It regularly hosts shows, events, and performances, so check their schedule before your visit.
Later, blaze your own trail around the neighboring Alameda Central. The serene park is a nice respite from the city's bustle, and there are benches to drop anchor in for an hour or so. Make wishes at the massive fountains, and take time to appreciate the outdoor sculptures scattered about.
For breakfast or lunch, the Mexican and Thai fusion restaurant of Café 123 is only seven minutes away on foot.
Ride the Trajinera in Xochimilco
Head to the borough of Xochimilco, and experience what's left of ancient Tenochtitlan's surrounding canals. The place of flowers, one of the oldest delegaciónes in Mexico City, is famous for its relaxing but fun trajinera rides. There are seven different piers, but it's the Embarcadero de Nativitas that draws the most crowds.
Rent a colorful trajinera by the hour, and drift on the canal whilst enjoying refreshing drinks. It's one of the best things to do for families in Mexico City. You'll see wonderful scenes of the local river life and even get serenaded by a passing mariachi band—for a price, of course. Come early to avoid crowds or come late in the afternoon for a twilight ride.
For food, you can pack your own feast or sample the roasted corn and other treats being sold by vendors floating about in their private boats.
Explore Coyoacan and the Frida Kahlo Museum
Kid-friendly Coyoacan was home and favorite haunt to some of Mexico's most prominent intellectuals and artists like Frida Kahlo, Diego Rivera and Salvador Novo Lopez. And it remains to be Mexico City's creative center today. Unsurprisingly, it also happens to be the city's most vibrant and most effervescing districts.
One of the best things to do for families in the city is to explore this gorgeous area. The kids will love the vibrantly painted, bougainvillea and street art decorated walls and buildings. The adults will enjoy visiting its historic sites, including Plaza Hidalgo, Casa de Hernan Cortés, and Parroquia San Juan Bautista. Refuel at Café El Jarocho, which makes excellent Cappuccimocha, then explore the Frida Kahlo Musuem.
Lunch and drinks must be had at Corazon de Maguey. Authentic Mexican fare and delicious drinks meet artistic themed interiors at this popular spot in Jardín Centenario.
(MORE: Top 5 Ruins in Mexico That Families Should Visit)
Eat Your Way Through the City
If you haven't realized it yet, you will soon enough—Mexico City is a gastronomic destination. The metropolis is, as pedestrian as it may sound, a foodie's paradise. And it hosts some of the most inventive, most exciting culinary experiences you'll ever have in your life.
There are too many amazing, kid-friendly restaurants to consider. However, Merotoro in Condesa, Dulce Patria in Polanco, and El Moro Churreria in Roma are great places to consider, to start.
Michelle Rae Uy contributed this to MiniTime. She is a travel writer based in Los Angeles and MiniTime's Head of Content, who spends her free time on adventures and film photography.