Get wet and cool down this summer at the best waterparks in the country.
By Jordan Estrada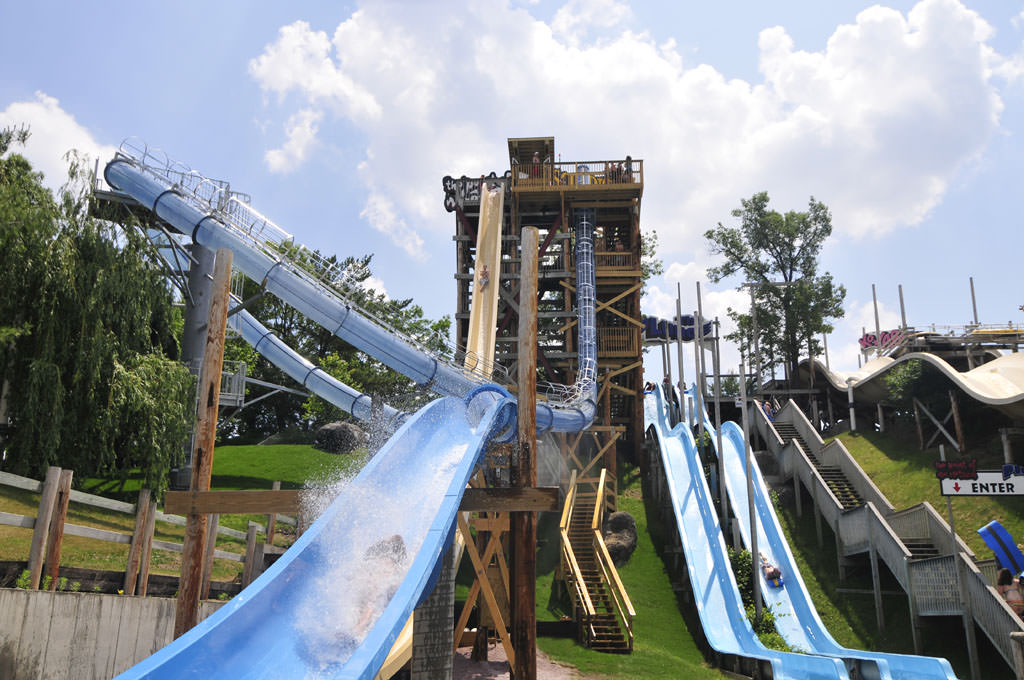 Noah's Ark Water Park (Courtesy Noah's Ark)
With so many waterparks located across the US, it is important to know which ones have the whole package, with rides ranging from easy float-along rivers to towering water slides that send you zipping down extreme drops. So if you are already feeling the need to get your fill of fun in the water, consider one of these 10 parks, all of which cater to families and provide a safe and exciting environment where kids and their parents can indulge themselves in watery thrills.
Noah's Ark Family Park, Wisconsin Dells, Wisconsin
Noah's Ark Family Park will indulge visitors who want to plummet down huge drops on inflatable inner tubes, zip around high-speed turns on thrilling water slides and lay back in gentle rivers and pools, all while spending time with the ones they love. Families can also enjoy some activities outside the water at the 4D Dive-In Theater or arcade area.
Water Country USA, Williamsburg, Virginia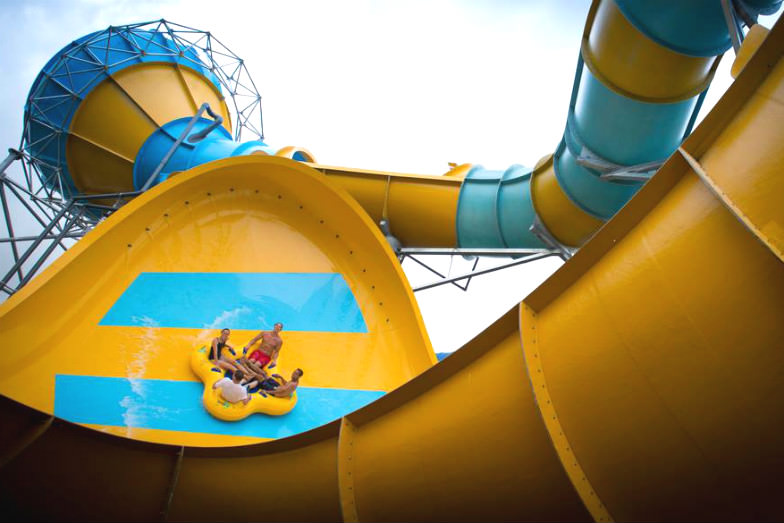 Water Country USA (Courtesy Water Country)
Water Country USA is a kid-friendly waterpark where visitors can let the hours pass while laying back in a private cabana or spend their day enjoying spine-tingling thrills on various water rides and slides. Families can stop at the Catalina Grille for a bite to eat before checking out the Surfer's Bay Wave Pool where people young and old can try to hang ten.
Six Flags White Water, Atlanta, Georgia
Six Flags White Water is made for everyone, boasting numerous family rides, kiddie rides and a host of stimulating thrill rides for those who want to test their courage while getting soaked. With so many rides to choose from, visitors can experience speedy chute slides, curvy open-top tube rides, festive activity pools and wave pools all in one day.
Schlitterbahn, Kansas City, Kansas
Schlitterbahn Waterpark is home to the tallest water slide in the world (Verruckt), so families who enjoy getting their adrenaline pumping will not want to pass up visiting this attraction if they are ever in Kansas City, Kansas. It has several interwoven rivers with rapids and currents, 13 miniature water slides for small children and a Boogie Bahn surf ride where visitors can surf on a non-stop wave.
Raging Waters, San Dimas, California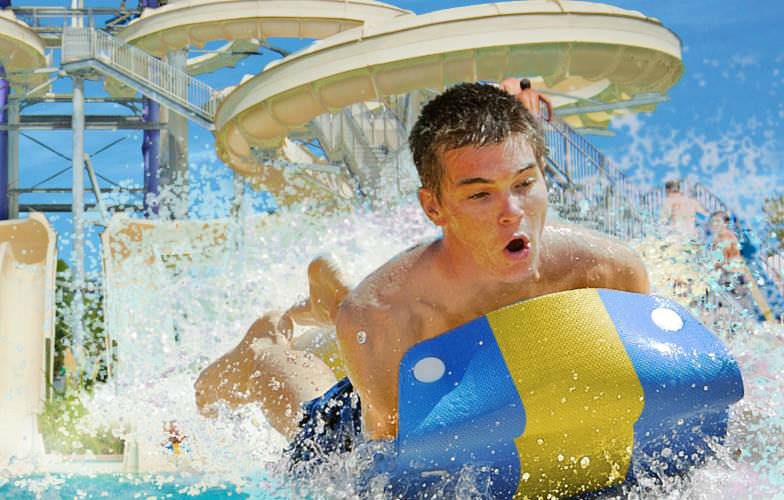 Raging Waters (Courtesy Ranging Waters)
Raging Waters is the ultimate family waterpark destination with more water slides that any other park in all of Southern California. Lockers can be rented to store items while visitors enjoy a worry-free day competing at the Ragin Racer or kicking back in a beach-like environment at the Wave Cove. (Hate waiting in lines? H2Go passes let you reserve your spot while you enjoy other fun activities in the meantime).
Disney's Typhoon Lagoon, Orlando, Florida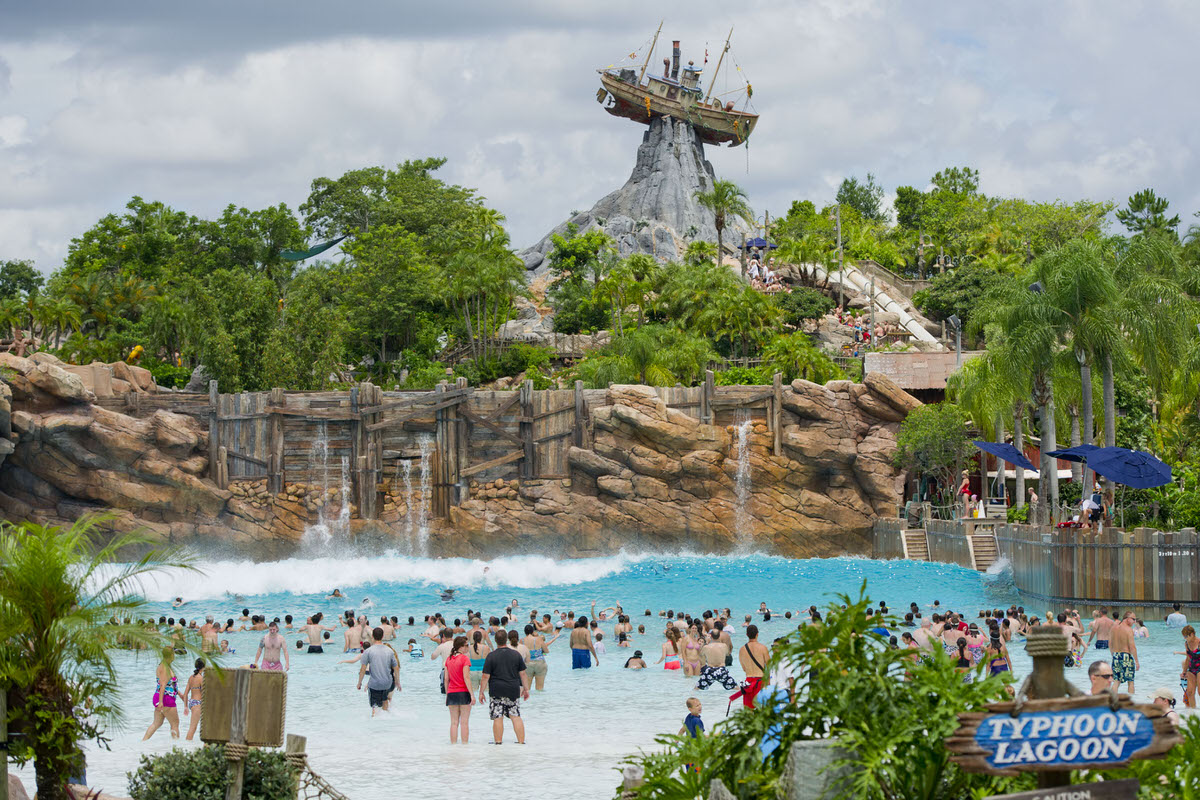 Disney's Typhoon Lagoon (Courtesy Disney)
Families visiting Walt Disney World can spend a day in a world of sea-inspired wonder at Disney's Typhoon Lagoon. Lots of work went into making this park, from its sunken tanker at the Shark Reef attraction to its many waterfall slides that weave through rocks, trees and small lagoons that will make you think you are shipwrecked on an island.
Water World, Denver, Colorado
From its eight lane Turbo Racer slide to its Calypso Cove area for children, Water World in Denver has rides to entertain any age group. Wave pools, tube slides, and unique rides with fast turns and huge splashes await families who can purchase an All Day Feast Wristband good for all-you-can-eat meals at Pharaoh's Feast.
Wet 'n Wild Orlando, Orlando, Florida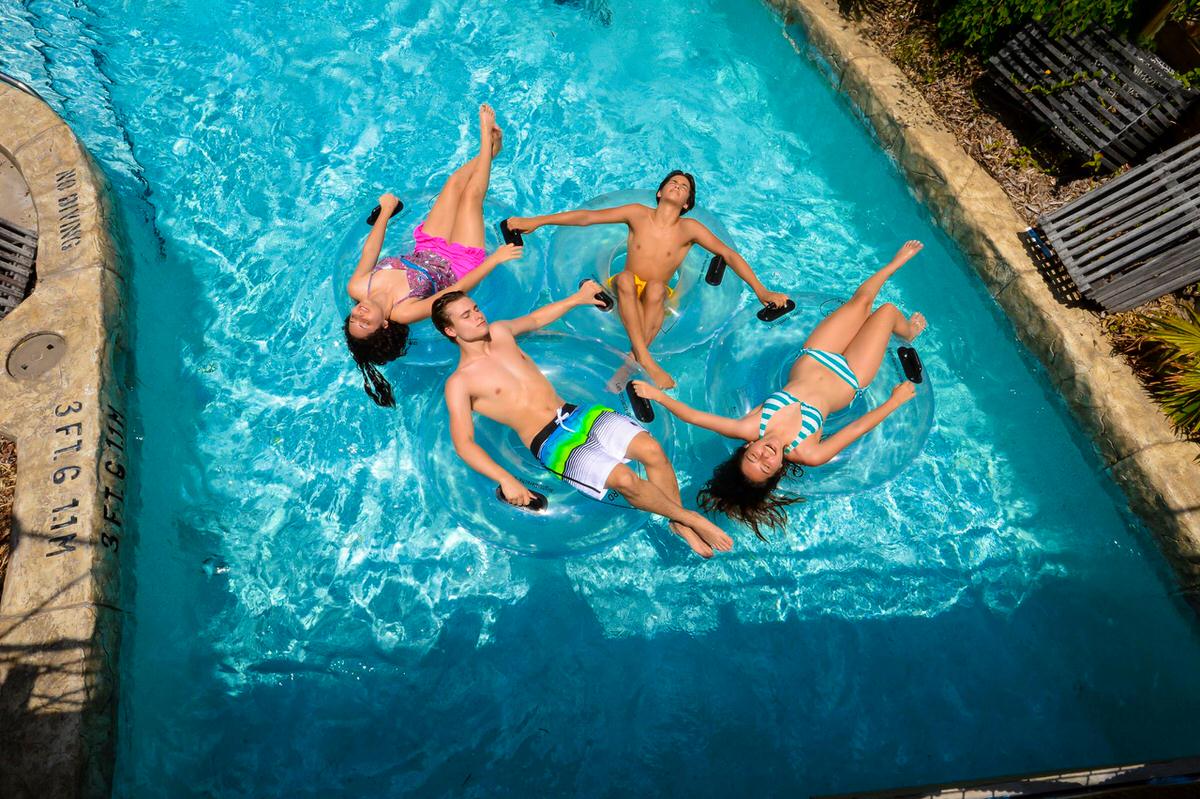 Wet'n Wild Orlando (Courtesy Wet'n Wild)
Wet 'n Wild Orlando really lives up to its name by featuring some of the wildest rides around including the Aqua Drag Racer that lets visitors hit top speeds while racing down a 360 foot slide. Kids will love the castle at Blastaway Beach while moms and dads looking to relax can float along in the lazy river.
(MORE: 6 Best Water Parks in the Caribbean)
Holiday World & Splashin' Safari, Santa Claus, IN
Holiday World & Splashin' Safari is two theme parks in one, but do not let that make you think that this means the waterpark is lacking in fun and excitement. The Bahari Wave Pool will send wave after wave as families see how far they can wade, while rides like the Mammoth water coaster and Otorongo water slide are sure to make visitors scream with joy.
Dollywood Splash Country, Pigeon Forge, Tennessee
When visiting waterparks in Tennessee, why not stick to the theme of great music by visiting Dollywood Splash Country, owned by country legend Dolly Parton. From young children to grandparents, all can find a ride they enjoy whether its drifting along on the Downbound Float Trip or feeling yourself hit high speeds on slides like Mountain Scream.
Jordan Estrada contributed this to MiniTime. He is a freelance travel writer from Southern California who spends him time gardening, studying music and performing with his band.