What to eat with kids in France
By Sonia Esther Soltani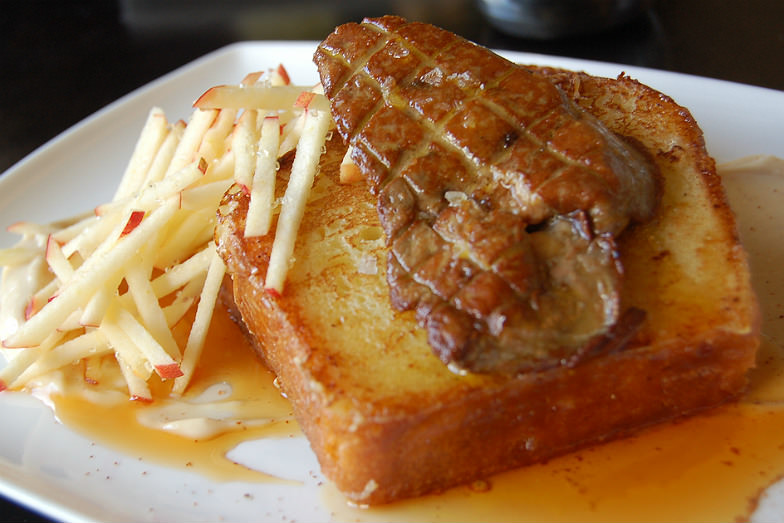 Foie gras on toast (Flickr: snowpea&bokchoi)
French cuisine is without doubt one of the most popular in the world and a reason in itself to travel to France. It can be simple and tasty based on fresh local produce or sophisticated and fancy devised by Michelin-starred chefs and patissiers. Either way it's certain to create memorable meals you'll speak about long after you've returned home.
Families traveling with kids to France might have some concerns: will you be served frog legs and snails everywhere they go? Will the little ones have to drink wine to fit in with the locals? Is there such a thing as vegetarian offering? And more worryingly, how will you order without speaking a word of French? In her user-friendly, informative, and entertaining book, "The Farm to Table French Phrasebook," French native who's lived in California Victoria Mas tackles all these usual questions and much more. It's a great tool to get acquainted with French cuisine's specificities, learn the most useful phrases to order and buy food, and know your "éclair" from your "religieuse" (both emblematic French patisseries) among other foodstuff you and the kids will enjoy sampling during your French vacation.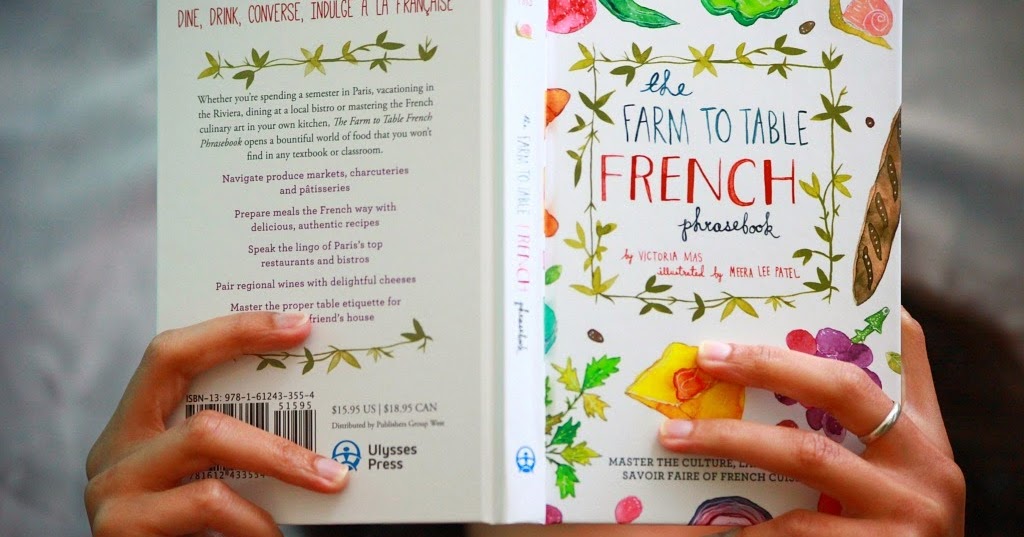 The Farm to Table French Phrasebook (Victoria Mas)
Here Victoria shares some insights into traveling to France with kids and making the most of the culinary experience. She also shares the recipe for ratatouille, not just a great family-friendly animated movie but a favourite dish among French kids.
(TRIP PLAN: Find out which kid-friendly attractions one family visited during their trip to France.)
Q: Which French foods are certain to delight the kids when traveling in France?
A: Children will inevitably be pleased by any trip to the local bakery. From the classic pain au chocolat to the sweet éclair au café, any kind of pastry will surely appeal to them.
Q: Tell us about an ideal menu for breakfast, lunch and dinner for the whole family.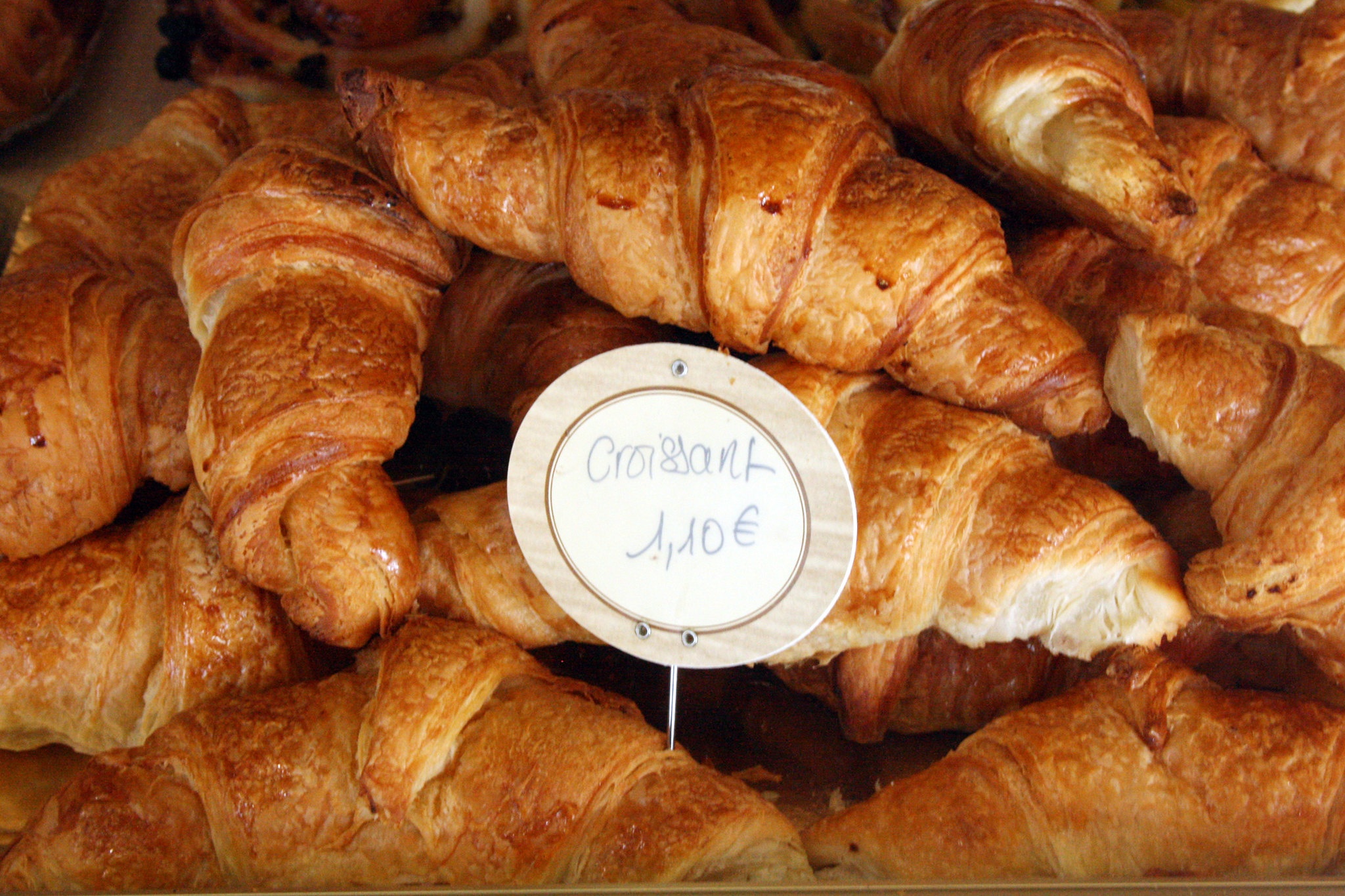 Croissants (Flickr: Glen Scarborough )
A: A typical family breakfast includes beverages such as coffee, hot chocolate or hot milk and orange juice and food such as cereals, toasted bread and croissants. Lunch time involves a dish with meat or chicken, with a side of rice or potatoes. Some cheese is usually part of lunch as well, and you may include a typical dessert such as crème brûlée or fondant au chocolat. Dinner favors a single meal such as soup, salad or pasta.
Q: What about the food considered more challenging such as smelly blue cheese, snails, goose liver, oysters, or frog legs; is it worth having the kids try them out?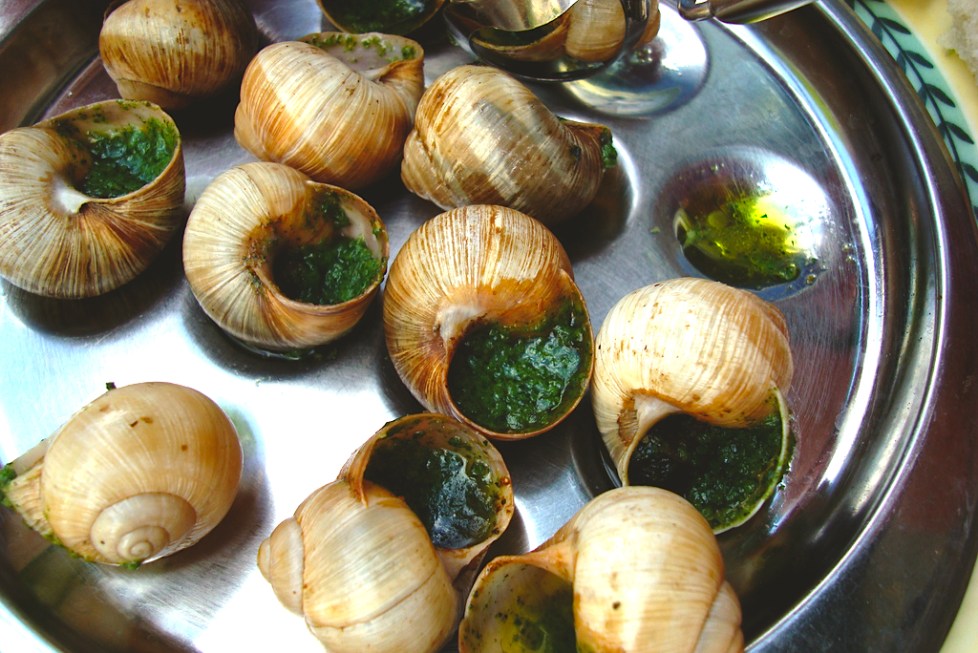 Escargot (Flickr: Fabio Sola Penna)
A: Trying out any type of dish, even the most unusual, is one of the ways to explore and learn about another culture. However I believe it is safer to ask children beforehand if they are willing to taste goose liver or frog legs. Those aren't exactly the most appealing food, and although they are part of French cuisine they are not consumed daily.
Q: What are the most useful phrases families should learn how to pronounce?
A: The French are particularly keen on manners. You should be able to say "Excusez-moi." (Excuse me.), "S'il vous plaît" (Please), and "Merci!" (Thanks!) or you'll be frowned upon. When you need to ask something, introduce your sentence by "Pourriez-vous…" (Could you…). In the case you needed to speak in English, ask beforehand "Parlez-vous anglais?" (Do you speak English?). A polite addressing is sure to receive a polite reply.
Q: How easy it is for families with kids that have allergies or special diets to eat out in France?
A: You can find vegetarian alternatives in restaurants, although the choice is very limited compared to the prominent dishes with meat. Vegetarian dishes often include cheese, which isn't helpful if you are lactose-intolerant or a vegan. There exists a few vegetarian and vegan restaurants in Paris, but it is taking time to adapt to new diets.
Q: Which restaurant types are the most family-friendly in France?
A: Brasseries are a mix between cafés and restaurants with a friendlier and more welcoming vibe. The menu is so varied it will appeal to all members of the family, and since they usually offer french fries, children will be inevitably pleased.
Q: Do French kids really drink wine at lunchtime?
A: Absolutely not ! In France you can't legally buy nor drink alcohol before 18.
Q: What foodstuff families should bring back as souvenirs?
A: It is very tempting to bring back a maximum of diverse food from your trip to France. I suggest bringing back something for at least each meal : for instance, homemade jam from a local producer for an amazing breakfast; tapenade or foie gras for great lunch toasts; sweets like nougat or quatre-mendiants as delicious snacks; and a bottle of red wine for a perfect dinner.
Q: For families traveling to France during the Holiday (Christmas/New Year's Eve) season what's likely to be on the menu?
A: When traveling to France during the Holiday season, you will be able to indulge in all the typical food shared during this period, such as the usual foie gras and bûche glacée for Christmas, or champagne and oysters for New Year's Eve.
(MORE: Find wonderful kid-friendly hotels to stay in Paris.)
Q: Which authentic French recipe can families replicate at home?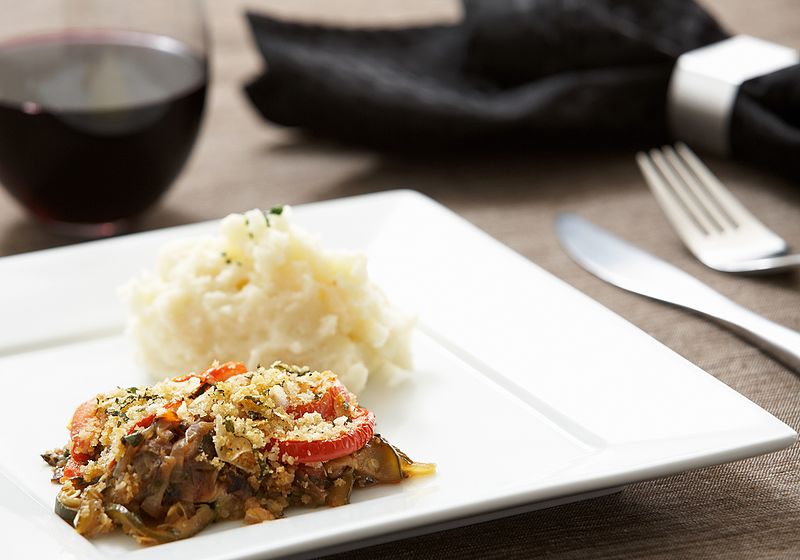 Ratatouille (Flickr: Breville USA)
A: While many French recipes require time and skills to prepare, there are some easy and approachable recipes that make way for the tastiest dishes. If you wish to experience a simple yet classic French dish with a touch of Provence, opt for ratatouille : four round tomatoes, two zucchinis, one eggplant, and two red peppers suffice as major ingredients. Cut each of them into dice. Heat over slow-heat 2 teaspoons of olive oil in a large frying pan. Pour in the pan your vegetables. Season them with chopped thyme, basil and rosemary, salt and pepper, as well as chopped garlic cloves and onion peels. Cook and stir regularly for about an hour. Serve with rice or bread. Bon appétit!
The Farm to Table French Phrasebook by Victoria Mas is available from November 2014 from Ulysses Press.
Sonia Esther Soltani contributed this to MiniTime.