Montebello, Québec
By Suzanne Hackert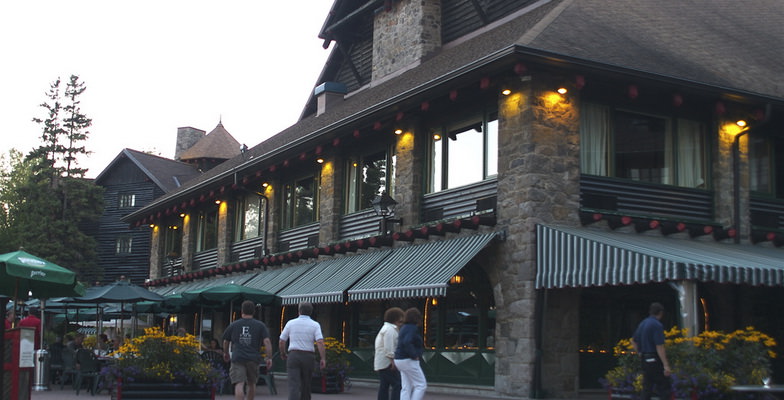 Why Go: Start with one of Canada's most historic and illustrious hotels, add kids, et voilà! You've got the makings of a fun winter getaway. The drop-dead gorgeous Fairmont Le Château Montebello, located in the wilderness of the French-speaking province of Québec, is a fabulous example of an upscale hotel that provides elegance and sophistication but also manages to be genuinely family friendly. The resort is one of eastern Canada's leading destinations, and is famed for its rugged stylishness. The enormous "log château" was built as a lavish hunting and sporting lodge in 1930. Its construction made headlines across the world for its sheer ambition, for it required over 10,000 giant cedar logs and a team of artisanal craftsmen from around the world. It is still the largest log structure in the world.
Just stepping into the magnificent lobby—a spectacular, three-story atrium with soaring ceilings and exposed cedar logs on every surface—is enough to cause even the most cynical jaw to drop. Smack in the center is a massive stone hexagonal fireplace with a central chimney. The room is dotted with leather wingback chairs arranged in cozy sitting areas. On some tables, checker and backgammon boards are set up, inviting you to play. The resort has hosted heads of state and caters to a wide spectrum of guests, including business folk and romantic couples. And yet, there is no whiff of pretentiousness or stuffy formality here. The staff is flawlessly polite and accommodating, and families with young children are not merely tolerated, but made to feel truly welcome and valued.
From its conception, the château aspired to offer every possible sporting activity and, more than 75 years later, it comes pretty darn close to living up to the dream. Wintertime options include ice skating, horse-drawn sleigh rides, broomball, tobogganing, snowshoeing, cross-country skiing, tubing, dogsledding, snowmobiling, and ice fishing. When it gets too cold, you can flee indoors for swimming, tennis, squash, basketball, curling, board games, or a game of pool. There's also a health club and spa.
Our correspondent, Suzanne Hackert, and her family tried out the resort's two-night "Winter Family Fun Package," offered January through mid-March. It includes accommodation for two adults and two children 12 and under, a half-board meal plan for the entire family (daily buffet breakfast, one bistro dinner, and one table d'hôte dinner), participation in the kids' morning activity program, kids' movie nights, family admission to the nearby Oméga Park wildlife park, a horse-drawn sleigh ride, plus an activity of choice, such as curling. The package also provides complimentary access to the sports center and indoor pool, squash and tennis courts, as well as to cross-country skiing and the ice skating rink. Plus: Every child receives a free gift (usually a tee-shirt or a cap with the resort logo ).
Getting Oriented: Le Château Montebello sits alongside the rambling Ottawa river, deep in the Québec hinterland about midway between Montréal and Ottawa. It's surrounded by 65,000 protected acres of pristine, wooded wilderness. ("A northern getaway of the best kind"). The nearest town, Montebello, is small and rather nondescript, and the closest downhill ski mountain is about an hour's drive away. No matter. The resort is a destination in itself and offers more than enough to keep you busy. The winter activities are based on the grounds within easy walking distance of the château.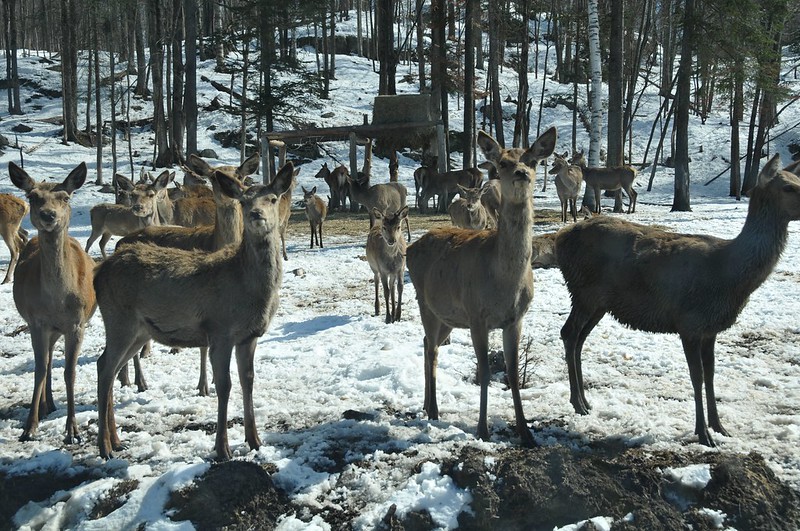 Getting Around: It's a park-and-stay kind of place. All activities included in the family package are on-site except for Oméga Park, which is a 5-minute drive away.
We Are Family: Though not exclusively a family resort, the Fairmont Le Château Montebello makes a strong effort to provide a family-friendly environment, with the kind of facilities and services that parents need. The atmosphere in the public areas is very relaxing, which encourages you to slow down and enjoy quiet moments. Hackert and her family particularly loved spending time in the stunning lobby. ("Just beautiful, and easy to find a private, cozy spot to settle into a game or a good book.") You can borrow board games from the front desk, which 9-year-old Sam really loved.
If you've brought a baby or toddler, the resort will furnish a crib and baby accessories at no extra charge. While there is no nursery room for children under 4, in-room babysitting is available day or night for a minimum of three hours (which starts at $39CAD/$38USD for one child or $46CAD/$45US/ for two children; 24 hr notice requested. Babysitters are local residents, and all are certified. Unlike at many hotels, there is no minimum or maximum age for in-room sitting.
On weekend mornings (and on weekdays during busy school breaks), 4- to 12-year-olds can attend the supervised kids' activity room (Sat 9am-noon; Sun 9am-1pm). The "good-size and cheerful" room is well staffed. ("Three friendly ladies were on duty both times we visited, even when there were only a few children inside.") It features several arts-and-crafts tables, a selection of toys, and a TV. Something to consider: Most of the toys in the room appeal to 4- to 7-year-olds, with little of interest for 8-and-ups except for the arts and crafts. ("Sam would get bored after a while.") The Family Fun package includes complimentary use of the kids' activity room on both mornings (normally $16CAD/$15.78US/day for 4- and 5-year-olds; $30CAD/$29.59US/day for 6- to 12-year-olds). These morning kids' clubs give parents free time to enjoy the spa or linger at Sunday brunch. For older kids and teens, there's an arcade with air hockey and about a dozen games, and there's a pool table in the Seigneurie Bar (open to children and teens 5:30pm-11pm with supervision; adults only after 11pm).
The Family Fun package encouraged Hackert and her family to stay busy trying different activities. One of the weekend's highlights was the visit to Oméga Park, a 1,500-acre enclosed, drive-through wildlife park ("just beautiful–even in the dead of winter") where you can get up close and personal with resident moose, bison, wapiti (elk), wild boar, Corsican moufflon (sheep with long, curved horns), black bears, arctic wolves, timberwolves, Alpine ibex (wild goats), raccoons, and beavers. ("This was great fun and my children haven't stopped talking about it.") There's a gift shop where you can buy snacks as well as carrots to feed the animals from your car window. ("It's so exciting to have these large animals come up to your car and greet you!") Animals are segregated into their own habitats, with dangerous species kept safely behind fences. In designated areas, you can get out of your car and hike on nature trails. Sometimes, deer will approach and eat right out of your hand. . Note: Admission, which normally costs $38CAD ($40US) for a family of four, (during the winter) is free with the Family Fun package.
The Hackert-Ralbovskys also loved the horse-drawn sleigh ride, which gave an hour-long tour of the château grounds with commentary on its history. ("This was a nice way to meet other families.") They would have loved to go skating, tubing, and dogsledding, but it was unusually bitter cold during the weekend of their visit.
Plan B: Head indoors to the sports center. The resort's cedar-log pool room feels luxurious and full of character, with a row of windows and skylights to let the sunshine in. The pool is enormous, said to be the largest hotel pool in Québec. Both locker rooms have showers and saunas, and a pair of hot tubs are positioned close to the pool, so you can keep your eye on swimmers. ("The pool and hot tubs were a big hit with my kids!") The pool set-up isn't ideal, however, if you've got small children. There's no kiddie pool for toddlers and little tykes. Access to the pool is via a ladder, instead of steps. The small shallow end gets deep very quickly, which meant that 5-year-old Livvie couldn't stand or play without a flotation device or an adult. ("A bummer, but we adjusted.") Note: There are plenty of child-size life jackets and styrofoam noodles available if your kids aren't strong swimmers.
Where to Eat: The Fairmont Le Château Montebello is celebrated for its excellent French cuisine, and meals are something to look forward to. Breakfast, lunch, and an impressive Sunday brunch are served in the much-acclaimed Aux Chantignoles restaurant. The Family Fun package includes one dinner in the restaurant and the other in the Seigneurie Bar, which is slightly less formal. Kids choose off the children's menu, which featured plenty of items to satisfy even picky eaters—think pizza, burgers and fries, PB&J, and chicken fingers. ("I liked that there was always a vegetable and a fruit.") The adults' menu is blessedly more refined, with regional specialties such as snails in a rich St. Benoit sauce, traditional roast prime rib of beef, and rack of caribou flavored with cranberry sauce. Desserts from the adults' menu were beautifully presented and delicious, and service was always friendly and efficient. When the weather is warm, a barbecue is held on the terrace from Tuesday-Sunday.
Nightlife: Parents can enjoy dancing in the Seigneurie Bar, where a live band performs every Friday and Saturday evening, or lingering over a peaceful dinner in Aux Chantignoles.
The resort hosts supervised movie nights for 4- to 12-year-olds on both weekend nights from 7:30-9pm, which is included in the Family Fun package. Alternatively, you can hire an in-room babysitter for kids of any age, for an additional fee. (See "We Are Family" for rates).
Where to Stay: The Hackert-Ralbovsky family's Deluxe Riverview room was a fairly spacious 305 square feet, with two queen-size beds, a cozy alcove sitting area, and a smallish bathroom. While not luxurious, it was very comfortably appointed for a family of four. [Editor's Note: Since publication, all rooms at the Fairmont have been recently renovated.] Larger families might consider getting an interconnecting room. There was no mini-fridge, which families with small kids might miss, but there was cable TV (with pay movies and video games), his-and-her bathrobes, plush towels, and the option of video check-out. Note: While the Deluxe Riverview rooms do indeed overlook the Ottawa River, the views are obscured by the many trees. We don't recommend paying extra for the river view (though, in fairness, the added cost is negligible).
Price Tag: Kudos to Fairmont for coming up with an affordable package that includes so many genuine benefits to families. The Family Fun package offers terrific value, considering what you get: Deluxe accommodation in an historic resort, two breakfasts and two dinners for a family of four, morning daycare fees, a sleigh ride, admission to Oméga Park, and various other sports activities. Prices start at $425CAD ($416US) per night for each adult, or a total of $850CAD ($832US) for a family of four for the two-night weekend getaway. (At press time, the currency exchange rate was $1CAD = $.98US.) Note: For an additional $199CAD ($196US) per night, you can add on an interconnecting room.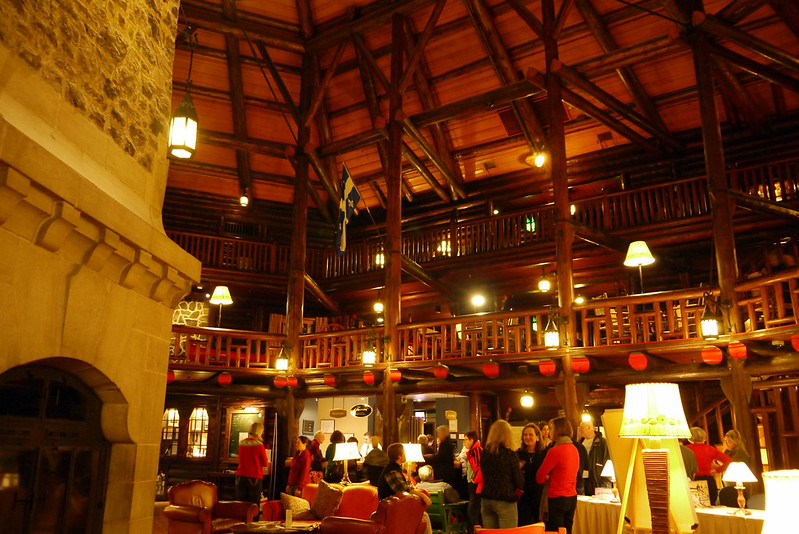 Items in the gift shops are not overpriced, and most of the resort's services incur reasonable surcharges. There's no parking charge (steer clear of valet parking), nor is there an added charge to use the pool or gym. One exception: Fairmont's steep $13.95CAD-per-day charge to log into the WiFi Internet service. S'il vous plaît, messieurs! $16.35US per day to check your e-mail? We wish Fairmont would follow the lead of budget chains like Best Western and Holiday Inn, which manage to offer this service for free.
Still, there are many things worse than missing your e-mail for a few days. With so many hotels out there promising—and then failing to deliver—meaningful benefits to families, the Fairmont Le Château Montebello is one that gets it right. The resort delivers everything you need for a restorative winter weekend away, thanks to its gracious surroundings, top-notch staff, and a family package guaranteed to chase away the chills.
Insider Tips:
Many activities are open during limited hours or follow a schedule. Call before you arrive to find out the times of these activities so that you can make the most of your stay. You'll need to reserve the sleigh ride, dogsledding, and some other activities in advance.
Plan to arrive as early on Friday as possible to take full advantage of the movie night. Or, if you need an in-room babysitter on your first night, make arrangements before your visit.
Under the Family Fun package, children are given bracelets that alert staff that they are entitled to the plan's specified activities and meals. Remind your kids to wear them to the dining room and children's activity room, as it will avoid confusion about billing.
You'll need passports, or passport cards at the US-Canada border. Allow for the border check to take about 30 minutes longer when you re-enter the US.
Along with your swimsuit, don't forget to pack flip flops or sandals, and cover-ups for the kids. The pool is located in the sports center and reached via a long underground tunnel. Bathrobes are provided for adults in each guest room