Fall family travel
By Michelle Rae Uy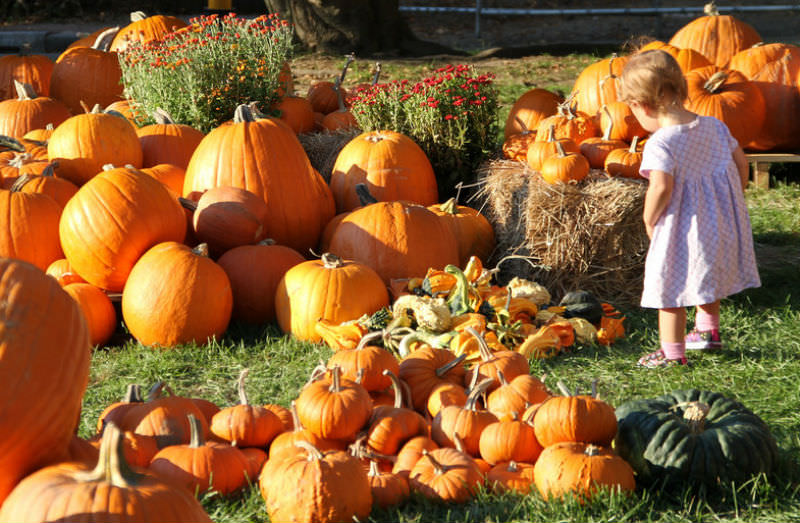 Reconnect with the kids by taking them to some of the best harvest festivals out west. (Flickr: Richard Evea)
Harvest festivals are a wonderful thing; they are a celebration of a good crop yield and harvest season. They are also a good way to ring in the holidays here in North America.
All along the West Coast and across the western states, fall festivals start rolling in as early as September. There are hot air balloon festivals, music and arts fests, county fairs, and of course, Oktoberfests. Families seeking to raise their glasses and give thanks for a bountiful year, however, make their way to the harvest festivals.
Visiting one is not only one of the best things to do for families in the fall. It's also a wonderful opportunity to reconnect with loved ones after a long and busy year.
Here are the best harvest festivals to visit with kids in the Western US.
(MORE: America's Weirdest Fall Festivals)
Suncadia Resort's Harvest Festivals
Suncadia Resort, Washington | October 7-8 and 14-15, 2017
In Washington, no other place is better suited to welcome the fall season than in the Cascade Mountains. The mountain range is a paint palette of autumnal colors, and simply stunning to see.
To properly celebrate fall's arrival, make your way to rustic yet stately Suncadia Resort. The mountain retreat is hosting their 12th annual Harvest Festival, which comes with every celebratory activity you can think of. The resort doesn't hold back. Offerings range from live music, food and drinks to fun for kids activities.
There are wagon rides, pony rides, pumpkin archery, a petting zoo, a pumpkin patch and a hay maze. There's even the ever-adorable pee-wee rodeo. Moms and dads can have their share of fun too: wine and beer tastings, food trucks and a beer garden.
If this isn't one of the best things to do for families in the fall, we don't know what is.
Sonoma County Harvest Fair
Santa Rosa, California | October 6-8, 2017
Of course, you can't celebrate the fall season in the West Coast without making your way to the wine country. In the beautiful winemaking region of Sonoma, west of Napa, fall is synonymous with their Harvest Fair.
This harvest festival is named one of the best things to do for families in the fall for good reason. Parents can sample wine from 150 wineries and try their grape stomping skill at the World Championship Grape Stomp. Kids and teens can stop by the pumpkin patch and the Spooky Corner, and watch fire jugglers perform.
Other offerings include Easy Bake Pumpkin Pie Baking, live music, and an adults-only tasting pavilion.
Trailing of the Sheep
Sun Valley/Ketchum/Hailey, Idaho | October 4-8, 2017
It may not technically be a celebration of crop harvest. However, Sun Valley's historic Trailing of the Sheep more than deserves a mention on this list. Just think of the cattle and sheep as "crop".
During this festival, 1,500 sheep make their way down the main street of Ketchum, Idaho. It's a lovely and adorable tradition, and a top attraction in and of itself. But the festival has more on offer for families. There's the Folklife Fair, sheepdog trials, farm-to-table dining, cooking demonstrations, and more.
There are even a few offbeat workshops, including a Tibetan Spindle Class, Tapestry Beaded Weaving and Truck Sheep Pillow Making. This is the festival to be at if you're seeking for something quirky.
Underwood Family Farms Fall Harvest Festival
Moorpark, CA | September 30 – October 31, 2017
LA may not be the most obvious fall destination. However, the weather is lovely post-summer and when it comes to farms, it's certainly a shoo-in.
One of the best things to do for families in the fall here is to visit Underwood Family Farms. The popular family-friendly attraction holds its own annual harvest festival. It's got all the necessary elements—well, except fall foliage—and then some.
Each weekend has a specific theme, making it a unique harvest festival. Among the plethora of events: a tractor parade, pumpkin demonstrations, corn maze, hay pyramids, an animal show, and pig races. The kids will certainly have the time of their lives.
(MORE: 6 Fab Fall Weekend Festivals for Families)
California Avocado Festival
Carpinteria, CA | October 6-8, 2017
In California, there's no more appropriate crop to celebrate the harvest of than avocado. It is, after all, the state's favorite fruit. And the California Avocado Festival is the best place to do so.
The three-day festival prides itself as California's largest free music festival, but it boasts more than performances. Avocado lovers will love the food venue, which is a treasure trove of avocado dishes, the marketplace, and the Largest Avocado Contest.
As for the kids, the festival has several things on the itinerary. To start, there's the Best Dressed Avocado Contest. Then there are bouncy castles, face painting, and other fun activities. Topping those off are fair rides.
Michelle Rae Uy contributed this to MiniTime. She is a travel writer based in Los Angeles and MiniTime's Head of Content, who spends her free time on adventures and film photography.