An insider's guide to Universal Studio's Diagon Alley
By Dave Parfitt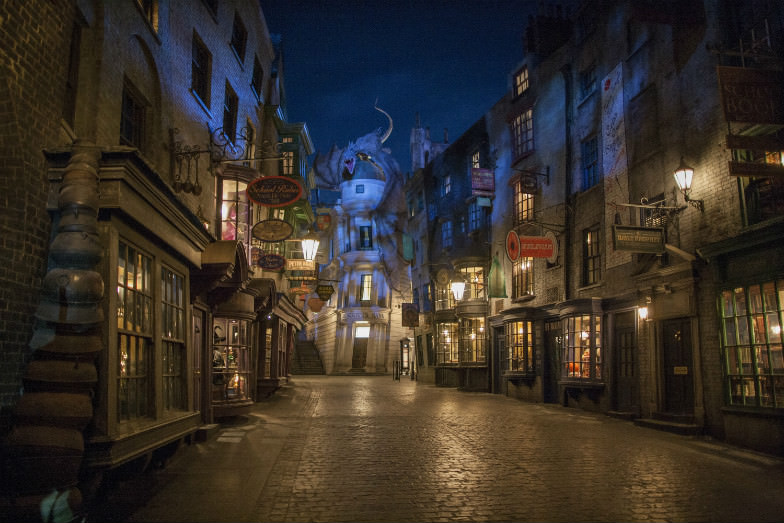 The Wizarding World of Harry Potter – Diagon Alley (Universal Studios)
Are your kids begging you to visit Universal Orlando's Wizarding World of Harry Potter – Diagon Alley but you fear the crowds of Potterheads descending on the exciting new 20-acre theme park expansion opening July 8, 2014? Never fear. Based on my special sneak preview of Diagon Alley, here is a survival guide with tips for managing and dealing with the crowds flocking to the hottest theme park property on the planet in the summer of 2014.
1.) Stay onsite at a Universal Orlando Resort Hotel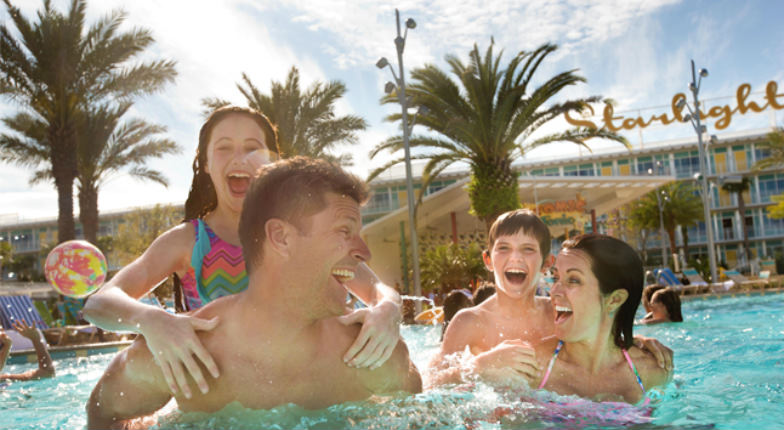 Pool at Cabana Bay (Universal Orlando)
Universal Orlando has four on-site hotels, and staying at any of these properties provides one-hour early admission to the theme parks.
This benefit is huge! Take advantage of the extra hour perk from staying at a Universal hotel to get into the park, over to Diagon Alley, and knock off the centerpiece attraction, Harry Potter and the Escape from Gringotts, first thing before lines get long.
If staying at one of the Universal Orlando on-site hotels is out of your budget, consider staying off property for part of your stay, and move to the least expensive on-site Universal Orlando hotel the night before visiting Diagon Alley.
(MORE: Need cheaper options? Find more kid-friendly hotels near Universal Studios Orlando.)
2.) Consider a Universal Harry Potter Vacation Package
Universal created a special four-night Harry Potter Vacation Package with three-day Park-to-Park tickets, breakfasts at the Leaky Cauldron in Diagon Alley and at the Three Broomsticks in Hogsmeade, and early admission to The Wizarding World of Harry Potter one hour before the theme parks open.
This vacation package is offered not only for Universal's four on-site hotels, but also for their official partner hotels located off-property. As long as you are booked at a Universal Partner hotel, under the Harry Potter Vacation Package, you will also receive early park admission – the savings between on-site and off-site could be hundreds of dollars for a family of four.
3.) Ollivanders Wand Experience in Diagon Alley
A wand choosing a wizard is one of the signature experiences in Universal's Wizarding World. Ollivanders wand shop opened at Islands of Adventure's Hogsmeade, and remains one of the most popular attractions since 2010. Even now, the wait for Ollivanders never dips below 45 minutes in the hot Florida sun on a slow day.
In Diagon Alley, Ollivanders wand shop has a greatly expanded presence; and three times as many people can observe the wandkeeper's performance. Besides, Diagon Alley is the rightful place for Ollivanders as described by J.K. Rowling's books – so it only makes sense to visit the original since 382 B.C. instead of that pop-up outlet shop near Hogwarts, right?
4.) Harry Potter and the Escape from Gringotts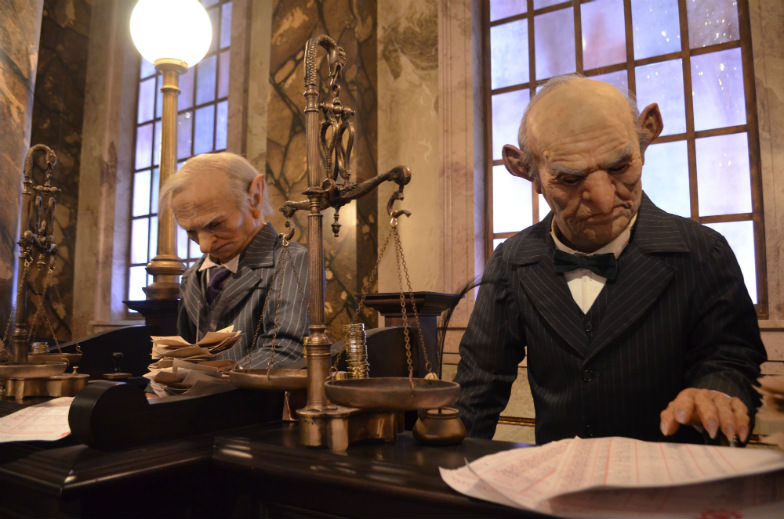 Escape from Gringotts Ride (Credit: Dave Parfitt)
Go to dragon, go directly to dragon, do not stop to shop, do not collect Gringotts Bank notes…
Once you step through the brick wall into Diagon Alley, looming at the end of the street is a giant, fire-breathing dragon. Head towards the dragon, it leads right to the centerpiece attraction Harry Potter and the Escape from Gringotts. The wait will undoubtedly build throughout the day; so ride as soon as you can – the shops and food will always be waiting.
The tour of Gringotts Bank is a large part of the attraction and sets the scene for what's to come. Marvel at Gringotts' ornate marble, crystal chandeliers, and life-like goblins around you. Story details emerge in the Daily Prophet newspaper headlines and whispers via shadows behind office doors. Throughout the ride, you interact with familiar characters including Bill Weasley, Griphook, Bellatrix Lestrange, and even Lord Voldemort. Harry Potter and the Escape from Gringotts is a ground-breaking next generation attraction that's part roller-coaster, part dark-ride, part spinner, part 3D motion-simulator, and all thrill. You must be at least 42" tall for the ride, and children between 42"-48" must be accompanied by an adult.
5.) Hogwarts Express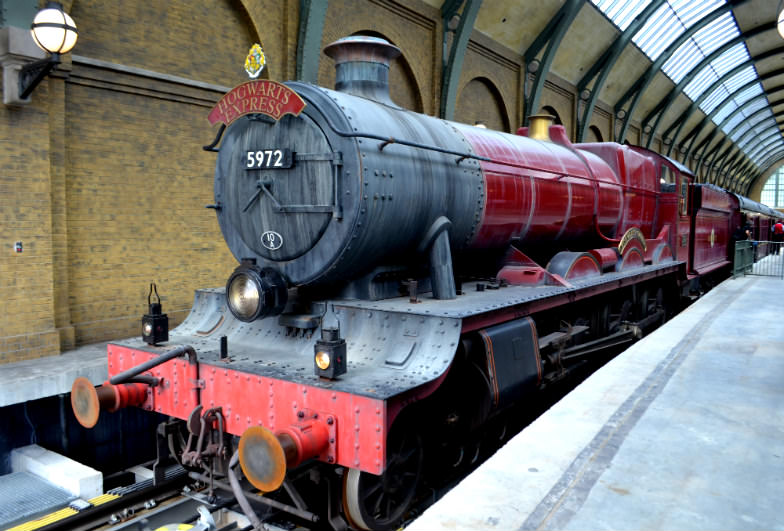 Hogwarts Express (Credit: Dave Parfitt)
A Park-to-Park ticket is required to board and ride the Hogwarts Express. Make sure you have purchased the proper ticket ahead of time so you won't waste time or be disappointed once you get to the attraction. If you want the full Wizarding World experience, the Hogwarts Express is a must-do. Do not try to skimp and save money by not purchasing the Park-to-Park ticket. The painstaking detail used to recreate the Hogwarts Express locomotive and passenger cabins is astounding, and the effects used during the train journey are surprising and remarkable. The roundtrip from London to Hogsmeade and back to Diagon Alley are distinct experiences with different scenes; make sure you ride the Hogwarts Express both ways. There are no height restrictions for this attraction.
6.) Butterbeer, Ice Cream, and Food… Oh my.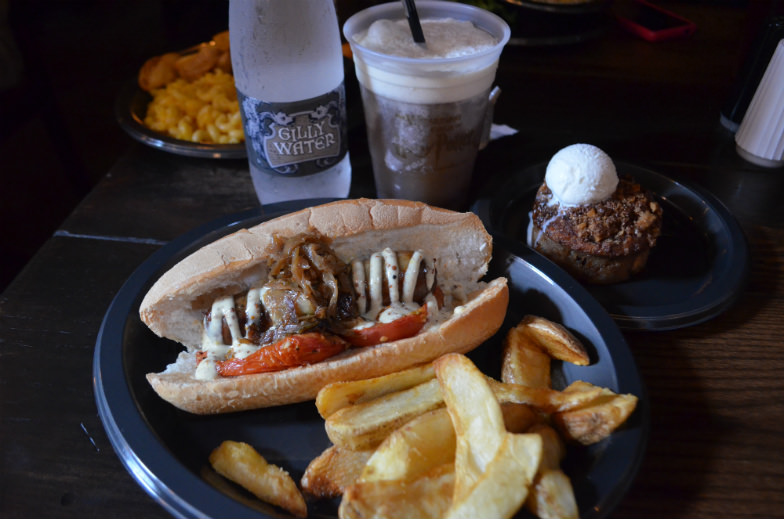 Food at The Leaky Cauldron (Credit: Dave Parfitt)
Food is a large part of Harry Potter's world as well as creating an authentically immersive British experience.
Let's start with Butterbeer. Diagon Alley has many opportunities to purchase Butterbeer including two stand-alone drink outlets, The Fountain of Fair Fortune and The Hopping Pot, as well as The Leaky Cauldron sit down restaurant. Tip: there's a unique souvenir Butterbeer mug you can only get at The Fountain of Fair Fortune.
If you purchased the Harry Potter Vacation Package, it includes breakfast in The Leaky Cauldron (as well as another in Hogsmeade's Three Broomsticks). The only way to eat breakfast in these restaurants is with this special package. That said, wait until your valuable early admission hour expires before dining in The Leaky Cauldron. Don't sit inside lingering over porridge while the lines for the Hogwarts Express and Gringotts grow longer and longer.
Lunch and Dinner in The Leaky Cauldron (like Hogsmeade's Three Broomsticks) serve British pub fare – think fish and chips, beef stew, Fisherman's pie, etc. While authentic to Harry Potter, it can be heavy for a theme park lunch on a hot summer day. If you plan on dining in The Leaky Cauldron, save the meal for dinner after you've finished riding Harry Potter and the Escape from Gringotts.
Tip: Save room for ice cream! Universal has brought Florean Fortescue's Ice Cream Parlour to life and stocked it with unique flavors such as earl grey and lavender, strawberry and peanut butter, chocolate chili, clotted cream, and, oh yes, Butterbeer ice cream. All flavors are hard-serve except Butterbeer which is rich and creamy soft-serve, like custard. A stop at Florean Fortescue's Ice Cream Parlour is a must-try experience in Diagon Alley.
7.) Enjoy the Atmosphere
With Diagon Alley, Universal Orlando did not set out to create just a ride or two, but, instead, immerse visitors into a living, breathing, working community of wizards plucked from J.K. Rowling's imagination. The shows and character interaction are crucial to achieving that vision, and Universal surpassed the high standard of Hogsmeade with Diagon Alley. Rich, varied, and multi-layered, Diagon Alley's entertainment runs the gamut from sinister wizards haunting Knockturn Alley, a chummy Knight Bus Conductor cracking jokes with a shrunken head, cabaret performance by a singing sorceress, to an elaborate full-fledged stage show. Once you've experienced Diagon Alley's two main attractions, take time to savor the people, shows, and environs that make up the attraction. You will have a much richer Wizarding World experience.
(MORE: Find other kid-friendly attractions in Orlando, Florida.)
8.) Diagon Alley Restroom Facilities
A final practical note to consider, there is only one restroom in all of Diagon Alley. Perhaps the local wizards ate too much of the Weasley Twins' U No Poo, because if you need to use the facilities, you need to trek to the very back of Diagon Alley. Even the faithfully duplicated King's Cross Station, has no bathroom facilities to speak of – so make sure the family has used the bathroom before making the trip from London's Diagon Alley to Scotland's Hogsmeade Village.
While there may not be too many money-saving deals for Universal Orlando's Wizarding World of Harry Potter – Diagon Alley, those Gringotts' goblins do not part with their gold easily, hopefully this Diagon Alley survival guide will help your family of Potterheads enjoy the newest addition to the Wizarding World.
Dave Parfitt of Adventures by Daddy contributed this to www.MiniTime.com.