Ireland with kids
By Jody Halsted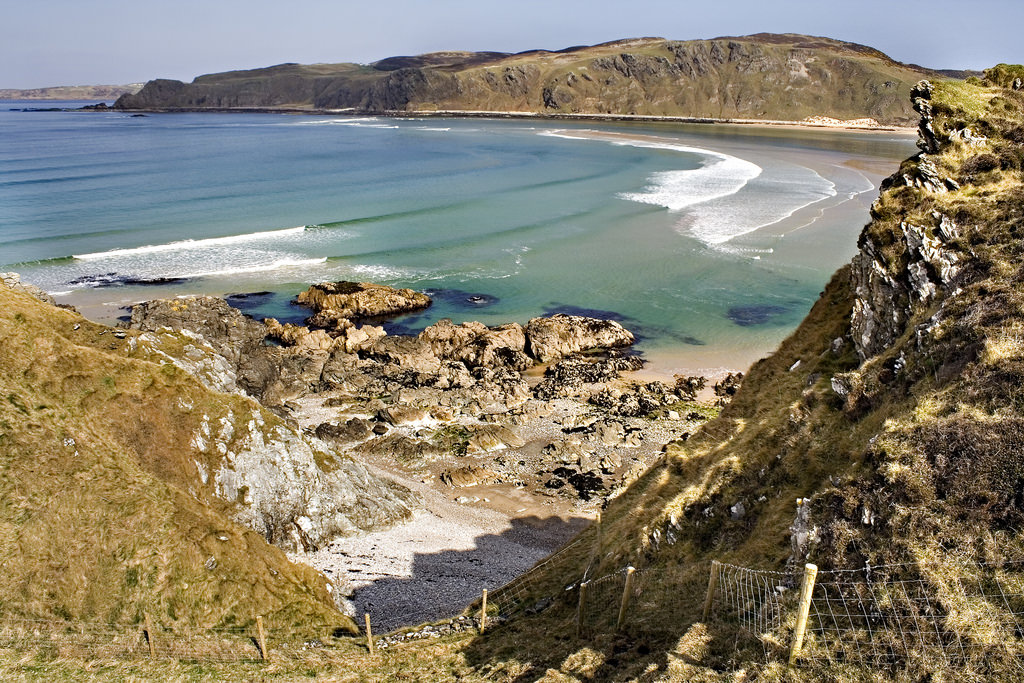 Malin Head along Ireland's Wild Atlantic Way (Flickr: Grace Smith)
Stretching over 2500 kilometers along Ireland's sometimes stark, always rugged and never disappointing western coastline, the Wild Atlantic Way is the longest fully sign-posted driving route in the world.
Beginning near the most northerly point of Ireland and ending near the most southerly, the route is filled with breathtaking views, family-friendly activities, and more incredible, fresh, local food than you can imagine.
A drive of the entire route would take 6 weeks to do properly and not feel rushed. But if your Ireland vacation runs 7-10 days, choosing one or two of the highlighted locations below will easily fulfil your Ireland travel dreams.
(MORE: 7 Castles in 7 Days: A Tour of Ireland for Knights & Princesses)
Ireland from North to South – Highlights of the Wild Atlantic Way
Starting on the Inishowen Peninsula really sets the stage for the 'Wild' yet kid-friendly part of the Wild Atlantic Way. Stand at Malin Head, Ireland's most northerly point, to begin your journey, following the coastal route to the Doahg Famine Village where cottages were still inhabited until 1989 (with no electricity or running water). Pass through the Mamore Gap, letting your car be pulled along the 'Magic Road' before arriving at Fort Dunree, a former British military base perched upon the rocky cliffs above Lough Swilly. End your time on the peninsula at Granian of Aileach, a ring fort whose origins date back to 1700BC. If the sun happens to shine upon you, you'll know exactly why this site was named the 'Sun Palace'.
Where to stay:
The family-friendly Mount Errigal Hotel in Letterkenny is perfectly situated for your visit to the Inishowen Peninsula, as well as nearby Glenveagh National Park. Spacious family rooms, complimentary breakfast and family stay specials make this a terrific choice for families.
The Strand Hotel in Ballyliffen sits the Inishowen Peninsula at your feet- literally. Walks short and long begin just outside the doors of this ocean-side hotel, while the perfect evening may bring a glimpse of the Northern Lights.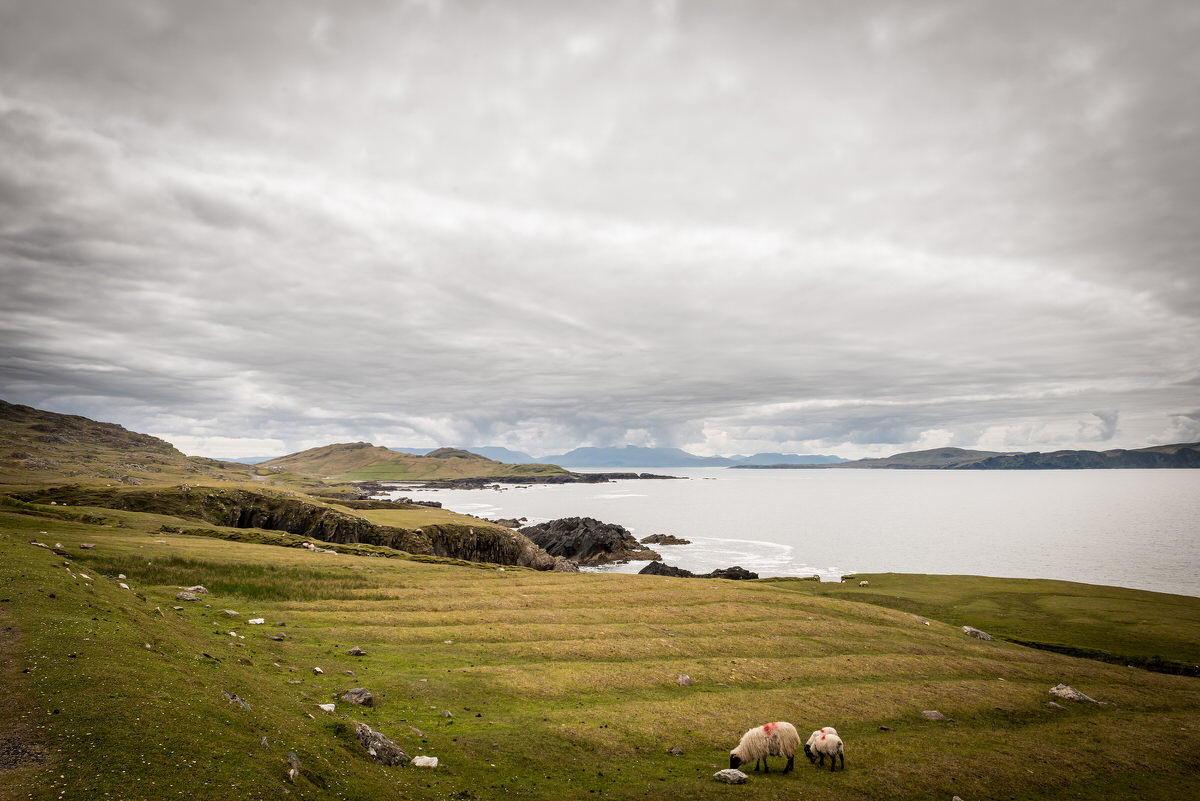 Achill Island (Flickr: Francesco Crippa)
Reaching westward mid-route along the Wild Atlantic Way, the coastlines of County Mayo and Connemara share tales of pirates, everlasting love and Irish heritage. With its windswept cliffs, deserted famine villages, and 5 of Ireland's most pristine beaches, Achill Island offers a stark reality of Irish life – beauty and tragedy. Farther south along Mayo's coastline, Westport House, owned by descendants of Ireland's famed Pirate Queen Grace O'Malley, sits atop one of her castle ruins. Are you brave enough to enter the dungeons? Detour inland from here to visit the Museum of Country Life, an intriguing interactive history of Ireland.
Entering Connemara, your first stop will be the romantic jewel, Kylemore Abbey. A heartbreaking story of love lost ends in the Abbey's purchase by Benedictine Nuns escaping bombings in WWII. Explore the tidal island of Finish – just be sure to get back before the tide strands you! Spend a day or two in Clifden, the unofficial 'Capital of Connemara' to enjoy traditional music, cycling in Derrigimlagh Bog, and an afternoon at the Connemara Heritage & History Centre.
Where to stay:
Mount Falcon Estate sits at the northern part of this route. While the country manor has beautiful rooms, choose a Woodland Cottage for a family stay. Be sure to schedule a Hawk Walk with the Falconry for an unforgettable experience!
Ballynahinch Castle Hotel near Clifden offers a castle experience in one of the most beautiful locations in Ireland – at the base of a mountain overlooking a tranquil lake.
Continuing south brings you to the Burren, a location that seems bleak and barren until you stop and look. Revitalized in the past few years, the Burren has become a destination for foodies, celebrated for fresh, local food served beautifully. Top picks: Linnalla Ice Cream, St. Tola Goat Farm, Kilshanny House, and the Burren Smokehouse. Stop for a bit at the Burren Nature Sanctuary (they also have a wonderful café!) to explore the flora and fauna of the Burren, discover a faerie forest, marvel at a disappearing lake and let the kids expel their energy on the wonderful playground.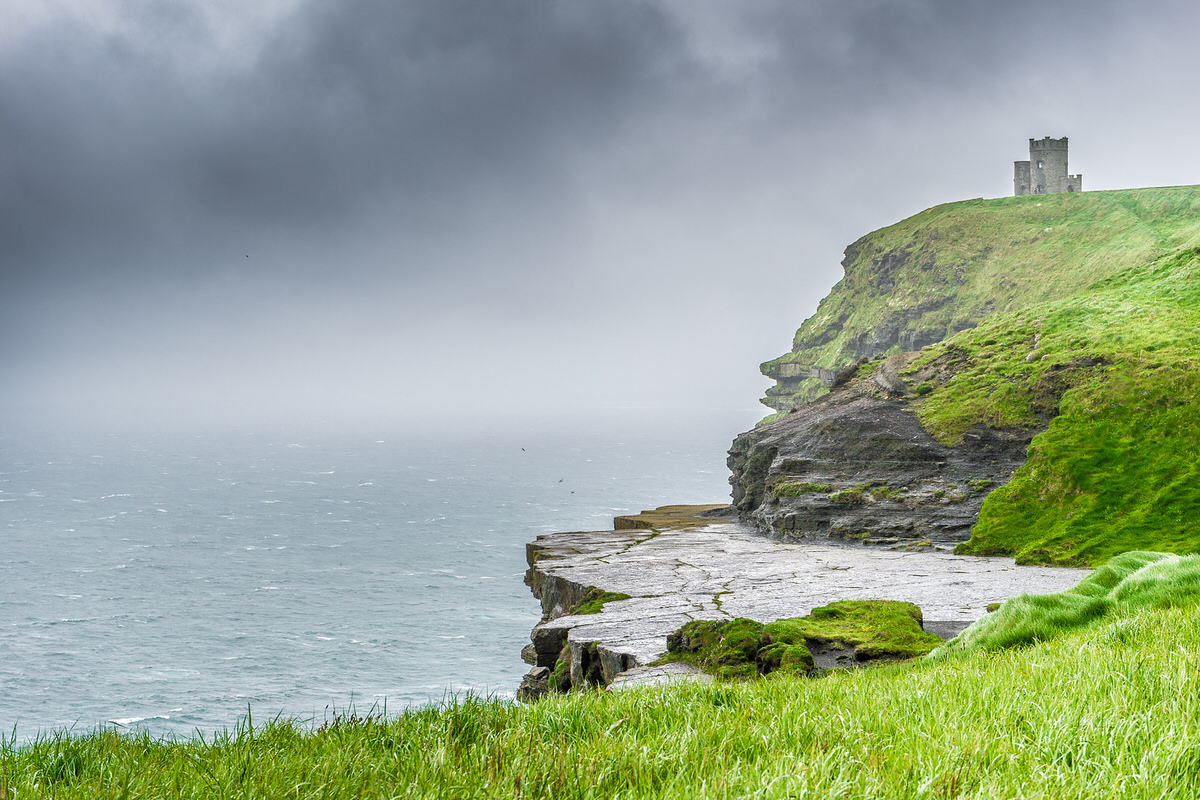 Cliff oh Moher (Flickr: Giuseppe Milo)
Driving southward through the Burren, you arrive at western Ireland's crown jewel – the Cliffs of Moher. Arrive by car and use the car park, or walk from nearby Doolin atop the soaring cliffs. The views here are incredible. Be sure to visit the Atlantic Edge Exhibit in the Visitors Centre for the history of the cliffs and to make (and send) fun, interactive memories.
Where to stay:
Doolin is known for its nightly live traditional music and Doolin Hostel is within easy walking distance from a couple of pubs. Spacious family rooms and complimentary continental breakfast (as well as a world-class coffee shop), this is less like a hostel and more like a relaxed hotel.
For 5-star luxury, choose Dromoland Castle, just minutes from Shannon Airport. Your every need will be catered to, and estate activities like horseback riding, falconry, and archery are available. More proof of excellence: this is the castle hotel Disney uses on their Ireland tours.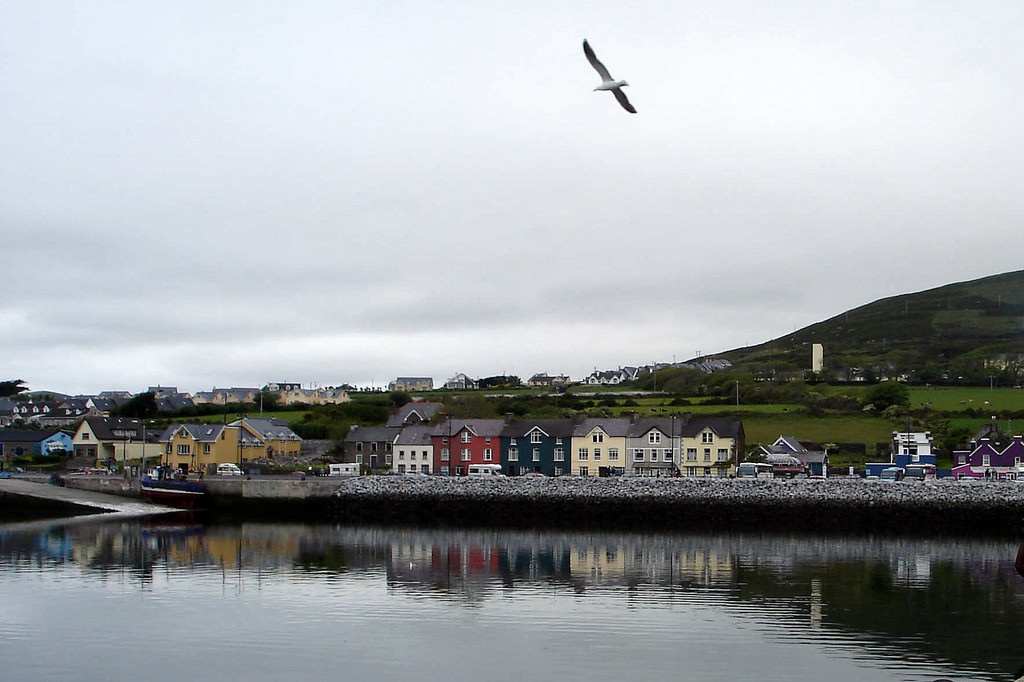 Houses along the waterfront in Dingle, Ireland (Flickr: Corey Leopold)
Driving County Kerry's famed peninsulas, the Dingle Peninsula and the Ring of Kerry provide everything travelers come to Ireland for – beautiful views, castles, live music, active adventures, and terrific people. Visit Dingle for a taste of Ireland's best ice cream at Murphy's before boarding a boat to visit the town's resident dolphin, Fungi. A leisurely drive around Slea Head takes you into the past at an Iron Age Stone Fort, monastic beehive cottages and a centuries old church.
The more well-known Ring of Kerry offers views appreciated by Queen Victoria at the Ladies' View, a side trip to bucolic Valentia Island, and boat cruises around Skellig Michael, a UNESCO World Heritage Site and location for scenes from the latest Star Wars movie.
Where to stay:
The Dingle Skellig Hotel sits at the edge of Dingle Bay and is walking distance from the town centre. The Fungi Kids Club offers fun for children, giving mom and dad some alone time.
Dromquinna Manor near Kenmare offers luxury glamping. The huge tents have 2 bedrooms, a covered sitting area, an open patio, and spectacular views of the Beara Peninsula and Atlantic Ocean.
(MORE: A Family's Guide to Dublin, Ireland)
Entering County Cork and nearing the end of the Wild Atlantic Way you arrive at the oft overlooked Beara Peninsula, a haven for wildlife and nature lovers. At the end of the peninsula is Ireland's only cable car, which is also the main mode of transport to Dursey Island. If you want to escape everything 'touristy,' this is the place to do it. Enjoy a cruise in Bantry Bay to view seals, dolphins and maybe even migrating whales.
The next, smaller, peninsula is Sheeps Head. No tour buses traverse this road and the walk from An Cupán Tae to the lighthouse is simply incredible. Mizen Head is your next stop, the most southerly tip of Ireland. To reach this lighthouse means a steep descent followed by a bridge crossing over a deep, watery chasm. The old lighthouse has become a maritime museum and passing ships are often seen in the distance.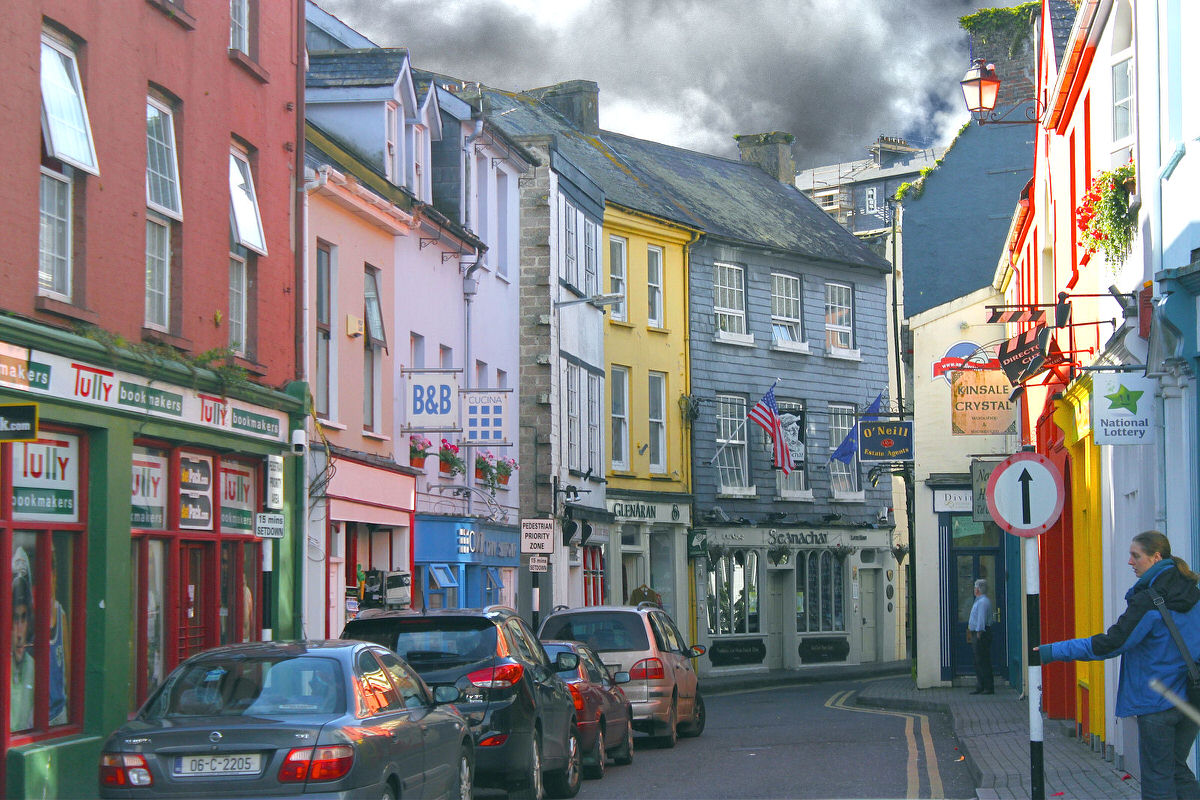 Kinsale, Ireland (Flickr: psyberartist)
The beautiful seaside village of Kinsale marks the end of your route. Join the morning history walk – it's perfect for families – to learn about Kinsale's Viking history and why the village was so important to trade (hint: there be pirates!). A cruise of Kinsale Harbor out past the Old Head offers fabulous views of the seaside forts before you explore them on land. Be sure to do a lot of walking and work up an appetite as Kinsale is known as the 'Foodie Capital of Ireland', with incredible restaurants no matter which street you wander down.
Where to Stay:
Try pod camping at Top of the Rock Pod Pairc & Walking Centre. Deluxe pods are prefect for families, with a bathroom and kitchenette. A communal kitchen in the walking centre provides a place to cook larger meals, and the evening campfire brings every round to toast smores and share tales of their day.
Just steps from the white sands of Inchydoney Beach and overlooking the Atlantic Ocean, Inchydoney Island Lodge offers superior family rooms in a perfect location to explore the entirety of Cork's portion of the Wild Atlantic Way.
Though 2500 km is a lot of road to travel, a single portion of the Wild Atlantic Way will entrance you. Which portion will you choose?
Jody Halsted of FamilyRambling.com contributed this to MiniTime.