Grand Cayman attractions for the whole family
By Jodi Grundig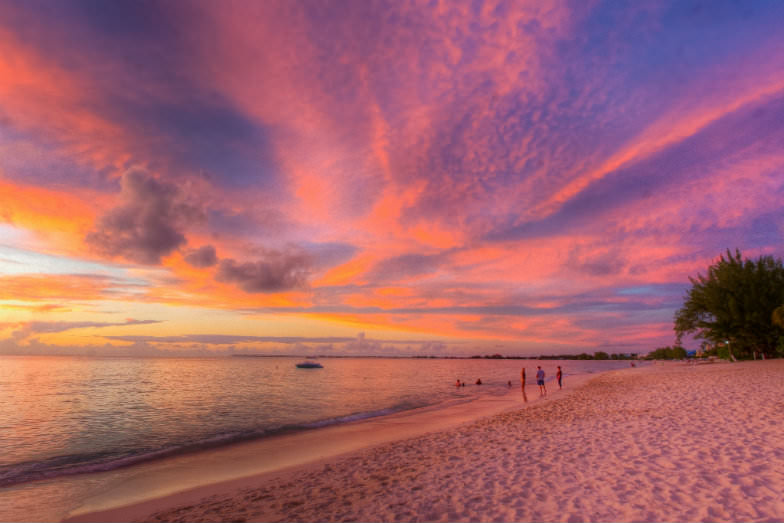 Sunset in Grand Cayman (Flickr: SF Brit)
Grand Cayman is often thought of as one of the financial centers of the Caribbean, but it's also a very family-friendly destination with lots of things to do with kids. It's just an hour by air from Miami, and offers an abundance of family-friendly activities whether you are just there for the day on a cruise ship or for a family vacation. Three islands comprise the Cayman Islands, but Grand Cayman is the most populated and famous.
Here are some of the best kid-friendly activities on Grand Cayman. These can also be booked as a cruise ship excursion if you are only visiting for the day.
Submarine Tour
Several different operators offer semi-submarine tours on Grand Cayman. During the journey, you'll board a submarine and venture down to several different shipwrecks where you'll see a variety of fish. Guides aboard the ship will teach you about the history of the island as well as offer some information about the different fish you'll see. Often, the ship's staff will also dive down into the reefs with fish food so you'll get an up-close encounter.
Stingray City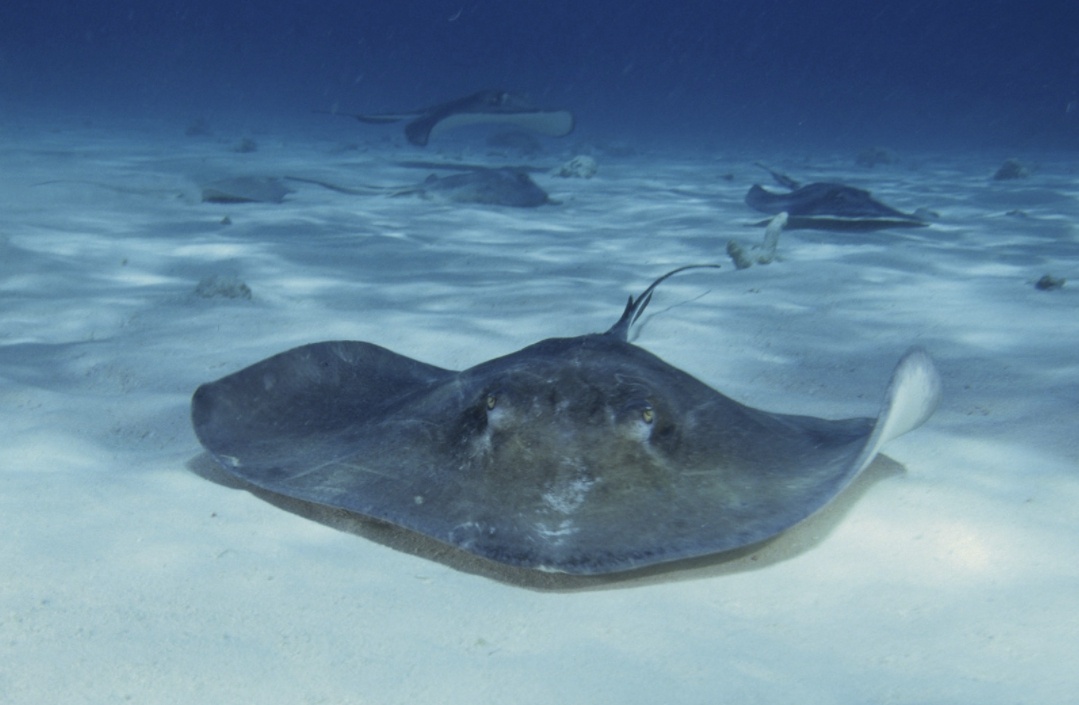 Stingray City (Flickr: Barry Peters)
Stingray City is one of the most popular kid-friendly attractions in the Cayman Islands with good reason. It's one of the most unique experiences in the Caribbean. According to legend, this sandbar was an area where fisherman would clear their fish. Over time, the stingrays learned to visit the area to eat, and they eventually became comfortable with humans. Now, boats filled with tourists visit the chest-high waters daily to get the opportunity to swim with the stingrays.
There are several ways to get to Stingray City – via tour boats, private boats, or jet skis. Find a tour company with professional guides who will get in the water with you and show you how to handle the stingrays. Legend has it that anyone who kisses a stingray will be rewarded with 7 years of good luck. Although the water is about chest deep, it does require a bit of swimming off the back of the boat – so if your children can't swim, you'll need to carry them a few yards. Often, a trip to Stingray City is combined with a snorkeling excursion to a trip to the beach.
Cayman Turtle Farm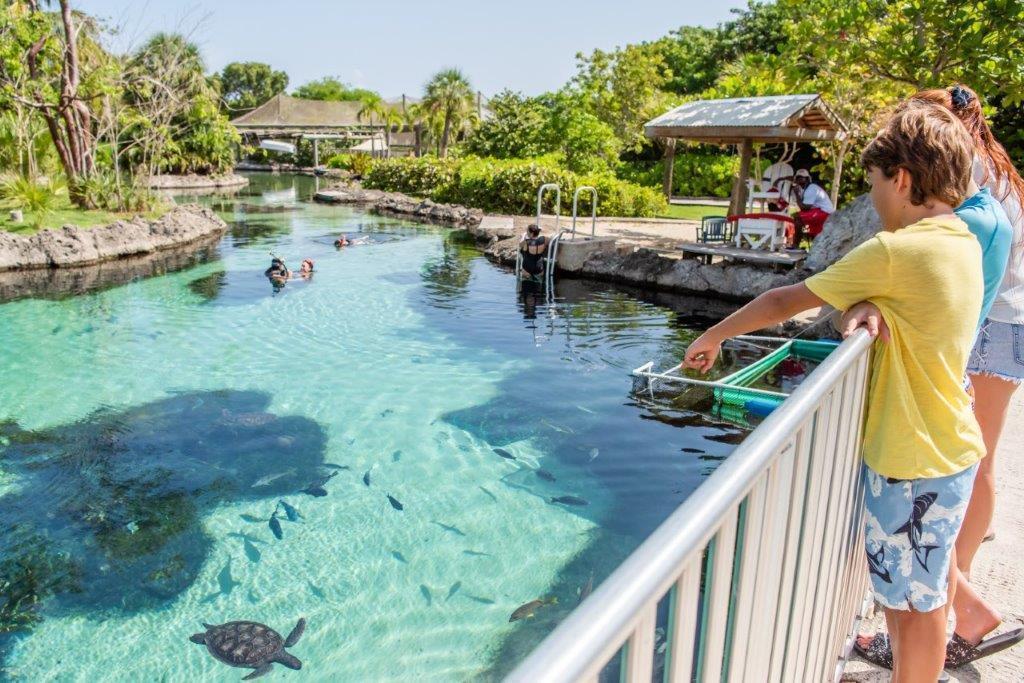 Family playing with turtles at the Cayman Turtle Farm (Courtesy Cayman Turtle Farm)
The Cayman Turtle Farm is a fun excursion with kids – it offers a swimming lagoon, a turtle lagoon (open for snorkeling), a restaurant, a turtle-breeding pond, turtle touch tanks, and more. Two different ticket types are offered – a Turtle Farm Exploration Tour (which includes the turtle farm only), and a Turtle Adventure Tour (which includes the entire park). If you have the time, the adventure tour is the better option, because you'll be able to explore more of the park. There's also a restaurant on site.
Hit the Beach
No trip to Grand Cayman would be complete without at least one day at the beach. There are several fabulous family-friendly beaches on Grand Cayman. Most of the resorts on Grand Cayman are located along the world-famous Seven Mile Beach. On the other side of the island is Rum Point where the Mud Slide was invented. It's a relaxing, remote beach that also offers a variety of watersports.
(MORE: Look for other family destination, kid-friendly hotels, and money-saving deals in the Caribbean.)
Dolphin Cove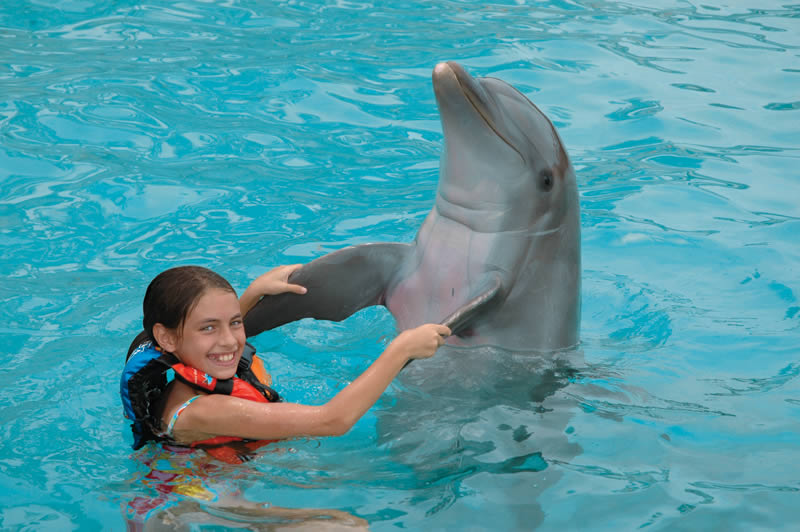 Dolphin Cove (Photo: Dolphin Discovery)
Want to swim with the dolphins while you are on Grand Cayman? There are several options at Dolphin Cove including a dolphin swim (for stronger swimmers) and a dolphin encounter (better for younger children and/or non-swimmers). Dolphin Cove visitors can also combine their visit with a trip to the Cayman Turtle Farm or Stingray City.
Guests vacationing on Grand Cayman have several great hotel options. The Ritz-Carlton Grand Cayman offers a fabulous kids' club for children of all ages, and is located right on Seven Mile Beach. Down the road, also on Seven Mile Beach, is the Westin Grand Cayman. Both hotels offer several restaurants, and are within walking distance of other restaurants and activities.
Jodi Grundig of Family Travel Magazine contributed this to MiniTime.