Caribbean with kids
By Maribeth Pjosek-Durkin
Emerald Pool in Dominica is one of the Caribbean's beautiful waterfalls. (Flickr: Zeno Ferguson)
The Caribbean is home to some very picturesque waterfalls – you may actually recognize some from famous movies. Mother Nature's favorite water features are overflowing with family fun too. These waterfalls invite families to not just look, but to also touch, swim, jump and slide. Follow the kids down a series of natural rock waterslides, search for secret waterfalls in hidden caves, swim under the tumbling waters. Take a break from the beach and explore some incredibly exciting and family-friendly waterfalls that will create new memories that will last a lifetime.
(MORE: Spring Break Ideas in the Caribbean and Mexico)
Emerald Pool – Dominica
Kids love pirates? Let them search for Captain Jack and his crew as you trek your way through Morne Trois Pitons National Park, a World Heritage Site. Many scenes from Pirates of the Caribbean: Dead Man's Chest were filmed at the secluded 40-foot waterfall, pool and cave. The rugged yet family friendly Emerald Pool Nature Trail leads to the waterfall grotto. The rugged trail is well-marked, has stairs and hand railings in steeper spots. Once there, let the kiddos splash around in the refreshing pool and swim under the waterfall. The crystal-clear water does in fact appear green from the sunlight, peeking through the dense canopy of leaves. Good to Know: Wear your bathing suit, there are no changing rooms. Wear durable water shoes. Don't forget to pack insect repellant.
La Mina Waterfall in El Yunque Rainforest, Puerto Rico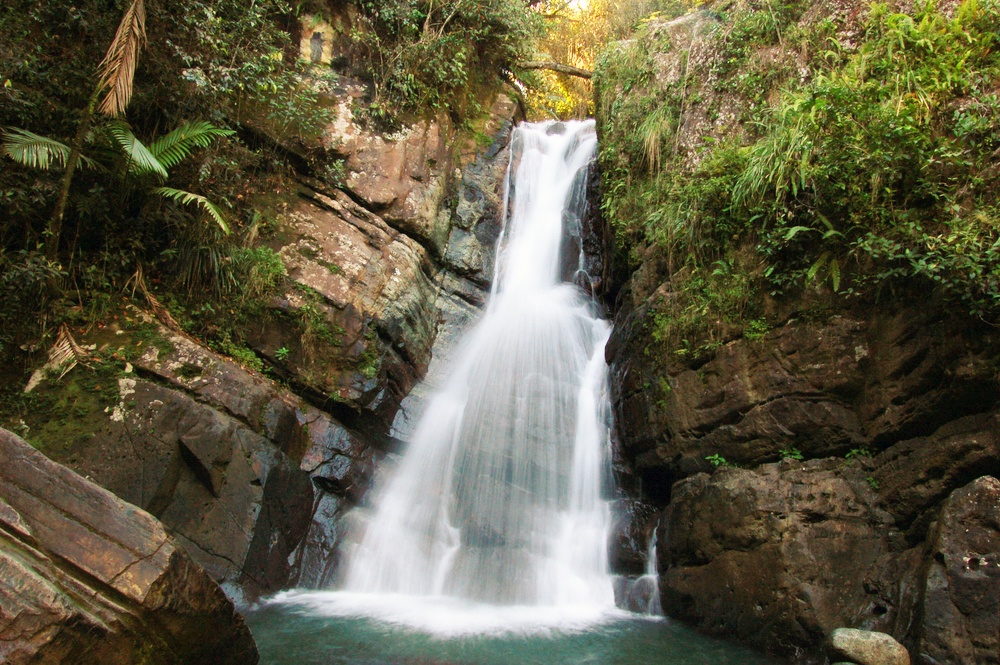 La Mina Falls in Puerto Rico (Eugene Moerman/Shutterstock)
Enjoy a family-friendly hike through the only tropical rainforest in the US Forest System and reward yourselves with a dip in the cool waters of La Mina Waterfall. There are two paved – but rugged – trails that lead to the waterfall. Big Tree Trail has signs describing the forest's flora and fauna. The rustic La Mina trail follows the La Mina River and takes families over a series of small footbridges and past smaller waterfalls. Open daily from 7:30 am to 6 pm (except December 25). Entrance to the forest is free, but there is a small charge to explore the El Portal Visitor Center. Good to Know: Palo Colorado Visitors Center, at the head of the La Mina Trail, is a good place to change into bathing suits before the hike. Insect spray and sturdy, waterproof shoes are a must. Check the US Forest Service website for latest information.
El Nicho Waterfalls, Cuba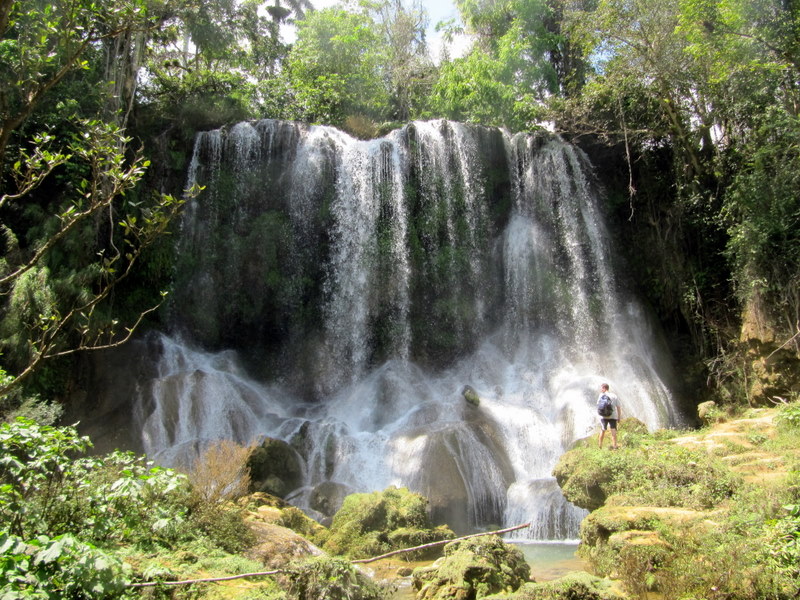 El Nicho Waterfalls, Cuba (Flickr: Justin Otto)
Adventure-seeker or spectator? No matter, the variety of waterfalls in Parque El Nicho is sure to please the entire family. Some waterfalls flow into natural pools, perfect for swimming. Others have hidden caves that beckon kids to play hide and seek behind the tumbling waters. Truly adventurous kids (and adults) can even climb up to high ledges and plunge into deep water pools. Try swimming under the falling waters for a revitalizing massage. Good to Know: There are hiking trails and caves throughout the park for spectators who want to skip a swim. The park is also home to Cuba's colorful national bird, the Tocororo.
Saltos Damajagua (27 Waterfalls) – Dominican Republic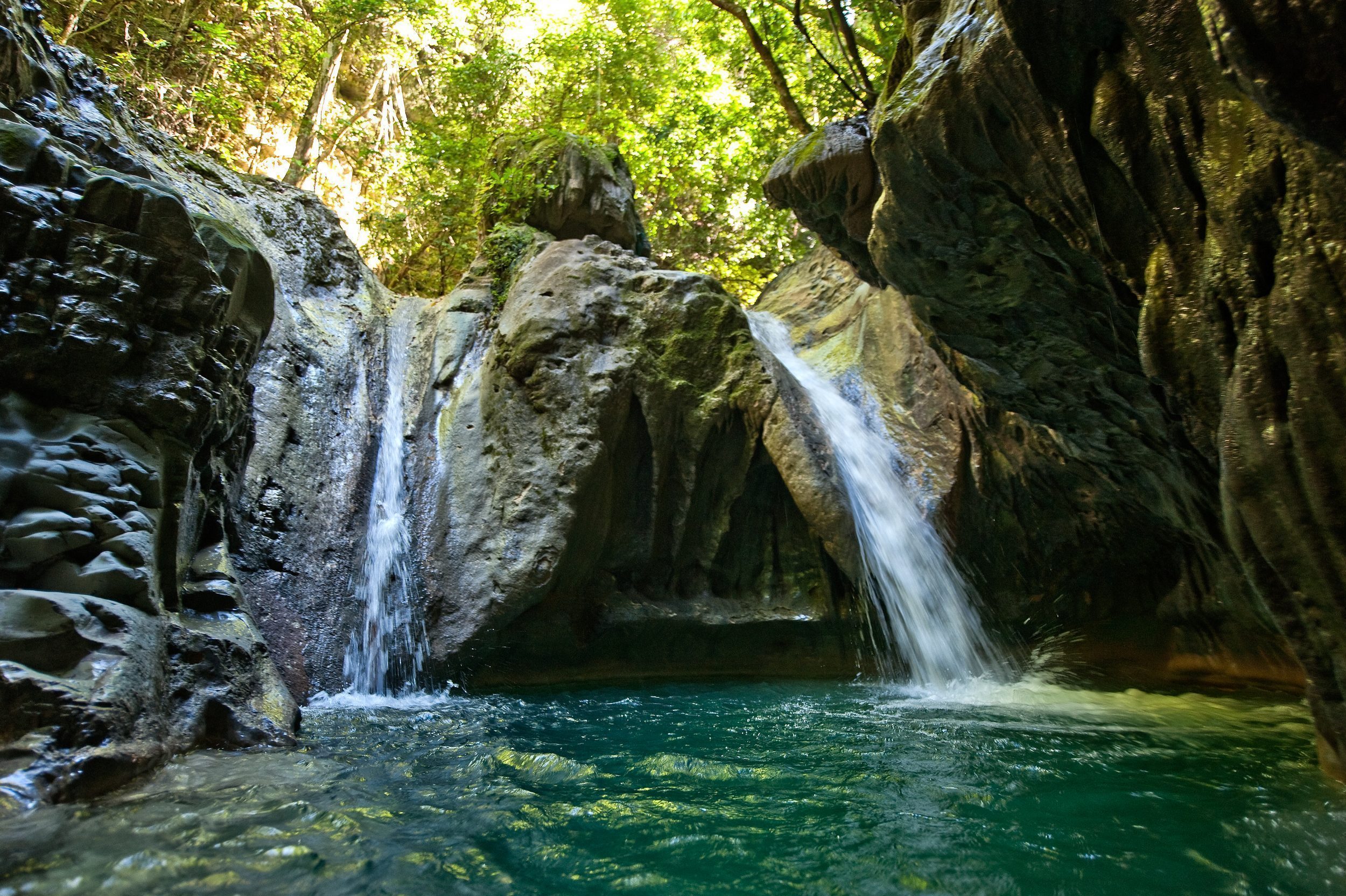 Damajagua Cascades in Puerto Plata, DomRep (Courtesy Go Dominican Republic)
Waterfall meets waterpark at Saltos Damajagua. Grab the kids and trek your way to the top and slip, slide and swim your way down 27 different waterfalls. Slide down natural rock waterslides, swing like Tarzan on vines, swim through a cave or dive 15 feet into a crystal clear pool. Families choose the level of adventure that's right for them. Tours climb up to the 7th waterfall (most popular), 12th waterfall (more challenging) and 27th waterfall (best for thrill-seeking families). Open daily from 8 am to 3 pm. Price varies, depending on tour. Tour includes life jacket, helmet, and trained guide. Check 27 Waterfalls website for details. Good to Know: Wear sturdy, waterproof closed-toe shoes. The 27 waterfall tour will be an all-day outing.
(MORE: Whale Watching in the Tropics for Families)
Salto de Jimenoa Dos – Dominican Republic
Getting to Salto de Jimenoa is half the fun! The adventurous trail that weaves through the jungle to the falls will make kids feel like Indiana Jones. Let kids swing and sway across three rope-and-slat suspension bridges that crisscross the rushing river below. Once at the falls, families can relax and have a snack, or cool off in the natural pool. There is a small entry fee. Good to Know: Good waterproof walking shoes are a must! And don't forget insect repellent.
Michelle Rae Uy contributed this to MiniTime. She is a travel writer based in Los Angeles and MiniTime's Head of Content, who spends her free time on adventures and film photography.