Headed to the Caribbean this summer? These amazing beaches will make that trip even more amazing.
By Miriam Groner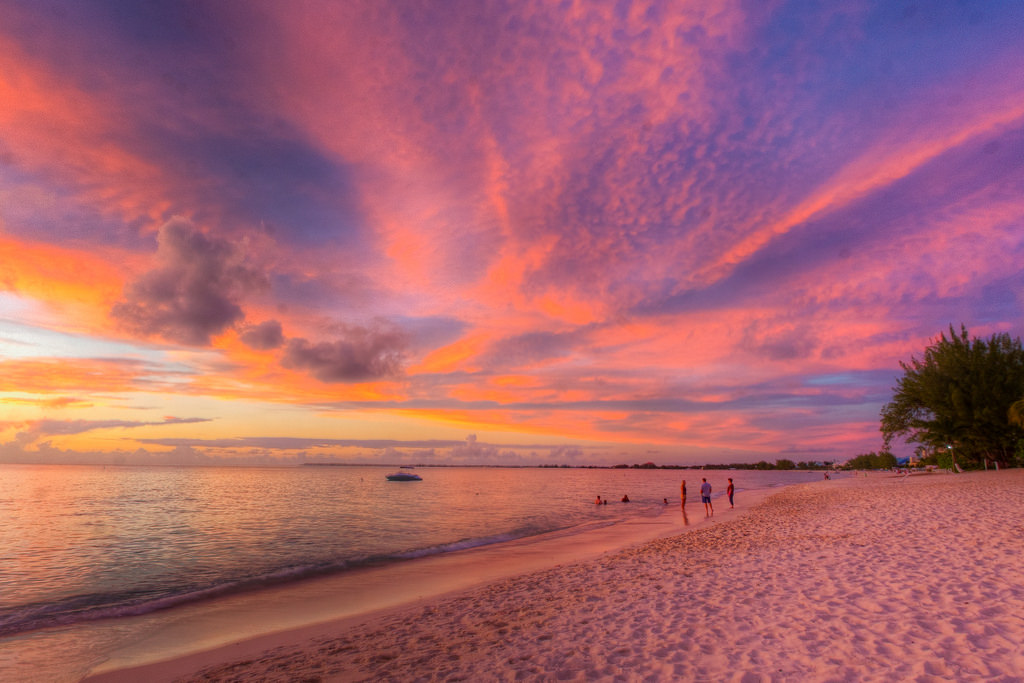 Seven Mile Beach in the Grand Cayman (Flickr: SF Brit)
Dreaming of a family vacation somewhere sunny? Look no further than the glorious, year-round sunshine of the Caribbean. With the Caribbean home to over 700 islands, islets and reefs, your hardest choice is going to be choosing which one to make your travel destination. Pack the towels and sunscreen, we're going for a swim!
Here are the beaches we love and recommend when traveling with kids.
1. Seven Mile Beach, Grand Cayman Island
On the charming Cayman Islands, Seven Mile Beach continues to be a hotspot for beach lovers. Take in the mesmerizing beauty of the sparkling blue water hugging the crescent-shaped shore or get a closer look by taking the family snorkeling through the gorgeous barrier reefs. Only a couple miles away is Stingray City, one of the biggest kid-friendly attractions on the island (and for good reason!), where your children can get a close up look and feed Atlantic Southern stingrays. There is Westin Grand Cayman Seven Mile Beach for a great hotel option in the area.
2. Grace Bay, Turks & Caicos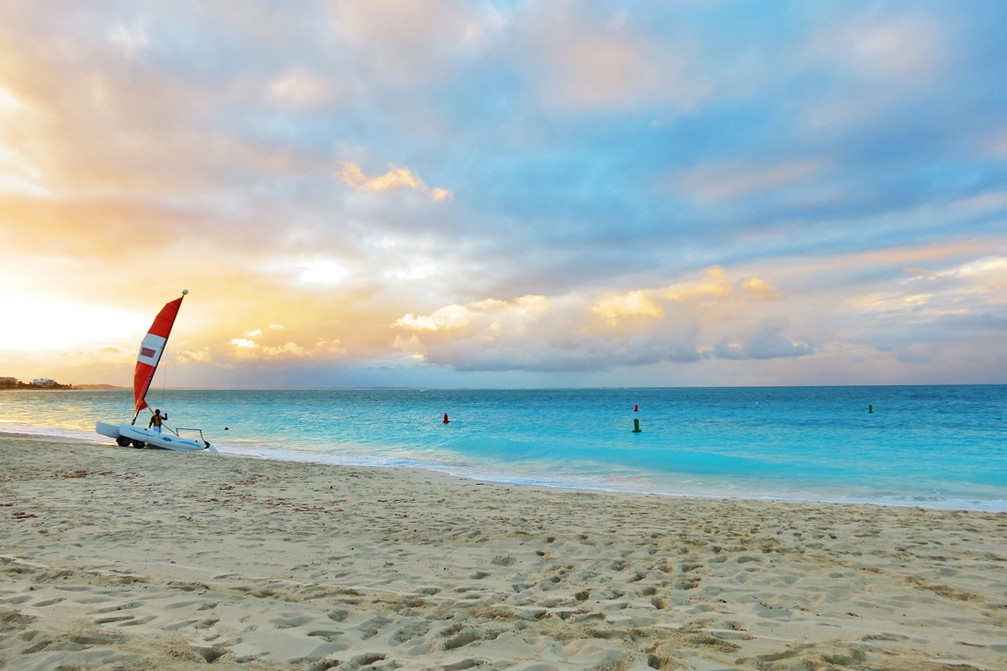 Grace Bay in Turks & Caicos (Flickr: Matthew Straubmuller)
Grace Bay on the Providenciales is a convenient stop for many cruise ships so consider hopping on board a cruise to get to the island. Once on land, you'll be hypnotized by the enthralling natural beauty; sugary white sand and shimmering water that stretches for miles. This island tends to be more quiet and secluded, so if you're looking for an exclusive getaway, this may be a good choice. The calm waves and numerous kid-friendly amenities on the island make this beach ideal for families with young children.
3. Flamenco Beach, Culebra, Puerto Rico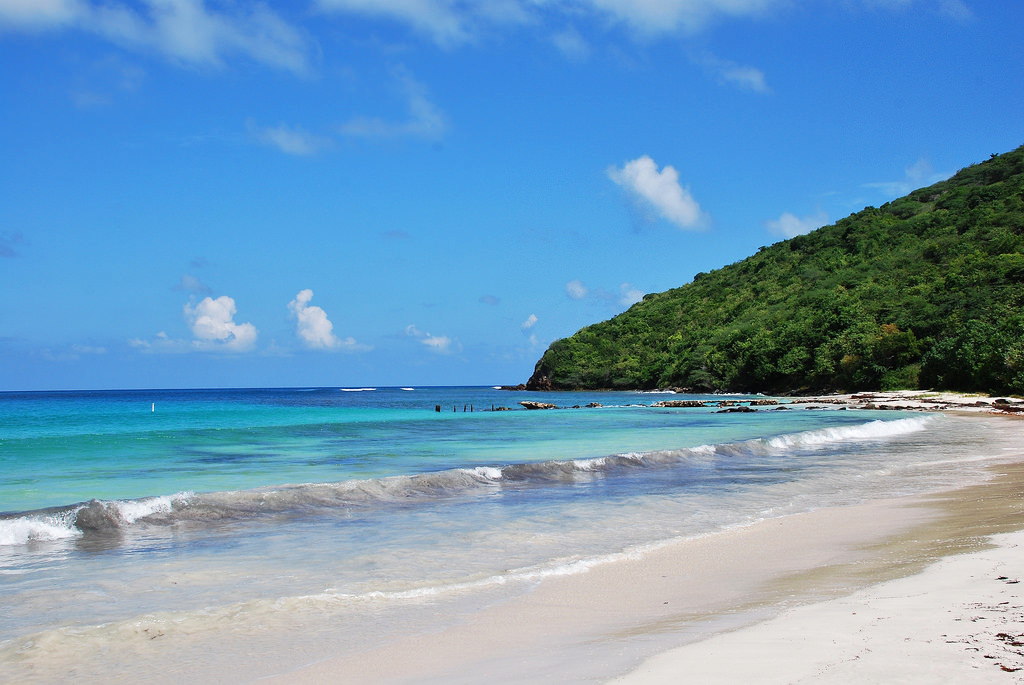 Flamenco Beach in Puerto Rico (Flickr: Angel Xavier Viera-Vargas)
Visitors in Puerto Rico have deemed this "one of the best beaches in the world" and the "crown jewel" of the island. With the gorgeous mountain ranges in the background- it sure is. The shallow shore and sand bars, lifeguard stations dotting the beach, as well as the many tourist attractions nearby, make this a kid-friendly destination for children of all ages.
4. Valley Church Beach, Antigua
If you're able to be pried away from sunbathing on the shores of this breathtaking beach, head to Shirley Heights to take in an incredible panoramic view of the island. Want to make your family vacation educational? Head to the Cathedral of St. John the Divine to learn about the island's fascinating history. A wonderful resort to make the most of your visit is Cocobay Resort located only a few minutes away.
5. Maho Beach, Cruz Bay, St. John
Deemed one of the best beaches to snorkel at, visit Maho Beach when vacationing in the US Virgin Islands with the whole family to get a closer look at the stunning underwater world that resides in the shallow waters of Maho Beach. Spotting a stingray is no surprise here!
6. Cable Beach, Nassau, New Providence Island
Looking for a more secluded family vacation? Stay near the Cable Beach for a calm seaside getaway. Rent jet skis near the northside and take your kids for a spin on the crystal clear waters. There's also free snorkeling in areas of the beach – so get in early to get your hands on the equipment. For an all-inclusive vacation, stay at the Club Med Columbus Isle less than 30 minutes away.
7. Playa Sucia, Cabo Rojo, Puerto Rico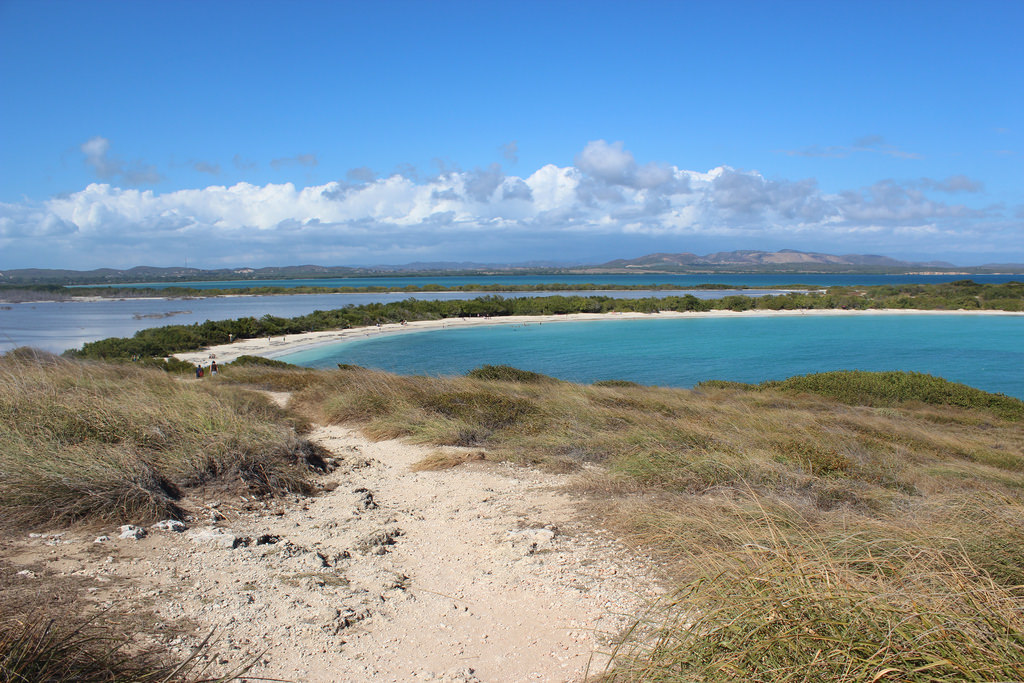 Playa Sucia in Puerto Rico (Flickr: LeanneMarie1215)
Rock formations set behind the sparkling water make this beach a enthralling travel destination. Trees provide shade on sunny days and the shallow waters are great for swimming with kids. If you can be pried away from the beach, a great kid-friendly attraction nearby is the Cabo Rojo Lighthouse that gives you picture-perfect panoramic views of the island.
(MORE: 5 Best All-Inclusive Resorts for Families in the Caribbean)
8. Trunk Bay, Virgin Islands National Park
Surrounded by coconut palms, seagrapes, and lush tropical vegetation, this beach offers the best of both worlds. Relax by the turquoise blue water, run your toes through the powdery sand – or go for a walk through the greenery. Modern facilities and an array of family-friendly hotels bordering the beach make this a convenient travel destination for families. Your kids will love the bay's heart-shaped appearance (due to a stretch of sand jutting into the water).
9. Cockleshell Beach, St. Kitts and Nevis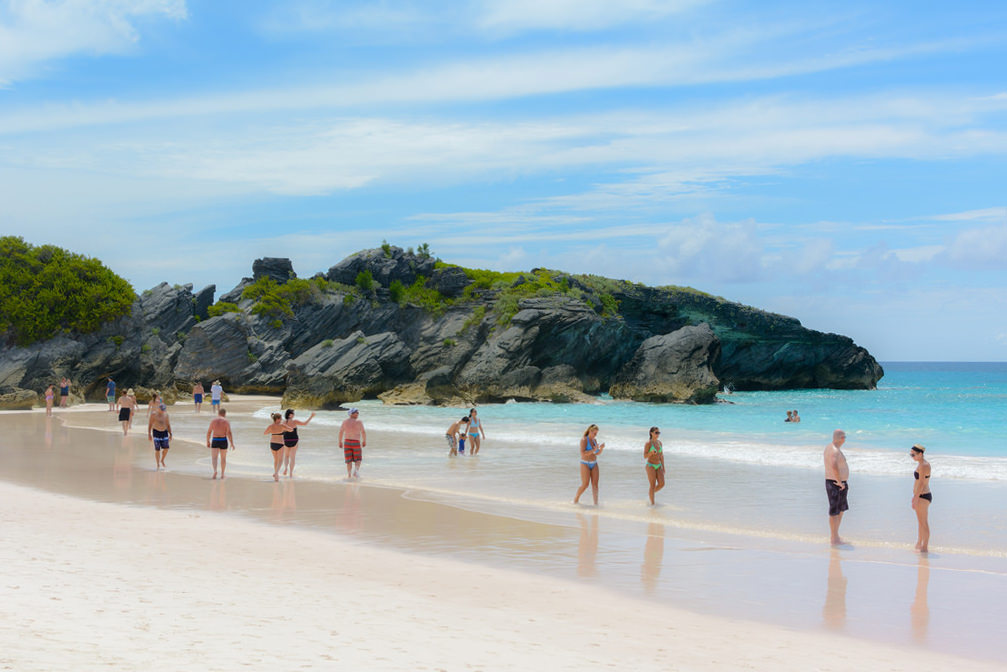 Horseshoe Bay Beach in Bermuda (Flickr: Jeremy T. Hetzel)
Cockleshell beach is one of the most popular beaches on the St. Kitts' tropical peninsula. A short, but scenic drive (approximately 25min) from the town center, Cockleshell beach has a selection of watering holes and long stretches or powdery, white sand. The beach is a magnet for cruise-ship tourists and locals, who come to the island for the incredible views and to party on weekends. If you're looking for a peaceful getaway, come during the week when you can enjoy the perfect ambiance to soak up the sun. Bring snorkel gear for the kids and they'll be entertained for hours while they chase the fish swimming along the shore.
10. Sosua Beach, Puerto Plata, Dominican Republic
The stunning crescent-shaped bay at Sosua Beach is protected by coral formations and offers clear waters for a family of divers and snorkelers. It's sheltered and calm waters also make it a safe and kid-friendly swimming spot. Stay at the Barcelo Puerto Plata for easy access. Take your family on a boat ride or snorkeling trip to see diverse species of fish and intricate reef structures surrounding the island. Whale-watching is also a popular tourist activity in the winter time!
Miriam Groner contributed this to MiniTime. Originally from Australia, Miriam now lives in New York City where she writes and blogs on a variety of topics.