Seeking the ultimate souvenir? These vacations can turn up gold, diamonds, rubies and more.
By Katrina Brown Hunt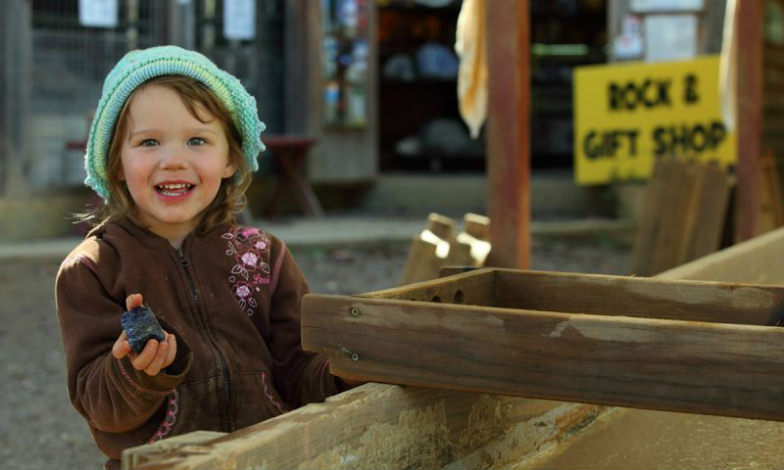 Let your little ones mine precious gems in North Carolina. (Cherokee Ruby & Sapphire Mine)
When 12-year-old Michael Dettlaff and his family visited an Arkansas state park recently, he had no need to buy a souvenir at the visitor center on his way out. While exploring the Crater of Diamonds State Park, the boy found a 5-carat diamond worth up to $15,000. Over the years, visitors have uncovered over 75,000 diamonds of varying size in the former volcanic crater.
While finds like Dettlaff's are quite rare, there are still several mines around the U.S.—promising precious gems, semi-precious gems or gold—where you can get your hands dirty in a finders-keepers-style vacation. The most family-friendly options, where you dig or sluice through dirt and creeks, offer low admission and cheap gear rentals, as well as tours, kid-friendly activities, and even cabins to rent. Staffers can usually inspect and mount your finds, but the thrill of the chase—combined with a little education in geology and history—may be its own reward.
Here are six places where you and the kids can hunt for gold, diamonds, and other bling:
Cherokee Ruby & Sapphire Mine
At this Great Smoky Mountain-area mine in Franklin, North Carolina, about 60 miles southwest of Blowing Rock, you might find rubies, sapphires, garnets, and rutile (similar to hematite). Your admission fee gets you two buckets, a screen box, and a seat cushion, which you use at the flume line. For a dollar extra, you can get a shade umbrella. Admission: $15 for ages 12 and up, $10 for kids 6 to 11; free for ages 5 and under. Open Apr. 1- Oct. 31.
Crater of Diamonds State Park
This state park in Murfreesboro, Arkansas, about 120 miles southwest of Little Rock, features a plowed, 37-acre field that was once a gem-producing volcanic crater. You can also explore the interpretive center, get tips for diamond searching, and rent gear such as shovels, buckets and kneepads. The park also has a summer-season café, a campground with RV hook-ups, bathrooms, and showers. Admission: $7 for adults, $4 for kids 6 to 12 and free for kids under 6. Open year round.
Jamestown, California
The Jimtown 1849 mining camp, about 70 miles west of Yosemite National Park, offers a Williamsburg-esque immersion in Gold Rush history, complete with mining tents, a saloon, and characters in period dress. While the original prospectors are long gone, there's still gold here, at least in the form of nuggets and flakes. The family admission fee covers two adults and up to three kids: just panning for an hour is $60 (or $105 for 3 hours), while a sluice-and-pan package starts at $135 for two hours. Open year round, except Thanksgiving and Christmas.
Gem Mountain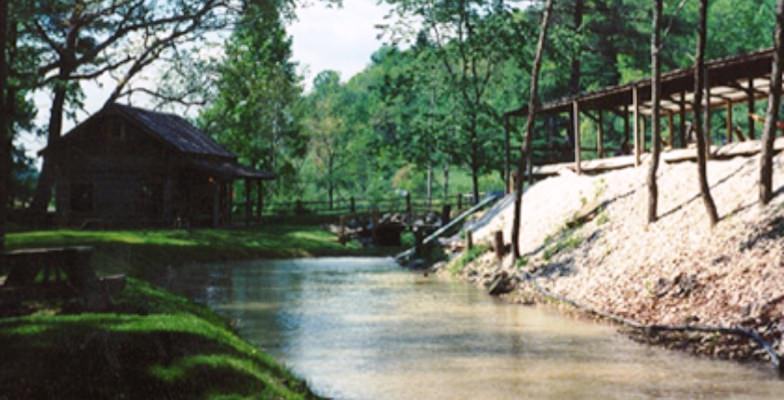 Gem Mountain in Spruce Pine near Pisgah National Forest (Gem Mountain)
At this spot in Spruce Pine, North Carolina, about 50 miles from Asheville, visitors have been known to turn up emeralds and rubies (including one 1,000-carat ruby), but you're more likely to find Wiseman and Brushy Creek aquamarine, Crabtree emerald, moonstones, garnet, citrine or amethysts. You use the flume-mining technique of scooping sand and rocks onto a screen and running water over it; staff can cut your finds into jewelry or you can just shop the gift store. There's no fee for general admission, but you pay $25 for a two-gallon bucket. Open Mar. 1- Dec 31.
(MORE: Find parent-approved, kid-friendly hotels in California.)
Herkimer Diamond Mines
Though technically not diamonds, the double-terminated quartz crystals in Middleville, New York—about 85 miles northwest of Albany—have a diamond-like shape. Your admission gives you use of a rock hammer, zip-lock bags, and entrance to the on-site museum. There are daily educational programs and an activity center with stone-cutting, t-shirt-making, jewelry classes and geode-cracking. There's also a KOA campground nearbby offering tent sites and cabins. Admission: $11 for ages 13 and up, $9 for ages 5 to 12; free for kids 4 and under. Open Apr. 15-Oct. 31.
Emerald Hollow Mine
Set on 70 wooded acres in Hiddenite, North Carolina, admission to this emerald and ruby mine an hour off the Blue Ridge Parkway includes one bucket of ore for you to sluice and pick through. Options for additional buckets start at $5 and climb to $100 for a "Cutter's Choice" bucket guaranteed to contain rough but facet-grade gemstones. Whether or not you find anything, the mine offers picnic areas, creeks, and plenty of beautiful scenery. Admission: $5 per person for sluicing; $10 per person to pan in the river. Open year round.
Katrina Brown Hunt contributed this to www.MiniTime.com.