Best Reasons to See Barcelona with Kids
By Iberica Travel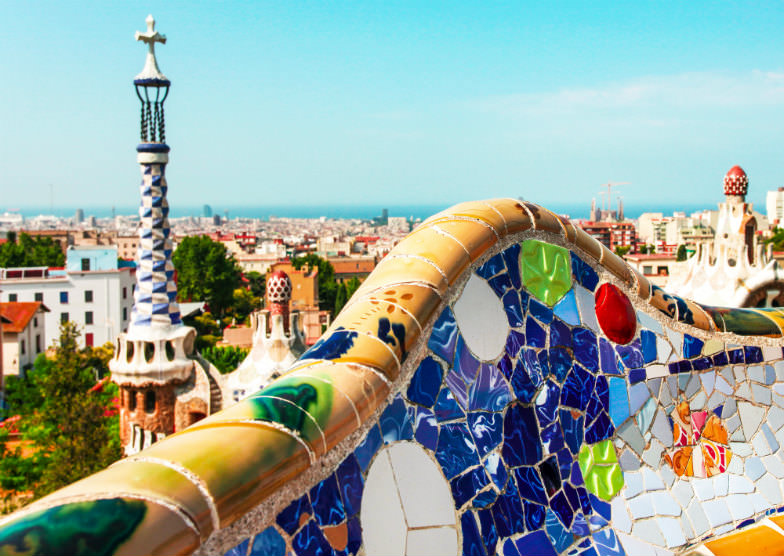 Sunny Barcelona (Iberica Travel)
Have you ever been to Spain before? Well, if not you should definitely add the Cosmopolitan city of Barcelona to your To-Do List!
Check out our reasons for visiting Barcelona soon:
1) Mediterranean Weather – Barcelona is located on the shore of the Mediterranean Sea which makes for great weather almost all year around. The pleasant and warm climate tremendously increases your chances of having a sunny and cloudless day while strolling through the hidden streets of the picturesque old town or having some ice crème at one of the many bars and restaurants along the waterfront.
2) Golden Beaches – Would you like to enjoy the ocean breeze every single day at the beach? No problem! Barcelona offers a plenitude of beautiful sunny and breezy beaches. Enjoy a walk from Barceloneta up to El Maresme Forum and watch the numerous water sport activities or beach volleyball athletes. Believe me – you and your kids won't get bored at the seafront.
(MORE: Find great kid-friendly hotels in Barcelona, Spain.)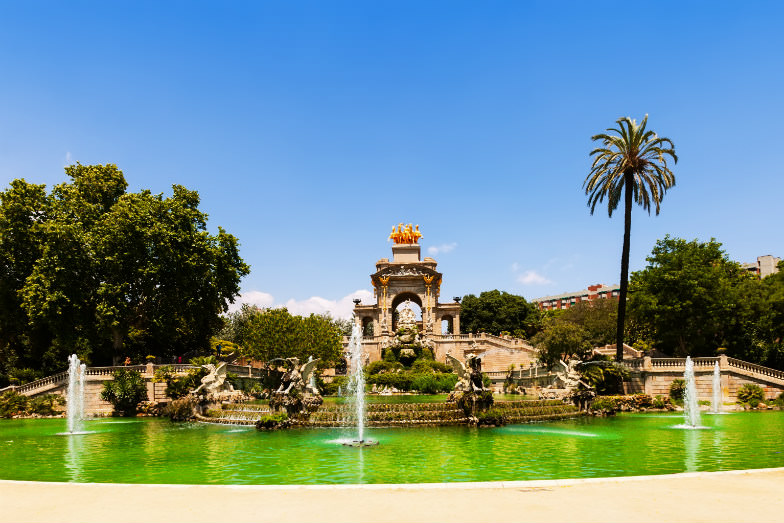 Parc de la Ciutadella (Iberica Travel)
3) Picnic at Parc de la Ciutadella – Out of the many parks that are found in Barcelona the Parc de la Ciutadella is the perfect place to spend an afternoon having a picnic with your little ones. This park is located in the heart of Barcelona and is the biggest green area in the city. Next to a plenitude of green play fields it also offers a cute little waterfall and a small lake where you can spend a couple of hours dozing away on a rowboat.
4) Water Parks – Your kids will never forgive you for not taking them to this ultimate water park experience, located at the outskirt of the city. Enjoy a day full of splashy slides and wild attractions at Illa Fantasia or Costa Caribe Aquatic parc. Prepare to get soaked with fun.
5) Tibidabo Amusement Park – An amusement park on top of a mountain? This you will only find in Barcelona! The adventure of visiting this antique amusement park already starts with a smooth cable car ride taking you up the mountain to the entrance of the park. Experience an adrenaline rush combined with a breathtaking view of the city and surroundings!
6) Port Aventura – 30 minutes south of Costa Dorada lays the Port Aventura, the biggest and most famous theme park in Spain. Dive into a magical world of magnificent shows and breathtaking rides for all ages. From the tallest and fastest roller coasters in Europe to smaller and more relaxing rides this theme park has something to offer for all ages.
Santa Maria de Montserrat (Iberica Travel)
7) Santa Maria de Montserrat – The impressive Benedictine monastery of Montserrat is located on top of the mountain Montserrat, about 45 kilometers northwest of Barcelona. It was founded in the 11th century and is especially known for its statue of the Black Madonna, patron saint of Catalonia. At a height of more than 1000 meters above sea level the view of the surrounding area is incredible and allows the visitor a view far into the landscape of Catalonia. A cultural interesting and fun excursion for all who like to see what the outskirt of Barcelona has to offer.
8) Cable car ride to Montjuic – Like Tibidabo also Monjuic is one of Barcelona's very own little mountains. Additionally to a breathtaking view of the city this mountain offers a variety of things to see like museums, the Olympic Village and the Poble Espanyol. However the highlight of the tour is the ascent with one of two cable cars. The first one starts in Barceloneta and takes you to an amazing lookout. The second one, Telefèric de Montjuic, takes you straight to the top of the mountain. If you ever wished to experience a bird's eye view this is your chance.
9) Barcelona Zoo – Located in the Parc de la Ciutadella this zoo is home to more than 700 animals and 400 different species. It is the perfect choice for a fantastic family day-trip in Barcelona. One of the most impressive attractions is the acrobatic dolphin show and the cute petting-zoo, which will metamorphose your children into a giggling incarnation of happiness.
10) L'Aquàrium de Barcelona – The divers and colorful underwater world that Barcelona's Sea Aquarium has to offer will capture you and your kids. It is one of the largest aquariums in Europe and is home to a plenitude of different marine animals and is equipped with a transparent tunnel of 80 meters length that enables you to walk through the underwater world and experience life under water up close. You are going to feel like being part of the ocean!
11) Chocolate Museum – Barcelona's Museu de la Xocolata is a sweet and delicious experience for you and your kids. Their offer ranges from a multitude of sculptures made out of chocolate to various participation games like chocolate tasting and painting with chocolate. One thing is for sure, no one will leave here with an empty stomach and a hankering for chocolate.
12) Bosque Urbá – Located at Plaza del Forum the Bosque Urbá is a new urban adventure and climbing park in the middle of Barcelona. With more than 50 attractions like zip wires, nets, suspension bridges, trunks on platforms and the possibility of going bungee jumping this place of interest offers plenty of fun for the whole family.
13) Cosmo Caixa – This interactive museum of natural sciences is a fun and informative experience for children of all ages. What you can see here are various exhibitions like the ecosystem of an "under water" forest with gigantic trees and exotic birds. Further it also visualizes main scientific theories and offers an impressive look at the stars in its own planetarium. During the whole tour through the museum children are always invited to participate in various activities.
14) Font Mágica – This so called magic fountain is one of Barcelona's most impressive sights and an absolute must-see for the whole family. It offers an incredible water show with more than 3600 jets of water playing together to the sound of music. This attraction can be experienced throughout the year and is especially worth visiting at New Year and the festival Sant Joan when the spectator is offered a special show.
15) Flamenco Shows – Don't miss out on visiting one of the pure and spectacular flamenco shows that Barcelona has to offer. You will be bewitched by enchanting singers and acrobatic dancers accompanied by the sound of melodious Spanish guitars. This is a highlight for all family members!
16) La Rambla – La Rambla is a street located in the center of Barcelona starting at the Plaça de Catalunya and making its way down to the waterfront. The street is filled with a variety of street artists, musicians and dancers that entertain everyone who takes the time to stroll down La Rambla. Special attractions are the so called living statues, street artists that dress up, for example as cowboys or clowns, and for a small tip interact and take pictures with the curious children. If you get tired of walking, the little and bars and restaurants at the side of the street offer a perfect refuge.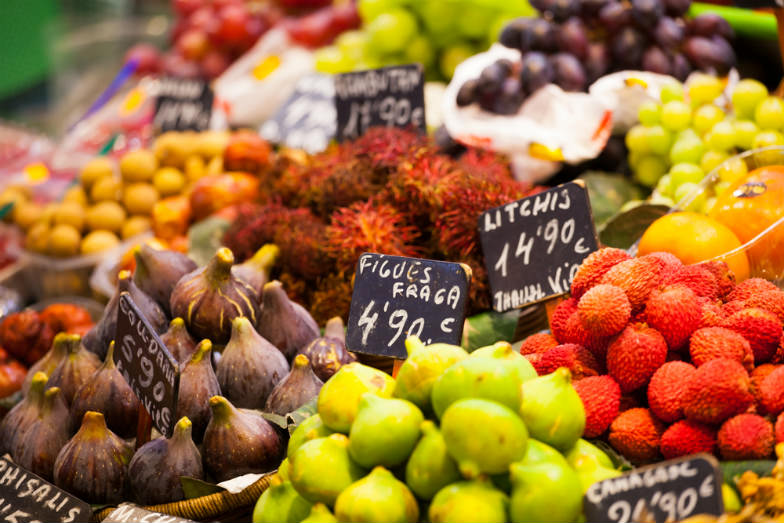 Mercat de Sant Josep de la Boqueria (Iberica Travel)
17) Mercat de Sant Josep de la Boqueria – Usually refered to as La Boqueria this outdoor market is the biggest food market in Barcelona and is located in Ciutat Vella, the old district of the town. With an amazing diversity of vegetables, fruits, meat and much more Spanish specialties this market is a popular spot to stop for a quick bite to eat. It was ranked the world's best fresh market by CNN Travel and will satisfy the culinary desires of both young and old.
(MORE: Find other wonderful kid-friendly things to do and see in Barcelona, Spain.)
18) Park Güell – The Park Güell is a really unique kind of a park built by the Spanish architect Antoni Gaudí. It contains impressive stone structures, stunning tiling and fascinating buildings. If you want to take a short break you will find a terraced area at the top of the park that offers an amazing view of the park and of the city. The vibrant multi-colored tiled mosaic work is absolutely breathtaking and makes it one of Barcelona's most important sights. Your children will love the amazing colorful nature of this park with the enchanting Gaudí Dragon as it's guardian.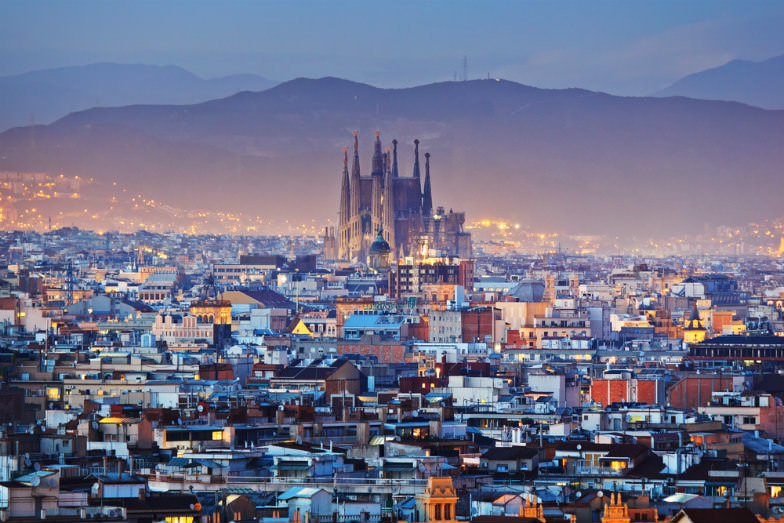 Sagrada Familia (Iberica Travel)
19) Sagrada Familia – La Sagrada Familia is without any doubts Barcelona's most famous sight and is often associated as the city's emblem. It is a Roman Catholic Church designed by the Spanish architect Antonio Gaudí. Its construction was commenced in 1882 and is up to now still not finished. Even though incomplete UNESCO considers it to be a world heritage site. The impressive architectural singularity of La Sagrada Familia is an absolute must-see for visitors of all ages.
20) Exploring the City on your own – Because Barcelona has so many incredible and well known sights worth seeing many visitors concentrate on these sights to check them off their list. Although this is a good method to see what Barcelona has to offer it is only one part of a coin. What people often forget during that procedure is to explore the little charming places that Barcelona has to offer in abundance. So reserve a couple of hours to wander around the city with your family and experience the hidden and off the beaten path laying treasures that is Barcelona.
Iberica Travel, a travel specialist for group and individual programs to Spain, contributed this to MiniTime. For more information about Barcelona, to buy tours, transfers and attractions, see Bcn-Tour.com.