Educational fun in Las Vegas that the kids will love.
By Sarah Vernetti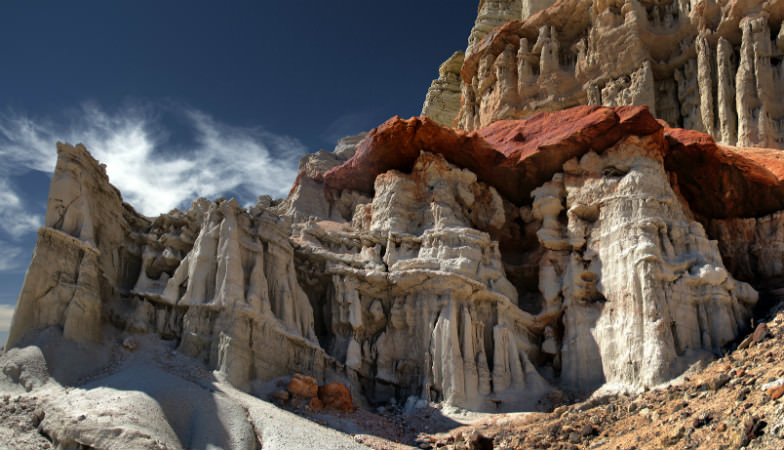 Rock formations at the Red Rock Canyon (Flickr: John Fowler)
Back-to-school season is full of new experiences: meeting new teachers, making new friends, and gaining a fresh perspective on school subjects like art and science. Incorporate that spirit of learning into your family's next vacation. Believe it or not, Las Vegas can provide the inspiration.
(MORE: Go on a fall getaway in this desert city. Find and book a great kid-friendly hotel in Las Vegas.)
Art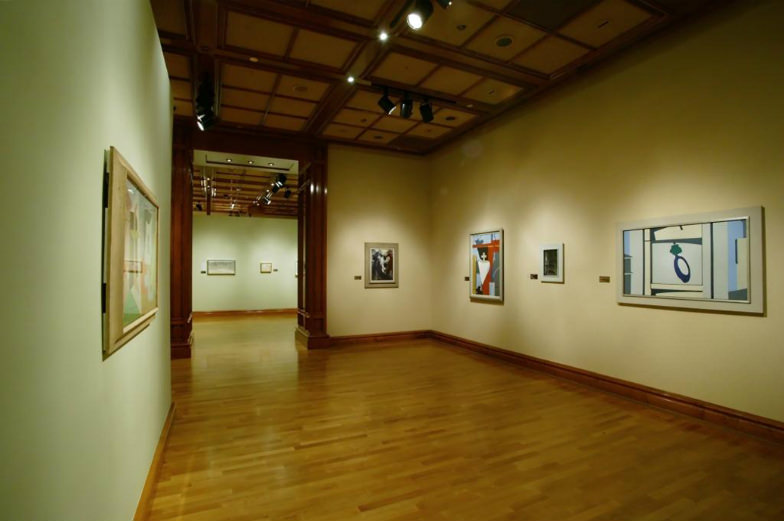 Bellagio Fine Art Gallery (Flickr: Smart Destinations)
Find creative inspiration and learn about the history of art at the Bellagio Fine Art Gallery. The current exhibition, Painting Women: Works From the Museum of Fine Arts, Boston, features the work of women artists like Mary Cassatt and Georgia O'Keeffe. You'll find a variety of artistic styles, from the pleasant peacefulness of Impressionism to the bold colors of Modern Abstraction. The exhibition is scheduled to run through October 17, 2014. Admission is $16 for adults and $11 for students, teachers, and military. Children ages 12 and under are free, although this attraction is best for pre-teens, teens, and parents. Admission includes an audio tour.
History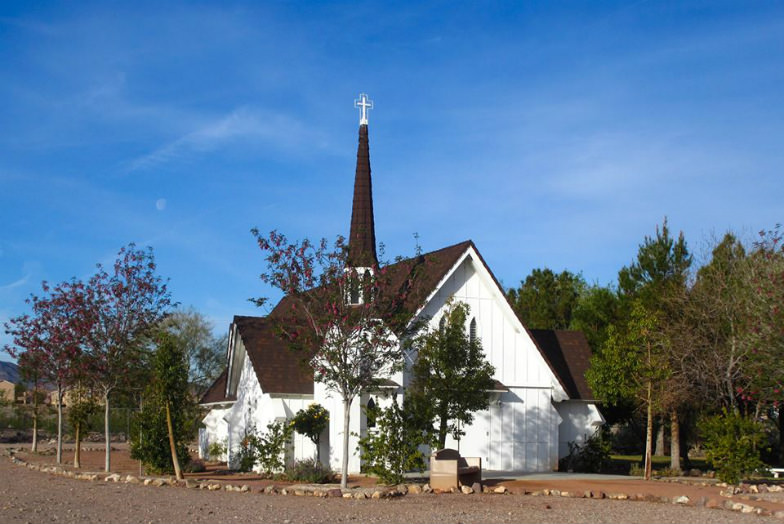 Church at the Clark County Museum (Clark County Museum)
Soak up the history of Southern Nevada at the Clark County Museum. Located in Henderson, this museum features indoor exhibits as well as the chance to walk down Heritage Street, a portion of the museum grounds that features several historic buildings. Be sure to check out the iconic Candlelight Wedding Chapel, which was originally built in 1966 and served as the site of many celebrity weddings over the years. Visitors will also find a train depot, ghost town, and an old air raid siren. Admission is $2 for adults and $1 for children.
English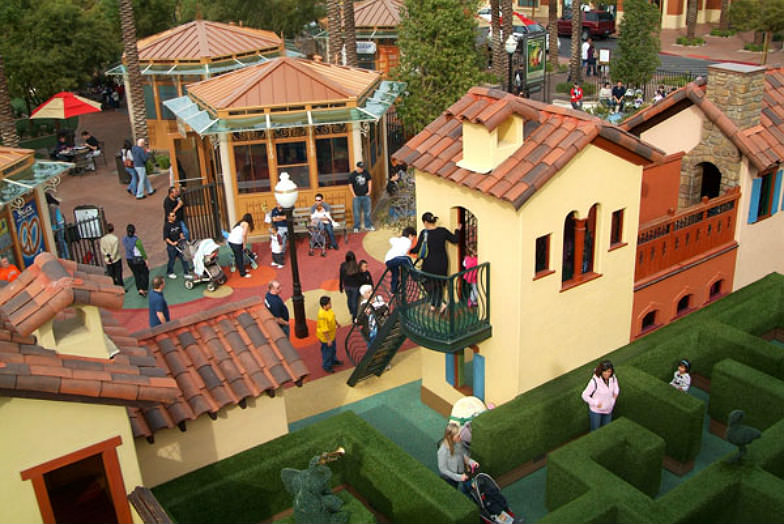 Town Square Park (Town Square Vegas )
Foster a love of reading at Town Square's "Storytime in the Square." Located just south of the Strip, this outdoor shopping area hosts its lively storytime every Wednesday morning at 11 a.m. in the complex's central park. This interactive hour-long program, which often includes music, magic tricks, and the occasional costumed character, is ideal for preschoolers. Bring a blanket, snacks, and sunscreen, and arrive early to claim your spot. Afterwards, visit the playground or ride the small Town Square train, the Cactus Coaster. Check the Town Square event schedule before your visit. Storytime admission is free of charge. Train tickets are $3 each.
(MORE: Find more fantastic kid-friendly attractions in Las Vegas.)
Ecology
At Red Rock Canyon, learn about the Mojave Desert and the creatures that call it home. Take a hike at one of the park's many trails or learn about desert life at the visitor center. Behind the visitor center in an outdoor courtyard, interactive displays teach families how the essential elements–earth, air, fire, and water–affect the creatures that live in the region. Kids will love the colorful, large-scale sculptures that represent each of the four elements. The daily use fee for the scenic drive and visitor center is $7 per car. Or, visitors can use their National Parks annual pass, which costs $80 per year.
Lunch and Recess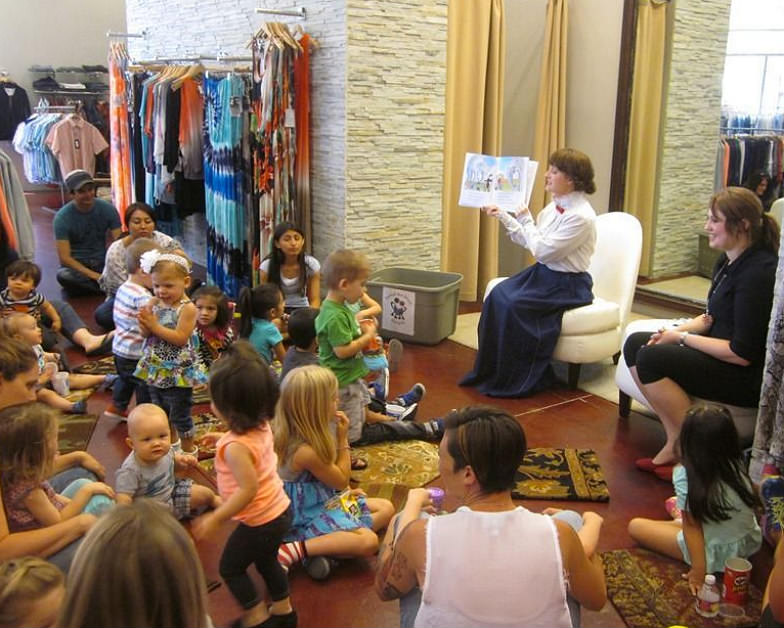 Story time at Tivoli Village (Tivoli Village)
Everyone deserves a hardy lunch and some playtime after a day of learning. Stop by Tivoli Village, located in Las Vegas' western suburbs, for a variety of dining options from upscale Mexican fare at Cantina Laredo to casual café-style sandwiches and salads at Café Leone. After you finish lunch, stop by the Tivoli Village playground. Here, you'll find shaded playground equipment and a lawn that is just begging to host a game of tag. If you visit on a Saturday, stick around for Movies in the Park and enjoy a family-friendly film and free popcorn.
Sarah Vernetti contributed this to MiniTime.