Take a bite of Americana by way of the good old hot dog.
By Katrina Brown Hunt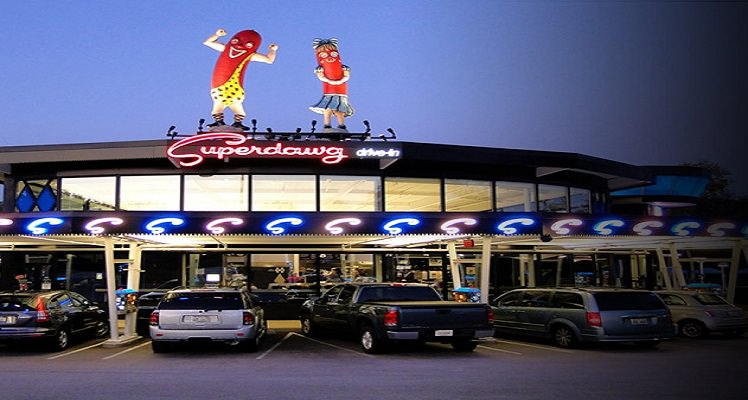 Superdawg Drive-in
Duck hot dogs? No thanks. Franks topped with brie and quail eggs? We'll pass on the latest gourmet makeover craze and stick with the classic American icon. According to the National Hot Dog and Sausage Council, hot dogs first appeared in the U.S. in the 19th century, by way of German and Polish immigrants, and were already common at ballparks by the 1890s. Happily, there are still hot dog stands and drive-ins around the U.S that date back almost that long—and others that nicely reflect regional differences. Here are six historic hot dog joints worth going out of your way for:
Chicago: Superdawg Drive-in
While the Windy City's take on the hot dog—typically featuring a poppy-seed bun, mustard, chopped onions and bright-green relish—dates back to the Great Depression, the fabulously kitschy Superdawg Drive-in (6363 Milwaukee Ave.) didn't open until 1948. You can still order outside from retro speakers, have your tray attached to the side of your car by a carhop waitress, and revel in the knowledge that these dogs contain no pork, veal, cereal, or fillers. Note: Chicago purists consider it sacrilege to ask for ketchup on your dog.
(MORE: Find a parent-recommended kid-friendly hotel in Chicago.)
Detroit: American Coney Island
What's in a name? For a classic example of the hot dog world's confusing lexicon, head to downtown Detroit, where American Coney Island (114 W. Lafayette Blvd.) has nothing to do with Coney Island in Brooklyn. Open since 1917, this family-run institution has earned accolades for its "Coney dogs" topped with freshly chopped onions, chili, and mustard.
Tucson: El Guero Canelo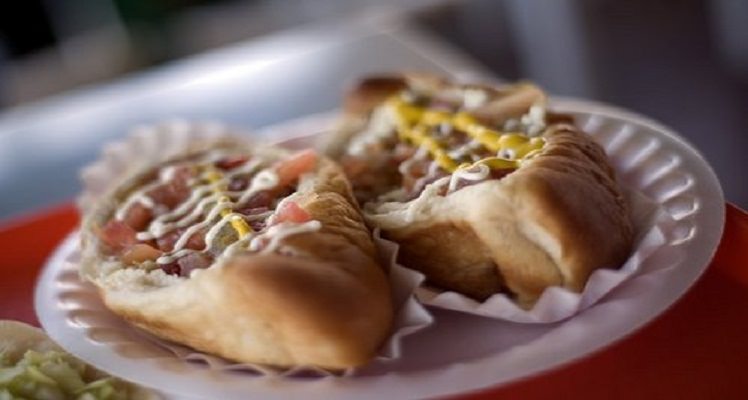 El Guero Canelo
Reportedly dating back to the 1960s, "Sonoran" hot dogs reflect a Mexican-inspired, Southwestern style: the frank is wrapped in bacon before being grilled, set in a fluffy bolillo bun, and then topped with beans, grilled onions, tomatoes, mayo and jalapeño salsa. A favorite is Tucson's El Guero Canelo (including 2480 N. Oracle Rd. in North Tucscon), which has been around since the 1990s.
New York City: Nathan's
There is, of course, no shortage of hot dog carts (lovingly called dirty-water dogs) in New York City, but the mother ship is still in Coney Island. Nathan's was launched by a Polish immigrant in 1916 and is today the host of the famed July 4th hot-dog-eating contest.
(MORE: View a family trip journal: New York City with kids.)
Los Angeles: Pink's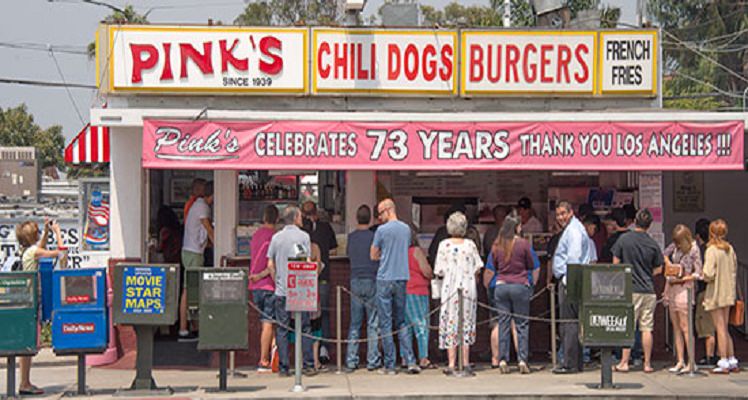 Pink's
Looking for a classic dog in La-La Land? Pink's opened near the corner of Melrose and La Brea in 1939 and, as a nod to its star-studded Hollywood neighborhood, the menu features pop-culture-inspired dogs such as the Brando (a 9-inch "stretch" dog), the Martha Stewart (with sauerkraut) and a Lord of the Rings (with BBQ sauce and onion rings).
Providence: Olneyville N.Y. System
Don't let their diminutive size fool you. The hot dog sliders served at Olneyville N.Y. System since 1946 are addictive to the point of local obsession in Providence. Billed as "Rhode Island's best hot wiener," the New York System dog is a regional specialty, made with a small steamed frank and topped here with onions, celery salt, mustard, and a meat sauce whose recipe is a closely guarded secret.
Katrina Brown Hunt contributed this to www.MiniTime.com.