Family-friendly New Year's Eve events
By Katrina Brown Hunt
PEEPS Chick Fest at PEEPSFest in Pennsylvania (PEEPSFest)
So maybe it's not the Times Square ball—but the early-evening dropping of a giant PEEP, chile pepper or pelican can be a thrill for the kids (and sleepy grown-ups) in these New Year's-loving cities.
The idea of taking the kids to Times Square to watch the big ball drop sounds enticing—if you happen to be a hardy, possibly masochistic type, whose kids never get grouchy or have to use the bathroom.
For the rest of us, another impending New Year's Eve with little ones in tow need not mean another evening in front of the TV. A number of cities around the country do creative ball drops—like the glittering, 15-foot Chile Drop that will debut at midnight, Mountain Standard Time, in Las Cruces, NM, this NYE; for families who can't stay that late, the New Mexico town's festivities also include a 7:30-9 p.m. kids-zone party. Other cities, meanwhile, do early versions of their ball drop—many at 7 p.m., to coordinate with the Greenwich Meridian Time, the purist's New Year's, and some as early as 5 p.m., which coordinates nicely with people who really need to be tucked in by 7:30.
Let's face it: some of those early ball drops—or acorn drops, or pelican drops—appeal to no-longer-a-night-owl parents, too. In North Carolina, the spokesperson for the famed Mt. Olive Pickle Drop embraces the fact that their party is over by a few minutes past 7: "It's early, it's quick, and it's just fun."
Acorn Drop, Raleigh, North Carolina
The First Night Raleigh celebration culminates in two droppings of a 1,250-pound, steel-and-copper acorn: The first drop is at 7 p.m., and the second at midnight. The kids' party, however, starts as early as 2 on the city's Bicentennial Plaza, where kids can hear music, make crafts and get henna tattoos, followed by the join-in-friendly People's Procession, at 6 p.m.
Beach Ball Drop, Panama City, Florida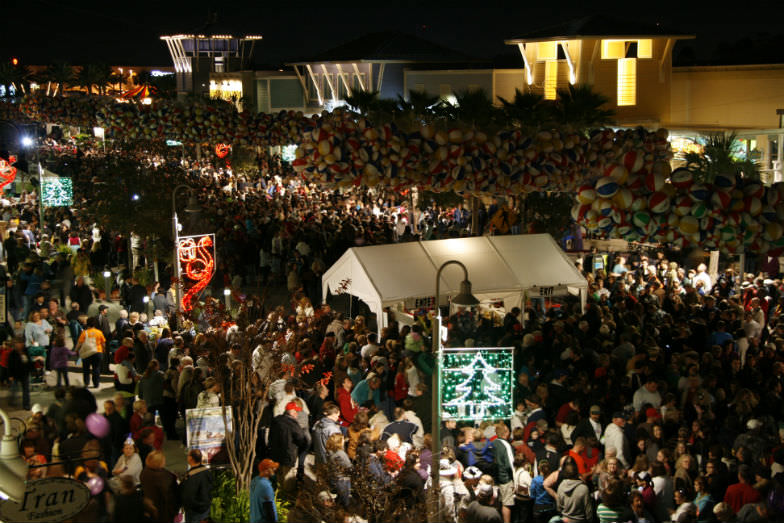 Beach Ball Drop in Panama City, Florida (Panama Beach City)
This Florida panhandle beach town answers Times Square's glittering ball with an 800-pound, LED-lit beach ball that drop 100 feet from the sky. Starting at 5:30 pm, the boardwalk will have bounce houses, street performers, live music, and an 8 p.m. "ball drop" of another kind: local officials will release 10,000 inflated beach balls along the boardwalk, followed by fireworks.
Golf Ball Drop, Hilton Head, South Carolina
This is the best way to get teed off at your family during the holidays: the Harbor Town area of Sea Pines Resort does an annual Golf Ball Drop from the top of a lighthouse, with one drop at 7 p.m. and another at midnight. The evening also includes clowns, jugglers and live music.
PEEPSFest, Bethlehem, Pensylvannia
If you thought that Peeps were just for Easter, you haven't been paying enough attention. The last two days of the year bring PEEPSFest in the manufacturing home of the marshmallow treat. The festivities include a family disco lounge, meet-and-greets with Lehigh Valley Zoo animals, a 5K fun run and dog-sled presentations. And on NYE, the 4.5-foot tall, 85-pound and illuminated PEEPS Chick makes its grand descent—at a time-efficient 5.15 p.m.
Pensacola Pelican Drop, Pensacola, Florida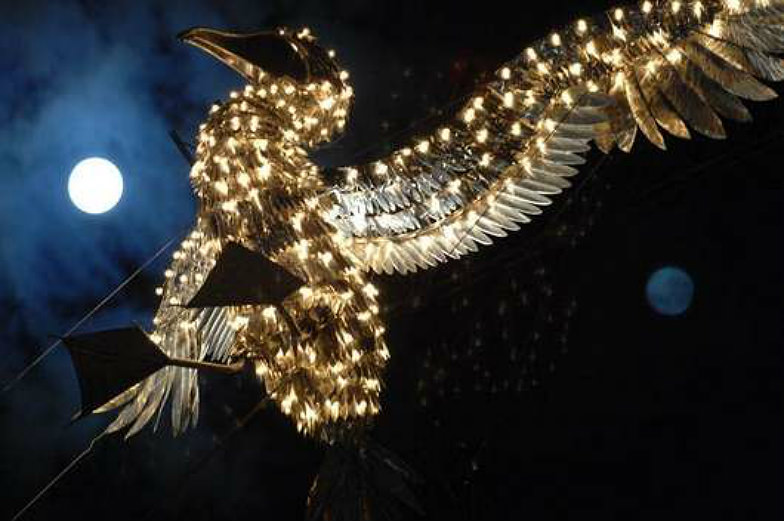 Pensacola Pelican Drop in Pensacola, Florida (Pensacola Pelican Drop)
This Gulf Coast Town turns to one of its native creatures—the pelican—to ring in the New Year. Granted, this pelican, perched at the corner of Palafox and Government streets, is aluminum and 14 feet tall, with a 20-foot wingspan. At 8 p.m., kids get their own countdown, in which the pelican lights up, amid confetti and a "bubble stomp" on stage. At midnight, the pelican descends over the crowd with fireworks.
(MORE: Find more festive holiday events and attractions to see with the kids near you.)
Pickle Drop, Mt. Olive, North Carolina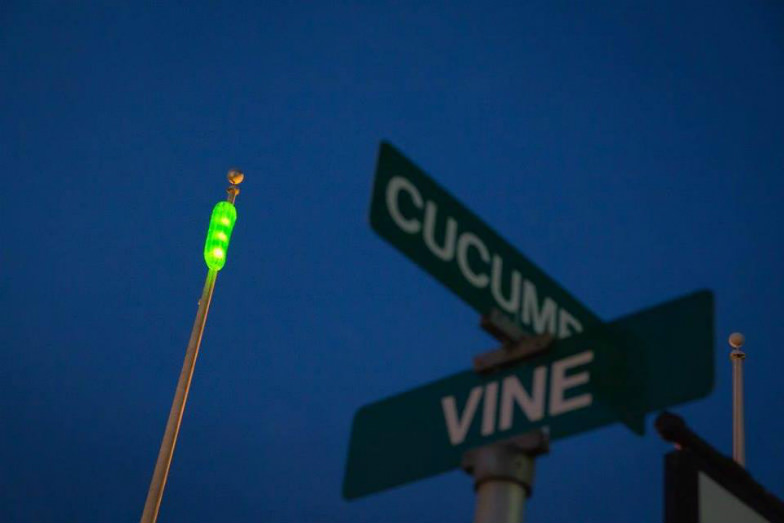 Pickle Drop in Mt. Olive, North Carolina (Mt.Olive.Pickles)
This North Carolina town, about an hour from Raleigh, is home to the Mt. Olive Pickle Company, on the logical corner of Cucumber and Vine. For more than 15 years now, the company has rung in the New Year at 7 p.m. with its sparkling, three-foot pickle, which is lowered from a flagpole into a pickling tank. There's live music as well as hot chocolate, cookies and … pickles, natch. If you can't be here in person, you can also watch a live feed on the company's web site.
Katrina Brown Hunt contributed this to MiniTime.