There's something for every member of the family in San Diego.
By Kate Rockland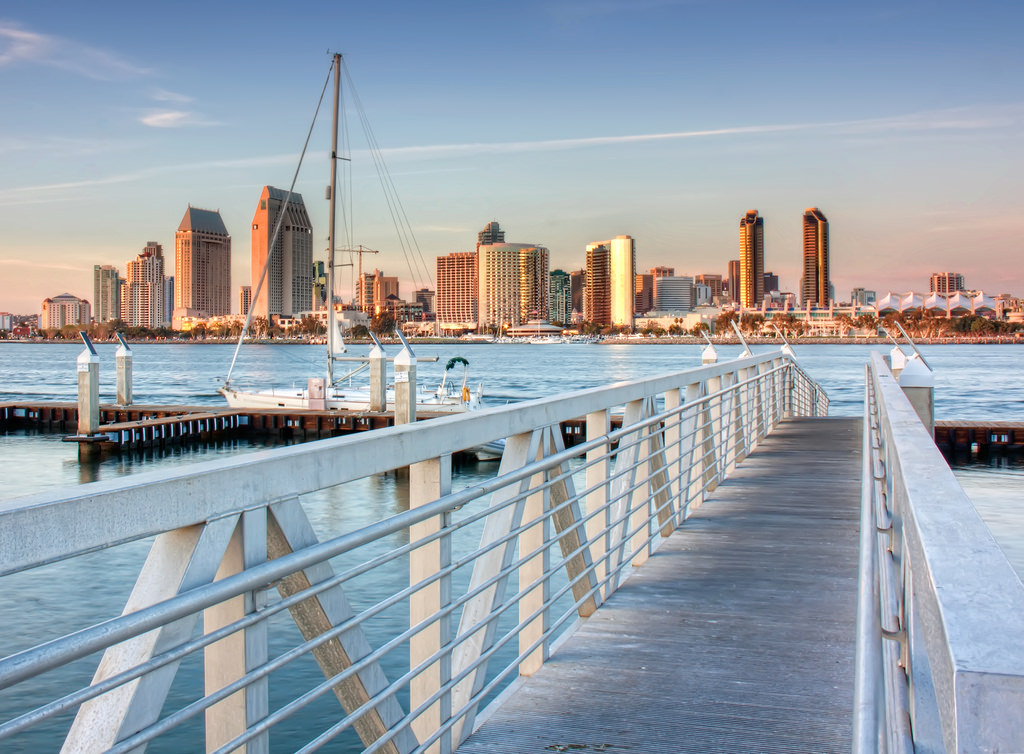 San Diego, California (Flickr: Chad McDonald)
San Diego has so much to offer traveling families that we couldn't fit it all in one section! So here's a simple itinerary in three easy categories for moms, dads and the whole family!
Everyone knows being together 24/7 for a trip with children can sometimes get overwhelming, so taking a little time to yourself to check out an attraction can really add that extra memory to your vacation for years to come!
Spa Therapy For Moms
Let's face it, sometimes the simple act of eating breakfast alone can be a treat! The Kona Kai Resort & Marina is a destination hotel that has views of the San Diego cliffs and ocean that feel more like the Almalfi Coast of Italy than California! Apply some sunscreen to sit outside and soak in 360-degree panoramic views of the boats and paddle-boarders while enjoying breakfast in the aquatic-themed Vessel restaurant. The pulled pork benedict is not to be missed. Next, stroll down the hallway to SpaTerre, Nurture your body and return to your family refreshed after experiencing a warm sand massage on an alpha-quartz heated bed.
Tee Time For Dads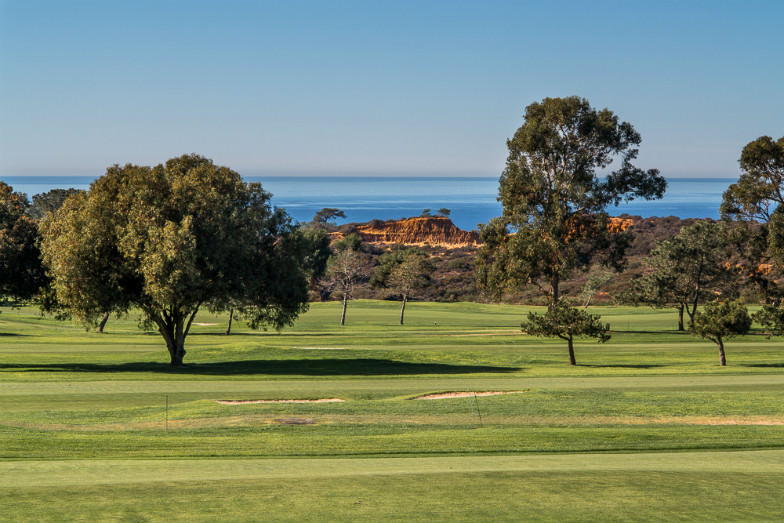 Torrey Pines Golf Course (Flickr: Tim Buss)
Why are golfers so happy here? It could be because San Diego has 90 courses to choose from. Indulge dad a little and take a swing at Torrey Pines in La Jolla, an 18-hole public green that sits high above the Pacific Ocean. Torrey Pines State Natural Reserve is also kid-friendly, should the rest of the family wish to hike among 2,000 acres of undisturbed land with killer views. The reserve closes at sunset and food is allowed only on the beach, so bring a picnic lunch and eat by the surf after dad meets up with the family!
Family-friendly Attractions
Beach Walk
Sometimes the best things in life really are free. The Northern part of Del Mar City Beach at 15th street has kid-friendly attractions such as Powerhouse, a public playground (get ready to see moms wearing bikinis and Baby Bjorn carriers) and miles of landscaped walkway with unique and unusual succulent plants kids will love touching and exploring. Get here early both for free parking and to watch the surfers.
Legoland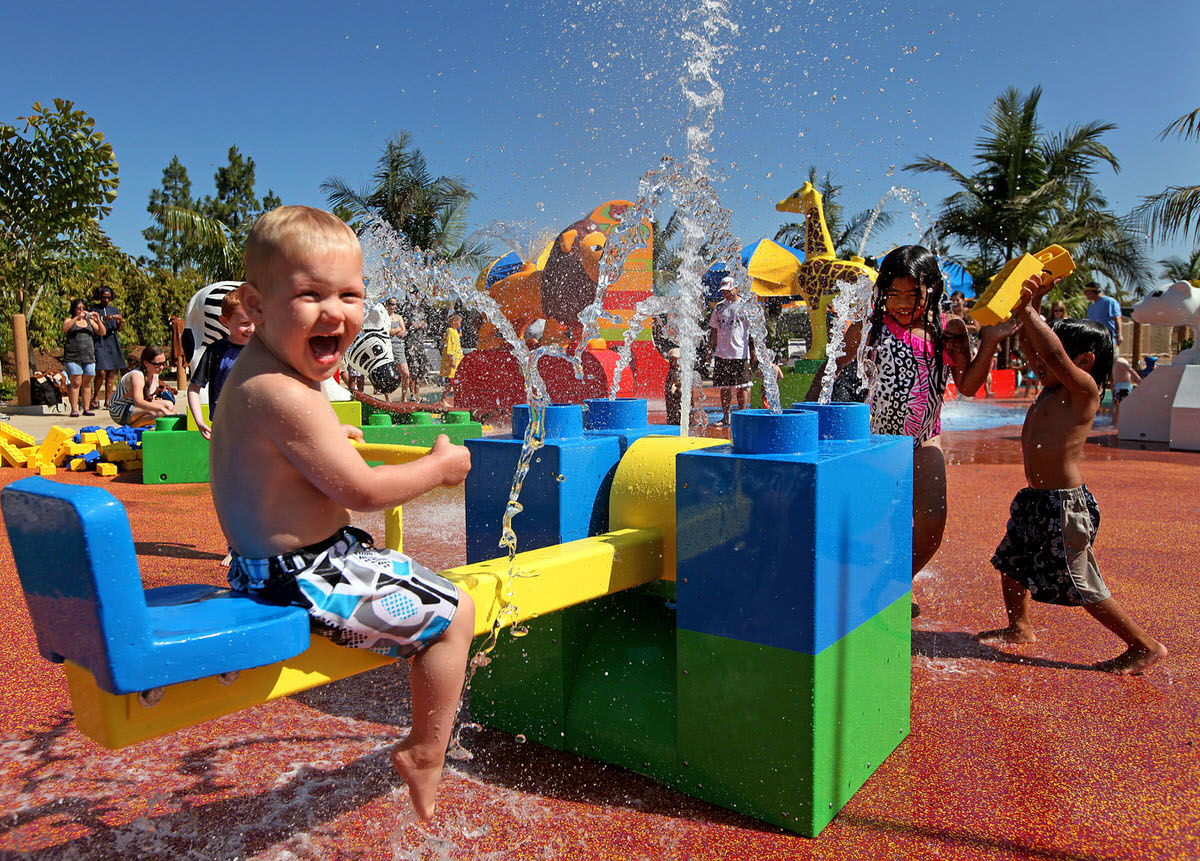 Splash zone at Legoland (Courtesy Legoland)
Legoland is so big (60 rides!) that with small children only doing half the park is more than enough. One kid-friendly feature that scores big points is the play areas built next to where families wait on line for rides. Instead of kids getting bored, they have a place to indulge their creative side with Legos. The Junior Driving school, for children ages 3 and up, lets kids navigate electric cars and earn driver's licenses! Coastersaurus makes a great "first roller-coaster" ride for children 36″ and taller, as it coasts past dinosaurs ten feet tall made of Legos.
(MORE: Best Kid-Friendly Hotels in San Diego for Every Need)
San Diego Zoo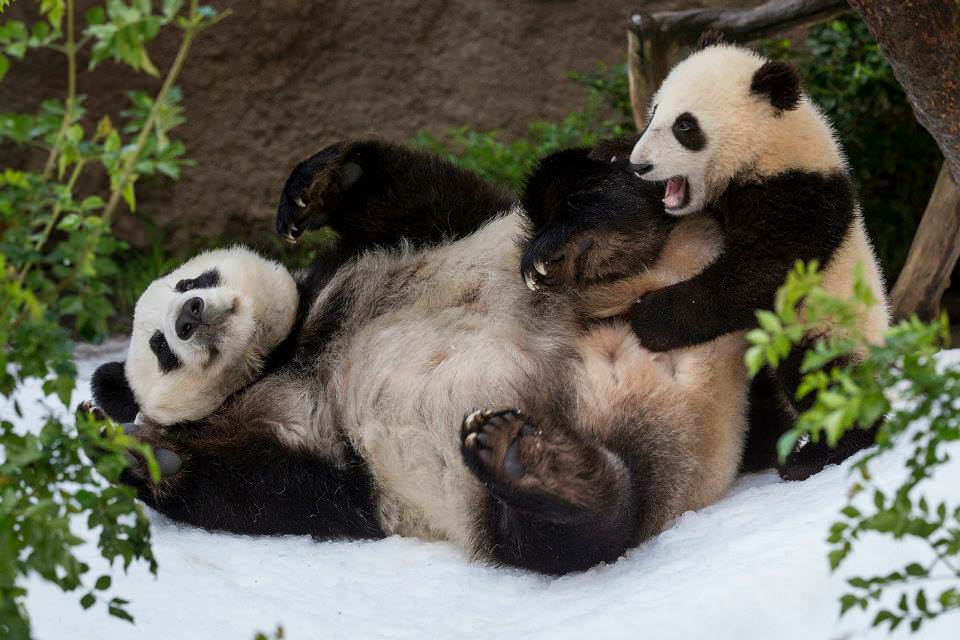 Pandas at San Diego Zoo (Courtesy San Diego Zoo)
The San Diego Zoo is home to many mother and baby animal family-friendly attractions. Don't miss viewing the mama hippo and child in their underwater viewing tank, or the Gorilla clutching her newborn to her chest right in front of you. Stroller rentals for $12 make the day a breeze, and the Skyfari Ariel Tram is not to be missed. Plus, the zoo is one of only seven in the United States that houses a Giant Panda.
Kate Rockland contributed this to MiniTime.