Nicaragua with kids
By Michelle Rae Uy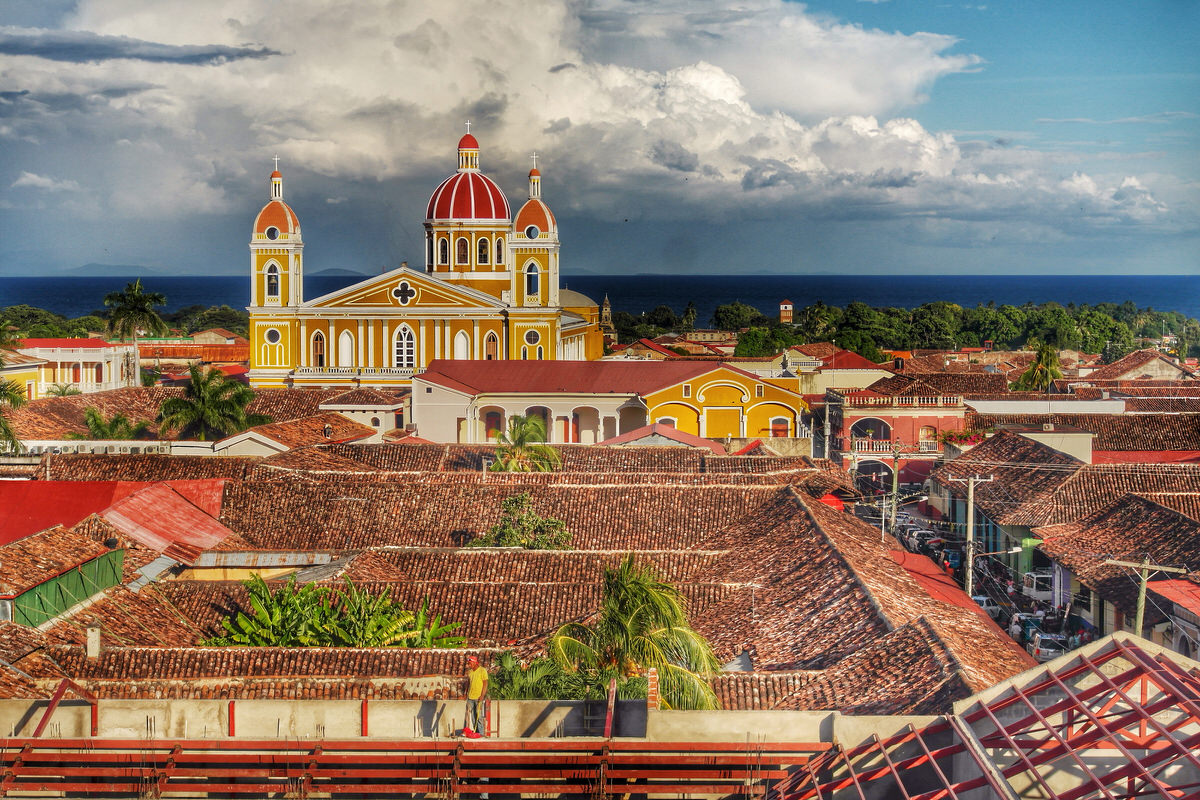 Granada, Nicaragua (Flickr: nickelstar)
Emerald waters, lush forests, pristine beaches and towering volcanoes, some of which are still active, await visitors in the incredible hideaway that is Nicaragua, a legendary place that's only starting to emerge as a favorite vacation spot not just for backpackers and adventurers but also for families searching for that idyllic, under-the-radar destination. From scenic Spanish towns full of history to crater lakes and hiking spots, here are our favorite Nicaraguan treasures to visit and experience with the kids.
(MORE: Breathtaking Resorts in Nicaragua to Add to Your Bucket List)
Visit a Spanish colonial town
As Central America's oldest city to remain at its original site, it's no surprise that the Spanish colonial town of Granada is teeming with historical attractions. But what make this city even more appealing are its red-tiled roofs and quaint, brightly painted buildings. Iglesia San Francisco – the oldest church in Central America, La Catédral de Granada and Guadalupe Church are among the family-friendly stops that offer glimpses into the city's colonial past. Family-friendly eats include ChocoMuseo, where you can feast on the all-you-can-eat breakfast buffet as well as luxuriate in chocolate massages, and Kathy's Waffles, with their homemade bread and Nicaraguan coffee. Be sure to sample vigoron, a local pork and cabbage dish, at one of the food stands in the town square.
Family-friendly hotel: Hotel Plaza Colon – Granada Nicaragua
Hotel Plaza Colon – Granada Nicaragua (Photo: booking.com)
To fully immerse into the diverse atmosphere of Central America's oldest city, you should really try choosing Hotel Plaza Colon. The accommodations offer free WiFi and an outdoor pool, as well as an on-site bar for your enjoyment. The Hotel Plaza Colon is Rainforest Alliance Certified™, which guarantees our commitment to sustainable practices.
Educational value: All of the artwork hanging in our hotel is courtesy of Nicaraguan artists — we encourage you to take a look around during your stay!
Uncomparable convenience: There is a private bathroom in each room. The extras come with complimentary toiletries and bathrobes. Every amenity is made of biodegradable materials. They also offer free private parking subject to availability upon check-in date.
Explore a town at the base of a volcano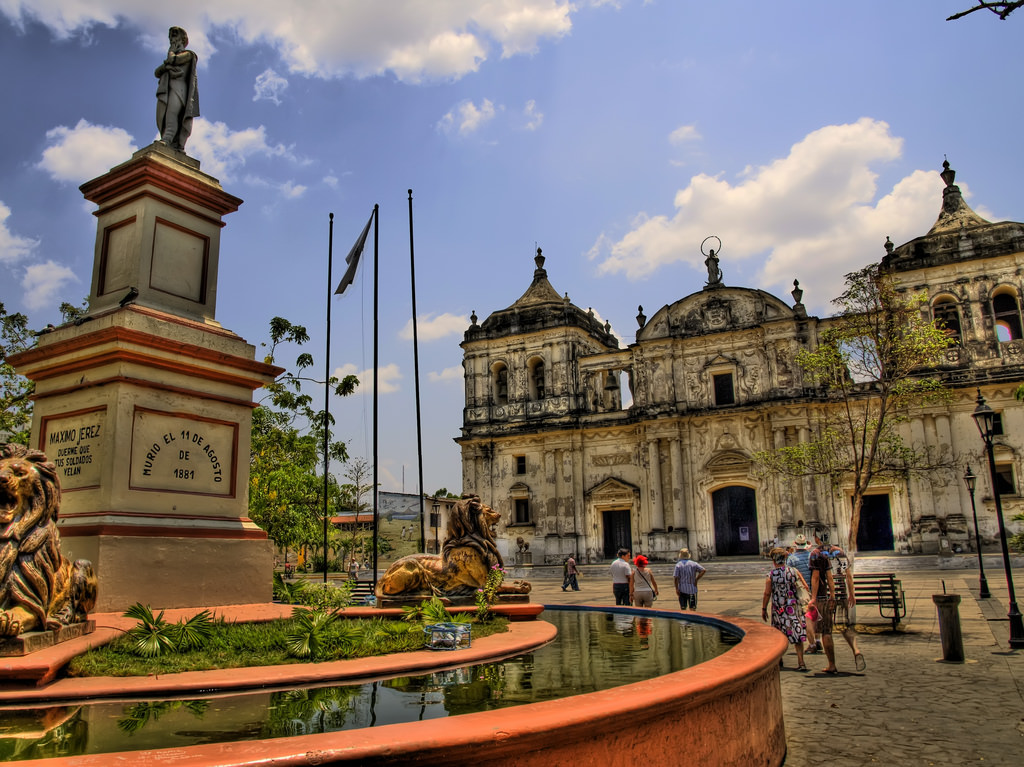 Leon, Nicaragua (Flickr: Javier Losa)
Nestled at the foot of the Momotombo Volcano, the colonial town of León is the base of choice for those intending to explore the nearby volcanoes. But the family-friendly town is so much more than that. Home to the National University and surrounded by an utterly picturesque landscape, its cobblestone streets are alive with cafes and small shops, churches, museums, graffiti and murals depicting the Nicaraguan Revolution, and a growing culinary scene. Not far from town is León Viejo, one of the oldest Spanish colonial settlements in the Americas, where you can walk among the ruins of old León.
Family-friendly hotel: Hotel El Convento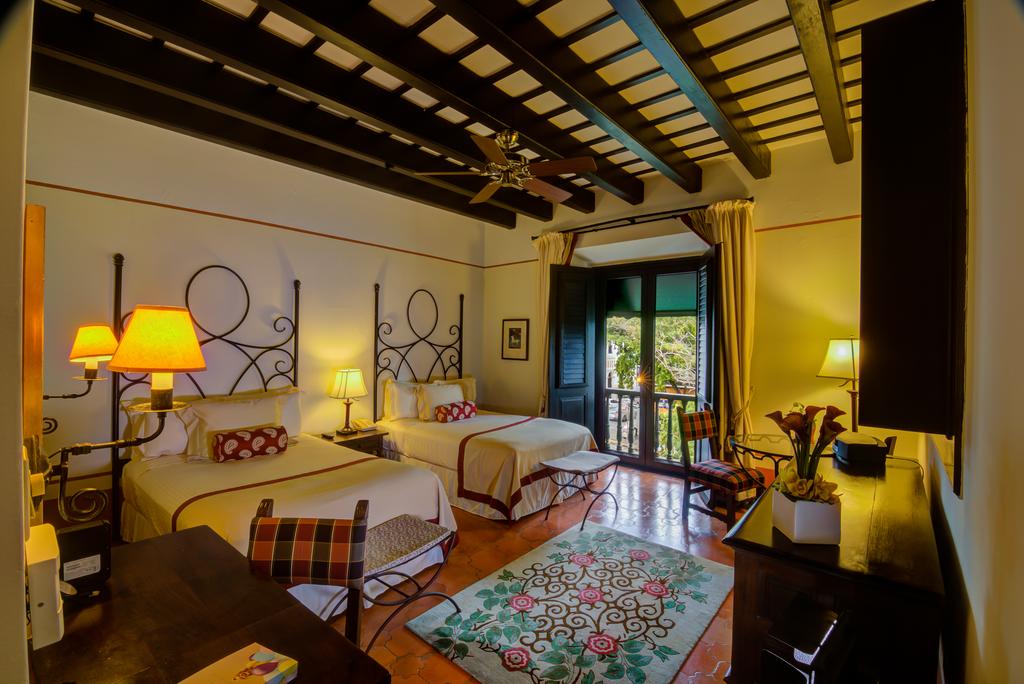 Hotel El Convento (Photo: booking.com)
While staying in León, you can get all the fun at Hotel El Convento – where you can enjoy the delicious food, enjoy spa activities, and dance all night long. You can also explore the vibrant city life and shop till you drop into its many stores.
Activities and amenities: The hotel overlooks the San Juan Bay and has a fitness center, library, business center, and spa with facials, manicures, and massages. The Manager's Reception serves hors d'oeuvres and wine every evening on La Veranda Terrace.
All the beach-related fun is guaranteed: If you're looking for breathtaking views and fascinating history, Old San Juan is the perfect place to stay. Plus, the hotel guests receive complimentary access to El Convento Beach Club on Isla Verde Beach.
To try all the delicacies: The Hotel El Convento offers an array of dining options to suit any taste. Patio del Nispero serves up a gourmet fare in a beautiful open-air setting, while El Picoteo specializes in delicious tapas and an extensive wine list. No matter what you're in the mood for, we have a restaurant that will exceed your expectations.
Go on outdoor adventures on an island
Set about 15 miles off the western shores of Lago Nicaragua, the largest freshwater lake in Central America, is Ometepe Island, a lush land formed by two volcanoes, Concepción and Maderas. The range of active endeavors that it offers visitors – including kayaking, cycling, paragliding and fishing – complements the quiet, agrarian life on the island, making it a perfect destination for outdoorsy families. Hike the Maderas Volcano with the older kids, whether on foot or on horseback, for a swim at a waterfall and for a beautiful view of the lagoon on top of the crater. During your visit, be sure to stop and simply enjoy the sensory experience offered by Mother Nature, and you'll be rewarded with glimpses of the local wildlife.
Hit the beach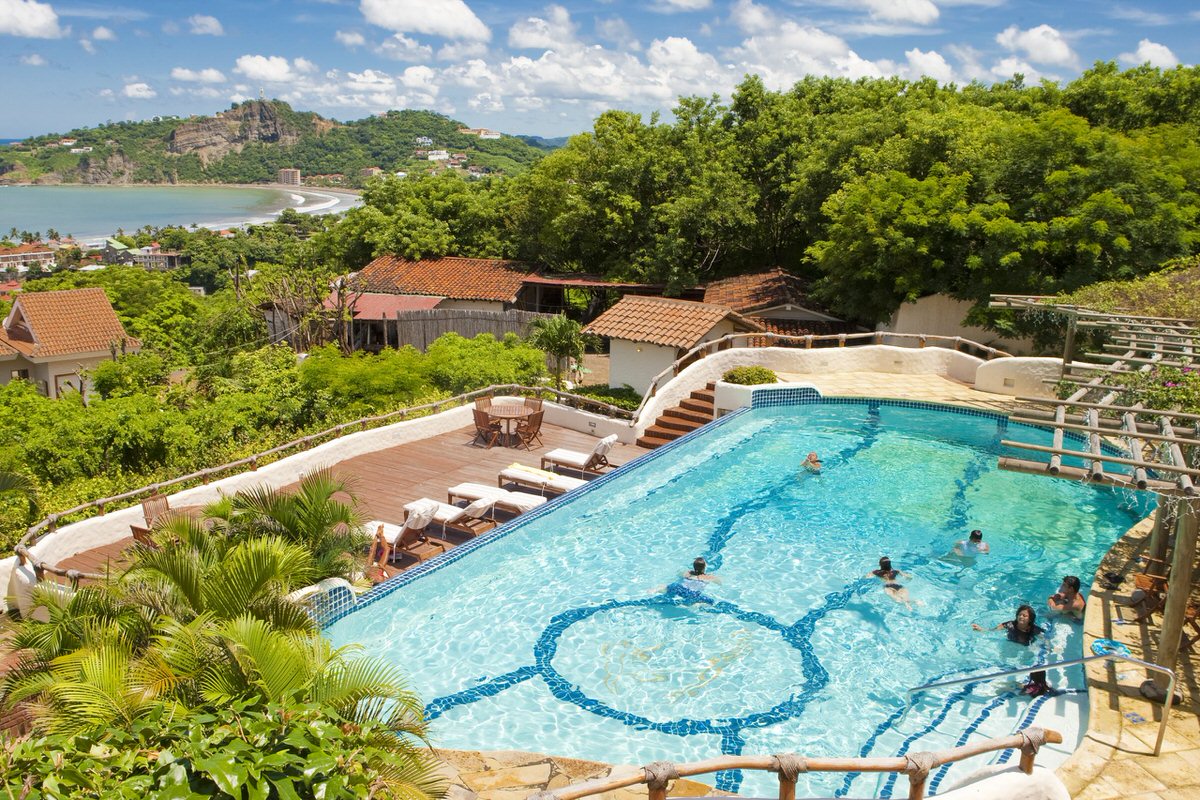 Pelican Eyes Resort & Spa in San Juan del Sur (Courtesy Pelican Eyes Resort & Spa)
Popular with surfers and backpackers, San Juan del Sur is the place to be for a family beach vacation in Nicaragua, thanks to its beautiful, crescent-shaped bay. The laid-back fishing village provides the perfect spot for surfing lessons and to unwind with the kids at the beach. Enjoy beachside meals at one of the barefoot restaurants and cheap bars, and hike up to Christ of the Mercy, one of the tallest statues of Jesus in the world.
Family-friendly hotel: Pelican Eyes Resort & Spa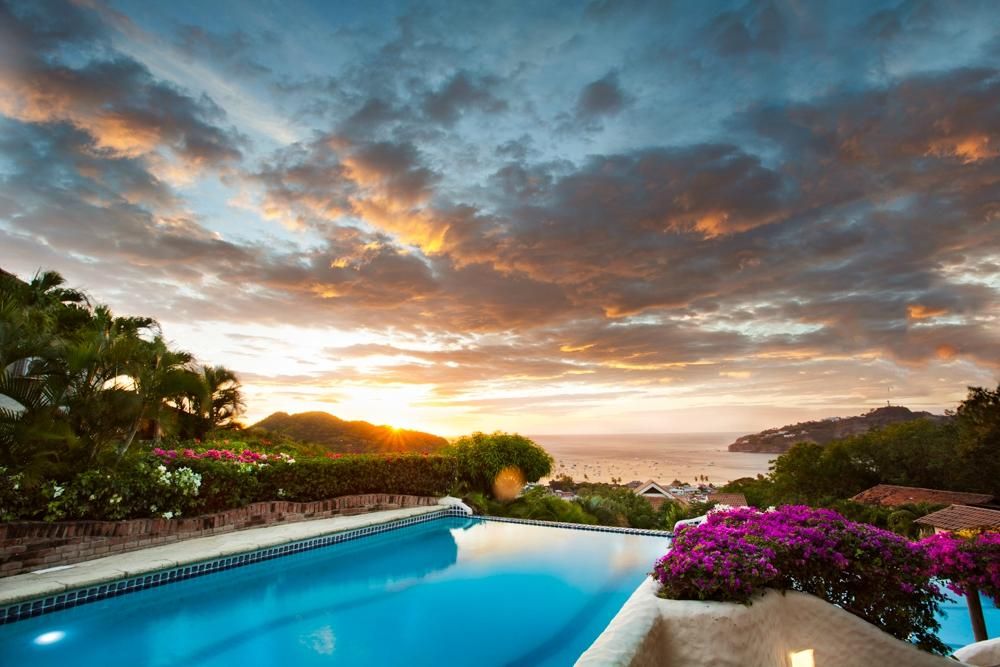 Pelican Eyes Resort & Spa in San Juan del Sur (Courtesy Pelican Eyes Resort & Spa)
A wonderful place to stay while you are on Ometepe Island is Pelican Eyes Resort & Spa. The all-inclusive resort is located in the highlands of the island and offers volcano tours, horseback riding, hiking, kayaking, and more.
Great sightseeing: If you want to explore the island more, you can take a tour of the Ometepe Island Petroglyphs, go hiking to the San Ramon Waterfall, or visit the Charco Verde Nature Reserve.
Additional services: Don't miss a chance to take a boat tour around the island to see the many birds that make their home there. You can enjoy the many amenities at the resort such as a swimming pool, hot tub, spa services, and restaurants.
No matter what you decide to do while staying at Pelican Eyes Resort & Spa, you are sure to have a wonderful time.
See the volcanoes
A visit to Nicaragua isn't complete until you've explored at least one of its volcanoes. It is, after all, the land of lakes and volcanoes, the latter of which total to 50, scattered all over the country. Take the older kids and hike the easier ones, like Cerro Negro, which takes an hour to hike and offers visitors – both kids and adults – the option to sand board down its gravelly slopes. There are several companies that offer organized tours, so you'll be with an experienced instructor. Masaya Volcano near Granada is great for sightseeing families, while Momotombo Volcano offers scenic day hikes.
Do water sports
The Corn Islands (Little Corn and Big Corn) just off of Nicaragua's Caribbean coast used to be a pirates' refuge, an intriguing past that certainly adds to their appeal. Today, however, they're a tropical island destination with gorgeous beaches, plenty of water sporting opportunities, and the occasional remnant of a shipwreck. Snorkeling, scuba diving and fishing are some of the many kid-friendly activities here, and parents will enjoy soaking up the rays at one of the larger resorts on Big Corn.
(MORE: Family Attractions in Costa Rica That Spell Fun for All Ages)
Commune with nature in a cloud forest
Not far from the city of Matagalpa sits the cloud forest of Selva Negra, an over 300-acre protected nature reserve that's home to more than 200 bird species and a variety of orchids. There are mammals, reptiles, butterflies and beetles too. Keep an eye out for the red, green and blue Resplendent quetzal and the Howler Monkeys, and try your hand at coffee picking. To complete your visit, stay at the family-friendly, full service Selva Negra Ecolodge, which features playgrounds, an animal farm, and other activities for kids.
Hike another cloud forest
The Miraflor National Reserve, located about 18 miles from the city of Estelí, has over 200 species of orchids, rivers, waterfalls and small farms, all waiting to be explored on a guided day or multi-day hike. Do a multi-day hike and stay at a local farm where you can also get involved in some farming activities for a more organic type of visit. Horseback riding is an option, as well.
Go sailing around Apoyo Lagoon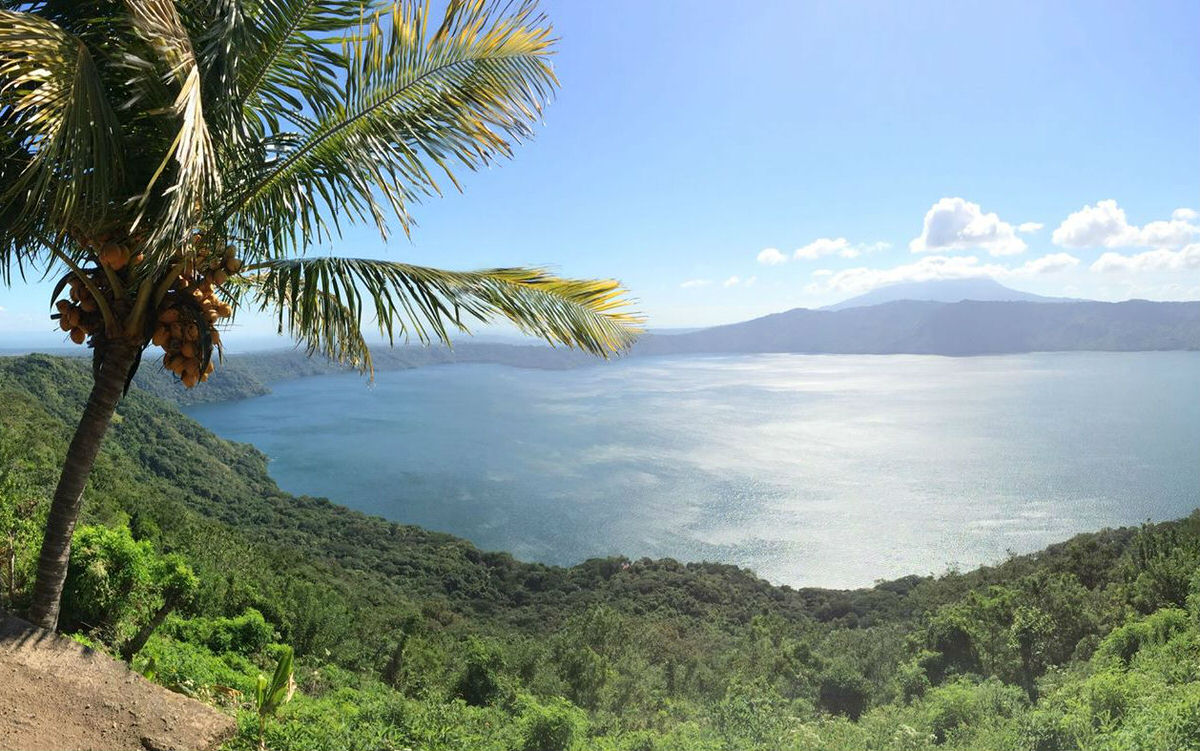 Apoyo Lagoon (Photo by Phayne)
Not far from Managua, Apoyo Lagoon is a beautiful blue crater lake in the middle of the Apoyo Lagoon National Reserve. The lush area surrounding the lake is abuzz with activity, thanks to the huge population of wildlife that consider it home, including Howler and Capuchin monkeys, herbivorous pacas, anteaters, eyra cats, iguanas and hummingbirds. But offshore is where the real fun begins, with all sorts of water activities like swimming, kayaking and SCUBA diving. Explore the area by boat and simply enjoy the beauty around you.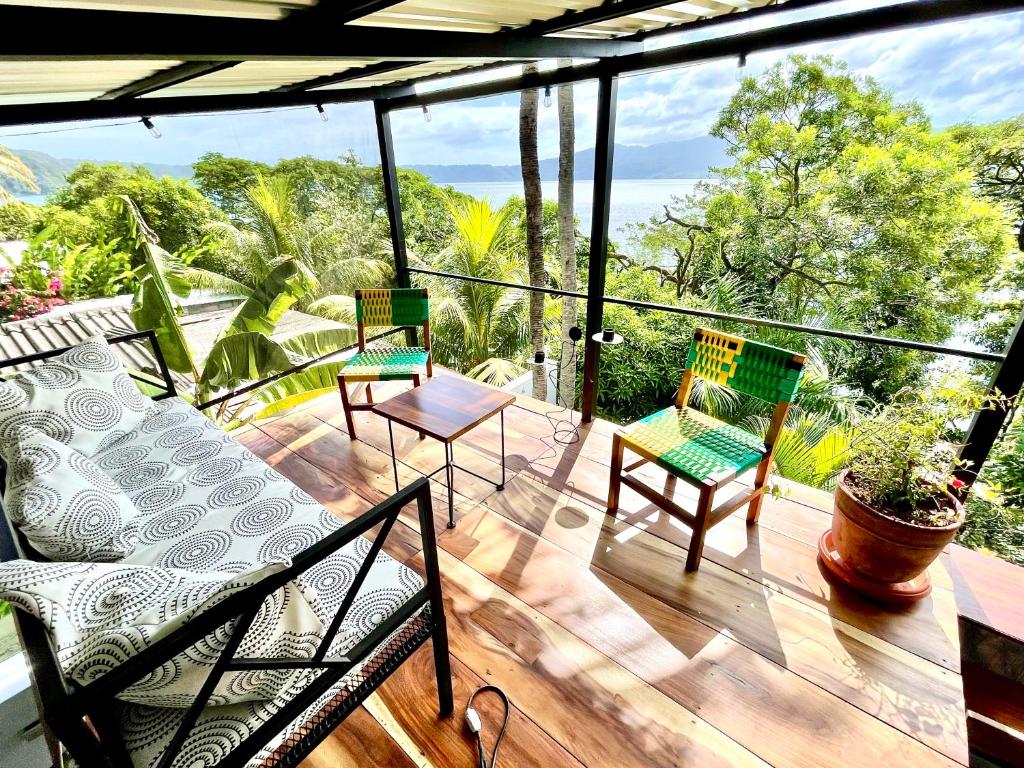 Casa Bella (Photo: booking.com)
To turn your vacation at San Juan del Sur into an incredible experience, Casa Bella is a great place to stay, with a terrace with mountain views in all units.
The activities to do are many and varied: You can go sailing or fishing around Apoyo Lagoon, take a dip in the on-site pool, get a massage at the spa, play tennis or golf, or explore the nearby city of Granada.
Unique views: In the evening, you can enjoy stunning sunsets from a private beach area.
Casa Bella is the perfect place to stay to make the most of your time in Nicaragua.
(MORE: Costa Rica's Most Beautiful Resorts for Families)
Relax on the Emerald Coast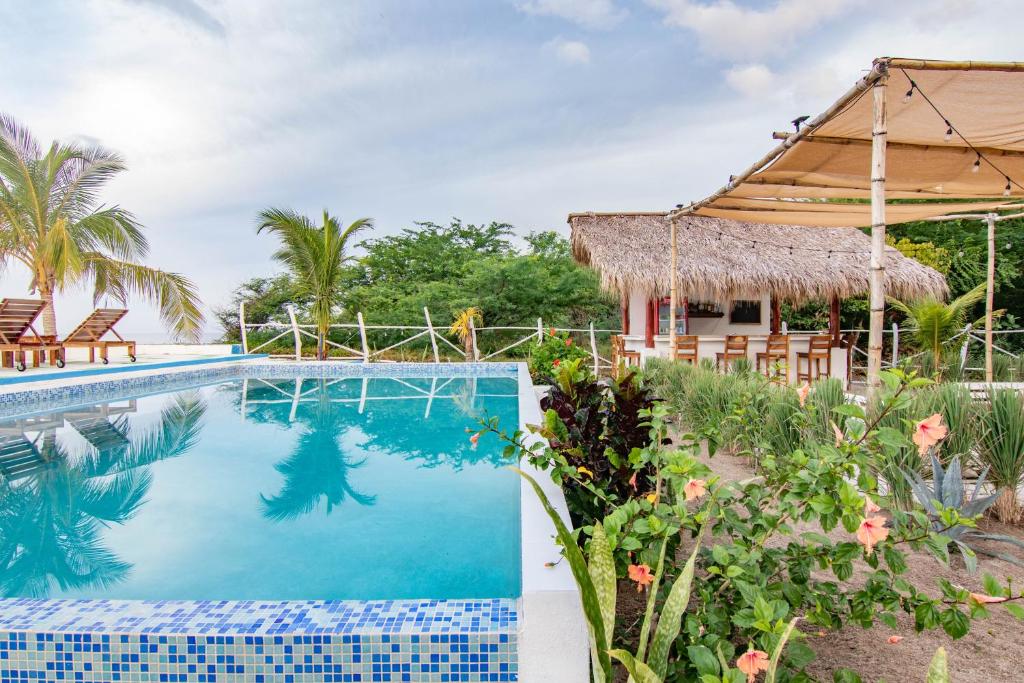 Costa Oeste (Photo: booking.com)
No other place can show you the beauty of the Emerald Coast than Costa Oeste – where the rainforest meets the sea. With its white-sand beaches, lush vegetation, and crystal-clear waters, this is truly a paradise on earth.
The 3-star hotel offers plenty of amenities for its guests, including a restaurant, swimming pool, and bar. All rooms have pool views, and other shared spaces include a lounge and garden area.
Close to where all the fun is: Escondido Beach is only a short 3 km walk from Costa Oeste, while Playa Santana is an even shorter 500 m away. If you're coming from the airport, Augusto Cesar Sandino International is 102 km away, but don't worry–the property offers a paid airport shuttle service.
Comfy for the whole family: Each room in the hotel comes with its own private patio and garden view. In addition, all rooms are equipped with safety deposit boxes, private bathrooms, and wardrobes.
Michelle Rae Uy contributed this to MiniTime. She is a travel writer based in Los Angeles and MiniTime's Head of Content, who spends her free time on adventures and film photography.