Hit the road and enjoy the season's colorful display
By Jody Halsted on Oct 16, 2013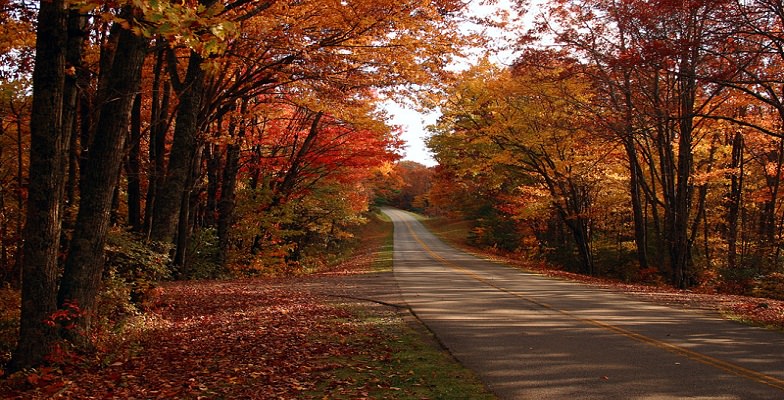 America has so many breathtakingly scenic highways, it's no wonder that the family road trip is a national obsession. But summer isn't the only season to pack up the family and hit the pavement. With cooler weather comes the brilliance of changing foliage, making autumn an ideal time to take a long, slow, beautiful drive.
Leaf peepers had better hurry, though. In the northeast, fall foliage season is just hitting (and in some places passing) its peak, while there's still time to enjoy these five routes—all of which are in their glory for a fall family road trip right now.
Blue Ridge Parkway
A product of New Deal efforts to create jobs during the Great Depression, the 469-mile Blue Ridge Parkway traverses the Appalachian highlands in North Carolina and Virginia and links the Shenandoah and Great Smoky Mountains national parks. The surroundings are especially breathtaking in the autumn, and with a top speed of 45 m.p.h., the parkway's leisurely tempo lets you soak it all in. Fall foliage typically peaks between mid-October and early November.
(MORE: Browse kid-friendly hotels near Great Smoky Mountains National Park.)
Natchez Trace Parkway
In 1801, President Thomas Jefferson designated a national postal road between Nashville, Tennessee, and Natchez, Mississippi. The modern Natchez Trace Parkway, 444 miles of scenic roadway, closely follows the original route and you can still drive sections of the Old Natchez Trace. Along the way you'll discover Civil War sites and antebellum architecture, lovely wineries, down-home Southern eateries, and an overabundance of drop-dead-gorgeous scenery, which can be appreciated at a top speed of 50 m.p.h. The 102-mile section through Tennessee's rolling hills is especially beautiful in mid-October when the leaves are changing color.
Great River Road
Ten states lay claim to the Great River Road, a collection of federal, state and local roads that run 2,340 miles from Minnesota along the mighty Mississippi River to the Louisiana delta. It's a route that tells a uniquely American story, dotted with industry and riverboat casinos, but also pretty river bluffs, storybook towns, cypress swamps, and many legendary sites in American history. One of the most spectacular portions of the GRR begins in the bucolic southeastern corner of Iowa, passes Mark Twain's Hannibal, skirts past St. Louis and on to Memphis. In October, you can follow the changing of the leaves as you travel south.
(MORE: View a family trip itinerary: 3 days in St. Louis with kids.)
Cascade Loop Scenic Highway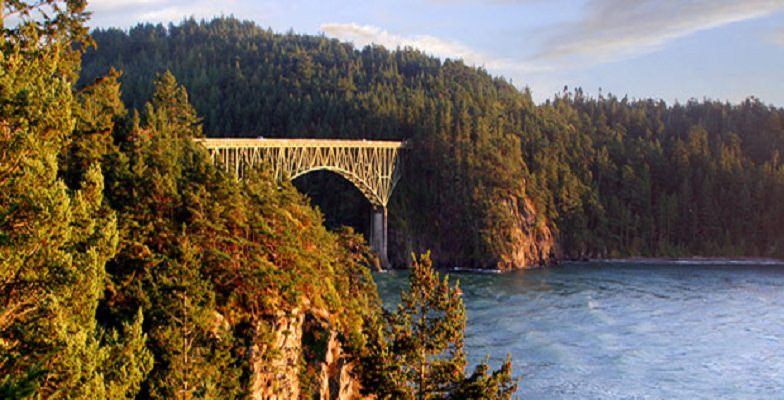 Cascade Loop Scenic Highway
This 440-mile loop is arguably the best road trip in Washington State. Begin in the hip town of Everett—home to Boeing, microbreweries, and museums—and drive the loop counter clockwise, east to west, for the best views of Diablo and Ross Lakes as you descend from the top of the pass. Snohomish, a mecca for antique lovers, gives way to country roads and 'u-pick' farms. The crest of Steven's Pass rewards with far-reaching views of forest to the west, then leads to the Bavarian village of Leavenworth in the foothills. In the Columbia River Valley you'll find the apple orchards of Wenatchee, pristine Lake Chelan, and the majestic North Cascades peaks.
North Shore Scenic Drive
While it's possible to travel the 154-mile Minnesota drive from Duluth to Grand Portage in a single day, a trio of exceptional offshoots makes this drive perfect for a weekend jaunt. Following the shores of Lake Superior along Highway 61 and Old Highway 61, North Shore Scenic Drive provides access to three more worthwhile scenic routes: the Gunflint Trail Scenic Byway, Superior National Forest Scenic Byway and Duluth Skyline Parkway. Make time for pitstops to explore wooded paths and beautiful beaches, climb historic lighthouses, and experience the area's restaurants, galleries, and museums. In some years the foliage season arrives in late September, but this year the fall colors are peaking right now.
Jody Halsted of FamilyRambling.com contributed this to MiniTime.