Exploring the badlands of Alberta, Canada, with the kids
By Linda Wilkinson
Drumheller, Alberta, Canada (Flickr: Shahnoor Habib Munmun)
If your family is looking for adventure, consider visiting Drumheller in the heart of the Canadian Badlands. Coulees, hoodoos, canyons and dinosaurs combine to make this an unforgettable kid-friendly vacation. You can drive or take the bus from Calgary or Edmonton, but be sure to allow two to three days to see all there is to see in this unique area of Alberta.
Here are the top 5 family-friendly attractions:
(MORE: Explore more of Alberta, Canada. Find kid-friendly attractions in and visit the Banff National Park.)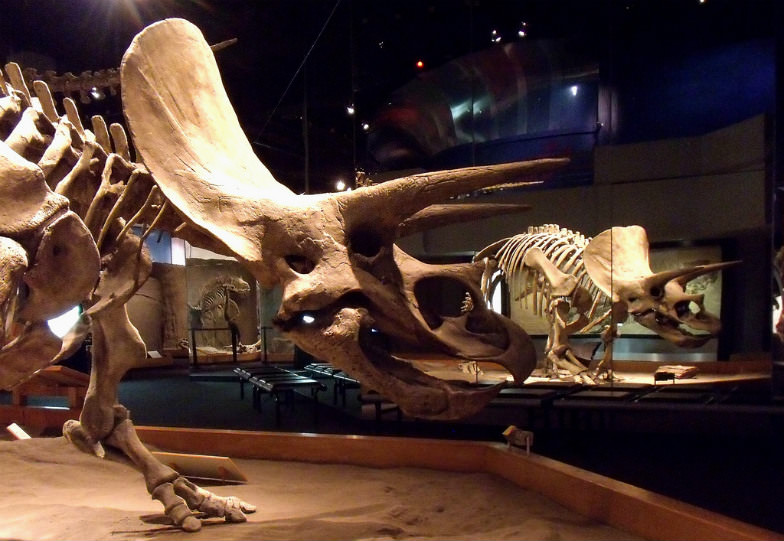 Triceratops in the Dinosaur Hall, Royal Tyrrell Museum (Flickr: Mike Beauregard)
The Royal Tyrrell Museum houses one of the world's largest displays of dinosaurs. Your family will enjoy not only the ever-evolving exhibits but also the kid-friendly creative and educational programs for every age. The fall programs include Dinosite (ages 6+), Fossil Casting (ages 4+) and Seven Wonders of the Badlands (all ages). There are also videos showing every half hour in the auditorium: Passion for the Past (ages 10+) and Behind the Scenes (all ages). Plan to visit for at least two to three hours or, for the best value, purchase a family two-day pass. Parking is free with spaces designated for cars, trucks, recreation vehicles and bicycles. You can also arrive via bus from either Edmonton or Calgary.
Tip #1: From September 1 to May 14, the museum's is open from 10 am to 5 pm on Tuesday through Sunday (except for public holidays).
Tip #2: The museum is wheelchair and stroller friendly, but due to fire regulations and space restrictions, if your stroller does not comply with the museum's requirements, you can use one of the museum's strollers free of charge.
The spectacular Horsethief Canyon, located approximately 10 miles (16 kilometers) from Drumheller on Highway 838, is the perfect spot for adventurous families. Come prepared with hiking boots or runners if your family plans to hike to the top. If you have toddlers and young children, you will want to drive to top instead. Remember to bring your camera along for some amazing photos.
Tip #1: Be prepared for all types of weather by dressing in layers. Avoid dehydration by bringing along water bottles for each member of the family.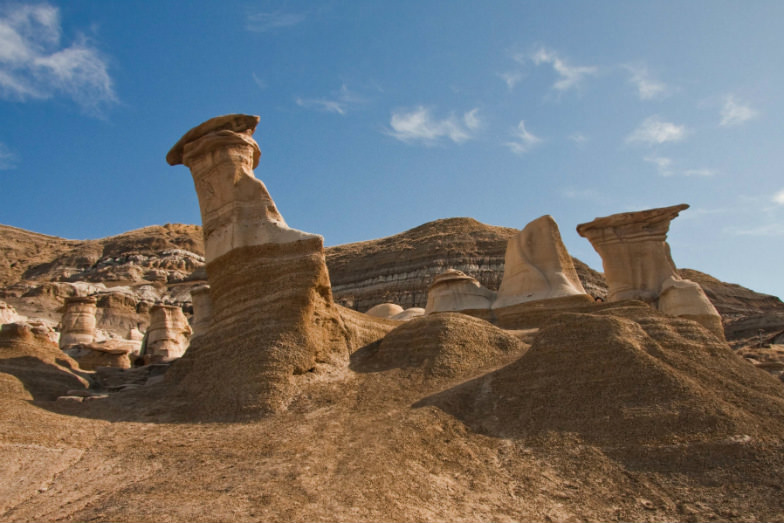 Drumheller Hoodoos (Travel Drumheller)
The Hoodoos are another must-see attraction in the Drumheller Valley located 10 miles (16 kilometers) east of Drumheller on Highway 10. These tall rock formations are made from two types of stone – sand and clay – and have a shale base with a capstone. These formations are quite fragile so kids will have to be reminded not to touch or climb on them. However, the whole family will enjoy an easy hike along the designated paths.
Tip #1: Visit the area when it is dry as it can get quite muddy in the rain.
Tip #2: Remember to bring your camera for some one-of-a-kind pictures.
If your kids love dinosaurs, they won't want to miss the view of the badlands from the mouth of the World's Largest Dinosaur. Modelled after the Tyrannosaurus rex, this man-made version is four and half times the size of a real on at 86 feet (26 meters) high and 151 feet (46 meters) long. There is a small charge, but a significant portion of the fee is donated to local Drumheller and District non-profit organizations. From September to April, the hours are 10:00 am to 5:30 pm daily.
Tip #1: Children under five are free, but small children may have difficulty climbing the stairs.
(MORE: Find more kid-friendly trip ideas in Alberta, Canada.)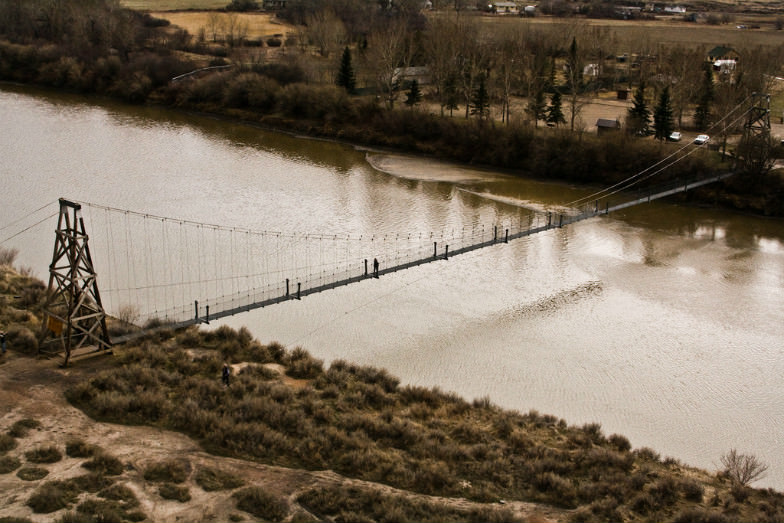 Rosedale Suspension Bridge (Flickr: Dhinakaran Gajavarathan)
The Rosedale Suspension Bridge is a fun free attraction for older kids who like a bridge that sways. The view from the bridge is lovely and your family can enjoy a picnic in the park or a hike on a nice day.
Tip #1: Plan to arrive early as the parking lot fills up quickly, especially on a nice day.
Linda Wilkinson contributed this to MiniTime.