Disneyland, California
By Katrina Brown Hunt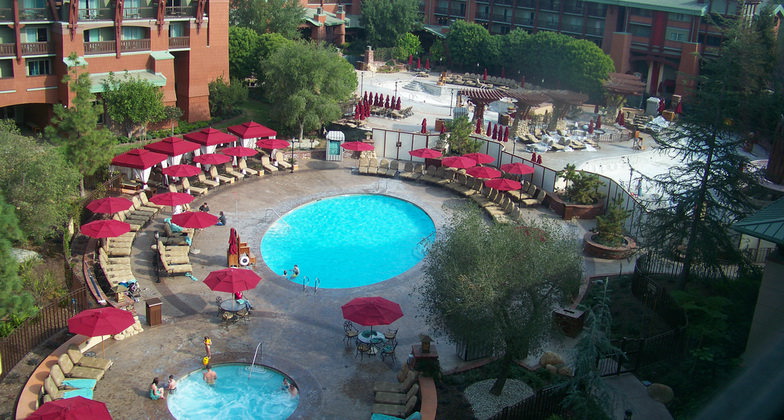 Loren Javier
Why Go: The Disneyland odyssey is so often considered a rite of passage for kids, with parents or grandparents tagging along simply to hold the wallet. But staying at the Grand Californian Hotel, located inside the Disneyland Resort's main perimeter, puts kids on the front row for the action—and nicely coddles the grown-ups, too.
With rates starting at $350 a night, it may seem a splurge at first. After all, there's no shortage of places to stay near Disneyland. Disney even has a dozens-long list of "Good Neighbor" hotels located relatively close to the theme park, which sometimes offer hotel-and-admission packages, or at least a free shuttle to the parks. But only three hotels are officially affiliated with Disneyland: The Disneyland Hotel, a character-oriented hotel that opened in 1955; Paradise Pier, a more budget-level option that also features character-themed decor; and the Grand Californian, inarguably the most upscale of the bunch. Opened since 2001, the Grand Californian also has the best location, steps away from the entrances to both Disneyland and its supporting-role theme park, California Adventure.
When our correspondent, Katrina Brown Hunt, visited with her husband and two preschool-aged daughters, they discovered that the Grand Californian lives up to its name, beginning with the soaring atrium lobby that climbs all the way to the sixth floor and features an eye-catching and enormous stone hearth. The atmosphere is refreshingly civilized without being stuffy or even sophisticated, really. The look is a big nod to the Californian Arts-and-Crafts style of the early 20th century — big beams, dark woods, stained glass and nature-inspired flourishes—that blends ingeniously with Disney's fairy tale mystique. ("This feels like the place that Snow White would have had built for the dwarves after she landed the Prince. The little touches everywhere—a muted print in our room of Snow White gazing into her wishing well, the subtle Bambi and Thumper shower curtain—continually remind you of where you are, but without any sensory overload. It's quite the opposite. You feel like you're behind a velvet rope.")
Yet perhaps the hotel's greatest appeal is its easy access to the magic. Guests at the Grand Californian have their own entrance to California Adventure. ("It's an extremely short walk—in fact, it would take you a few seconds longer just to get to the hotel's gym.") From the hotel's front entrance, meanwhile, you can walk straight onto Downtown Disney (several blocks of shops and restaurants on a pedestrian mall) and then just five minutes more to the main entrance of Disneyland.
Even better, on select days every week, guests at the official Disneyland hotels can get into Disneyland an hour early with "Magic Mornings," to get first crack at the attractions before the crowds descend an hour later.
Add up all these parts, and you start to understand how the Grand Californian delivers value—and especially for parents. For as much fun as a Disneyland is, it can also be stressful, draining, and tantrum-inducing from participants along the entire age spectrum. The Grand Californian seriously mitigates these potential downsides. ("Something about staying here made me exhale nicely. At the end of a theme park day, it occurred to me that the pool, the pianist in the lobby, and a glass of wine were just a five-minute walk away.")
Getting Oriented: Disneyland is located in Anaheim, in Orange County, just southeast of Los Angeles. It is about a 30- to 45-minute drive from LAX Airport. (The smaller, and more regional, John Wayne Airport is even closer.) The Disney hotels operate an airport shuttle called the Disneyland Resort Express, which costs $32 roundtrip per adult and $25 roundtrip per child from LAX; from John Wayne, it's $27 roundtrip per adult and $18 roundtrip per child.
The 745-room hotel has six floors, with rooms distributed across four wings. (Note: An expansion of 200 rooms and 50 Disney Vacation Club villas is slated for later in 2009.) Tucked on one side of the hotel's exterior, there is a courtyard—featuring a Monorail track that extends under the hotel—which connects to the tree-lined path to Downtown Disney. A sidewalk leads to the two main restaurants, The Storyteller's Café, and Napa Rose. Beyond Napa Rose are the gym and spa, another café, and the guests-only entrance to the California Adventure theme park. ("The spa looked nice enough—treatments were about what I'd expect, at around $150—but I just never seriously considered using it, or even the gym. We were here to play.") Next to this area is the pool complex, which has two large pools, one toddler pool, a hot tub and waterslide. In the distance, beyond the slide, you can see the Ferris wheel at California Adventure.
Getting Around: Once you're at the hotel, getting around is easy, and your car is unnecessary. There's no need for a shuttle from the hotel to the parks, since everything is within walking distance. It takes only five minutes to walk from the hotel lobby, through Downtown Disney, to the entrance of Disneyland. Having Downtown Disney so close increases your options for dining and snacks: It's not all cheap, but affordable options include some counter-service spots (like Jamba Juice), reasonably-priced eateries (like a Mexican taqueria) and known quantities (such as Rainforest Café).
You'd definitely want a stroller if you come with small children, but more for the parks than the hotel itself. ("The hotel feels big, yet it's surprisingly compact in its layout. I was amazed how quickly we could get around.")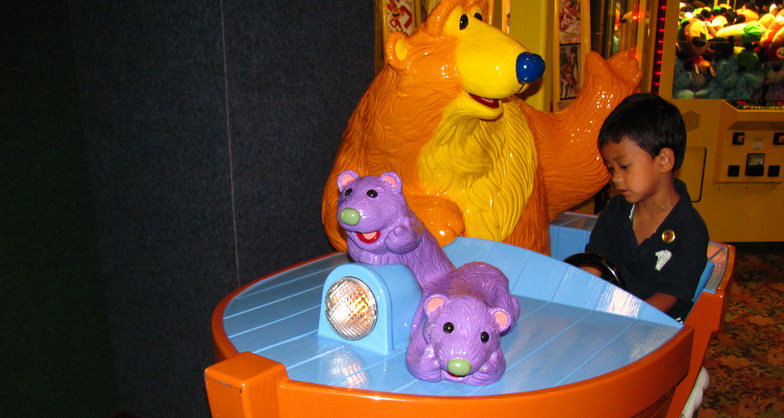 Loren Javier
We Are Family: Predictably, the Grand Californian has a very family-friendly vibe and parents with kids made up most of the guests. The hotel lobby is always bustling, and yet there is a mellow mood to the place. A piano is continually playing gentle arrangements of Disney standards, such as "A Dream is a Wish Your Heart Makes" from Cinderella. ("Maybe it's the amber light filtering down from all those lanterns, but when you walk in, even with a crowd, the theme park fervor ratchets down a few big notches.") Every evening, the lobby plays host to storytimes that aren't so much about fairy tales as tall tales out of the old-fashioned oral tradition, which older kids, teens, or grown-ups might find more entertaining than yet another prince-and-princess romance.
As expected, the lobby features a gift shop filled with Disney merchandise, but it's relatively small in scale—and even reasonable in spots. ("I spotted a stuffed Minnie that was a couple of bucks cheaper than a similar one I'd seen in the park.")
The Hunts didn't spy any characters in the hotel, except for the Chip 'n' Dale character breakfast held daily in the Storytellers Café. Other on-site diversions are pretty simple. The arcade, for instance, is just a few classic stand-up machines in the entryway of the WhiteWater Café.
For kids 5 to 12, Pinocchio's Workshop runs only in the evening from 5pm to midnight. It's more a hangout than a camp, for which admission costs $13-an-hour per child. This could quickly add up for families with more than one kid. Set just off the lobby and looking out onto the courtyard, the room is not huge but is festive-looking. It features a bright mural of Pinocchio on the wall and offers board games, an art table, video games and air hockey, as well as a big flatscreen TV for movies. When the Hunts walked by one evening, they saw a handful of kids playing air hockey with a counselor and watching TV. ("If my kids were old enough, I would have used it. It looked fun.") Dinner costs $5 extra (hot dogs, burgers, chicken nuggets, mac 'n' cheese). The club accepts no more than 14 kids an evening, and always has two counselors working. While it's a good idea to book ahead, they accept last-minute bookings if there is availability. When you bring your child, you're given a direct-line cell phone that can be used to communicate between you and the club.
The pool area is fenced in and accessible with a room key. It features three pools:
Fountain Pool: A large, freeform pool, accessed via step and ladder entries, with depths ranging from three to five feet. It features a small turtle fountain for décor. Though not an adults-only pool, during the Hunts' stay it seemed to attract older kids and adults.
Redwood Pool: About as big as the Fountain Pool, also ranging from three- to five-feet deep, and accessed by step and ladder entries. It features a very low slide for little kids, and one tall slide, designed to look like a giant redwood trunk. The tall slide is designated for swimmers only, and lands in a roped-off area of the pool. This pool, no surprise, attracted the most kids.
Toddler pool: Between the two main pools is a small, round pool that's one foot deep.
There is also one hot tub without any rules regarding kids. Plenty of kids were in it during the Hunts' stay.
Hunt counted at least a half a dozen lifeguards on duty during one late-afternoon visit: two sitting by each pool, and a few patrolling around. There was a huge supply of fresh towels as well as complimentary life jackets for kids between 30 and 50 pounds. ("It felt very well-monitored, but not uptight, either.")
Just outside the pool area's gates is the White Water Café, which has wait service for the pool area. The menu was reasonably priced, featuring cheeseburgers and chicken sandwiches for $8.50, a personal pizza for $7.50, and kids' meals of turkey dogs, hamburgers or chicken nuggets for $6. ("There were menus everywhere, but there was no overt pressure to order.")
Overall, the pool scene was a nice complement to the hotel, though not a banner attraction on its own. ("I wouldn't call the pools spectacular, but they were nice and definitely big enough, with plenty of available chaises and umbrellas.")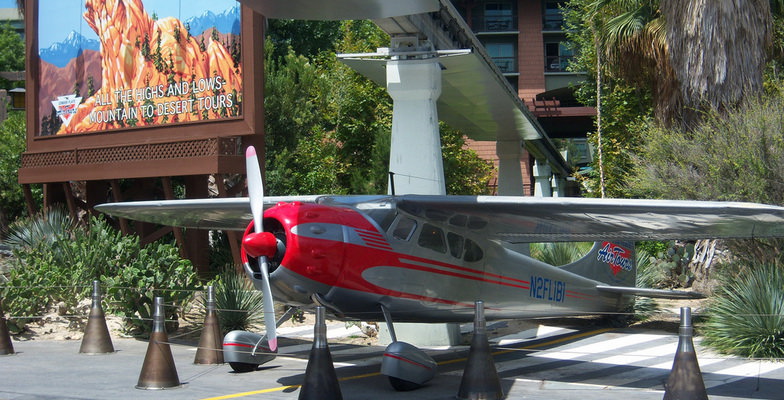 Loren Javier
Where to Eat: Realistically, you might not need many restaurants at a Disney hotel—after all, you'll spend a lot of time in the theme parks, where countless dining options await. At the Grand Californian, you're also steps away from the restaurants in Downtown Disney, which require no park admission.
The three main restaurants at the Grand Californian aren't overtly Disney-themed (except for the Chip 'n' Dale character breakfast), and offer options for all budgets:
Napa Rose is the upscale option, and has won awards for both its menu and wine cellar. The décor has a Frank Lloyd Wright bent—warm cherry woods, stained glass—and a huge open kitchen where you can watch the chefs hustling and flambéing. Entrees include sugar-snap pea ravioli in truffle brown butter and duck breast with strawberries and sage. The kids' menu includes standbys like pasta and pizza, and also sautéed salmon with rice. (Dinner only. Entrées, $32-$40. Kids' meals, $8-$11.)
Storyteller's Café pays tribute to the oral tradition of days gone by—cowboys, sailors, and Mark Twain's "Jumping Frog of Calaveras County," all of which are depicted in murals on the wall. There is a buffet option for both breakfast and dinner. Breakfast features the famous Mickey waffles for kids and classic egg-and-omelet dishes for grown-ups. ("I got the sense that breakfast here gets packed, so a reservation would be smart.") The dinner buffet includes carving stations of New York strip and turkey, as well as decadent-looking tortellini, nuggets, mac 'n' cheese, asparagus, fruit and, for dessert, tiny cheesecakes and a huge bread pudding. The kids' lunch and dinner options include pasta with turkey meatballs, salmon filet with rice, or a make-your-own-pizza. (Breakfast 7am-11 am. Lunch noon- 1:30pm. Dinner 5pm-10pm. Chip 'n' Dale character breakfast: $60 for a family of four. Regular breakfast buffet: $25/adult, $13/child 3 to 9. Average breakfast entree, $18. Average kids' breakfast item, $8. Dinner buffet: $26.99/adult, $11.99/child 3 to 9. A la carte entrees, $18-$28. Kid's meals, $8.)
White Water Café is a counter-service place near the pool. In the morning, it serves breakfast burritos and biscuit sandwiches in the morning and light fare such as French dip sandwiches, burgers, and nachos the rest of the day. It also offers ready-made kids' meals such as PB&J sandwiches. (Open 7 am-10pm. Breakfast items, $2-$7. All-day snacks, $7-$8. Kids' meals, $6.)
Hearth Lounge is a lounge off the lobby with a very limited bar menu of burger bites with bleu cheese or a cheese plate for about $10 each. ("I peeked in one evening and saw some families—even a stroller.") Open until midnight.
As guests staying on the 6th floor, the Hunts had access to the Craftsman's Club, a VIP concierge lounge that offers a complimentary continental breakfast (muffins, pastries, cereal, bagels, fruit), snacks and drinks throughout the day (plenty of cookies), and bite-sized desserts and coffee or tea until 10pm. The Hunts ate both of their breakfasts there, helped themselves to bedtime treats, and regularly picked up drinks to stow in the stroller for the day. ("It was perfect for grabbing an easy breakfast, and so nice to have for the evening after the girls went to bed—grabbing a cup of tea and a treat to bring back to the room.")
Nightlife: During the evenings, the hotel's public areas stay gently busy until after sundown. The pools remain open until 10pm (lifeguards stay until 8pm in the summer, and until 7pm the rest of the year), and had a mellow sampling of adults and older kids splashing around under the moonlight. The evening kids' club attracted a handful of participants, but most families seemed to spend the evenings together. You can also book babysitting from an outside service for $13 an hour.
One activity not to be missed is the Disneyland fireworks display, which happens at around 9:30pm on most nights during the summer (weekends only the rest of the year). The Hunts enjoyed a great view of the fireworks from their balcony, and could see other guests also watching from balconies and from the concierge lounge.
Otherwise, the lobby is the main hub of activity. The daily storytime near the giant hearth and fireplace kicks off at 5:30pm and 7:30pm. Later in the evening, guests sit and chat on the lobby's many couches, easy chairs, and rockers, while the pianist plays. One lobby corner has a small TV, running mostly old-style Disney cartoons, with tiny Stickley-esque chairs in front. ("It was one of the most pleasant lobby scenes I have ever witnessed—people actually making use of a great space, rather than just walking through it on their way to the elevator.")
Where to Stay: Of the 745 rooms, most are standard rooms featuring two queen beds, one king bed, or one queen bed plus bunk beds (if you want bunks, request them at booking). There are about 40 "artisan suites" with one or two bedrooms, sometimes with the bunk-bed option.
Rooms have views of the courtyards, Downtown Disney, or the theme parks. If you want to be able to see the fireworks from your room, ask for a room facing Downtown Disney—though the reservations people can't guarantee fireworks views (nor do they charge extra for it). The Hunts saw the fireworks just fine from their garden-view room.
The Hunts had a one-bedroom artisan suite on the Concierge level, with a living room and two bathrooms. Their living room had a sofa, two easy chairs, one big ottoman, coffee table, dresser, a small armoire (with empty fridge and shelves inside) and a flatscreen TV with a DVD player. The furniture echoed the hotel's Craftsman look—lots of dark woods, stained-glass lamps and deep hues of mossy green, crimson, and taupe, with a delicate leaf-pattern wallpaper all over. ("I was admiring the art: very naturalistic, arts-and-crafts era prints of trees and flowers. Then I suddenly realized I was looking at the Seven Dwarves' cottage.")
The Hunts' bedroom contained two queen beds, with headboards carved with a tree-branch design, a desk with two chairs, a dresser, end tables and another flatscreen TV and DVD player. The TVs had a plethora of Disney options: regular Disney channel, a channel just of Disney trailers, a channel about the park, another channel of Disney TV shows and, the girls' favorite, a Bedtime Stories channel, with a costumed character telling her own story. ("We saw Cinderella, Snow White and Belle. Getting the girls to bed was not a challenge, but getting them to actually close their eyes and sleep was something else. I think they would have been happy to keep it running all night.") There was a good-sized closet, which contained bathrobes and a Pack 'n' Play crib. The hotel will set up cribs for free upon request, and you can also request a sleeping bag with pad.
The suite featured two full baths, each with a double marble vanity outside a smaller room with toilet and tub shower. Each vanity had its own coffee maker. While the bathrooms were not oversized or particularly fancy, they had one lovely touch: a cloth Bambi and Thumper shower curtain, done in subtle earth tones. ("It took me a minute to notice them. It was very tasteful, while slyly getting in that Disney mojo.")
Indeed, the Hunts found their suite to be very comfortable, bordering on luxurious. ("When I see H2O brand toiletries, I know I'm in a good place.") They had a view of the brick-paved courtyard, which had the monorail running through occasionally ("It wasn't loud, and we would suddenly hear it swooshing through, and invariably miss actually seeing it.")
Price Tag: Rates range from $350 to $480 for a standard garden-view room, depending on season. (Summer, of course, is peak.) A room with a Downtown Disney view runs from $410 to $550, and one with a theme-park view costs between $435 and $605. There is also a $12 daily resort fee, which includes newspaper, Internet, self-parking and local calls.
Book a room on the Concierge level, and you'll pay up to $250 more a night—in some cases nearly doubling the price of your room. The Concierge-level rooms start at $610 and go up to $890 depending on the view and season. Guests on this level have access to complimentary breakfast and all-day snacks, as well as free to a huge library of Disney DVDs. ("The girls went crazy for that. We got Aladdin and one of the Cinderella sequels.") But given that the average family won't eat $250 worth of breakfast and snacks each day—especially while spending so many hours in the theme parks—this is a pricey splurge.
Always check the Disney site for special offers. At press time, all three Disneyland hotels were offering two free nights when you buy a three-night package with three-day Disneyland Resort Park Hopper tickets. (Note: The deal is also good at Disneyland Good Neighbor Hotels.)
Insider Tips:
If you can get everyone up and out the door early, try your hardest to take advantage of the "Magic Mornings," where you flash your hotel room key to get into Disneyland at 7am. ("We didn't, and wished we had. California Adventure had very few crowds the day we went, but even in a down economy, Disneyland was packed.")
Try to do Disneyland on a weekday for fewer crowds. California Adventure is great—plenty of people attest that you see more characters there than in Disneyland—and it's also smaller, so more manageable for a shorter day.
A room facing Downtown Disney is your best bet to see the fireworks, but there is no sure-fire guarantee.