Scotrun, Pennsylvania
By Jennifer Napierski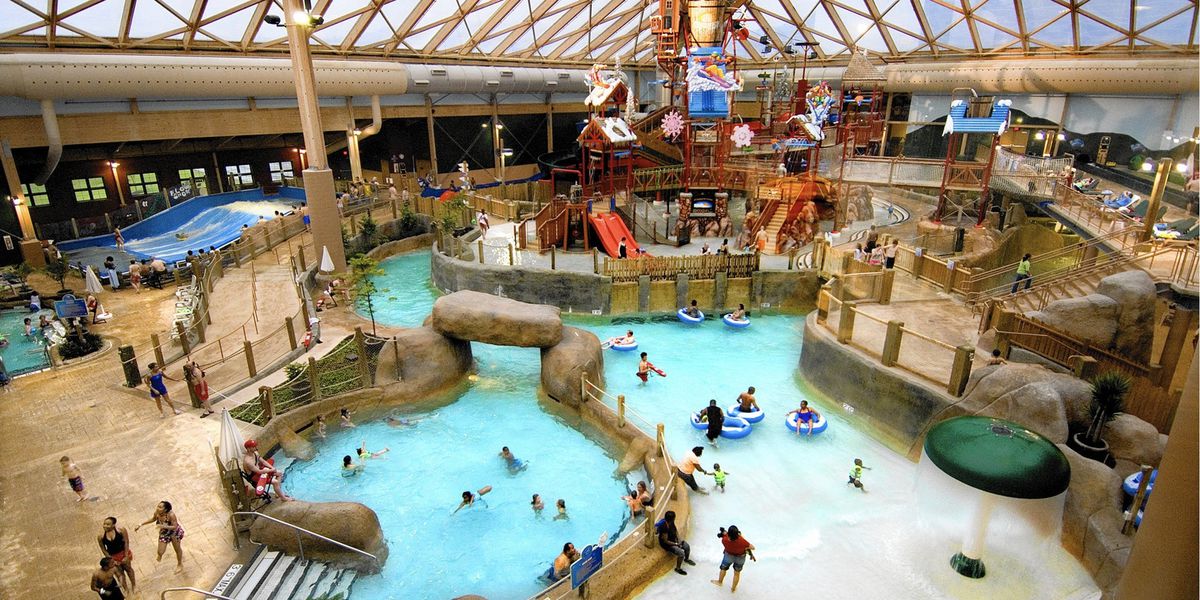 Great Wolf Lodgein Poconos (Flickr: Affiliate)
Why Go: Great Wolf Lodge has always strived to be more than just a place to splash and sleep. The largest chain of indoor waterpark resorts—with 11 locations around the US and Canada and another coming to North Carolina—has been a pioneer in the waterpark niche, always staying ahead of the pack by adding new and improved wet and dry diversions for the whole family. Along with enormous indoor waterpark playgrounds, Great Wolf Lodges deliver kids' clubs, spas (some geared to preteen girls), lobby movies, and MagiQuest, an interactive scavenger hunt game that makes Harry Potter wannabes feel like they've stepped into a wizarding wonderland. And this year, Great Wolf Lodge debuted Gr8_Space, a new club for tweens and teens offering web access and video games.
Open since 2005, the Poconos lodge is one of the newer locations in the Great Wolf Lodge empire and its 78,000-square-foot waterpark is among the chain's largest. Like its sister properties, this resort lays on the rustic lodge theme with an abundance of exposed pine, elk antler chandeliers, hand-crafted furniture, and handsome stone fireplaces. The atmosphere is kid-centric and relaxed.
When our correspondent Jennifer Napierski took her family to Great Wolf Lodge Poconos, it was soon obvious that her three boys (10-year-old Reece and 8-year-old twins, Devon and Ryan) were a great age at which to enjoy this place. Not only could Napierski let her kids enjoy a fair amount of independence inside the waterpark, but they easily passed the 42-inch minimum height requirement on the most popular slides and rides, which meant her family could get its money's worth.
As a brand, Great Wolf Lodge understands how little conveniences can make a huge difference to families. Every suite at Great Wolf Lodge features a coffeemaker, microwave, and mini fridge. Guests are welcome to bring in food and drinks purchased outside the hotel, as long as they consume it inside their suites. This can help a family cut down on its dining bill, and it allows small kids to refuel during non-meal times if they like to graze rather than eat three squares. There are in-room irons and ironing boards, in-park lockers and quick dryers for swimsuits, and a selection of board games that can be checked out at the front desk.
None of this comes cheap, however. The Napierskis expected, and indeed encountered, resort-level costs for food and extras, from colorful slushies in the waterpark to wallet-fatigue surcharges for some activities, such as the incredibly fun MagiQuest. But while the crowds and noise (and financial dunking, as it were) could be intense at times, the Napierskis overall felt they got what they came for—a good, active time for everyone. They found the service friendly, and thought the experience was even nicer than at the Great Wolf Lodge they visited three years ago in Niagara Falls. ("This hotel is more upscale than I'd envisioned, and it really does meet all your needs for a fun weekend away. There was so much for the kids to do, plenty of food to eat, and a beautiful room to relax in at the end of the day.")
Getting Oriented: Great Wolf Lodge Poconos is located in Scotrun, in the heart of Pennsylvania's Poconos resort zone, a mountainous area that has been drawing families and honeymooners for about a century. It makes an easy road trip for families from New York City (90 minutes) or Philadelphia (two hours). On the drive into Scotrun, the Napierskis' GPS took them on a tree-lined rural route, without many stores or restaurants. If you follow the Great Wolf Lodge site's directions, however, you'll find a more suburbanized strip of big-box stores, chain restaurants, and some supermarkets—not as scenic, perhaps, but handy for stocking up with breakfast foods and snacks.
From the outside, the place looks like a jumbo log cabin. The entire resort—hotel, waterpark, restaurants, and amenities—is housed in a giant square lodge, with two large wings of guestrooms running off to the sides. The huge Northwoods-style lobby has an inviting stone fireplace, overstuffed leather furniture, and a Great Clock Tower, which both tells the time and goes musical for a live show during evenings. The waterpark is located one flight down, accessible by stairs and elevator.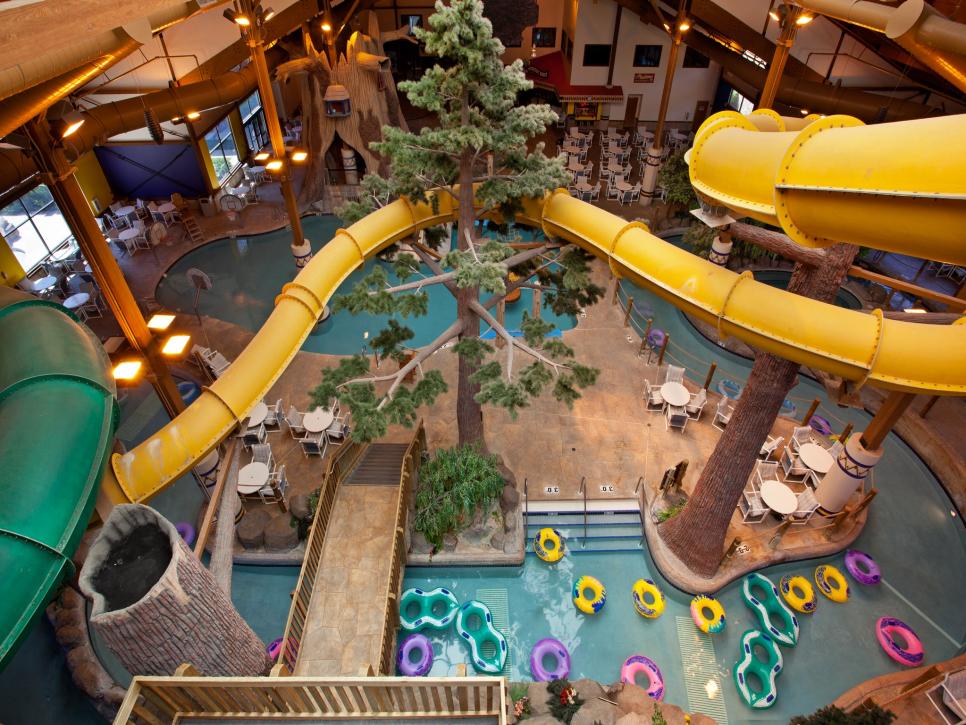 Waterslides at the lodge
Getting Around: Save the Delaware Water Gap, Camelback and Shawnee Mountain ski areas, and the Crayola Factory for another trip. While all these sites are within easy driving distance, you'll want to spend as much time as possible in the waterpark to get real bang for your buck. There are enough restaurants and other facilities at the hotel that you won't need to leave, except perhaps to restock your fridge. ("It's a bit of a drive to the nearest store, so I would recommend stopping on your way into town and bringing groceries with you.") If you do come and go for any reason, parking is plentiful and free of charge.
We Are Family: At check-in, guests are given wristbands that permit unlimited access to Bear Track Landing. At 78,000 square feet, it's one of the larger indoor waterparks in the country, with 11 waterslides, six pools, a 350-foot lazy river and a four-story treehouse water fort. The banner attractions are the log-ride-style "Hydro Plunge" rollercoaster and Coyote Canyon, a giant inner-tube slide that culminates in funnel-shaped finale. The treehouse, located near the park entrance, periodically douses passers-by below with its 1,000-gallon tipping bucket and multiple jet-spray guns. ("Sometimes it's hard to sneak past the treehouse without getting sprayed—and you have to get past it to get to most of the lounge chairs. I'd recommend bringing a sealable bag for your cell phone and camera so they don't get wet.")
The wristbands that you're issued when checking in can also be programmed to charge items to your room or even to act as a room key. The waterpark continues the lobby's Northwoods aesthetic, with faux pine trees, a wooden-beamed ceiling and murals of timberland scenes. As you enter, there's a large towel station, as well as a spot to pick up complimentary lifejackets for kids. Napierski found that both supplies were always plentiful, which is a good thing. Parents of small children should note that Great Wolf Lodge prohibits use of your own floaties or life jackets. Both the air and the water inside the park are kept at around 84 degrees, though Napierski thought the chlorine factor was high. ("It made my skin a bit itchy. I don't know if there's any way around it with all those people swimming. I was glad the water was clean and hopefully germ-free.")
Only hotel guests are permitted into the facility, so attendance is capped. Even despite this population control, crowds were still an issue for our correspondents on their Friday-to-Sunday stay. The crowds peaked on Saturday between noon and 4 pm, during which time there were half-hour waits for the rollercoaster and bigger thrill slides. So the Napierskis opted to take a break from the park and return after 6pm. In the evenings, no rides had lines longer than a 10- to 15-minute wait.
Families start getting big value here once kids hit kindergarten age. Most of the slides require a 42-inch minimum height, and Napierski saw that enforced. ("The lifeguards were very on-the-ball about checking kids' heights against the ruler.") In general, she liked the omnipresence of lifeguards—every few yards along the lazy river, and three at the wave pool. ("That made me feel better when my kids were out of sight. When the waves are going to start, a horn sounds and the lifeguards stand up so they can have a better view.")
During their fall visit, the Napierskis did see some toddlers splashing around in life jackets, but for the most part the place was full of grade-school kids, with some teens, too. ("I really loved the rollercoaster here. It was very fast and had some crazy twists, turns and drops. I think teenagers would have a blast here. I had a blast at the ripe old age of 40!")
Indeed, coming here with preschoolers would present some limitations. ("I would say, at most, 20% of the park could be used by toddlers.") Kids who fall under the 42-inch mark can enjoy Crooked Creek, the lazy river, when with an adult. Crooked Creek is 2.5 feet deep, and has a plentiful supply of inner tubes. Little ones can also use the zero-entry, one-foot-deep Cub Paw pool and a few of the slides, but must be accompanied by parents at all times, of course. Two of the bigger double tube and raft slides allow little kids to ride when accompanied by a grown-up.
For the 3-to-7 age group, the treefort is super popular. It's a climb-and-slide playground complete with suspension bridges, cargo nets, and web crawls. Over 60 interactive, water-shooting gizmos guarantee that everyone gets wet and every few minutes, the huge tipping bucket douses water on guests below. You can also swoop down two relatively tame body slides.
Slap Tail Pond, the wave pool, goes from zero-entry to five feet deep. Every 10 minutes, a horn is sounded and the rolling wave action begins, much to the delight of the crowd. Kids under 42 inches must be supervised by an adult, and everyone is allowed to wear life jackets or ride inner tubes.
Yet another pool, Chinook Cove, offers an assortment of obstacle-style games and challenges. There's a uniform depth of 4-1/2 feet. Kids can play water basketball, or try to balance atop two anchored floats shaped like a giant snake and a beaver. They can also try to cross "Big Foot Pass" by stepping from one floating log slice to another while using an overhead cargo net for balance.
By far, the most popular attractions are the big thrill slides. Kids must be at least 42 inches tall or accompanied by an adult to ride. Along with Coyote Canyon and the Hydro Plunge rollercoaster ride, Alberta Falls are two speedy tube slides that twist and turn through dark, 340-foot tunnels.
When you feel like drying off, there's more to explore. Need a babysitter? The Cub Club, located off the lobby area, is a supervised playroom for kids 12 and under. It features a toddler-size climbing structure, preschool toys, arts and crafts, and some free parent-and-child programs to learn about area birds, animals, and insects. You can book babysitting for $30 per child for two hour blocks: either 3:30pm-5:30pm or 6pm-8pm. Space is limited, with a caregiver ratio of one per 6 kids. When Napierski checked out the Cub Club, it was pretty quiet, with just a few parents and kids playing. Note: Though the clubhouse accepts kids up to 12, the scene is definitely geared for preschoolers and young school kids, and children over 6 or so would likely be bored silly.
Organized activities in the lobby include daily scavenger hunts and coloring contests, and the occasional play or magic show. Three times a day (at 10am, 8pm, and 9pm) the "Grand Clocktower" in the lobby gives a little show. This glockenspiel-style event is a Great Wolf staple. Animated woodland creatures and an Indian girl come out of the tree-shaped clock to tell a story about the importance of teamwork.
Grade-schoolers and Harry Potter fans may be most intrigued by Great Wolf Lodge's interactive attraction, MagiQuest. Using battery-operated wands, kids complete quests with the help of talking paintings, ceiling stars, and treasure chests scattered around the hotel; they can even track their progress on their in-room TV. Alas, magical powers don't come cheap: playing this game costs at least $25 for a first-timer and can get pricier if you buy wand toppers (another $15) and costumes. ("I was skeptical of the whole thing, but I have to admit that my kids loved it. I bought one wand for all my kids to share. This game is now available at all Great Wolf Lodges so if you go to another one, bring your wand.")
The Northern Lights Arcade features some 100 machines, from classic skeeball to air hockey and even some virtual reality games. It's the usual drill: The games spit out tickets, which kids can redeem for prizes.
Teens, meanwhile, would probably prefer Gr8_Space, a purple-hued room featuring TVs, computers with web access, video games such as Wii and Xbox, and even an evening DJ. The scene was pretty dead on the Saturday afternoon when Napierski dropped by, but the gal at the desk told her things get busy on weekend nights. The only catch: entry costs $15.
Grown-ups can get some downtime at the small fitness center ("way too small for a hotel that size") or the on-site spa, where traditional treatments start at $75. If you have preteen and teen daughters, you can also check out the Scooops Kids Spa, where the manicure and pedicure menu is clearly geared to those not yet impressed by a rosemary-and-avocado scrub. Here, it's a Chocolate Cream Pie manicure for $35. ("It was very cute—but I have to admit I thought it was crazy expensive.")
And that's precisely the problem with this resort. There's fun at every turn, sure. But it all comes at a price and eventually leaves guests feeling gouged. You name it, you pay extra for it: The arcade, Cub Club, Gr8_Space, MagiQuest, and even the in-room Nintendo. Napierski took umbrage at the hotel's enthusiasm for gratuitous add-ons. ("When we visited on a weekend in October, they had trick-or-treating throughout the hotel—and charged $5 per kid! Five dollars is not exorbitant, but I think people pay enough to stay there. The hotel should have thrown in the trick-or-treating for free.")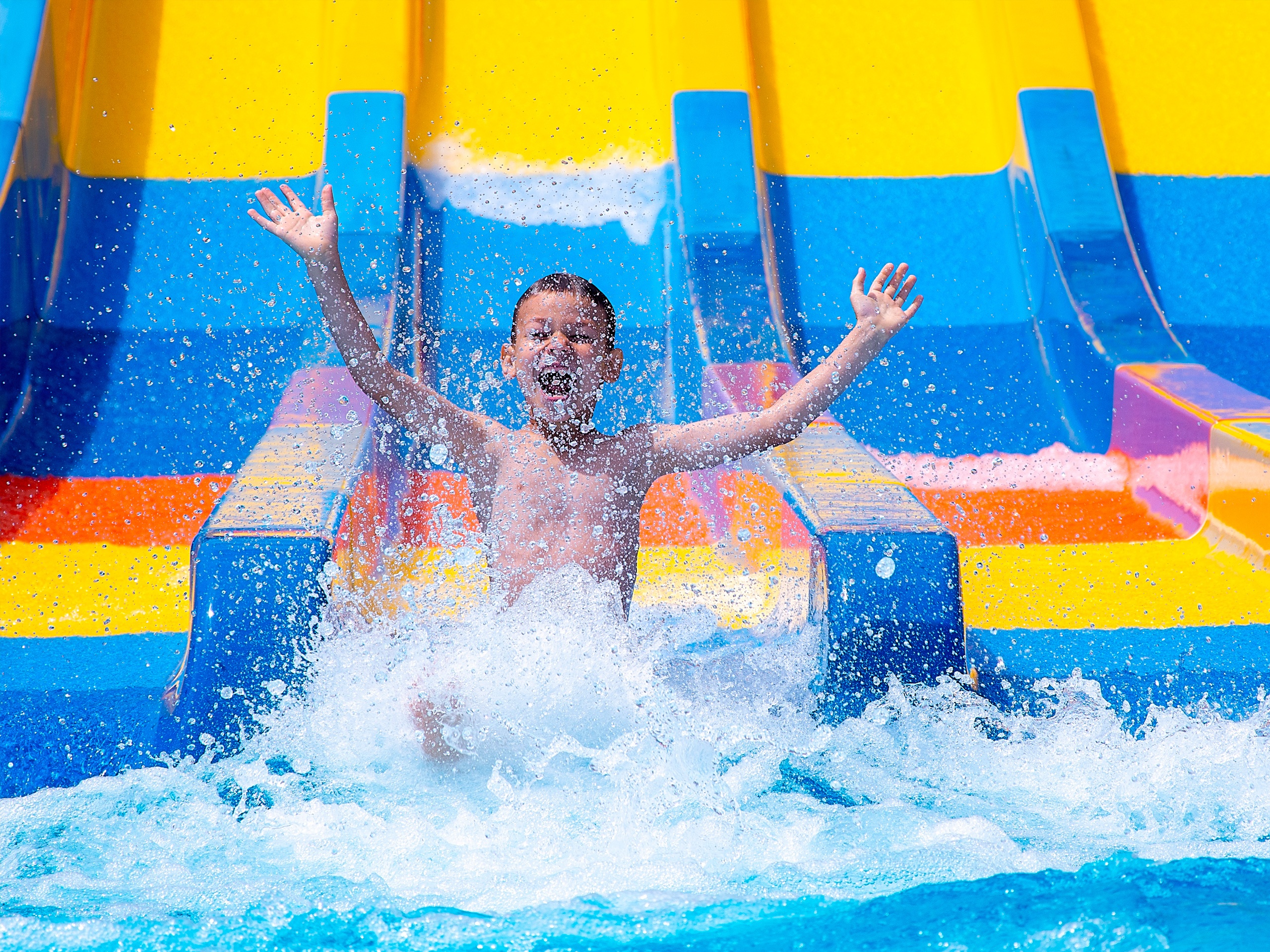 Kids at the slides
Where to Eat: Great Wolf Lodge has four eateries, and the Napierskis found the food to be plentiful and respectably good, albeit with the resort-level prices you'd expect. Dress is super-casual: You have to wear shirts and shoes outside the waterpark, and plenty of people didn't dress up much beyond that. ("At breakfast and after dinner there were a lot of kids running around in their jammies.")
The Camp Critter Bar & Grille, the hotel's main restaurant, offers buffets for breakfast and dinner. The headliner dining option for dinner was the buffet. The selection included a traditional line-up of fresh salad and toppings, ribs, peel-and-eat shrimp, crab legs, salmon and lots of kid-friendly options such as pizza, mac 'n' cheese, chicken nuggets and fries, as well as ice cream sundaes, brownies and cookies for dessert. ("Not gourmet food, but the kids enjoyed having such a big selection.") The breakfast buffet offers better value, with a copious spread that features made-to-order omelets, French toast, waffles, sausages, bacon, and three kinds of scrambled eggs. Even so, the Napierskis skipped the breakfast buffet. ("Our dinner bill the night before came to $110 for our family of five, and I just couldn't see spending $60 on breakfast.") There's an à la carte menu for lunch that features mainly salads and sandwiches. The kids' menu includes spaghetti, pizza, PB&J sandwiches, macaroni and cheese, and other favorites. (Breakfast buffet: $14.95/adult, $9.95/child 3 to 10 years, free for kids under 3. Average lunch entrée: $9.95/adult, $6.50/child. Dinner buffet: $25/adult, $12.50/child.)
Spirit Island Snack Bar, in the waterpark, has counter service. You can select from the usual fast food fare, such as hot dogs, nachos, corn dogs, burgers, grilled chicken sandwiches, fries, soda, and fried dough. "Kids could order a PB&J with milk or a turkey sandwich, baby carrots, and juice box. I was glad to see that the kids' meals had side items other than french fries.") The waterpark also sells slushies, in four bright-colored flavors, for a whopping $5.50 ("but if you bring back the 16-ounce plastic cup, refills are $3.50.") There is also bar service with beers costing as much as the slushies, without the refill deal. Service was slow, which was perhaps one reason why Napierski saw some guests bringing in their own drinks and snacks, despite it being prohibited. (Adult combo meal: $6.75-$10. Kid's combo meal: $4.50-$6.)
Pizza Hut Express, in the lower-level lobby, is a known quantity. The Napierskis opted for a Pizza Hut combo one night with two large cheese pizzas, 12 wings, five bread sticks and a two-liter soda for $36—not a great value, compared to regular deals posted on Pizza Hut's web site. ("It was pretty greasy and tasteless. I'd recommend getting pizza delivered from a nearby place. The hotel lobby has a list of local restaurants.")
The Bear Claw Cafeacute; is an all-day deli-style shop that offers Starbucks coffee, yogurt, muffins, fruit, and pre-packaged salads and sandwiches that you can bring back to your suite. ("Starbucks saved us in the morning, and I kept some cereal and milk in the room for the kids.") Early birds can get a muffin plus coffee for $4 until 8 am; after that muffins cost $3.25 and lattes $3 and up. (Open 6:30am-11pm.)
Nightlife: Great Wolf Lodge Poconos stays active well after dark. The waterpark remains open until 9pm Sunday through Thursday, and until 10pm on Friday and Saturday. As the Napierskis learned, evening is a great time to return to the waterpark, when the crowds and lines dwindle. If you're ready to dry off, though, there is the Clock Tower show in the lobby at 8pm and 9pm (there's also a 10am show), in which the characters in the Clock come to life and sing ("it was very Disney-like"). After the first evening show there's also a storytime for the kids, and a lobby movie shown at 8:15pm. ("On the weekend we visited, they showed 'The Wizard of Oz.'") The arcade and Gr8_Space also stayed open until 10pm on weekends.
There's no evening babysitting service beyond the Cub Club, but it's kind of a moot point, since there aren't many activities you'd do here without the kids anyway. ("I think the majority of people stayed at the hotel. There is just so much to do right there, and most things are open until 11pm, so you can really make the most of the day.")
Where to Stay: The hotel is humongous, with 401 suites divided into 11 categories, ranging from a Queen Sofa Suite, which sleeps four and features one queen bed and a sleeper sofa, to the Loft Fireplace Suite, a two-story hangout with three queen beds, two bathrooms, a fireplace, and multiple TVs. Rooms have the contemporary-cabin look, with rough-hewn furniture, a palette of soft greens and earth tones, and a smattering of nature-evoking details, such as painted vines adorning the walls. Most kids would likely vote to stay in the Wolf Den, Kid Kamp or KidCabin suites, which each have just-for-kids alcoves done up like caves, tents, or log cabins equipped with bunk beds, TVs, and video games.
The Napierskis' second-floor KidCabin Suite could sleep up to seven people. As you entered the suite, the kids' log-cabin alcove was off to one side and contained a twin bed, bunk beds, a flat-screen TV and a Nintendo system. The wet bar area included a small sink, microwave, coffeemaker, and small fridge. In the living space, there was a table, two chairs, and a gas fireplace. Beyond that, the main sleeping area had a queen bed and a sleeper sofa. ("I was really impressed. It was definitely big enough for a family of five, and the living space was quite large.") Families traveling with a baby or toddler can borrow a crib free of charge.
Most suites have balconies or patios. The Napierskis' balcony overlooked the parking lot, which generated a fair bit of noise. In addition, the Napierskis could hear kids running and yelling from the floor above them, as well as from their own hallway. The hotel's "hibernation hours" from 11pm to 7:30am helped. ("My one complaint with the room was the incredible noise level. I was thankful for the hibernation hours. It was as if a switch was flipped and everything got quiet.") Given the hotel's layout, Napierski thinks that rooms on the fourth floor would be the quietest, because there would be no noise from above.
Rooms have neither VCRs nor DVD players, but you can order pay-per-view movies ($6.95 to $11.95 each) or play Nintendo for $6.95 an hour, a fee in line with what we typically see at other resorts for similar in-room entertainment.
The Napierskis' suite was located near the end of their wing, giving them a brisk five-minute walk to and from the waterpark. The two elevators that serve the entire hotel tended to be crowded and pokey, so the Napierskis stuck with the stairs. ("There was, more often than not, a huge crush of people using these stairs. I would recommend taking the side stairs, one set in each wing of the hotel, as these were never crowded.")
Price Tag: Prepare for sticker shock. The least expensive room, a Queen Sofa Suite, will set you back $380 on a weekend night in December and a whopping $530 on a Friday night in April. Midweek rates are usually closer to $230 a night.
The bigger the room, the more you save by avoiding Friday and Saturday nights. The KidCabin Suite is normally priced from $460 to $610 on a weekend night, depending on season. On weekdays, however, the price freefalls to between $270 and $310 a night. Not that "midweek specials" are actually all that special; they are far below weekend prices regardless of season.
The Napierskis said they'd be happy to come back to Great Wolf Lodge—but next time, they'd come for a midweek visit, when the prices and crowds would shrink. They felt that this resort delivered decent value for their family—not because pricing was economical ("be prepared to spend quite a bit of money") but because their kids, at 8 and 10, were at optimum ages to enjoy the waterpark and other amenities. ("My kids were tall enough to ride all the slides and they could run around the waterpark without my watching their every move. I even got to read a bit. They could also run around the hotel playing MagiQuest by themselves.")
When assessing value, remember that Great Wolf Lodge is a stay-and-play resort. It's reasonable to assume that a family of four could easily spend at least $120 for one-day tickets to a top waterpark. Considering how little time you'll be likely spend in your suite, we don't recommend paying extra for a suite with a park view or a balcony.
Just remember, the more time you spend in the park, the more bang you get for your buck.
Insider Tips:
Watch the web site for midweek specials. Sunday-to-Thursday nightly rates are significantly lower than those on weekends.
Make the most of your waterpark time by coming early on check-in day and staying late after you check out. On check-in day, you can start playing in the waterpark at 1pm, even if your room's not ready. And on your departure day, you can stow bags in a locker for $10 and use a shower and changing area before you head home.
Take full advantage of the refrigerator and microwave in your suite. Bring your own breakfast foods, drinks or snacks such as popcorn for the room.
Bring water shoes, to minimize sliding and possible germs.
Ask for a room near the end of the hallway for quicker access to stairs, or on the fourth floor to cut down on noise.
Pack some zip-top bags to keep gear such as cameras and cell phones dry in the waterpark.