Williamsburg, Virginia
By Lisa Hopper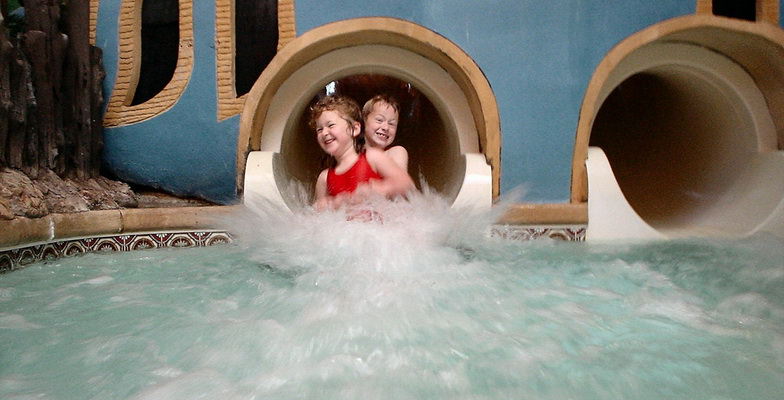 flickr:kmagoon
Why Go: Every industry has a big enchilada. On the coffeehouse scene, it's Starbucks. Software's got Microsoft. In the booming world of indoor waterpark resorts, no company has expanded more aggressively than Great Wolf Lodge, which opened eleven resorts in the past decade. Perhaps more important than how many is where. Five properties in the East have proven that there's a huge market for this kind of resort far from the trend's Midwestern roots. The formula goes something like this: Build a large log-style resort, graft on a giant waterpark, then get ready for the stampede of families.
Like all Great Wolf Lodges, the one in Williamsburg owes its rustic Northwoods look to an abundance of exposed pine, elk antler chandeliers, hand-crafted furniture, and handsome stone fireplaces. In addition to restaurants and gift shops, there's an arcade, a kid's activity center and, for adults, a fitness center and a spa. The atmosphere is kid-centric and laid-back, with a dress code best described as "beach casual." Guests get unlimited waterpark access and our correspondent, Lisa Hopper, and her family took full advantage of it. ("We stayed in the waterpark every possible waking hour. Our kids never got bored, and neither did we.") Only hotel guests are permitted into the facility, so attendance is always capped. This policy was a key reason behind Hopper's decision to return after a fun weekend here last year. ("The resort was sold out both weekends that we visited, but the crowds were never overwhelming.")
It's often the little conveniences that make a huge difference. Every suite at Great Wolf Lodge features a coffeemaker, microwave, and mini fridge. Guests are welcome to bring in food and drinks purchased outside the hotel, as long as they consume it inside their suites. Not only can this cut down your food bill, but it's invaluable if you have small kids who tend to graze rather than eat three squares. Other thoughtful pluses: In-room irons and ironing boards, in-park lockers and quick dryers for swimsuits, and a selection of board games that can be checked out at the front desk.
(MORE: View a family trip plan: 2 days in Williamsburg with kids.)
Getting Oriented: Great Wolf Lodge is located just south of the intersection of I-64 and State Highway 199, about a 10-minute drive northwest of the historic district of Williamsburg. It's plunked in the middle of strip-mall suburbia, with a Wal-Mart, a Lowe's home and garden store, and many fast food chains in the immediate vicinity.
From the outside, the resort resembles a large log cabin with a giant box grafted to one side. In the summertime, guests can also use an adjacent heated outdoor pool whose depth gradually increases from zero to four feet. Activity features include water basketball, geysers, fountains, and a patio area with lounge chairs.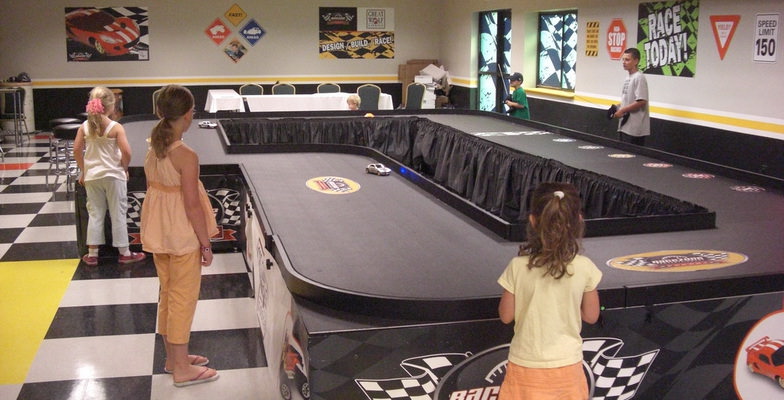 flickr:affiliate
Getting Around: Save Colonial Williamsburg and the Jamestown colony for another trip. To get your money's worth out of this hotel, you've got to stick around and use the waterpark as much as possible. There are enough restaurants and amenities at the hotel that you won't need to leave except perhaps to restock your fridge.
We Are Family: At check-in, guests are given wristbands that permit unlimited access to 55,000-square-foot Bear Track Landing, one of the larger indoor waterparks in the country. There are six pools and eight waterslides in the park, which is open daily from 8:30am to 10pm. Faux evergreen trees are dotted throughout the park and murals of pines and snow-capped mountains line the walls. At all times, the temperature of both water and air is maintained at about 84 degrees. The park is kept very clean, and there are always plenty of freshly laundered towels available for guests' use. Scattered around the various areas of the park are reclining lounge chairs as well as café-style tables and chairs.
With six kids under 8 years old (read that part again, slowly), Hopper knows a thing or two about small fries. She estimates that families start getting big value here once kids hit kindergarten age. ("My youngest four children had to be supervised most closely. We allowed Ellie and Ben, aged 7 and 5, to check in with us every few rides or so, and we felt comfortable letting them explore.")
Three-year-old Thomas and 1-year-old Nicholas spent most of their time in the zero-depth end of the Cub Paw Pool. Little ones must be accompanied by an adult, and there are many soft, comfortable life jackets in different sizes available. Besides the three tame kiddie slides, kids can wonder at interactive play toys such as shooting jets, fountains, and rope pulls that shoot water in different directions. While the Cub Paw Pool provides lots of good, clean fun, "that's really all that's geared to babies and toddlers." When can your kids take on the whole park? At Great Wolf Lodge, the magic number is 42. Inches, that is. When a child hits this height, she's able to go on all the rides unaccompanied.
Even toddlers can enjoy Crooked Creek, the lazy river, if they're with an adult. Kids and adults can swim or ride on large inflatable tubes while being periodically sprayed by fountains and mini waterfalls as the river winds its course. While the river is shallow, the current is strong in places. Lots of smaller children wear life vests.
For preschoolers and young school-age kids, there's Fort Mackenzie, a 4-story play structure that's interconnected with suspension bridges, cargo nets, and web crawls. Over 60 interactive, water-shooting gizmos guarantee that everyone gets wet. Every few minutes, a huge tipping bucket douses 1,000 gallons of water on guests below. You can also swoop down two body slides, which curl and loop their way for more than 120 feet to their splashy endings. Hopper observed that there were no signs indicating a height restriction for these slides, and no minimum height was enforced during her visit. ("Both of our 4-year-olds had a blast on this climbing structure. They loved climbing on the nets and bridges and going down the slides.")
Who needs an ocean when you've got Beaver Tail Lake? The wave pool goes from zero-entry to five feet deep. Every 10 minutes, the rolling wave action begins, much to the delight of the crowd. ("Every time the bell rang to signal that the waves were starting, the kids all screamed.") Kids under 42 inches must be supervised by an adult, and everyone is allowed to wear life jackets or ride inner tubes.
Bear Track Landing's most popular attractions are its three biggest slides, with an average wait of only five minutes. For all three, kids must be at least 42 inches tall or accompanied by an adult to ride. The Alberta Falls are two speedy tube slides that twist and turn through dark, 340-foot tunnels. A child can go down by himself on an individual inner tube or with a parent on an inflatable double tube shaped like a figure 8. On River Canyon Run, a large circular raft carries up to four people down a 461-foot looping, swooping dark tunnel. While Hopper's 4-year-old son, Anthony, was brave to go on these slides with a parent, his twin, Sophie, thought they looked way too scary.
(MORE: Read reviews written by parents on attractions in Williamsburg.)
Yet another pool, Chinook Cove, offers an assortment of challenging activities. There's a uniform depth of 4-1/2 feet. Kids can play water basketball, or try to stay atop two anchored floats shaped like a giant snake and a beaver. They can even try to cross "Big Foot Pass" by stepping from one floating log slice to another while using an overhead cargo net for balance.
Kids 8 and up can try climbing the waterpark's rock wall. This one has its own little twist: Jets of water that shoot intermittently at the climbers ($5/climb). Note: The rock wall isn't always open.
Finally, there are Bear Track Landing's two giant hot tubs: One for families and one just for adults (minimum age 21).
Ready to towel off? Kids 12 and under are invited to the Cub Club, a supervised activity room with a toddler-size climbing structure, preschool toys, craft supplies, and several tables with chairs. Note: The set-up is geared for preschoolers and young school kids, and children over 7 will be bored senseless. Hopper gives the Cub Club the thumbs down for any age. ("We were very disappointed in the Cub Club both times we visited the hotel. It's promoted as a fun place for little ones to do crafts and have some dry play time, but doesn't deliver.") The resort's web site promises that "an Ambassador of Fun leads children's activities and crafts." Apparently all that hobnobbing with heads of state has made the ambassadors forget what a good time looks like. ("Cub Club was boring. There weren't any counselor-led activities. On both visits, the sole employee simply sat behind a desk at the entrance and didn't interact with the kids.")
Organized activities include daily scavenger hunts and coloring contests, and the occasional play or magic show. Three times a day (at 10am, 8pm, and 9pm) the "Grand Clocktower" in the lobby gives a little show. This glockenspiel-style event is a Great Wolf staple. Animated woodland creatures and an Indian girl come out of the tree-shaped clock to tell a story about the importance of teamwork. ("It's really cute and it kept the kids entertained.") On weekends, there's a fun atmosphere just outside the waterpark on the lower level of the hotel, as artists sketch caricatures, stylists wrap girls' hair, and make-up pros apply airbrush tattoos.
The Northern Lights Arcade features some 100 machines, from classic skeeball to air hockey and even some virtual reality games. The games spit out tickets, which kids can redeem for prizes.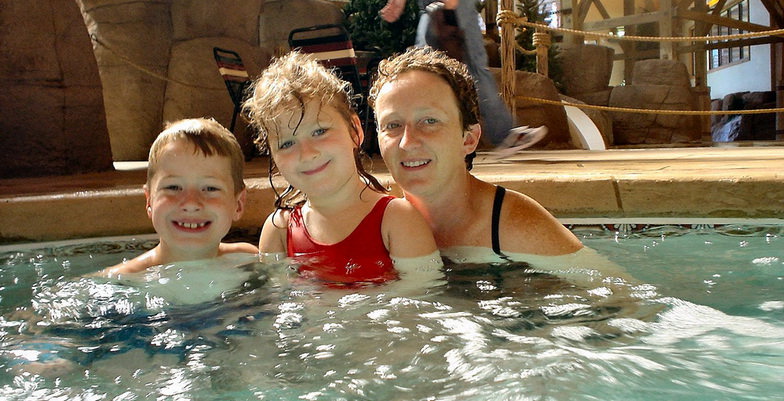 flickr:kmagoon
Where to Eat: Great Wolf Lodge has four eateries at different price levels. Overall value, when you compare food quality to price, is fair. To compensate, it makes sense to choose the less expensive self-service and take-out eateries.
The Camp Critter Bar & Grille, the hotel's main restaurant, offers buffets for breakfast and dinner. Breakfast offers better value, and a copious spread that features made-to-order omelets, French toast, waffles, sausages, bacon, and three kinds of scrambled eggs. The dinner buffet is considerably higher priced and offers fair value for money. Service isn't a strong point. ("We were unimpressed on both visits with the friendliness of the restaurant staff.") There's an à la carte menu for lunch that features mainly salads and sandwiches. The children's menu includes spaghetti, pizza, PB&J sandwiches, macaroni and cheese, and other favorites.(Breakfast buffet: $10.95/adult, $7.95/child 3 to 10 years, free for kids under 3. Average lunch entrée: $8.95/adult, $5.95/child. Dinner buffet: $22.95/adult, $12.95/child 11 to 14 years, 7.95/child 3 to 10 years, $2.95/child under 3.)
Pizza Hut Express, in the lobby, is a known quantity.
Spirit Island Snack Bar, in the waterpark, has counter service. You can select from the usual fast food fare, such as hot dogs, nachos, corn dogs, burgers, fries, soda, and fried dough. ($7/adult item, $4.95/kid's item.)
The Bear Claw Cafeacute; is a deli-style shop that offers Starbuck's coffee, fudge, yogurt, muffins, candy, ice cream, fruit, and pre-packaged salads and sandwiches that you can bring back to your suite. (Open 6:30am-11pm.)
Nightlife: Every night, following the 8pm Grand Clocktower show, there's story time by the lobby fireplace with the resort's mascots, Wiley the Wolf and Biko the Bear. It's geared to preschoolers and young school-age kids, and many come in their pajamas.
The arcade and the waterpark both stay open every night until 10pm. Bear Track Landing tends to empty out after dinner, so nightbirds get the place to themselves. Camp Critter Bar & Grille remains open until 10pm Sunday to Thursday, and until 11pm on weekends.
Where to Stay: The 400+ suites are available in 10 configurations, with a wide range of options for families at different price points. The smallest option is a Queen Sofa Suite, which can accommodate a family of four. It features a queen bed, a pull-out sofa, a balcony or patio, and a limited kitchen. The largest styles of suites can accommodate up to eight people. Throughout the resort, the design uses a dark, earthy color scheme, with wildlife motifs on the carpet and wallpapers. Some suites feature a separate kids' room done up like a little cabin or a tent, with bunk beds and an additional TV.
The Hopper family stayed in a Loft Fireplace Suite. There were two queen beds downstairs, plus a pull-out sofa, and a fireplace. The far end of the room had a vaulted ceiling, with stairs leading upstairs to a loft bedroom with a queen. There were two bathrooms: One full and one half. ("The room was very nice, with many wildlife-themed details. The kids loved it.")
Price Tag: Like at any stay-and-play resort, determining whether Great Wolf Lodge delivers good value is a two-part exercise. First, estimate what the "play" is worth. Figure that a family of four would likely spend at least $115 for one-day tickets to a top waterpark. (A family of eight like the Hoppers might spend closer to $200.) The more time you spend in the park, the more bang for your buck. (For tips on how to get the most bang for your buck at indoor waterparks, see More Splash, Less Cash.)
Considering how little time you'll be likely spend in your suite, we don't recommend paying extra for a suite with a park view or a balcony. Often you can spend less and still get a bigger room. On a weekend in mid June, for example, a Queen Sofa Suite with a park view costs $339 per night. At the next level up, a Family Suite (2 queen beds plus a pull-out sofa) with no balcony would cost only $314 per night during the same weekend. Visiting midweek is less expensive.
Insider Tips:
1. Watch the web site for specials. At press time, there was a special rate of $199 being offered Sunday to Thursday or if you stay more than one night.
2. Have your kids wear water shoes to protect their feet on the cargo nets and climbing ropes on Fort Mackenzie. The will also help prevent them from slipping on the poolside surfaces, which get slick when wet.
3. Take full advantage of the refrigerator and microwave in your suite. The Hoppers arrived armed with microwaveable kids' meals and snacks.