Hershey, Pennsylvania
By Suzanne Rowan Kelleher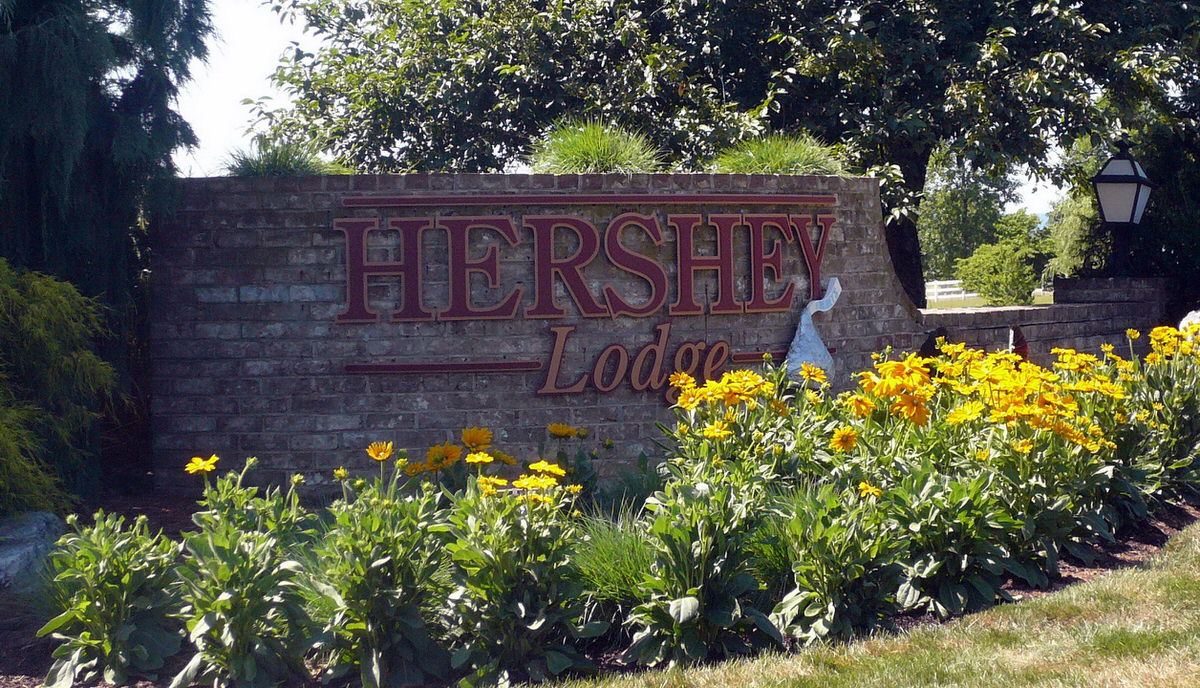 Hershey Lodge (Flickr: mgrayflickr)
Why Go: Talk about a slice of kid heaven: a town synonymous with chocolate that also happens to have the best theme park in the Northeast, according to FamilyFun magazine. (The publication is owned by Disney, who knows a thing or two about theme parks.) Not only is Hershey a can't-miss family destination, but it's getting better all the time. Last year, Hersheypark celebrated its 100th anniversary by opening The Boardwalk, a tribute to the seaside resorts of the Eastern seaboard that features the world's largest water-play structure. And in 2008, the theme park unveiled two new rides: Fahrenheit, a vertical-lift inverted-loop rollercoaster with the steepest drop in the US, and Howler, a tornado ride that lets riders spin their own cars. Did we mention that Hershey also has a zoo, botanical garden, three first-rate golf courses and a luxurious spa?
There are many places to stay in Hershey, including three official Hersheypark resorts: the upscale Hotel Hershey, the middle-priced Hershey Lodge, and Hershey Highmeadow Campground. During a visit in late May, our correspondent, Suzanne Kelleher, and her family found that Hershey Lodge offers families a convenient, comfortable, and fun home base, thanks to a friendly staff and plenty of kid-friendly touches. ("When you arrive at the hotel, kids have their own check-in desk and get to sign a guest register. Every afternoon, there was always something fun going on at the kids's desk—from a guess-how-many-Hershey-Kisses-are-in-this-jar contest to giveaways of cowboy hats and bandanas, in keeping with a Wild West theme when we visited. Twice a day, the Hershey characters appear in the lobby to greet guests and pose for photos with kids. Oh yes, and let's not forget the free candy samples.")
Kelleher thought that Hershey Lodge delivered just the right amount of theming. ("There are tons of fun details to make you smile but they're never tacky. The different hotel wings are named after candy bars, and Hershey Kisses are subtly integrated into the backdrop—embroidered on velvet ropes in the lobby, tufted into hallway carpeting, and woven into upholstery. But nothing is loud or in your face.")
And best of all, because Hershey Lodge is an official resort of Hersheypark, guests are able to take advantage of some nice insider perks:
Discounted Hersheypark tickets from the concierge's desk. When Kelleher inquired about one-day passes, the concierge quoted $33.95/adult and $24.95/child 3-12. That's substantially lower than the official prices of $47.95/adult and $28.95/child. It's also a hair cheaper than the per-day cost of two-day ticket.
Free shuttle service to Hersheypark, Chocolate World, and the Hershey Museum. This lets you avoid the $10-a-day parking fee at Hersheypark.
Early access with Hersheypark Sweet Start, which lets you enter the park at 9am, an hour before the official opening time. ("This was a great perk! We got to the park after 9am and were still able to ride the Comet, Sooperdooperlooper, and Coal Cracker without any wait at all before the park began to fill with people.")
Free admission to Hershey Gardens (ticket value: $10/adult, $6/child 3-15) and the Hershey Museum (ticket value: $7/adult, $3.50/child 3-12).
Getting Oriented: It's blessedly easy to get to know your way around Hershey, a small, very attractive town in southeastern Pennsylvania with a population of about 13,000. Hershey is located 14 miles east of Harrisburg and within a two-hour drive of Baltimore, Philadelphia, and Washington, DC. Hershey is a three-hour drive from New York City.
While many theme parks sit on the outskirts of their towns, Hersheypark is right smack in downtown Hershey. In fact, the theme park dominates the skyline with roller coasters that climb to over 100 feet high and are illuminated at night. All three official Hersheypark resorts—as well as several chain hotels, restaurants, and gas stations—are located on a few main thoroughfares. ("It's so easy for families to find what they need. There's a nice array of family eateries and plenty of grocery marts where you can stock up on bottled water, sunscreen, batteries, and other sundries.") Hershey Lodge is 3.5 miles from Hersheypark, Chocolate World, and the Hershey Museum.
The hotel is very large and sprawling, with 665 rooms, five restaurants, three pools, a 9-hole mini golf course, basketball and tennis courts, a fitness room, games room, and gift shop.
Getting Around: Guests staying at an official Hersheypark resort can avoid parking fees at the major attractions by taking advantage of a free shuttle service to Hersheypark, Chocolate World, and Hershey Museum, which are located within walking distance of each other. When the Kellehers visited in late May, the ride time averaged 12 minutes for the 3.5-mile trip. The shuttle service starts at 8:30am so guests can take advantage of the Hersheypark Sweet Start and continues until an hour after the park closes late at night. ("If you want to make it to the park by 9am, you need to line up for the shuttle by 8:10am. We got in line at 8:30am on the dot and the line was already more than two busfulls long. By the time the first buses returned, it was almost 9am. We got to the park at 9:10am.") The drop-off point is just outside Hersheypark's main gate. In the summer, depending on traffic, the buses run 30 to 40 minutes apart. At the end of their day in the park, the Kellehers got lucky and waited just 10 minutes at the bus stop for the bus to arrive. ("On balance, the shuttle service can be a good way to go, so long as you get lucky with wait times.")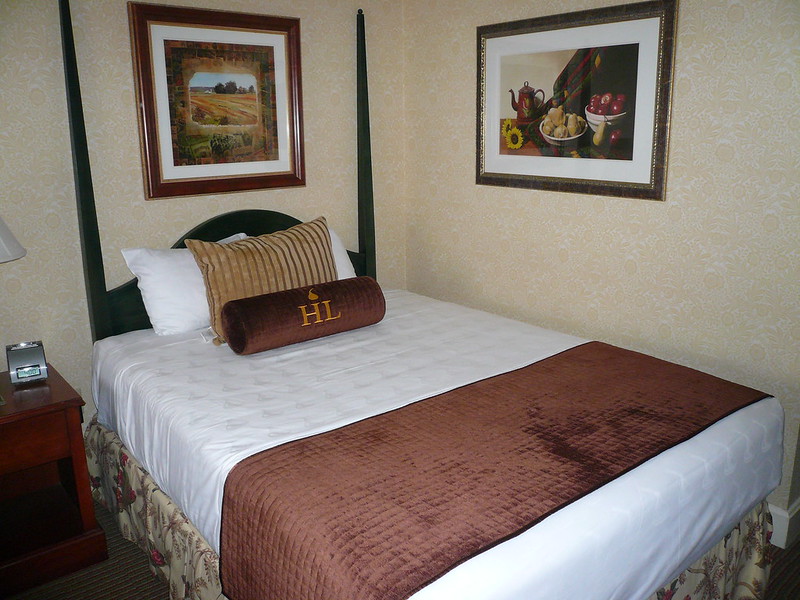 Room at Hershey Lodge in Hershey, PA (Flickr: Michael Gray)
We Are Family: Kelleher estimated that nearly all of the hotel's guests had come with kids, ranging from infants to teens. Because this resort is so large, with many wings housing guestrooms, families with babies and toddlers should be especially careful to request a room within short walking distances of the main activity hubs (see Where to Stay, below).
There are two pool areas at the Hershey Lodge. None of the pools are particularly fancy—no slides, diving boards, or splash pads—but they are all clean and well-maintained, with life guards on duty during open hours. Complimentary towels are available to guests in both pool areas.
The most centrally-located is the Lower Outdoor Pool, which is kidney-shaped and ranges in depth from three to nine feet. You enter the shallow end via steps. Nearby on the grass is a small toddler-size play structure. Less than 30 yards away, the indoor pool also ranges from three to nine feet deep. It also features a step entry into the shallow end. Near the Lower Outdoor Pool area, you'll find the hotel's fitness room and an indoor games room with a Ping-Pong table and about a dozen arcade games.
Tucked behind the Reese's wing, the Upper Outdoor Pool is often quieter than the Lower Outdoor Pool. Its zero-depth entry, gently inclined shallow end, and fountain makes this pool a wonderful and fun choice for little kids. The pool is sandwiched between the hotel's mini golf course and its basketball and tennis courts. Equipment to play these sports is available at no charge from the activities building next to the pool.
For families taking a break from the theme park, there are plenty of free kids' activities scheduled throughout the day. On the weekend the Kellehers visited, a typical day's roster ran the gamut from crafts and coloring to jump roping fitness, pool games, swimming races, bingo, and line dancing.
Need to stay in touch with the world? There's free wi-fi access in the lobby and all of the guestrooms, and a complimentary copy of The Washington Post delivered to your doorstep each morning.
Where to Eat: Hershey Lodge offers five kid-friendly restaurants.
Hershey Grill is known for steaks, pasta, sandwiches, and signature salads. (Open Sat-Sun brunch 8am-4pm and Mon-Fri lunch 11am-4pm and dinner 4pm-10pm; Lunch entrées $10-$12. Dinner entrées $15-$25)
The Bear's Den is a woodsy, sports-themed restaurant, with memorabilia and wide-screen TVs scattered throughout the dining room. The menu offers a wide array of fun snacks, from nachos to mozzarella sticks, and well-priced family favorites such as burgers, salads, pizza, spaghetti, and deli sandwiches. The Junior Bears's Cartoon Buffet is a popular weekend choice for families with young children. (Open brunch daily 8am-11am, all-day à la carte menu 11:30am-midnight; All-day menu: appetizers, burgers, salads, sandwiches: $4-$10, entrées $12-$23)
The Forebay has a relaxed atmosphere in a cozy loft setting just up a flight of stairs from the lobby. The menu features steaks, chops, burgers, fresh seafood, and more exotic dishes such as buffalo steak. (Open breakfast 8am-11am and dinner 5pm-11pm; Breakfast entrées $6-$14. Dinner: appetizers and sandwiches $7-$13, entrées $21-$46)
Lebbie Lebkicher's, named for Milton Hershey's most trusted friend and associate, has a traditional breakfast menu of pancakes, omelets, French toast, and the like. The copious dinner buffet features a wide variety of meats, pasta, and salads, plus kid favorites like chicken fingers and macaroni and cheese. (Open breakfast 7am-11am and dinner 5pm-10pm; Breakfast entrées $4-$11. Dinner buffet: $21/adult, $10.50/child 3-8)
The Cocoa Beanery, a cafeteria-style eatery off the lobby, is great for an inexpensive and casual quick bite. Think specialty coffees, pastries, bagels, and made-to-order sandwiches and paninis. (Open weekdays 6:30am-10pm, weekends 6:30am-11pm; Items $2-$6)
Note: The Bears's Den also offers a take-out menu. A nice alternative to room service, it lets you avoid the room delivery fee and 19% service charge.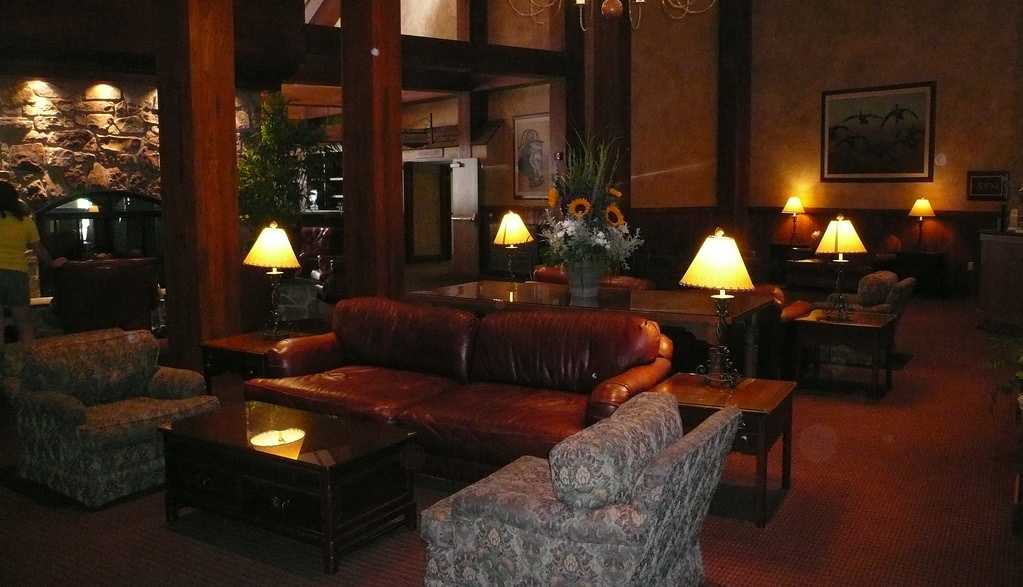 Inside Hershey Lodge (Flickr: mrkathika)
Nightlife: Many families take an afternoon break in the hotel and return to Hersheypark at night. For most of the summer, Hersheypark is open until 11pm.
The hotel schedules at least two family events each evening, which might include s'more-making at a campfire alongside the hotel's small lake, bingo at the activities building next to the Upper Outdoor Pool, or a themed party for kids featuring assorted games and contests. And several evenings a week, the hotel screens a G-rated 'dive-in movie' near the Lower Outdoor Pool. ("On one night, they were showing 'An American Tale.' Most kids showed up in their pajamas.")
If you want to have a quiet dinner as a couple, you can hire a babysitter through the concierge (Two kids: $30 for up to two hours, $60 for two to four hours).
Where to Stay: Hershey Lodge's 665 rooms are spread out between the main five-story hotel building (called "the tower") and in five two-story wings, each named after a different candy bar.
The Kellehers' room in the tower was comfortably appointed with two queen-size beds separated by a night stand, and a TV armoire with drawers, and a desk. The surroundings felt high-quality but not luxurious—think nice bedding, ceilings trimmed with crown moulding, cream-on-cream wallpaper, and a smart collection of antique-effect mirrors and frames. ("Overall, the room was very comfortable if a wee bit tight. A small armchair was squeezed into a corner, and there was little floor space around the beds.") The bathroom contained a small refrigerator and coffeemaker, and the closet held an iron and ironing board. TV channels included kid staples (Disney, Nickelodeon, Animal Planet, Cartoon Network), while the in-house Hershey channel was looping a very interesting History Channel documentary about Milton Hershey. Additional in-room entertainment options include pay-per-view movies ($12.99 for still-in-theaters releases) and GameCube ($6.95/hour).
The hotel's rambling layout means that location really matters. If you prefer to be near the lobby, restaurants, and shuttle bus stop, then request a room in the tower or the Peppermint Patty wing. Half the rooms in the Hershey's Milk Chocolate Bar wing are also near the lobby. Want to be close to a pool? The Reese's wing is near both the Upper and Lower pool areas, while the Tower and Hershey's Milk Chocolate Bar wing are close to the Lower Outdoor Pool area. Steer clear of the Hershey's Cocoa and 5th Avenue wings, which are quite far from everything.
Finally, if you plan on driving to and from Hersheypark and other attractions, consider requesting a room on the ground floor. First-floor rooms are motel-style and open directly to the outside parking lot, which lets you come and go without having to schlep through the hotel lobby. Some ground-floor rooms open to the outside and also to an interior corridor in the hotel.
Price Tag: Though Hershey Lodge is open all year long, most families visit in late spring and summer, when Hersheypark is open. The park is open weekends-only in early May, then daily throughout the summer (May 21 to September 1, 2008). After Labor Day, the schedule scales back to a weekends-only until the end of September. There are special holiday events for Halloween and Christmas.
During the summer season (May 23 to August 31, 2008) rooms at Hershey Lodge cost $289 a night. During the fall and holiday season (September 3 to December 29, 2008), the Family Fun Package runs $255 a night and includes breakfast, tickets to Hershey's Really Big 3D Show at Chocolate World, complimentary tickets to ZooAmerica, as well as admission to Hershey Gardens and the Hershey Museum.
Insider Tips:
You can snag extra hours at the theme park with Preview Hersheypark. Just buy your tickets the evening before your first full day in the park, and you'll get free access for several hours until closing time. For example, in the summertime if you buy your next day's tickets at 7:30pm, you can spend that evening in the park until closing time at 11pm.
Don't forget to pack a bathing suit so you can enjoy the water attractions at The Boardwalk. No towels are made available to guests at Hersheypark. Remember to grab fresh towels from the towel cabinet in the entry bay of the hotel lobby on your way out.
Plan to get to Hersheypark at 9am to take advantage of Sweet Start and get in a few rides before the crowds arrive.
Hold off on buying souvenirs until your last day, and then head to Chocolate World. The hotel's gift shop offers a nice array of Hershey souvenirs, but the selection pales compared to what's available at the megastore at Chocolate World. Even if you don't have time to take one of the tours, you can visit the gift shop for free. (There's even free parking if you stay less than two hours.)