Puerto Vallarta with kids
By Michelle Rae Uy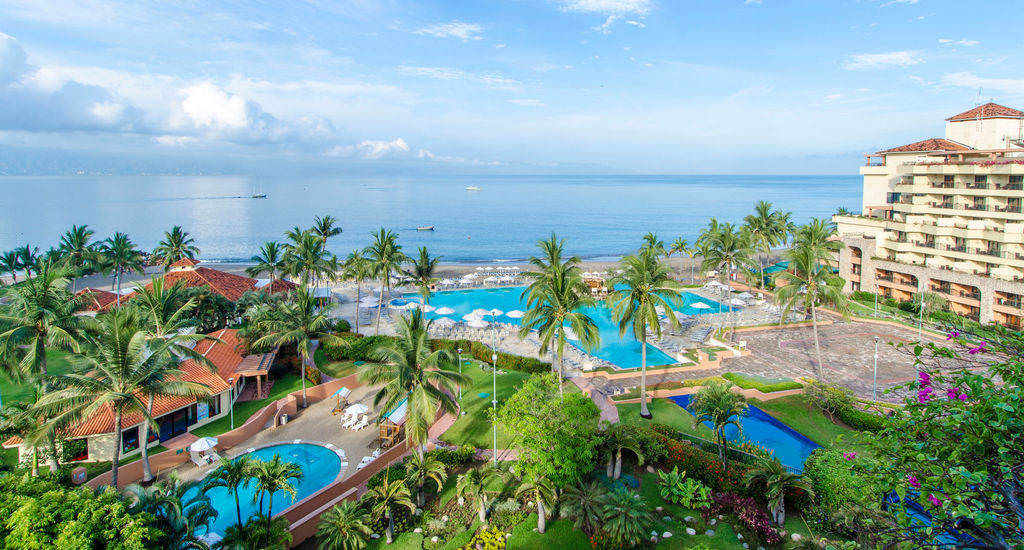 CasaMagna Marriott Puerto Vallarta Resort & Spa (Courtesy CasaMagna Marriott Puerto Vallarta Resort & Spa)
Puerto Vallarta, Mexico has long been an enclave for expatriates as well as transplants who are drawn to the city's vibrant streets that embody both the indigenous cultures in the area as well as the tourism industry that fuels it. But this beautiful destination nestled in Mexico's Banderas Bay isn't just for adult travelers looking to experience the city's famed nightlife. Its myriad of land, water and air attractions and activities are perfect for families with kids seeking a fun-filled tropical escape.
At the center of it all is the hacienda-style resort of CasaMagna Marriott Puerto Vallarta, a kid-friendly property that blends that trusted Marriott service and brand with the local sights, tastes and sounds that never fail to lure travelers to Puerto Vallarta.
(MORE: Perfect Weekend in Puerto Vallarta with Kids)
A Culinary Paradise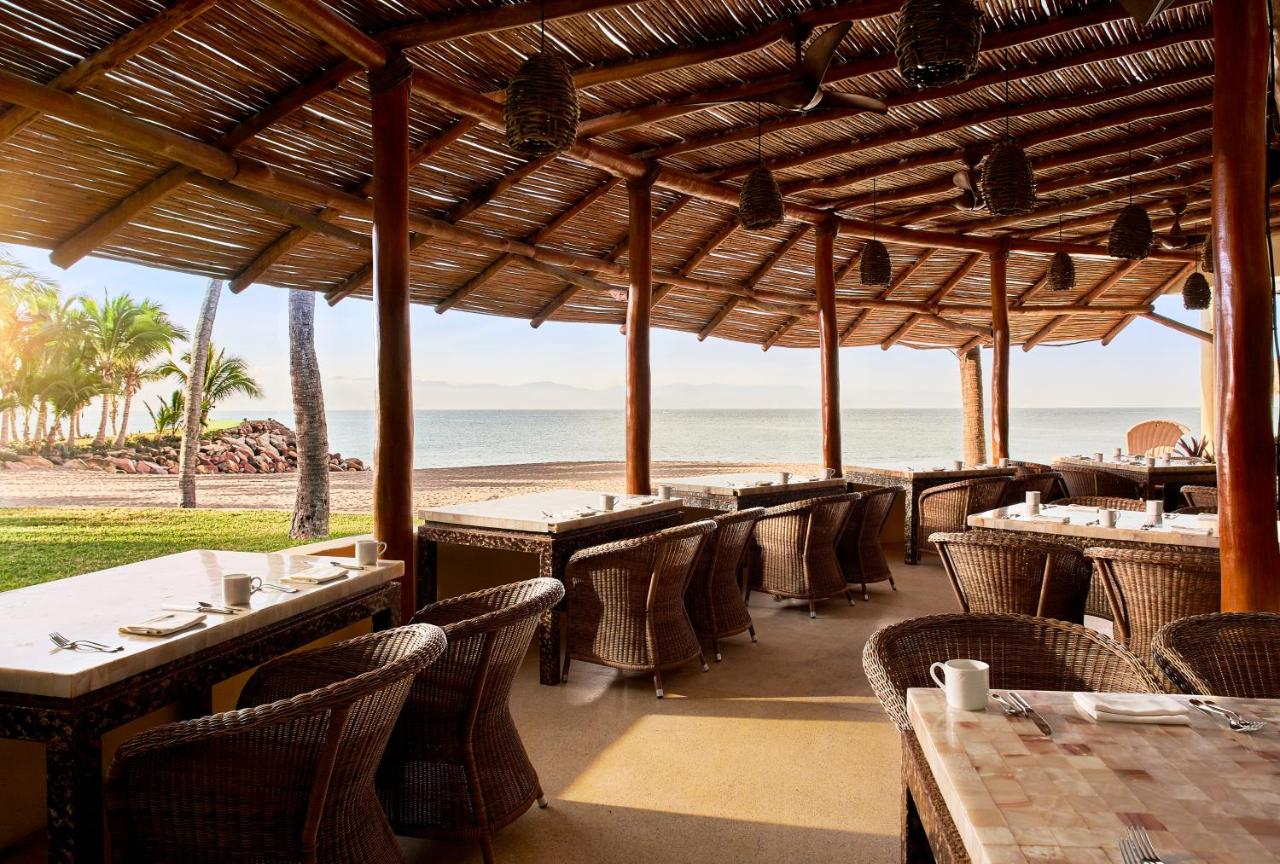 Las Casitas restaurant. (Photo: CasaMagna Marriott Puerto Vallarta)
Much like the dynamic city it's located in, CasaMagna Marriott Puerto Vallarta is a culinary destination. It's one of the many things that make this property stand out from the others. The resort's four onsite, family-friendly restaurants are spearheaded by a team of talented and creative chefs; and they not only echo the area's exciting and delectable food scene, but also use the freshest, locally sourced ingredients.
From traditional Mexican dishes like tacos and chilaquiles to authentic Japanese fares like sushi, tempura and Teppanyaki-style plates, there are many delicious options for guests that even the pickiest eaters in the family will be satiated.
Rooms & Amenities
There are 433 guest rooms and suites on property, distributed in two brightly painted Hacienda-inspired towers. Every guest room or suite, which fits a family of four (or five, if the kids are young), boasts floor-to-ceiling windows and sliding doors, bathrooms with marble floors and granite counters, spacious private balconies–furnished with outdoor seating and adorned with bright pink bougainvillea, plush beddings, cable flat screen TV, and high-speed Internet.
A standard king room at the resort is a great option and spacious enough for a family on the budget. It's a great base for every family's Puerto Vallarta vacation, well-appointed with a living space with a pullout couch that fits two kids; a work desk and chair if mom or dad needs some work done; a dresser and a roomy closet; and a modern bathroom featuring a glass-covered bathtub and shower, yummy toiletries (and even a bug spray) and a separate toilet.
For families looking to splurge, a Presidential Suite or a slightly smaller Ambassador Suite provides amazing accommodations with plenty of space to spread out. The grand Presidential Suite boasts a large living room that leads to the bay-facing balcony accessible through double glass doors as well as a separate family room with a flat screen TV and a comfortable sectional sofa. On one end is the bedroom with its own living area and impressive bathroom that boasts a massive whirlpool Jacuzzi (the Jacuzzi in the Ambassador Suite is located outdoors in the balcony facing the bay). And on the other end stands the dining area and kitchenette, which may be connected to a separate standard doubles guest room for multigenerational or bigger families.
Dining
There are four kid-friendly dining options available onsite, on top of the 24-hour room service, so guests wouldn't have to stray far from the resort for a scrumptious feast.
The breakfast buffet at La Estancia, served under elaborately designed star chandeliers, is traditionally Mexican, hearty with plenty of options to choose from. There are refried beans, pork and chicken stews, chilaquiles, pastries like the sweet concha bread that the kids will adore, and different fruit juices. There are also delicious fruit, bread and bagel and cereal for a more American breakfast.
Beachfront and airy Las Casitas, where family cooking lessons can be had and which also serves poolside drinks and dishes, is a charming setting for both lunch and dinner. Feel the soft breeze coming in from Banderas Bay and the relaxing sounds of the waves while enjoying delicious Mexican dishes. The ceviche, enchiladas, garlic shrimp and carne asada are great for lunch; while the fish tacos, lobster tacos, catch of the day and lobster bisque are perfect for a hearty family dinner. Don't forget to order a couple of desert items for the whole family to share – the key lime pie, the flan and the corn soufflé with vanilla sauce are particular favorites. Try their delicious piña colada, which may be prepared non-alcoholic for the kids.
Mikado is an authentic Japanese restaurant with a family-friendly vibe, thanks to its very talented teppanyaki chefs who might just let the kids do a couple of hibachi tricks in between plates. A la carte items, like different types of sushi and shrimp and veggie tempura, are also available. Order the shrimp with garlic or the beef fillet medium rare when doing teppenyaki.
For sports fans, large flat screens playing games are available at the Champions Sports Bar.
The Spa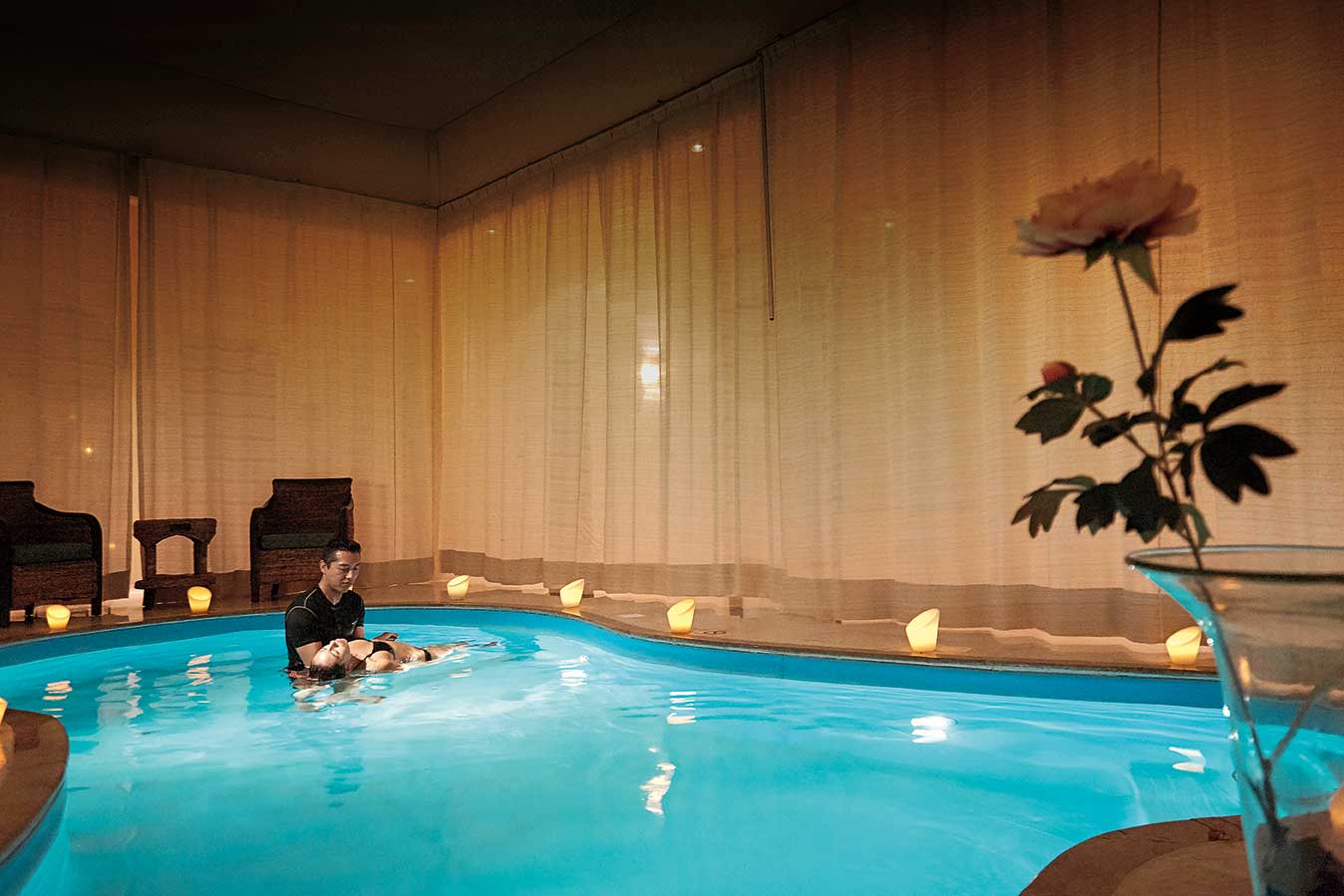 Welcome fountain at Ohtli Spa (Photo: Edgardo Contreras)
Perhaps the only thing that's more delightful than the delicious food served at the resort are the yummy spa treatments that the Ohtli Spa offers and the amazing amenities that spa guests are given access to in the 22,000-square-foot facility. As the largest spa in all of Puerto Vallarta, it's no surprise that Ohtli Spa boasts three amazing plunge pools (two hot, one cold), a steam room, a sauna, a foot bath, a large quiet room with lovely lounge beds, and rainfall showers, all of which spa guests can use 30 minutes before the actual treatment. Relaxation at this gorgeous facility begins upon entry when a wide set of stairs and a beautiful sort-of water altar welcomes guests just beyond the front doors.
Signature treatments at Ohtli Spa include the Jantzu Rebirth Therapy, performed in a beautiful indoor pool, the Fire Opal Balancing Stone Therapy and the Aztec Chocolate Body Wrap. For a yummy scrub and full body skin treatment, however, try the Piña-Mango Firming treatment during which your massage therapist will give you a full body scrub then apply firming oils to your skin while giving you a gentle massage before wrapping you in foil under a heat lamp and giving you a relaxing scalp massage. You come out not only feeling rested and pampered, but also smoother. The combination scents of pineapple and mango are so lovely, it's tempting not to shower after.
For Kids Only
Children, like adults, need some "alone" time too–time away from the moms and dads and better spent with the other little humans. So while most of the resort's offerings, from the massive ocean facing pool to the activities onsite, are intended so families can spend quality time together, CasaMagna Puerto Vallarta's kids club (Marriott Kids) is designed for kids and kids alone. The enclosed outdoor space might as well have an "Adults Keep Out" sign, what with its colorful design and pint-sized amenities like the shallow swimming pool and mini playground. Here, kids are free to not only interact with other kids, but also pursue creative and cultural endeavors like Spanish lessons, pottery painting, and fun games–all, of course, under the watchful supervision of its highly trained staff. Admission, which costs $30 per child, includes lunch, a t-shirt and a discovery adventure booklet.
Currently, the resort is also in the process of designing a cooking class that are specifically for kids.
(MORE: Wonderful Outdoor Adventures in Puerto Vallarta for Kids)
Activities for Families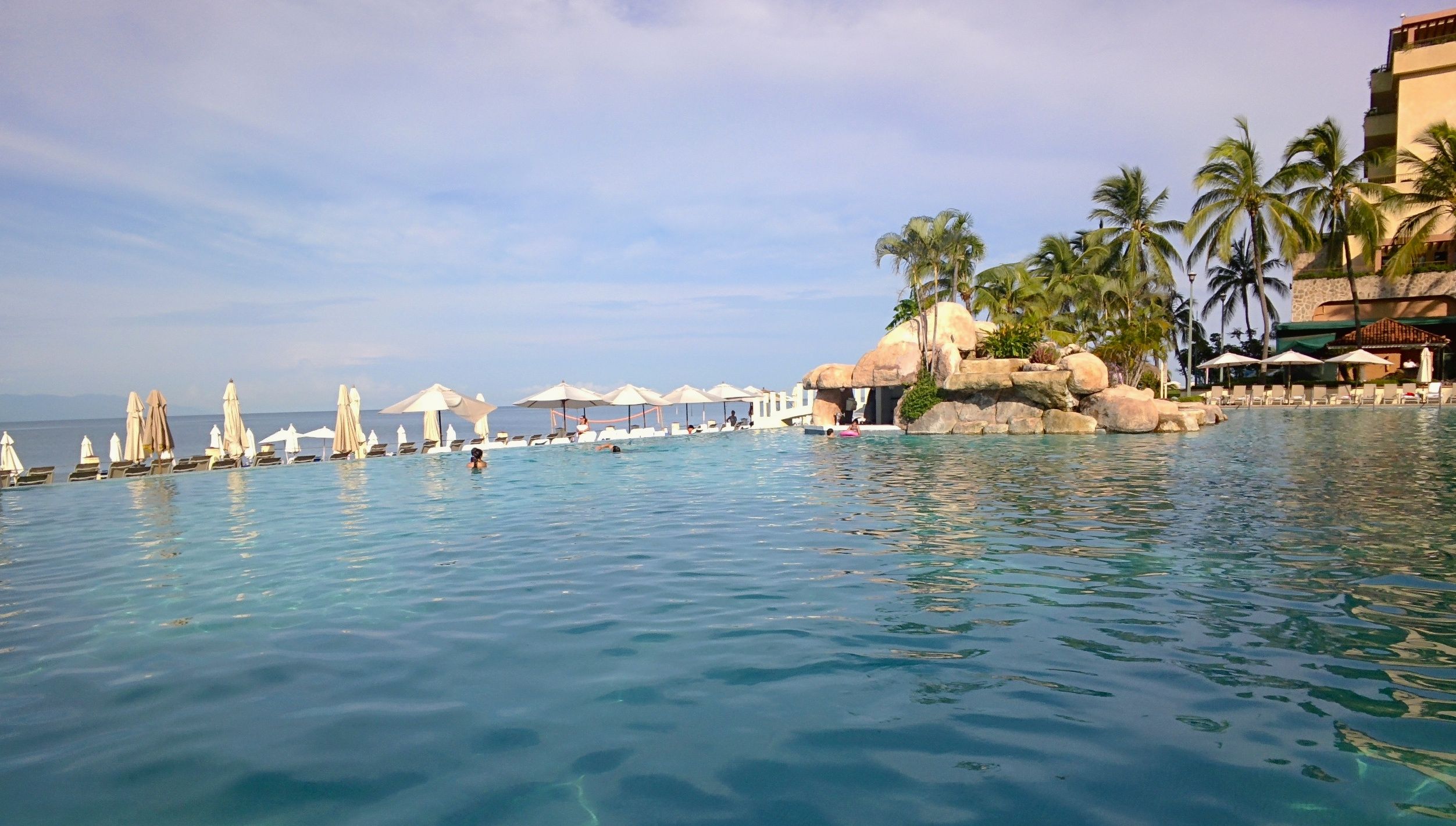 Infinity pool at CasaMagna Marriott Puerto Vallarta (Photo: Marriott Resorts)
True to its family-friendly nature, CasaMagna Marriott Puerto Vallarta Resort & Spa is jam-packed with activities that cater to families. Land and water activities, some relaxing, some more stimulating, and a few others simply inspiring, abound onsite, which give families the option to never leave the property. Of course if they'd like to, guests can also arrange excursions to the remarkable attractions, which are also aplenty, around town with the resort. Below are some of the onsite activities that families can partake in together:
Swim or play water volleyball in the resort's massive infinity pool.
Kayak and/or paddle board in the bay. The resort's activities center can provide the gear at cost; bodyboards are also available for the more active kids.
The resort's Sunset Guacamole, complimentary to all guests and held every Tuesday and Friday at sunset, is a great way for families to partake in one of Mexico's most traditional practices. The service includes a short demonstration of how guacamole is traditionally made–using molcajete (volcanic stone mortar & pestle)–and, of course, guacamole tasting. Yum!
Participating in the resort's sea turtle release, is definitely one of the most precious things families can do together. There's something about helping tiny Olive Ridley sea turtles get a fighting chance at life by taking them to the beach–from the resort's turtle nursery–where they start their long journey home. The resort actually enlists the help of marine biologists and trained volunteers to collect the turtle eggs from the beach during the nesting season (June through December) and transport them to the nearby nursery, which can support up to 500 nests at a time. With CasaMagna Puerto Vallarta's Sea Turtle Release program, about 50,000 of these beautiful sea creatures are released into the ocean every year. It's an amazing and easy way to help the survival of endangered species, and a wonderful learning experience for the kids.
Cooking lessons with resort Sous Chef Kelvin Valenzuela or Director of F&B Operations Fred Ruiz are another fantastic way to spend time as a family while getting familiar with Mexico's traditions. At $30 per person, guests can learn to make traditional dishes such as guacamole and enchiladas. These lessons are kid-friendly.
Adults Only
While the kids are having some kiddie time at the kids club, adults can squeeze in some much needed adults time as well. A delicious couples massage at Ohtli Spa, lounging by the pool sipping on fruit cocktails, an early morning yoga session (seasonal), or, better yet, having tequila tasting with the resort's sommelier, Audrey Formisano, are some of the things parents can do.
The Tequila Tasting (also called the Tequila Education Program) is especially recommended not only because CasaMagna Puerto Vallarta is one of the first few hotels that started doing it and because the resort has its own brand of tequila (CasaMagna) as a special tribute to the state of Jalisco, but also because the experience really does give guests a better appreciation of one of Mexico's most well-known (and well-loved) products. During tastings, guests will get a bit of tequila education–on the different types (there are 5), how the drink is essentially made, and the local legends associated with the drink. Of course, guests will also learn how to drink tequila the right way–sipping it like wine, not taking shots–as well as experience pairing the different types with different fruits and cheeses.
Things We Love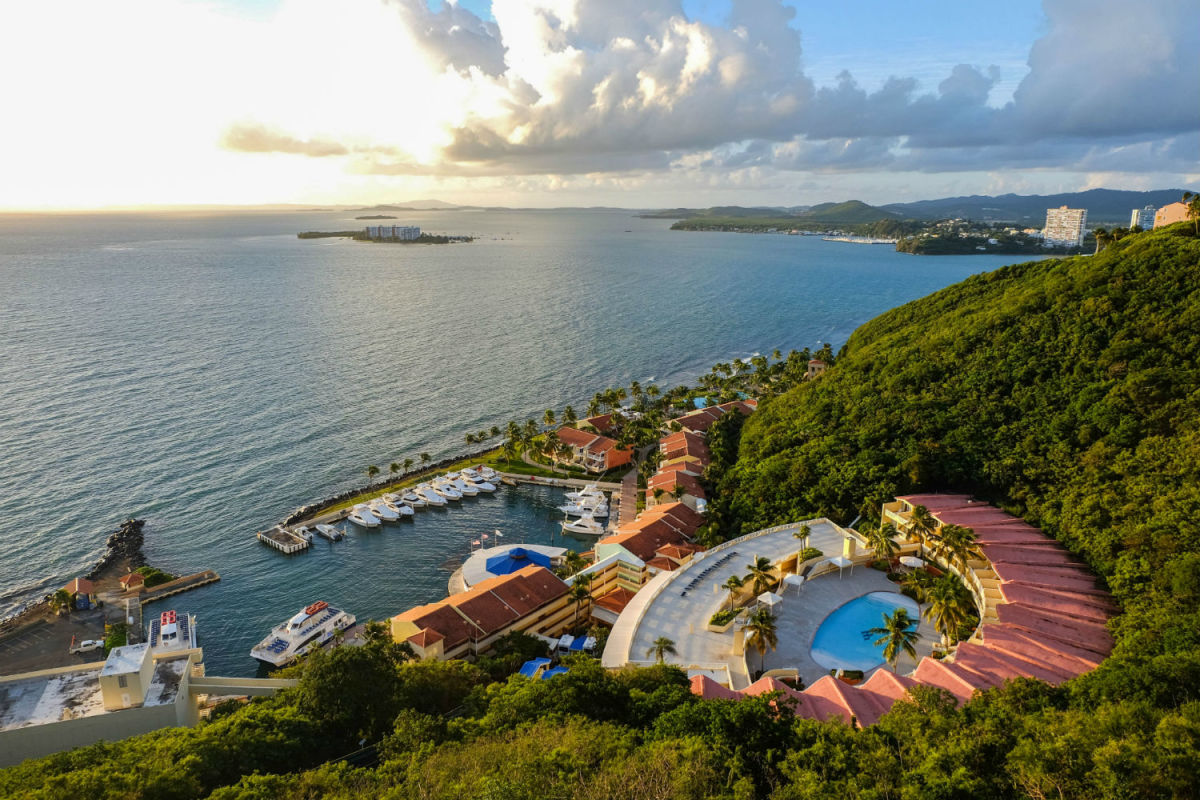 Turtle release at dusk at CasaMagna Marriott Puerto Vallarta (Photo: Michelle Rae Uy)
The food. Need we say more?
The sea turtle release program is something every guest should really participate in. It's not only unforgettably moving; it's also very educational and makes an impact on the planet.
A spa treatment at Ohtli Spa is definitely an incredible, not-to-be-missed experience.
It's worth mentioning that the resort offers guests an opportunity to borrow a GoPro HERO4 unit (and some accessories) for free, thanks to its GoPro Test Drive amenity. This allows guests to record their Puerto Vallarta adventures without having to buy the not-so-cheap gadget themselves.
The resort's infinity pool, complete with a view of Banderas Bay, a waterfall and a water volleyball net, is the place to be if you're simply looking for the easiest to relax and enjoy your vacation.
Every single guest room or suite at the hotel has a private balcony, so you can enjoy the bay/ocean views, have a family breakfast or squeeze in some sunning in private. Make sure to keep a close eye out for passing whales, if you're staying from late November through March.
While there are plenty of amazing excursions and tours in and around the bay that you can book at the hotel, you don't have to stray far to experience Banderas Bay, thanks to the available water sports equipment on resort grounds.
Insider Tips
Explore the resort grounds. You never know what small surprise you might find around the corner.
For quick bites and morning coffee, there is a café onsite. It's a good option if guests are running out early for an excursion.
Talk to the hotel concierge to book any tours or excursions you're interested in before you even arrive at the resort. (Hint: Private hideaway Las Caletas and the stunning Las Marietas are two of the many beautiful places families can visit while in Puerto Vallarta. Book an excursion (or two) with the ever-impressive Vallarta Adventures, whose tour teams are not only highly experienced and trained but also very attentive to guests' needs AND quite entertaining.
The beach at the resort is public, so keep your valuables close.
There's a gift shop onsite, but do bring the essentials with you.
Apply plenty of bug spray, especially when going on tours and excursions. A can of bug spray will be provided for you at your hotel room.
Michelle Rae Uy contributed this to MiniTime. She is a travel writer based in Los Angeles and MiniTime's Head of Content, who spends her free time on adventures and film photography.