If you're planning a trip to Amsterdam with kids, the Conservatorium Hotel is the perfect choice.
By Holly Rosen Fink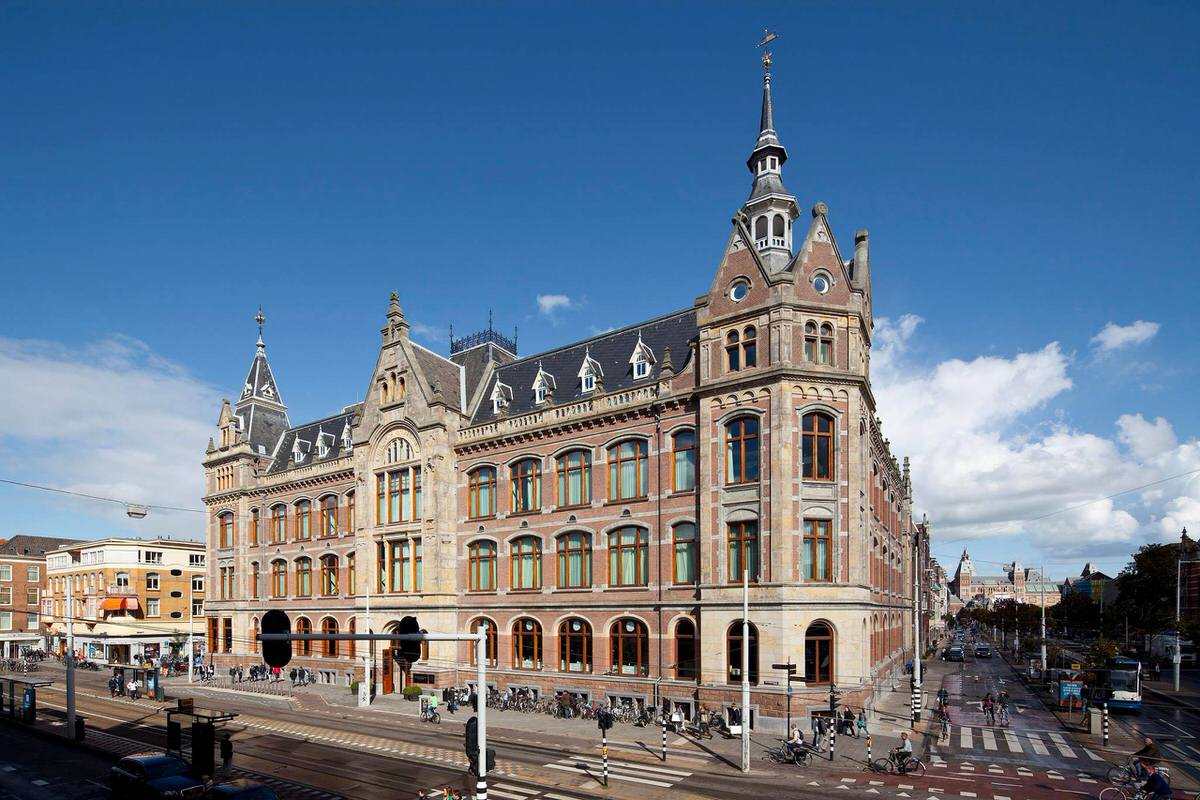 The Conservatorium Hotel is a great family-friendly choice when visiting Amsterdam with kids. (Courtesy The Conservatorium Hotel)
If you're planning a trip to Amsterdam with kids, the Conservatorium Hotel is the perfect choice. A luxury lifestyle hotel, it provides a comfortable bed to rest your heads after a long day of exploration around town. More importantly, you also get all the amenities you and your kids will want.
Built in 1897, the family-friendly hotel is situated in a beautiful Neo-Gothic building. It was originally the Sweelinck Conservatory of Music. In 2011, it was transformed into a deluxe hotel brand. It's the first member of The Set, a collection of of hotels for sophisticated, design, literary travelers in the 21st century, yet it stays true to its roots. Besides the magnificent violin display in the front entrance, there are several odes to the hotel's rich history, which Italian designer Piero Lissoni must have kept close at hand when he was designing it. This is evident in its unique architecture and framed art and photos that's spread throughout the family-friendly hotel.
(MORE: 24 Hours in Amsterdam with Kids)
Why Go
Families traveling Amsterdam with kids will have a lot of things to see and do, from music, art and food to canal rides, famous museums and landmarks. The Conservatorium Hotel is located in Amsterdam's museum square or Museumplein. Museumplein is home to the Van Gogh Museum, Rijksmuseum and Stedelik. And it's right near the Royal Concertgebouw (Royal Concert Hall), as well as the fashion district of P.C. Hoofstraat and Van Baerlestraat. It's surrounded by beautiful cafes, bakeries and shops. Additionally, it is near Vondelpark, the city's version of Central Park, and is a short distance to the Jordaan neighborhood, one of the oldest and most interesting sections of Amsterdam.
Room Options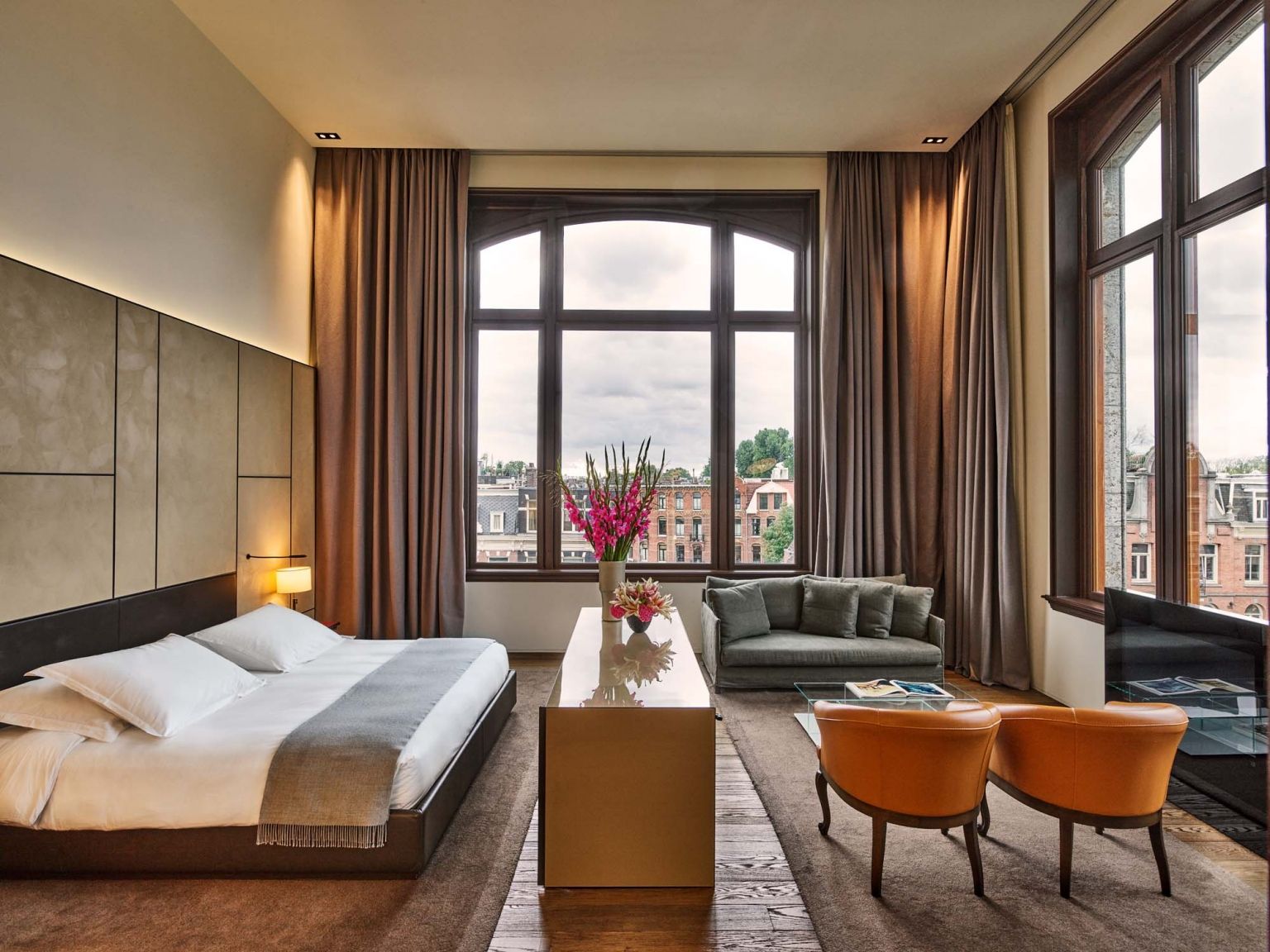 A suite at The Conservatorium Hotel (Courtesy The Conservatorium Hotel)
Rooms at this family-friendly hotel are clean and contemporary chic, but also very comfortable. There are eight floors with 129 guest rooms and suites, with rooms ranging from superior to penthouse. All rooms offer electronically controlled curtains, oak floors, an autumnal color scheme and luxury linens. They also boast views of 17th century gabled houses and offers ample comfort in a modern fashion. The bathrooms are behind a secret door that blends into the walls. Plus, they have large rainfall showers with a bench inside, one marble tub, LCD mirror TVs and micro-cotton towels. The rooms also offer free Wifi, a daily newspaper at the door, 24-hour room service, a Nespresso coffee and a tea machine. Kids stay downstairs on twin beds in the living area, while parents stay upstairs on the mezzanine, providing everyone with a bit of space. There's no doubt that The Conservatorium Hotel is a great pick for families visiting Amsterdam with kids.
Just for Kids
In the lobby of this family-friendly hotel, there is a round desk with a helpful concierge called the "Host". The Host can help families with anything you need during their stay in Amsterdam with kids. Because of the family-friendly hotel's central location, all of Amsterdam is at their disposal. This means that they'll have so many activities to recommend that all your kids will need at the end of the day is pillow under their heads. They also offer bike rentals so kids can go cruising around town.
Where to Eat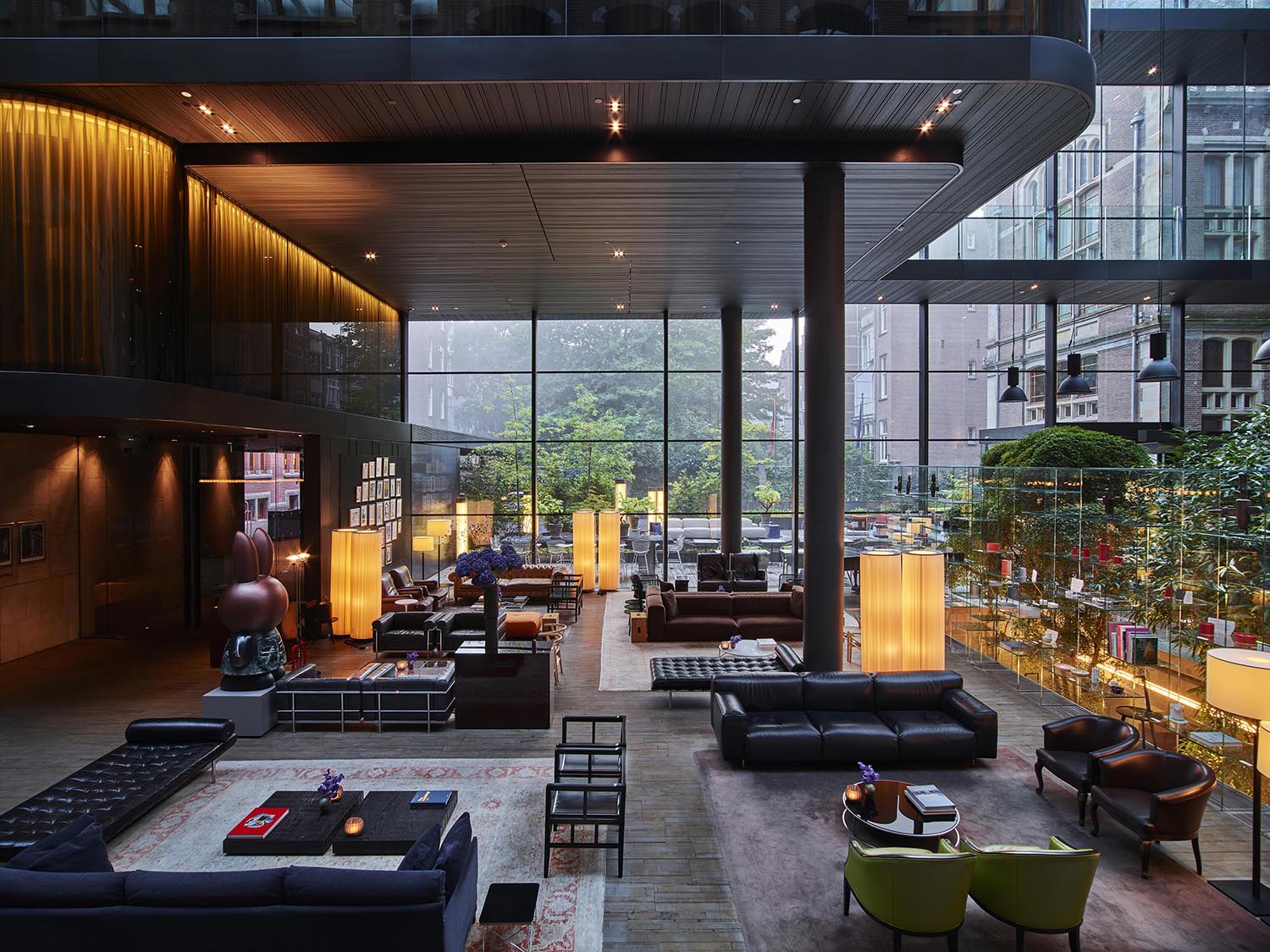 Lounge at The Conservatorium Hotel (Courtesy The Conservatorium Hotel)
There is ample dining at this family-friedly hotel, all spearheaded by Dutch chef Schilo van Coevorden. They offer Tunes Restaurant and Tunes Bar as well as the Conservatorium Brasserie and Lounge in the lobby, which has huge floor-to-ceiling windows and a glass ceiling. Breakfast includes a modern buffet that offers a quality selection of fresh, local and seasonal based products. Breakfast fares on offer include Home Baked Bread, Bio Yogurts, (gluten-free) Cereals, gorgeous fresh juices, exotic fruits, and a hot food menu that includes eggs florentine, eggs benedict and smoked salmon. Some rates come with breakfast, some don't, so be sure to mention it when making a reservation.
(MORE: 5 Affordable, Family-Friendly Hotels in Amsterdam)
Getting There and Getting Orientated
The Conservatorium is located on Paulus Potterstaat. There is a grand entrance with a doorman who will immediately help you get to check in. There is limited parking space on site, but they offer valet parking at great expense. You can also get to the family-friendly hotel by public transportation, a useful thing when visiting Amsterdam with kids. There are trams and cabs nearby that go to part of the city, including the airport.
Insider Tips
Check the Internet for specials to find the best deal on the hotel.
Speak to the host to get tips on what to do and where to eat.
Book tickets to all popular museums and landmarks in advance online as the lines can be brutal.
Definitely partake in breakfast as the experience is unlike any other.
Take a long walk around the hotel with your kids and study the architecture and style carefully. It's an education in its own rite.
Holly Rosen Fink of The Culture Mom contributed this to MiniTime. She is a full-time marketer living in Larchmont, NY with her husband and two children.