California with kids
By Michelle Rae Uy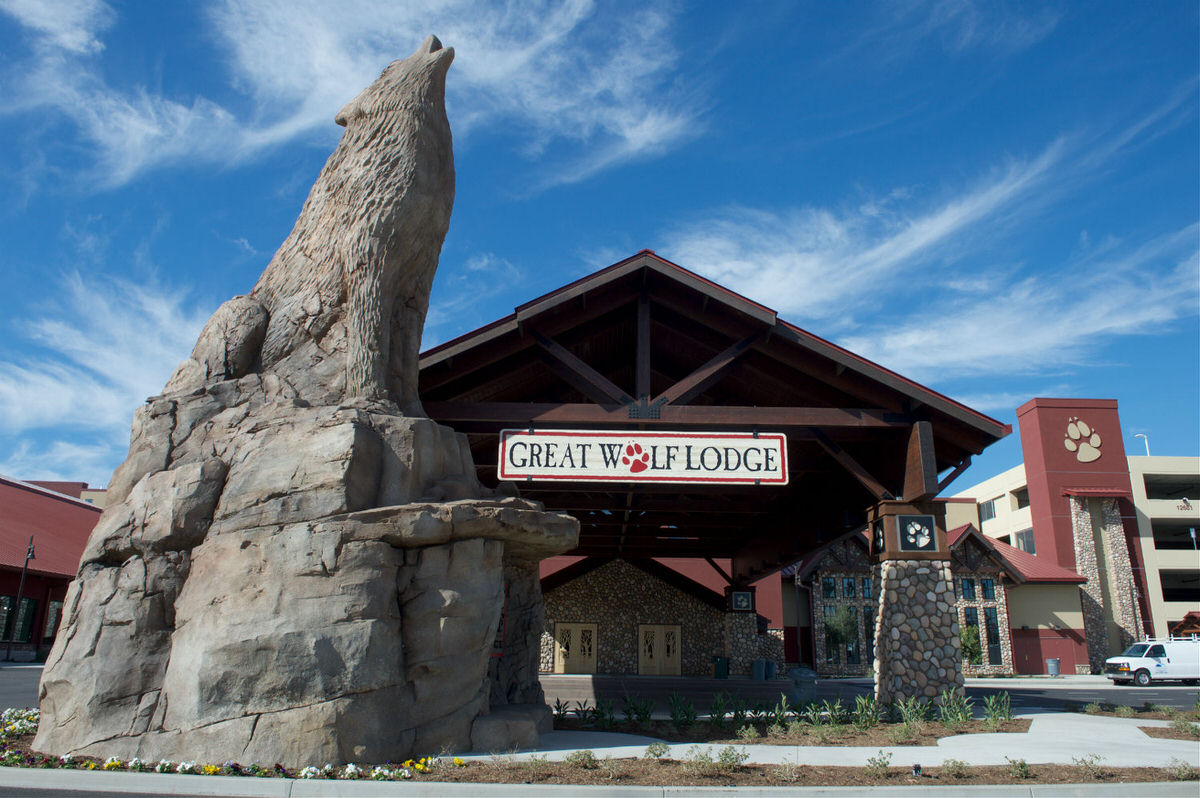 Great Wolf Lodge Southern California (Photo: Michelle Rae Uy)
"What's the point of an indoor water park in the middle of Southern California?" Several people asked us this very question when we first reported that Great Wolf Lodge is coming to the Western shores.
It's a question that needs no answering, really. One visit to this family-friendly resort is all it takes to see the point. The fact that Great Wolf Lodge Southern California has an indoor waterpark is not as important as the fact that the resort is a wonderful family vacation destination in and of itself; and one that should be at the top of every family's list when visiting California with the kids.
Here's why.
(MORE: 15 Reasons Why Great Wolf Lodge is California's New Favorite Vacation Spot)
More Than Just a Waterpark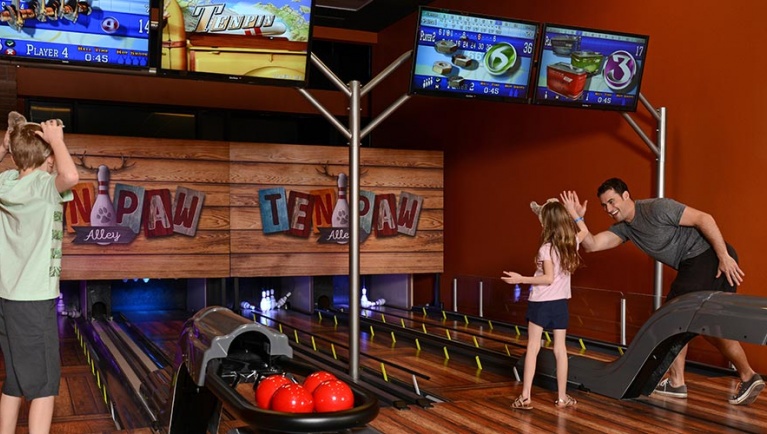 Ten Paws Alley (Photo: Michelle Rae Uy)
Yes, families primarily come to Great Wolf Lodge for the waterpark. It is, after all, the resort's main draw. However, Great Wolf Lodge SoCal is more than just a waterpark, considering its myriad of family-oriented activities that include everything from things as simple as nighttime storytelling and kid-friendly yoga to immersive, adventure games and pint-sized bowling. And it's arrival to Garden Grove, California, not far from several of the area's already established family-friendly attractions, not only means another reason to visit Southern California. It also means that there's a new destination in the area that is perfect for vacationing families.
The Hotel
Accommodations at the Great Wolf Lodge SoCal are designed specifically with families with kids in mind. There are several room categories that include standard suite and rustic themed-suites that boast bunk beds and even interactive kiddie cabins that the kids will adore. The rooms are very spacious, with several of the suites being able to accommodate bigger families (6-8 people); feature amenities that make families' stay even more comfortable like a microwave, flat-screen TV, a mini fridge and coffee maker; and of course include water park passes.
The basic Family Suite is perfect for a family of 4 but big enough for a family of 6. It has two queen beds, a sofa that may be converted to a double bed and a full bath. To splurge a little, the kids will not want to leave their little fort that includes special animations and bunk beds in a Wolf Den Suite. For bigger groups, a Grand Bear or a Grizzly Bear suite would certainly fit the bill.
The Waterpark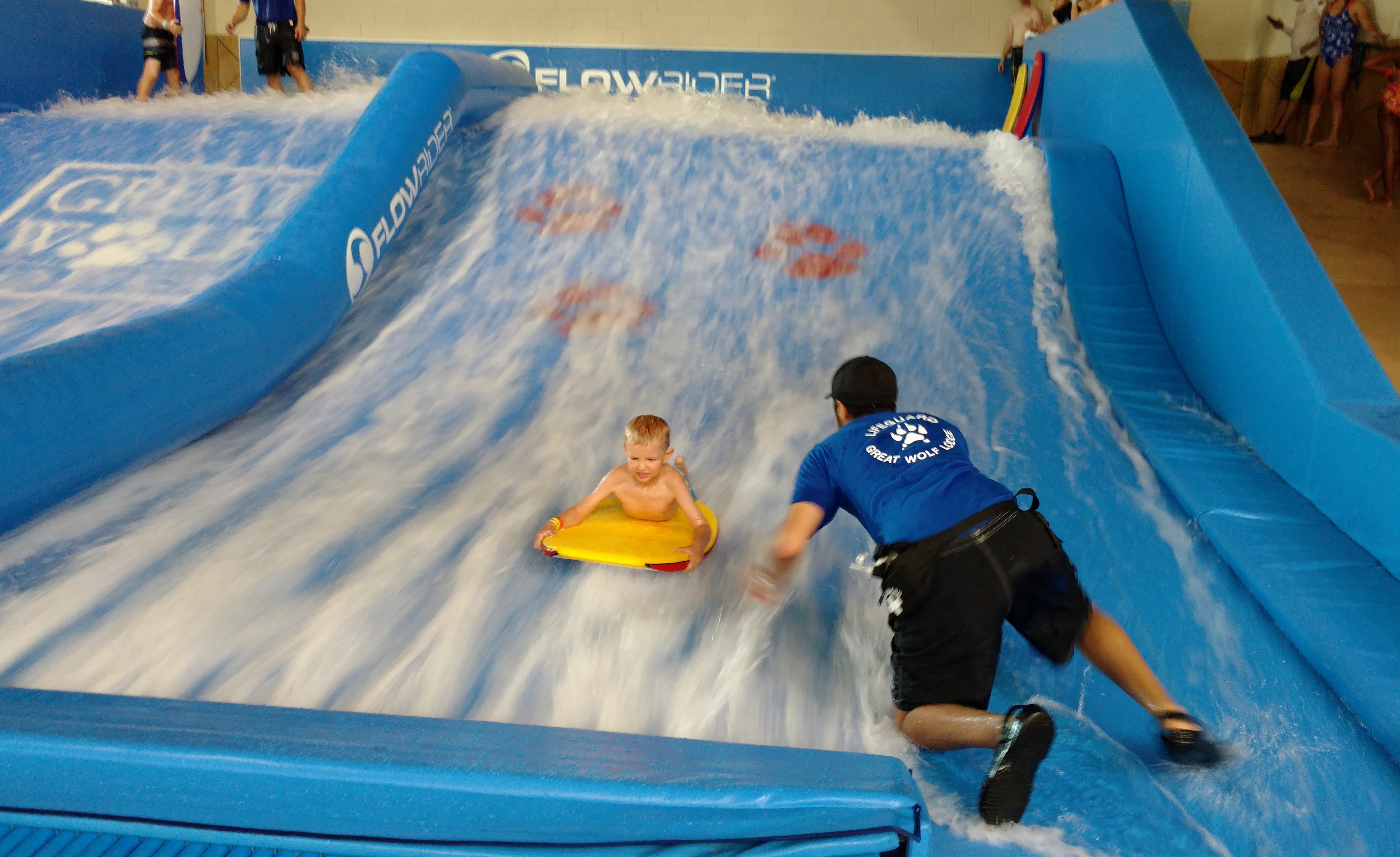 Wolf Rider Wipeout (Photo: Lisa Maulhardt)
The indoor waterpark at Great Wolf Lodge SoCal is surprisingly big and features a good number and variety of pools, rides and slides. The 105,000 square-foot water park has everything from splash pads, a wave pool and shallow pools to a lazy river, surf rider, fun slides and thrilling tube rides, allowing it to cater to all ages and every taste. And of course, there's that signature fort that dumps a gigantic bucket of water onto anyone who's lucky enough to make it in the splash zone before it spills.
All that excitement and running around will make any adult hungry, let alone the kids. Luckily, Buckets Incredible Craveables is mere steps away and serves a selection of quick eats like chicken strips, fries and hotdogs that kids and even the picky eaters will appreciate. Parents will appreciate the salads, juicy burgers and sweet potato fries. Snacks, deserts and specialty drinks are also available.
Two Days of Fun for One Night's Stay
One awesome perk that Great Wolf Lodge SoCal offers families is their two days of fun for one night's stay policy. This means that families, especially those on a budget, can book one night at the resort and have access to the waterpark (as well as all the other activities) for two days. Guests' access to the waterpark starts at 1 pm on the day they check in through closing time the next day!
Exclusivity
Perhaps the best part about Great Wolf Lodge SoCal is its exclusivity. While all the dry attractions and dining at this GWL location are open to non-hotel guests (this is especially beneficial to families who would like to celebrate their birthday here or maybe complete their unfinished MagiQuest game), the waterpark is another story.
Access to the indoor waterpark at the resort is exclusive only for guests staying at the resort. This means that it's never overcrowded; lines to the slides and rides are never long; the wait time is never more than 20 minutes even during the busiest days; and guests never have to pay extra for "fast passes" just to save time. This allows for guests to spend more time enjoying their vacation instead of spending half of their visit waiting in lines, a very inconvenient aspect of many theme parks these days.
This is certainly one of the resort's unique advantages as a family-friendly destination.
Family-Friendly Attractions
Aside from waterpark, there are other attractions onsite that cater to families and family bonding time. Here are some of our favorites:
A MagiQuest Adventure. Visit the MagiQuest Marketplace; buy and customize your own wands (moms and dads too); and go on an adventure of your choosing. There are three adventures to choose from at GWL SoCal, including the brand new Rise of the Totem Masters. And each one takes a few hours to complete and takes participants all over the resort, which means it's the perfect way to keep the kids distracted or expend their extra energy before bedtime.
Games at Northern Lights Arcade. The kid-friendly arcade games at Northern Lights Arcade are available 24 hours, making it perfect for the night owl teens in the family. Even better, the games are very generous with the tickets so it's easy to get the bigger prizes. Also in the arcade is the Lazer Frenzy maze.
Getting a Clubhouse Crew Plush Toy. At the Clubhouse Crew Creation Station, guests can pick, dress or even create their own Clubhouse Crew Plus Toys. They're the perfect mementos to remember your GWL visit by, but they also come with an interactive adventure that's like a shorter version of a MagiQuest Adventure.
Ten Paw Alley. Pint-sized bowling balls and alleys are perfect for the younger kids. But they are also fun for the adults, making them perfect for a family bowling night that everyone in the family can enjoy.
Howl at the Moon Glow Golf. Mini golf is fun, but it's even more fun in an indoor, nature-themed course that lights up under black light. The courses at Howl at the Moon are so easy, even toddlers will find them a breeze!
A Spa Day. Take the kids for a spa day at the colorful Scooops Kids Spa, and treat the whole family to some pampering. And yes, that includes the boys in the family too!
(MORE: 7 California Hotels that Woo Parents and Kids )
Especially for Kids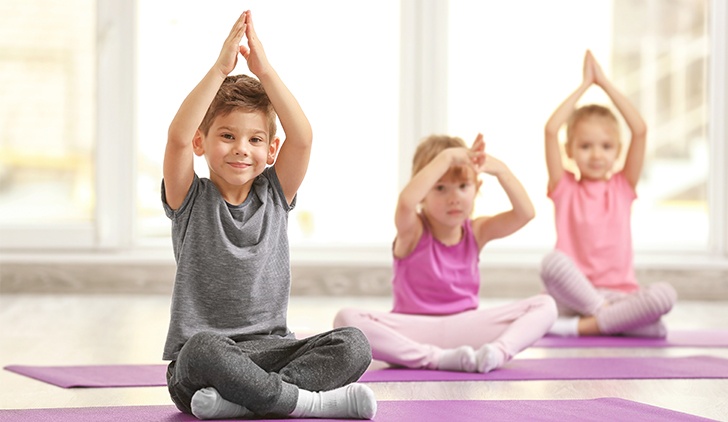 Kids' yoga at GWL SoCal (Photo: Ryan Hoyle)
Moms and dads can join in too, but a few activities offered at the resort are best for the younger humans in the family. These include Yoga Tails, a yoga class for kids; the Forest Friends Show, the resort's signature storytelling activity that happens three times a day; and the Wolf Walk, during which the kids can learn to fold their very own origami wolf souvenir. These three activities are included in the stay.
Insider Tips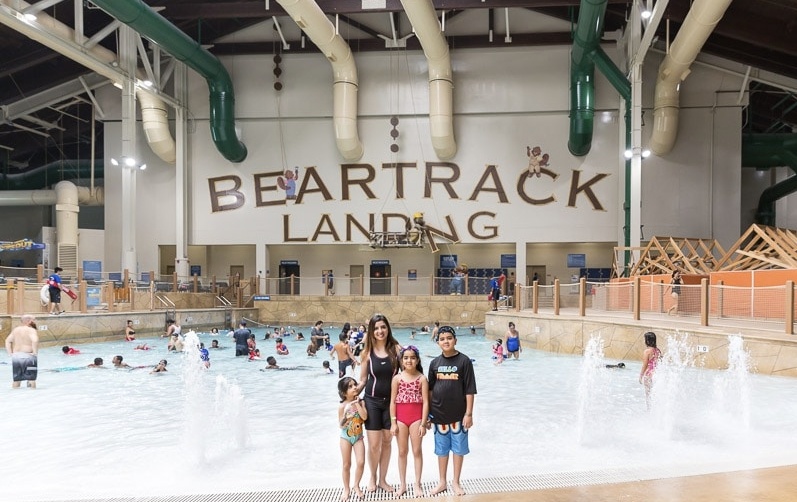 Wave pool at Beartrack Landing (Photo: funwithmama.com)
Come to the waterpark early to secure lounge chairs. If you come later in the day, however, there are always available tables and seats in front of the Wolf Rider.
Save money on drinks by buying the Great Wolf Lodge Souvenir cup, which allows you to get unlimited refills until the end of your stay.
A buffet breakfast at the Loose Moose Family Kitchen is an enormous affair and offerings are more than just the usual eggs, bacon, toast and cereal. Start your exciting and very active day right with this breakfast feast that include everything from fruits, cheeses and the resort's signature wolf waffles to delicious grilled meats, seafood and salad.
For a grab-and-go breakfast, there's a Dunkin' Donuts on site.
Any of the kids (or you) have allergies or dietary restrictions? No biggie! Simply connect with the culinary staff at the resort, even before your visit, and they will make the necessary preparations to accommodate your family.
For late-night snacking, Hungry As A Wolf is open later and serves delicious pizza. Another option are the vending machines onsite that can read your wristbands and automatically do a room charge.
Ice cream from Bear Paw Sweets & Eats are great for cooling down when it gets a little too warm for comfort at the waterpark.
Need some sunshine? There's an outdoor, kid-friendly pool on site, and nearby are cabanas and lounge chairs. Soak up some rays there, or make the most of your trip and visit one of the theme parks nearby.
Michelle Rae Uy contributed this to MiniTime. She is a travel writer based in Los Angeles and MiniTime's Head of Content, who spends her free time on adventures and film photography.