Family-friendly hotel in California
By Michelle Rae Uy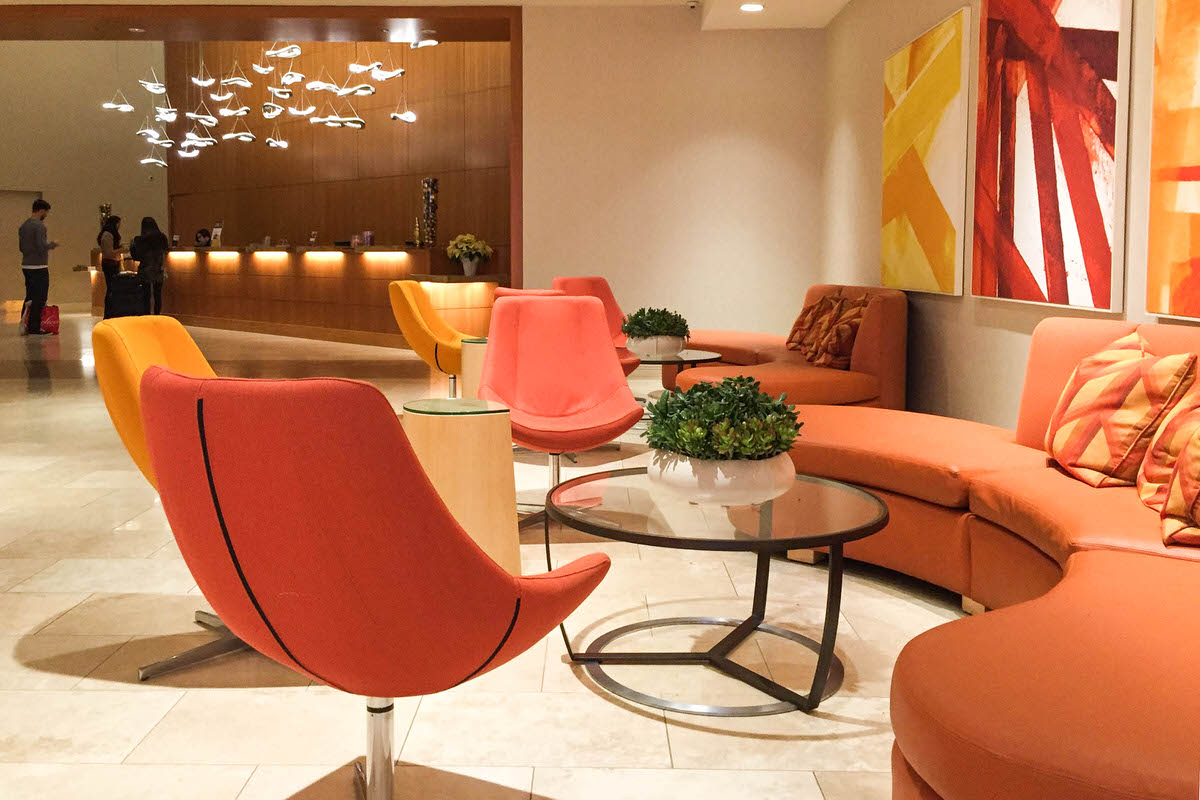 Hotel Irvine, main lobby (Photo: Michelle Rae Uy)
Most of us are not immune to the perils of judging a book by its cover, but when it comes to Hotel Irvine, try to save your first impressions until you've walked past its office building façade into the lobby. There, a surprising burst of orange and yellow welcomes you, as if to assert that while the Irvine hotel has kept its roots as a business hotel, today it's very much more of a lifestyle one.
After undergoing a major makeover a couple years back, Hotel Irvine now flaunts mid-century modern-inspired furnishings and modernist décor coupled with amenities that promote an ever so slightly luxurious lifestyle while still staying family-friendly. These, on top of the hotel's close proximity to John Wayne Airport, shopping opportunities, and California favorites like Disneyland, Knott's Berry Farm, and some of Southern California's quintessential beaches, to name a few, make Hotel Irvine a great base for families visiting the Golden State.
(MORE: Exciting Kid-Friendly Non-Ski Activities in California Mountain Resorts)
A Lifestyle Hotel
Thanks to its fun furnishings, its hip vibe, and its special amenities that add value to anyone's stay, this hotel is one you'd find in the cool streets of Los Angeles not Irvine, which makes it a rare find. Staying here whether for pleasure or for business means you'll not only be comfortable, you'll enjoy add-on services and features that are uncommon in most of the hotels in the area.
Hotel Irvine is not just a place to rest for the night. It's a place to unwind and maybe play a little while still enjoying the comforts of home. As a family-friendly lifestyle hotel, Hotel Irvine offers a number of delightful amenities such as the Marketplace for grab-and-go pieces (some locally made), free WiFi, complimentary borrow-a-bike program, daily breakfast (with some exceptions), a pool, a basketball court and even a spacious lawn where they hold movie nights and concerts. Upgrade to a Club 12 for just $35 (per day for 2 people) and families will have access to a nightly turndown service, a dedicated concierge, exclusive check-in, and a private lounge with afternoon hors d'oeuvres and drinks, premium WiFi and Apple computer stations.
Rooms & Room Amenities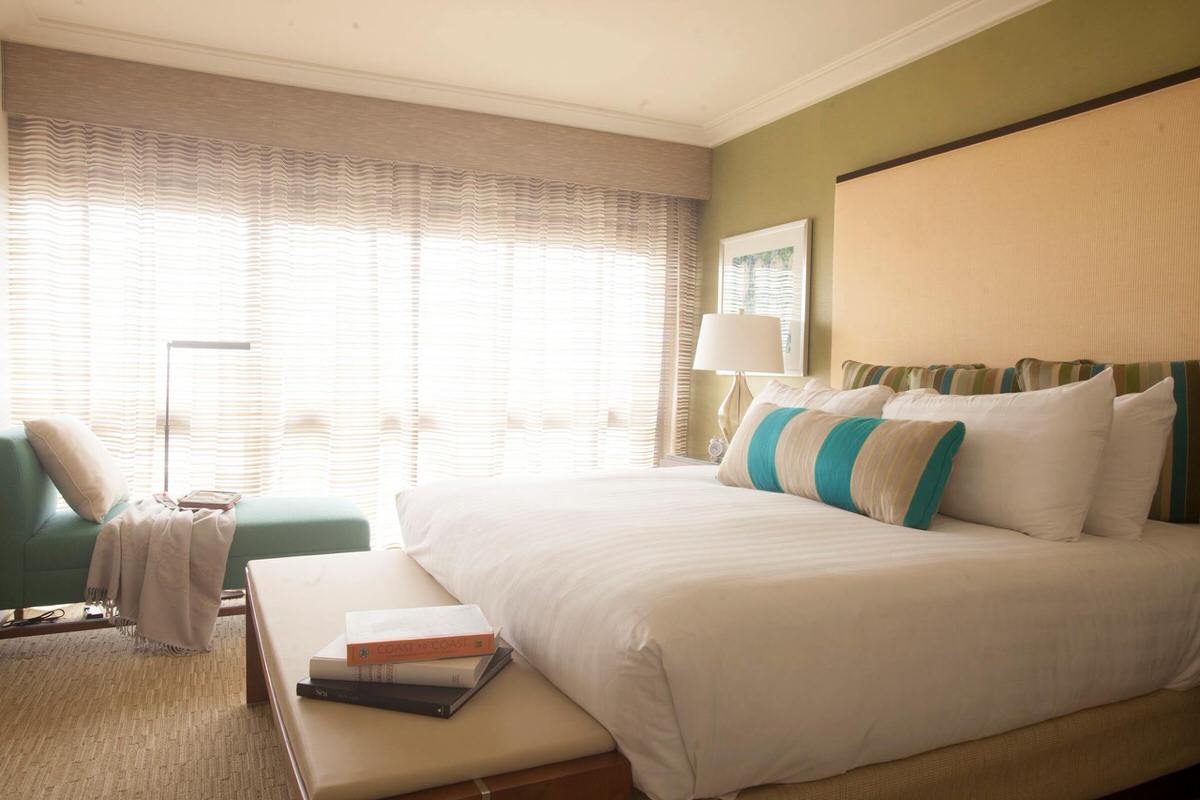 Suite at Hotel Irvine (Courtesy Hotel Irvine)
The hotel's makeover included everything from the lobby all the way up to the rooms and suites, which now flaunts vibrant splashes of color and modern accents. While many hotel rooms in the area are only good for resting your head for the night, you'll want to stay in and make yourself at home in your Hotel Irvine room. Each room or suite boasts a chill space for lounging, a large workspace for working, a 42" flat screen and Bluetooth speakers for entertainment, lovely beds with plush beddings for a good night's sleep, two plush robes, and a modish bathroom with terrific, lovely smelling toiletries. Some rooms even have a private balcony and nice views of the surrounding area and the hills beyond.
Dining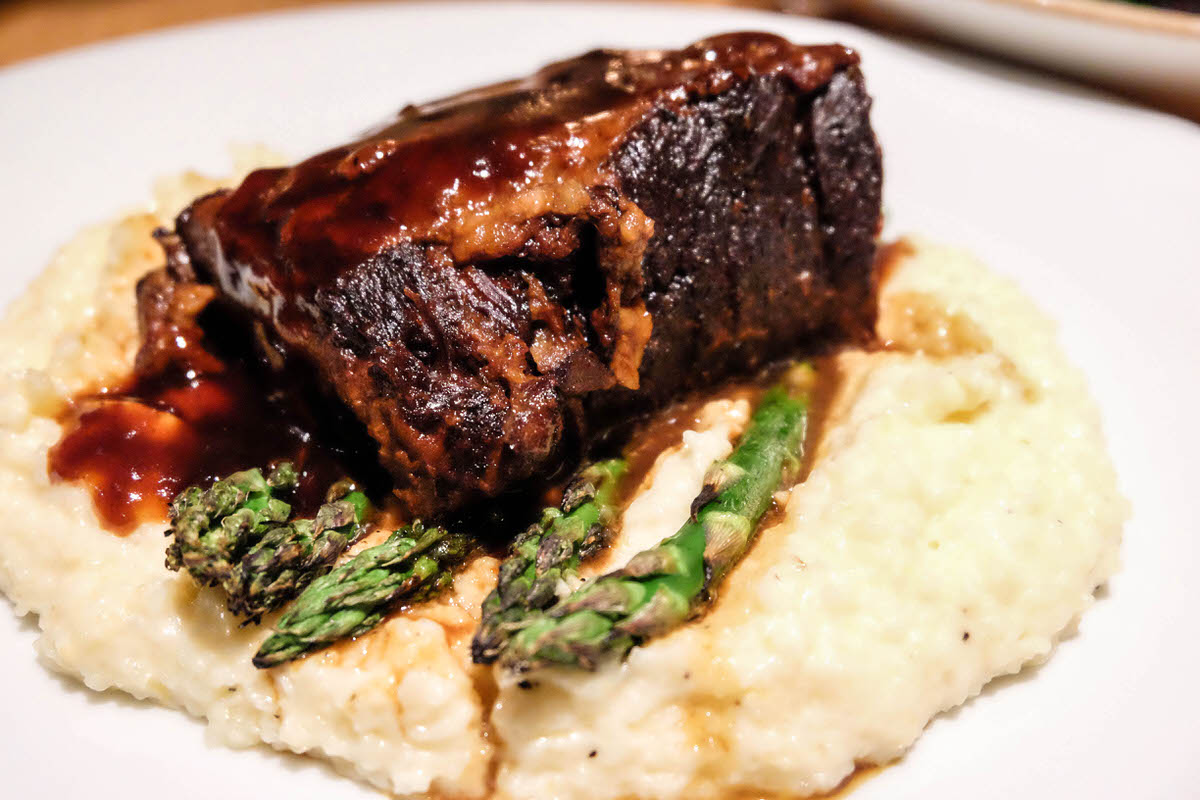 Short rib with garlic herb grits and roasted asparagus at Eats (Photo: Michelle Rae Uy)
If you think LA's amazing food culture hasn't quite reached Orange County, think again. Executive Chef Jason Montelibano at the onsite Eats Kitchen & Bar seems to have perfected the culinary art of fusing Asian dishes and seasonal, local ingredients with Western-style cooking, resulting in an eclectic menu that boasts delicious mash-ups of American, Chinese, Filipino, Korean, Japanese and Italian cuisines that even the pickiest eaters in the family will appreciate.
Eats' small-plates-to-share style makes it a perfect spot for families, but it's got that cool vibe going on as well, thanks to its vibrant retro style, hip music, a great selection of local microbrews, and outdoor seating and fire pit. Sample the steamed pork belly buns with kimchi and jalapeno, bacon-wrapped asparagus (a great dish to encourage the kids to eat their veggies) and egg rolls to start. The short rib with garlic herb grits and roasted asparagus is a great dish for the meat eaters in the family, while the cod with Chinese spinach and black rice and sauce is perfect for the seafood lovers. Top your meal off with the bourbon pecan bread pudding.
For grab-and-go bites or if you're simply in the mood to have pizza night in your hotel room, Crust Paninis & Pizza and Pantry at the Marketplace offers a terrific selection of pizzas, pastries, juices and smoothies that even the hotel staff swear by. Nearby Tossed has a collection of fresh salads too!
Start your day off with breakfast at either Eats or the Club 12 lounge on the 12th floor, depending on your access level. Some breakfast options are also available at Daily Dish in the Marketplace.
Kid-Friendly Features
When they're not busy exploring the nearby theme parks, kids will love Hotel Irvine's kid-friendly amenities. The outdoor pool, basketball court, bikes, hiking trails and ping-pong tables onsite will keep them occupied and far from getting bored so parents can lounge next to the pool bar and simply enjoy a day of relaxation. The staff is also happy to provide a list of trusted babysitting companies, so that the adults can squeeze in some quality alone time, kid-free.
Recommended Activities
A day at Disneyland or at Knott's Berry Farm (for families on the budget) is, of course, a must for every family with kids in tow. Both attractions are a short drive away from the hotel. Teens will want to do some shopping at the Irvine Spectrum or Fashion Island. For a unique shopping experience, The Lab or sister, eco-conscious property, The Camp, are also nearby. For dads, world-class golfing destinations Oak Creek Golf Club and Pelican Hill are also nearby, if they're looking for some quality time on the green.
Terrific family-friendly attractions nearby include: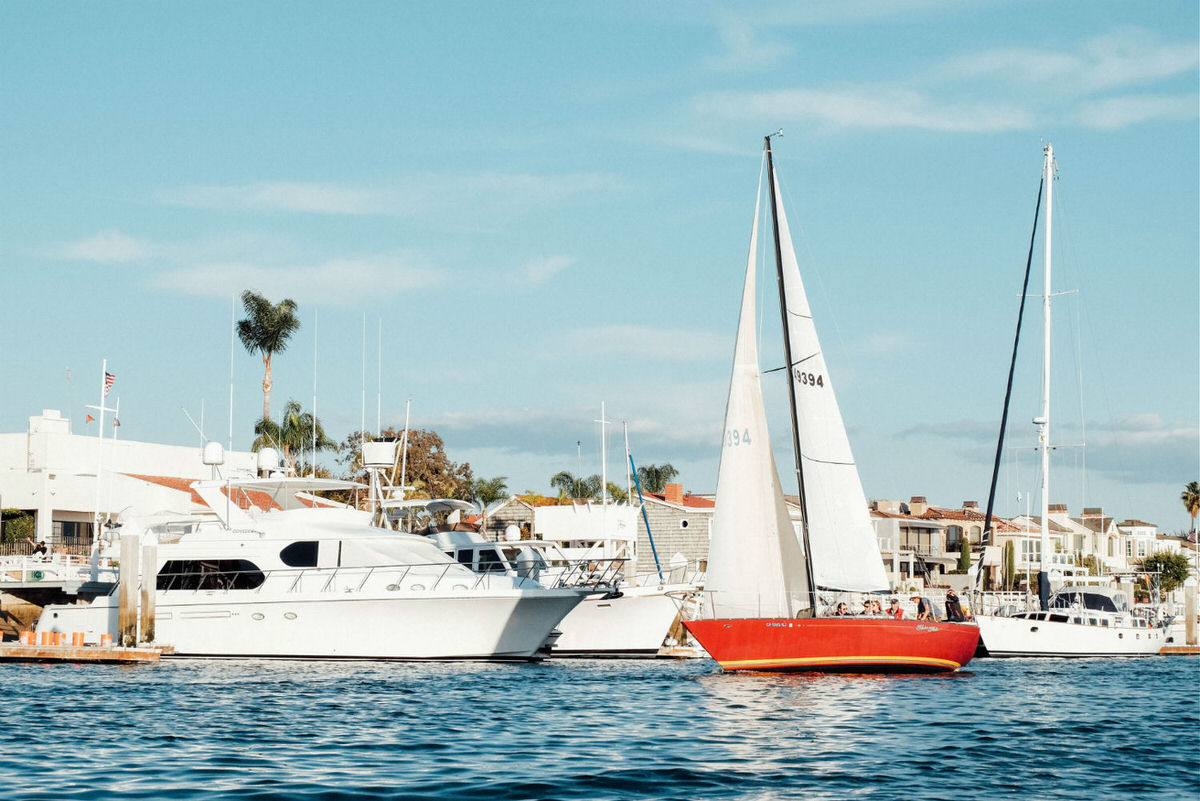 Newport Harbor as seen from an electric duffy boat (Photo: Michelle Rae Uy)
an hour or two exploring Newport Harbor on an electric Duffy boat. These boat excursions may be arranged through hotel concierge. Tip: Get some supplies at the Marketplace and bring a picnic basket with you.
kayaking or paddle boarding in the harbor,
strolling around Balboa Island,
spending a day at the beach – Newport Beach and Huntington Beach, two of Southern California's favorite beaches, are only a few minutes away. The beautiful Crystal Cove, with its adorable abandoned beach houses and tide pools, is less than 30 minutes away.
hiking in nearby El Moro and Bommer Canyons. Tip: Bring plenty of water and slather on some sunscreen.
Things We Love
Hotel Irvine's close proximity to a number of diverse attractions, from the beaches and the hiking trails to the shopping complexes and the theme parks, make it an ideal base for a family vacation.
The retro vibe of the hotel makes it fun and appealing to young families as well as teens and millennials.
Your room key's fun design will tell you what kind of access you have at the hotel and what's included in your stay. The Barge Right In key for example, which has a photo of a suitcase on it, will give you access to everything including Club 12 and give you three free sides off the breakfast menu.
Your in-room television's myAway feature will allow you to control it from your personal device, which means that you can watch that movie from your iPad on the TV or visa versa.
Want to take that in-room old-fashioned alarm clock or bathrobe home? You don't need to secretly stash it in your suitcase before checkout and hope that the hotel doesn't notice and charge you. Simply order a new one from the Marketplace at an affordable price, and it will be delivered straight to your room.
Club 12 is open for breakfast and has a nice selection of items, including breakfast pastries and small plates of lox with chickpeas, onion and tomato. Enjoy your breakfast with the morning news on TV or The Wall Street Journal in peace in the spacious lounge or on the balcony where there's plenty of seating available.
The Marketplace serves Starbucks coffee and specialty drinks, so you can have your favorite Frappuccino before you even leave the hotel.
The Backyard hosts a number of events throughout the year, including movie nights for only $5 per person.
(MORE: Best Beachfront Hotels in Los Angeles)
Insider Tips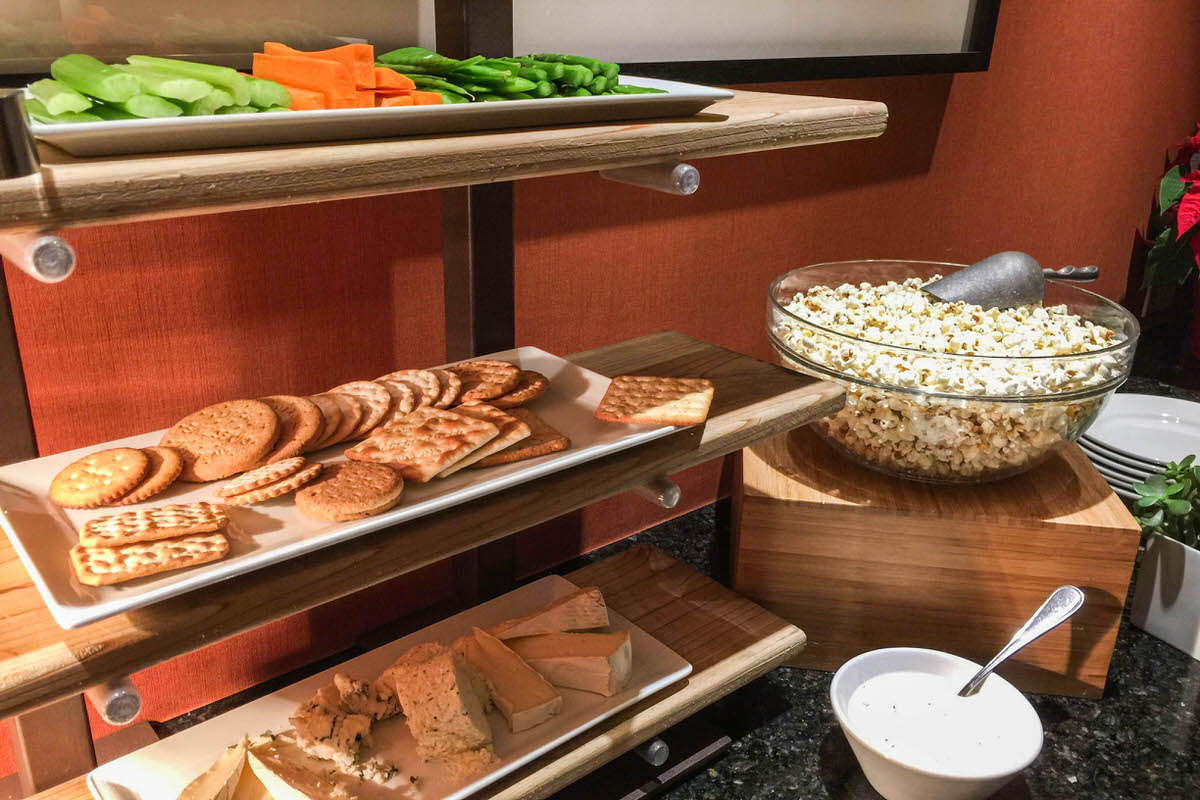 Bites at the Club 12 lounge (Photo: Michelle Rae Uy)
Simply call the front desk and request for a late checkout, if you need it. Unless there's a special circumstance, the staff should be able to grant you an extra hour or two.
If you're on a budget, add on a one-day Club 12 access to your stay. For $35, you'll have access to complimentary breakfast and coffee, evening bites, wine and beer, Apple computer station and printer, and more. It's cheaper than going down to the bar and ordering individual drinks.
In town for a special occasion? The wonderful and friendly staff at Eats is more than happy to help you celebrate. They can customize a menu for you as well as accommodate a large group, as long as you give advance notice.
If you're staying at the hotel during the holiday season, make sure to check out Eats' plethora of holiday offerings, including the Twelve Days of Christmas and Eatsmas Holiday Bash. Holiday meals to go are available as well.
Newport Harbor is simply stunning during the holiday season, thanks to the intricate Christmas lights and decorations the residents and establishments put up for everyone to see. Hotel Irvine's Holiday Cruisin' around Newport Harbor package, available through the end of December, will let you ride your very own electric boat around the harbor with the kids to see the holiday spectacle. The package also includes a $50 credit at the Marketplace, so you can bring along some food for a family picnic on the water.
Michelle Rae Uy contributed this to MiniTime. She is a travel writer based in Los Angeles and MiniTime's Head of Content, who spends her free time on adventures and film photography.