Orlando, Florida
By Jeanine Caruso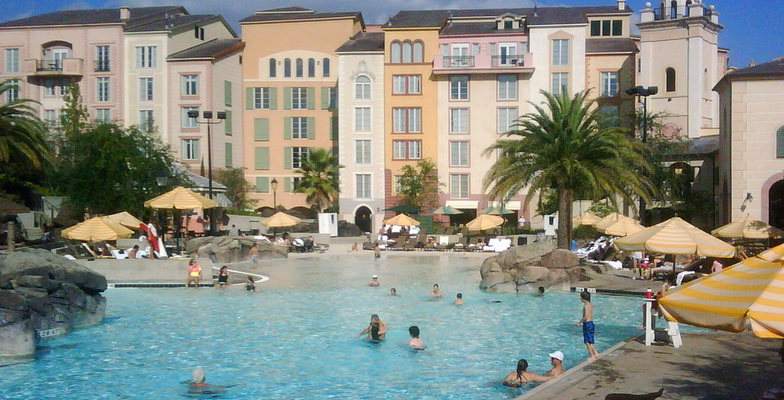 Why Go: The last time Jeanine Caruso and her family visited the Universal Studios and Islands of Adventure theme parks in Orlando, they had to wait in line up to two hours for the most popular rides. Not this time. As guests at the Portofino Bay Hotel, the Carusos took advantage of "Universal Express" preferred ride access, which let them jump to the front of the line at most rides simply by showing their hotel room key card. This fast pass significantly improved the Carusos' experience at both theme parks. ("Worth every penny we paid for the room!") Hotel guests are also entitled to preferred seating at some of the resort's restaurants and shows, complimentary package delivery of in-park purchases to their hotel room, and free shuttle service to SeaWorld and Wet 'n Wild.
The enormous, 750-room Portofino Bay Hotel is one of three in-park hotels run by Loews at Universal Orlando Resort. Guests at Hard Rock Hotel and Royal Pacific Resort also are entitled to jump the lines with "Universal Express." Of the three hotels, the Portofino Bay is the most luxurious, with the largest rooms and most impressive pool area, featuring three themed swimming pools and lush landscaping. It's also the most expensive of the trio, and tends to be the least crowded.
The Portofino delivers a nice touch of "la dolce vita" (the sweet life), thanks to charming Italianate architecture—inspired by Portofino, the quaint Ligurian fishing village that became a getaway for Europe's jet set—and piped Italian classical music wafting through the public spaces. The picturesque stone piazza and harbor, where colorful rowboats bob on the water, is particularly magical when floodlit at night.
Getting Oriented: The Portofino is located inside the Universal Orlando Resort, along with the Universal Studios and Islands of Adventure theme parks and CityWalk, an entertainment strip that buzzes each evening with lively restaurants, live music venues, dance clubs, shops, and a 20-screen movie theater.
Getting Around: Park your car upon arrival, and you needn't reach for your keys until you leave the resort. To get between the hotel, the theme parks, and CityWalk, you can either walk, take a free shuttle bus, or hop into a complimentary water taxi, the Carusos' favorite way to get around. ("So pretty, and never a long wait.")
We Are Family: The Portofino's web site highlights the "Loews Loves Kids" program with the headline: "Introducing A Concierge Who Speaks Your Kids' Language." Our eagle-eyed correspondent astutely noticed that the "Family Concierge" bore a striking resemblance to the hotel's regular concierge. ("Yes, we're one in the same.") Hmm. The web site also promises that "Our Family Concierge in your destination will contact you in advance of your arrival." Uh, never happened. How about that "welcome gift for children under ten"? Nine-year-old Justin went empty-handed. And the lending game libraries? Turns out that they're exclusively for guests in Club Level rooms, which are significantly more expensive than standard rooms. At check-in, the Carusos were handed a listing of family-friendly attractions in Orlando, but there was no other special interest taken by the front desk staff or concierge.
The Portofino is the kind of place where you tend to spend the day in the parks, then return for some pool time before heading out to dinner. Families gravitate to the beautiful Beach Pool, with its ultrasafe zero-entry shallow end, cool Roman aqueduct-themed waterslide, and pair of hot tubs. In the afternoons, the hotel offers poolside arts and crafts, water balloon tosses, and games of Marco Polo, depending on interest. Little tykes can cool off safely in a shallow splash pool with lovely fountains, and there's a small playground area, too. If you're looking for more privacy, head to the quieter Villa Pool with its covered cabanas ($75/day) or to the lesser-known Hillside Pool, at the secluded west side of the hotel.
In general, the rides and attractions at Universal Orlando Resort are more intense and geared to slightly older kids than those at, say, Walt Disney World. Still, many families come with babies, toddlers, and preschoolers. The hotel will furnish complimentary cribs, night lights, baby blankets, and outlet protectors for guests' use during their stay. (Stroller rental $8/day; 2 day minimum).
School-age kids and teens can hang out at the pool, play bocce ball, or visit the game room (open 8am-midnight), which features air hockey and a nice array of arcade games. Campo Portofino, the kids' activity center, opens only in the evening, serving as a group babysitting service for 4- to 14-year-olds (see "Nightlife").
While 15- to 19-year-olds will undoubtedly find much to keep them happy, there is no teen-specific hangout. Phone the teen hotline and you'll hear a pre-recorded voice talk excitedly about CityWalk and its fireworks, the game room, and attractions at both theme parks—all great family amenities, but not specifically aimed at teens. The exception: Alcohol-free "teen nights" are held once- to twice-weekly at The Groove, a CityWalk nightclub ($12-$15/teen; photo ID required). The concierge has a listing of "Teen Interests and Activities," which includes local parasailing, airboat rides, hot-air balloon rides, and adrenaline-pumping activities like BMX and skydiving.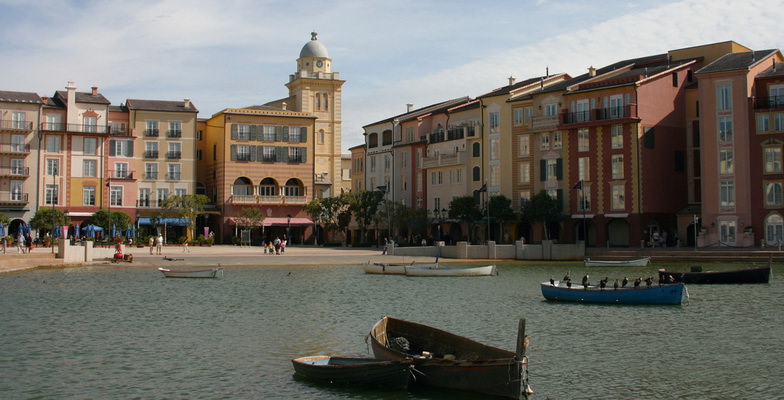 Where to Eat: The Portofino Bay Hotel's restaurants offer families plenty of options. Food at the hotel is generally good, if predictably overpriced. Note: A gratuity is automatically added to every food bill, whether there's table service or just counter service.
Trattoria del Porto is the hotel's most family-friendly restaurant, serving up both Italian and American fare. If you've got small kids, sit near the playroom so fidgety tykes can watch children's shows on a wide-screen TV and play with toys while you keep an eye on them from your table. Kid's menu available. Open breakfast, lunch, dinner. Entrées: $12-$25. Weekend dinner buffet: $30/adult, $13/child.
Mama Della's serves up traditional, family-style Italian dishes from Tuscany and other regions. Kid's menu available. Open dinner only. Entrées: $22-$35.
Bice Ristorante is more intimate and grown up, with dim lighting and harbor views. Open dinner only. Entrées: $30-$40.
Sal's Market Deli is a reasonably-priced winner for brick-oven pizza, antipasti and salads, and assorted Italian-style sandwiches. (Open 11am-11pm.)
Gelateria Caffee Espresso has mainly counter service for delicious coffee, homemade gelato, and pastries. (Open 6am-11am; 4pm-10pm.)
Splendido Pizzeria is the poolside place for pizza, burgers, and salads.
Thirsty Fish Bar is reasonably family-friendly, with drinks served on the piazza overlooking the harbor, and food available from Sal's. (Open Monday-Friday 4pm-2am; weekends noon-midnight.)
Bar American is more sophisticated and adult, with caviar and appetizers being downed with cocktails and cognacs. (Open 4pm-midnight.)
Young kids eager to meet Scooby Doo and other Universal characters will love the event dining options offered in the resort. (Reservations required; book through the concierge.)
Confisco's, in Islands of Adventure: Daily character breakfast (park opening-10:15am).
Trattoria del Porto, at the Portofino Bay Hotel: Magician on Thursday; character dinner on Friday; balloonist on Saturday (all 6:30pm-9:30pm).
The Kitchen, at the Hard Rock Hotel: Magician on Friday (7pm-10pm); character dinner on Saturday (6:30pm-9:30pm).
Islands Dining Room, at the Royal Pacific Resort: Luaus on Friday and Saturday (starts at 6pm).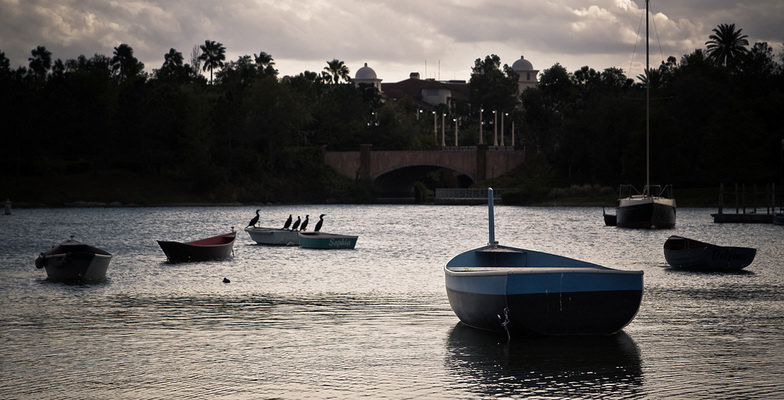 Nightlife: The hotel offers few organized family-oriented evening activities. A fun exception: Every Saturday night, a kid-friendly "dive-in movie" is shown on a giant poolside screen at dusk.
After sundown, the real action is over on CityWalk, which has a vibrant atmosphere. You can catch a movie, shop for souvenirs, or grab a bite to eat. Restaurants include Bob Marley's, Pat O'Brien's, Jimmy Buffett's Margaritaville (the Carusos' favorite), Pastamoré, Emeril's, NBA City, Hard Rock Café, and NASCAR Café. A half-dozen restaurants offer live entertainment and serve alcohol, but the Carusos were able to enjoy dinner and walk around until 10pm or so without feeling that the scene was too wild for their pre-teen boys. There's an impressive fireworks display every night at 9:50pm.
Hoping for a night out without the kids? If you've got little ones under 4, the Portofino can arrange for a private babysitter from an outside agency to come to your room ($14/hr for first child; $8 call-out charge; $2.50/hr each additional child). Campo Portofino, the supervised kids' activity center for 4- to 14-year-olds, opens on weekends (5pm-midnight; $12/hr per child; additional charge for dinner). Sunday to Thursday, when the hotel is less busy, the kids' camp rotates between the three Loews hotels and runs from 5pm to 11:30pm. Activities change every season. During last year's busy Christmas week, kids could expect bingo, sand-castle building, hula parties, sidewalk games, or movies and popcorn.
Where to Stay: The standard Garden View Room is an extremely generous 463 square feet, and features either two queen beds or one king, plus a roomy sitting area. At the next level up, the Bay View Room is exactly same size but offers a view of the boat-filled harbor. The Carusos' "absolutely beautiful" Bay View Room featured "the biggest bathroom we've ever seen in a hotel," complete with a marble-topped double vanity, a separate tub and shower, and a magnifying make-up mirror. More upscale touches: thick cotton signature robes, cable TV with HBO, Egyptian-cotton sheets, feather pillows (hypo-allergenic also available), three phones with voice mail, and video check-out.
Standard rooms are so spacious and comfortable that there's little reason to upgrade further unless you've got a big family or you want VIP status. Opting for a 690-square-foot Deluxe room entitles you to a welcome gift (custom CD of classic Italian music) and special Club Level privileges, including nightly turndown and free access to the fitness center. Your Club Level room card gets you into an exclusive 3rd-floor lounge for continental breakfast (small buffet of cereal, muffins, bagels, fruit), evening hors d'oeuvres and drinks, and nightly desserts including cookies and milk. Want even more space? A 650-square-foot "Kid Suite" features a king bedroom and separate kids' room with 2 twin beds, an extra TV, and video games.
Price Tag: Rack rates reflect the hotel's level of luxury and convenient in-park location. The standard Garden View Room costs $369/night during the April school break or $259/night in September. You'll pay about $20/night more for a Bay View Room. Club Level rooms start at $479/night during the peak April week and $359/night in September. Note: You can also be upgraded to Club Level by paying an extra $20 per person, per day.
Let's recap: Hard-to-beat location, "Universal Express" fast pass, wonderful pool area, terrific level of luxury and comfort. So, where's the feel-good factor? We understand the rationale for reserving exceptional perks for Club Level guests. But when you're paying upwards of $300/night for a standard room, you would expect access to amenities that are commonplace at mid-range hotels. Pay $12 per person, per day, to go the gym? Ouch. Regardless of your room category, the Portofino bleeds you from a thousand cuts: A $3 flat charge plus 20% gratuity when you order room service. $9.95/day to log onto the WiFi Internet service. (It's annoying when luxury hotels feel compelled charge for Internet access, while budget-minded Best Western and Holiday Inn can manage to offer it for free.) While guests at Disney hotels are entitled to free parking within Walt Disney World, the Portofino offers no such privilege to its guests. Bring a car and you'll be whacked with a $10-per-day parking fee ($17 per day for valet parking), the same as non-guests who drive to the resort. "It's just silly," says a perplexed Caruso. And enough to give "the sweet life" a slightly sour taste.
Note: Universal recently introduced a good-value "Kids Stay, Play & Eat Free" deal at the Portofino's sister hotel, the Royal Pacific. For $878, you get three nights at the Royal Pacific, free theme park tickets for two kids, free kids' meals at select theme park eateries, a free rental car, and the Universal Express line-jumping privilege. Check the Portofino's web site for details and other promotions.
Insider Tips:
Want to bring your dog? Check out the hotel's "Loews Loves Dogs" policy on its web site. On the other hand, if your child is frightened of dogs, you should request a room far from the areas where canines are allowed.