New York City with kids
By Holly Rosen Fink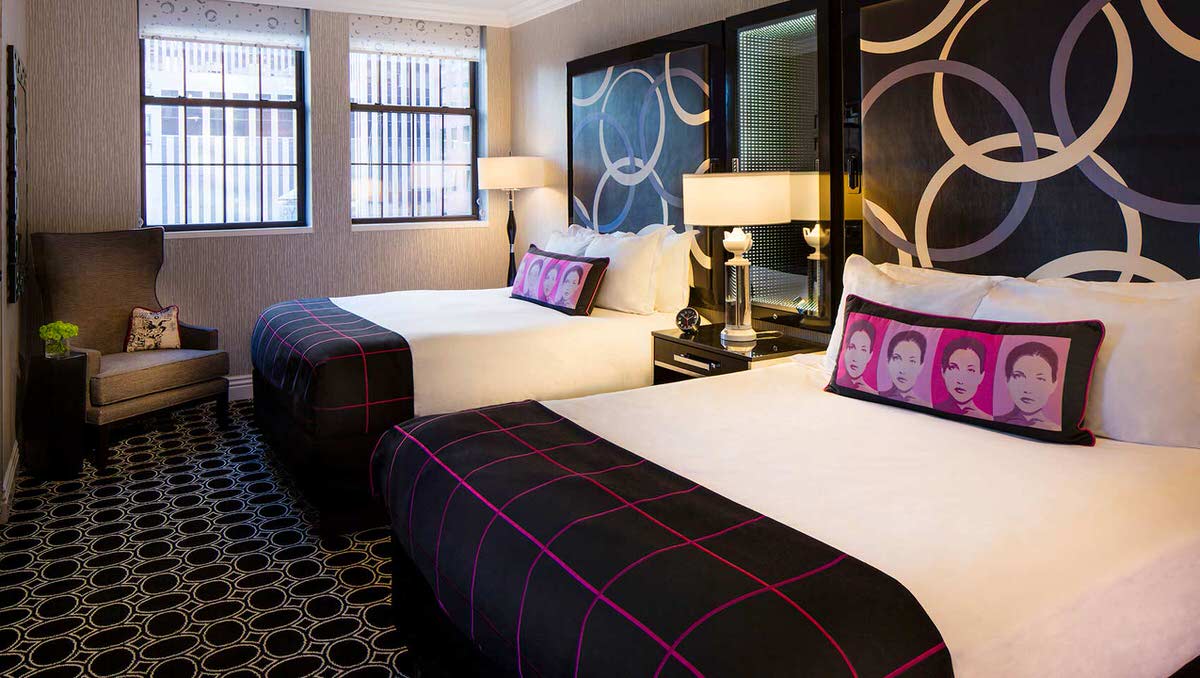 Guest room at The Muse in New York City. (Courtesy The Muse)
With an abundance of dining, shopping, and arts and culture options, New York City is the perfect city for a weekend with kids. The Muse, A Kimpton Hotel, is a great choice, offering a great location, rooms and amenities suited to traveling families. It's a good value choice located in the heart of the city. All rooms are cozy and spacious and offer a nice respite from the action taking place right outside, as Times Square and Broadway lights are at close proximity.
(MORE: Best-Kept Secrets of New York City for Families)
Why Go
The Muse offers a wide variety of options for families, from spacious rooms and suites with living areas, an on-site restaurant, and also access to Times Square. It sits just seconds from the heart of Broadway, making it easy for a family to take in a show and come back to the comfort and warmth of their room. It's also a budget option for a quite expensive part of the city.
Room Options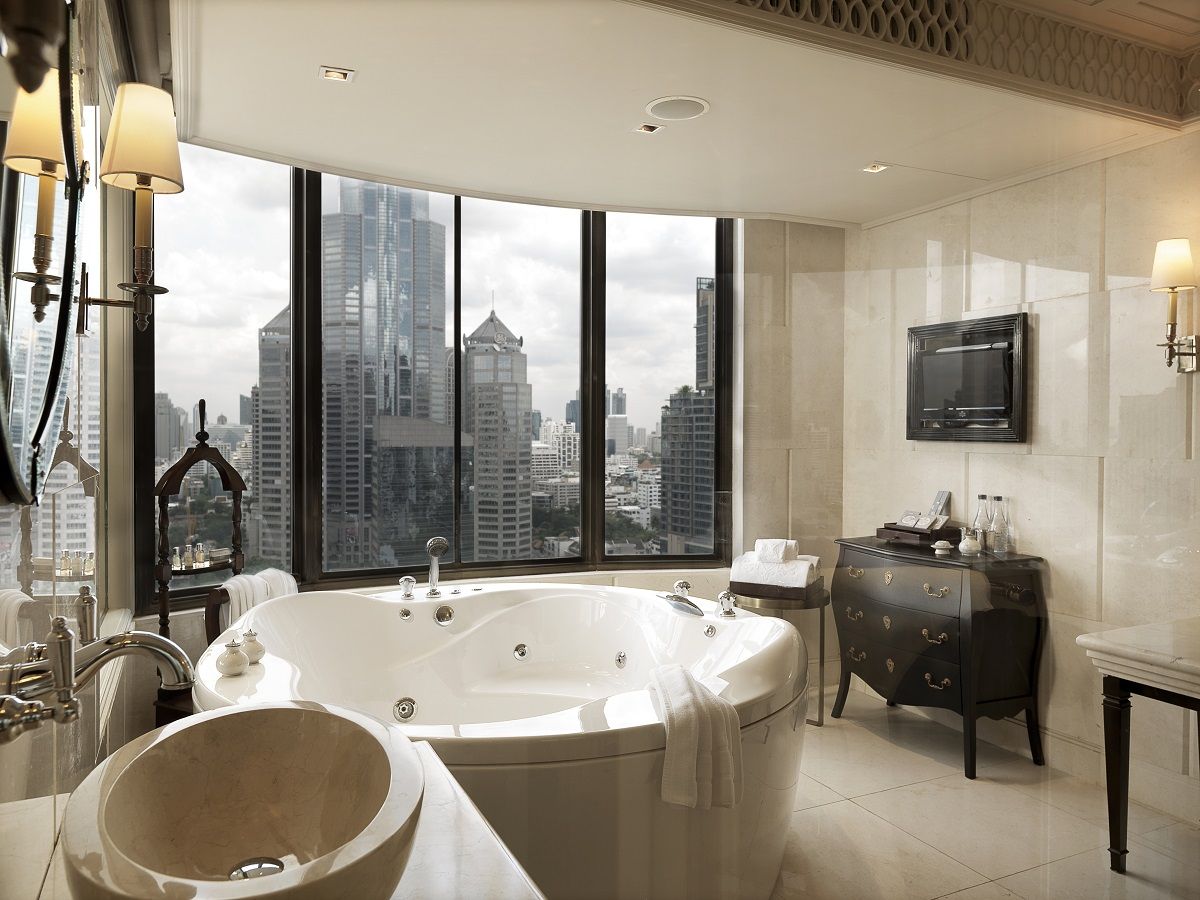 Luxurious bathroom in one of the guest rooms at The Muse. (Courtesy The Muse)
The Muse has 181 guestrooms and 19 suites. It was recently redesigned to reflect the modern, spirited charisma of the city. Rooms and suites have views of the NYC skyline but regardless of whether a room has one or not, the essence of the city is felt everywhere. Rooms include a King-size bed (or two), a flat screen TV, Wifi access, spacious bathrooms with overhead rainwater showerheads and pop-up reading lights. Amenities include complimentary newspaper upon request, a 24-hour fitness center, a hosted evening wine and hot chocolate reception, access to PUBLIC bikes for a ride around town and the hotel is pet-friendly. The guest rooms are stylish, with bold pop art decorative pillows and silvery blue walls.
Just for Kids
The Muse just introduced two new programs to cater to its youngest guests. The 2-night Inner Artist Package, an exclusive partnership with The Children's Museum, offers museum admission for a family of four, private art lesson, and a kid-friendly clay set as an in-room amenity for kids to unleash their inner Basquiat or Picasso. The "Mini Muse" amenity program accommodates kids with complimentary morning chocolate milk, nightly juice of sparkling cider, kid-sized animal print robes and an organized Scavenger Hunt!
Where to Eat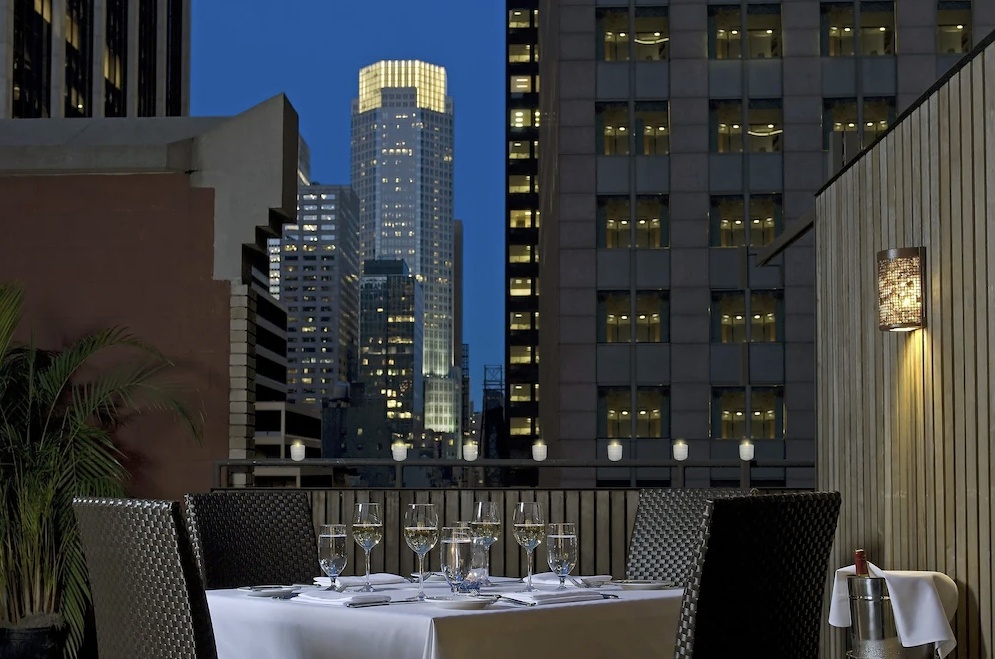 Balcony dinner setup at The Muse. (Courtesy The Muse)
For easy meals on the premises, NIOS restaurant is led by Executive Chef and New York-native Jarett Brodie, offering regional American small plates crafted from fresh, seasonal ingredients and local produce. For a real NYC meal, you can head to Carmine's for family-style Italian, Ollie's Chinese food or just walk down 9th Avenue to choose any kind of cuisine your kids fancy.
(MORE: Celebrate Like a VIP in NYC)
What to Do
There is so much to do right outside the hotel – from taking in a Broadway show to getting cheesecake at Junior's to roaming down Broadway and experiencing the characters on the street to strolling up to Central Park or nearby Fifth Avenue for a good shop, there is no chance of running out of things to do. If you're too tired at the end of your trip, a team of packing professionals will come help you and your kids pack up your items or help mail it all home.
Getting There and Getting Oriented
The Muse is located in midtown Manhattan, just 30 minutes from LaGuardia Airport. The hotel isn't that big so it's not complicated to find your way around.
Insider Tips
Check the Internet for specials to find the best deal on the hotel. Speak to the concierge to get tips on what to do and where to eat, and do research in advance of your trip. TKTS is just steps away, where you can purchase half-price tickets to Broadway shows.
Holly Rosen Fink of The Culture Mom contributed this to MiniTime. She is the founder of Pivoting Media who blogs about her love of culture and travel.