Carlsbad, San Diego, with kids
By Michelle Rae Uy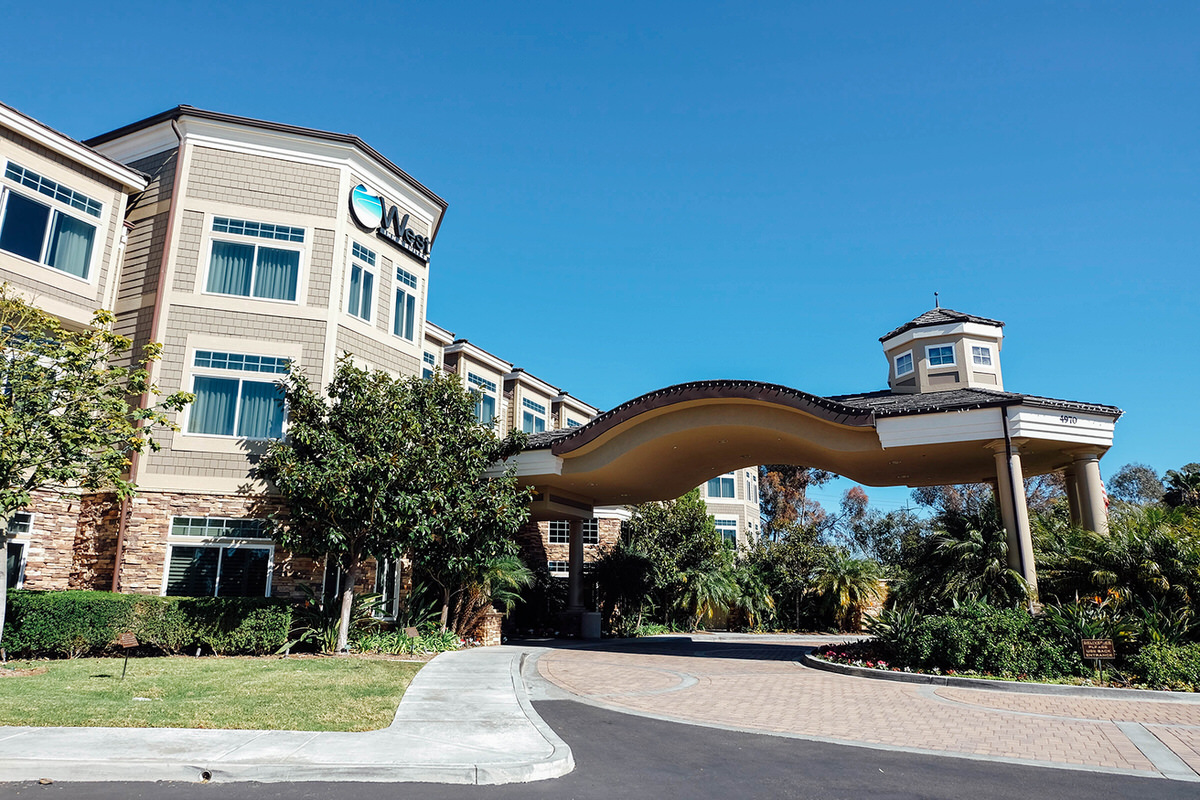 Kid-friendly West Inn & Suites is a fantastic hotel choice when visiting Carlsbad, CA. (Photo: Michelle Rae Uy)
One of the many pleasures of traveling is checking into an affordable hotel and realizing that it more than exceeds your expectations. For families traveling with kids, this means staying in a hotel that is not only comfortable but also offers all the amenities they could ever need and more.
These days, however, this is a luxury families may not be able to afford, with many hotels and resorts charging an arm and a leg for the littlest things. This is part of what makes West Inn & Suites a rare find and why it was rated as Carlsbad's top hotel on TripAdvisor – the fact that it offers a number of family-friendly amenities to its guests without the added resort fees. Indeed, this very affordable hotel has earned a top spot in our jet-setting hearts!
(MORE: Fun Things to Do For Moms, Dads and the Whole Family in San Diego)
Complimentary Amenities
We're not just talking about hot breakfasts and in-room microwaves, mind you, although these ARE two of the many things you get complimentary with your stay at West Inn & Suites. The hotel may look unassuming at first glance, but it's better than your typical hotel thanks to its wealth of amenities that come completely free. Here's a list of the hotel's complimentary amenities, all of which families should take advantage of during their stay.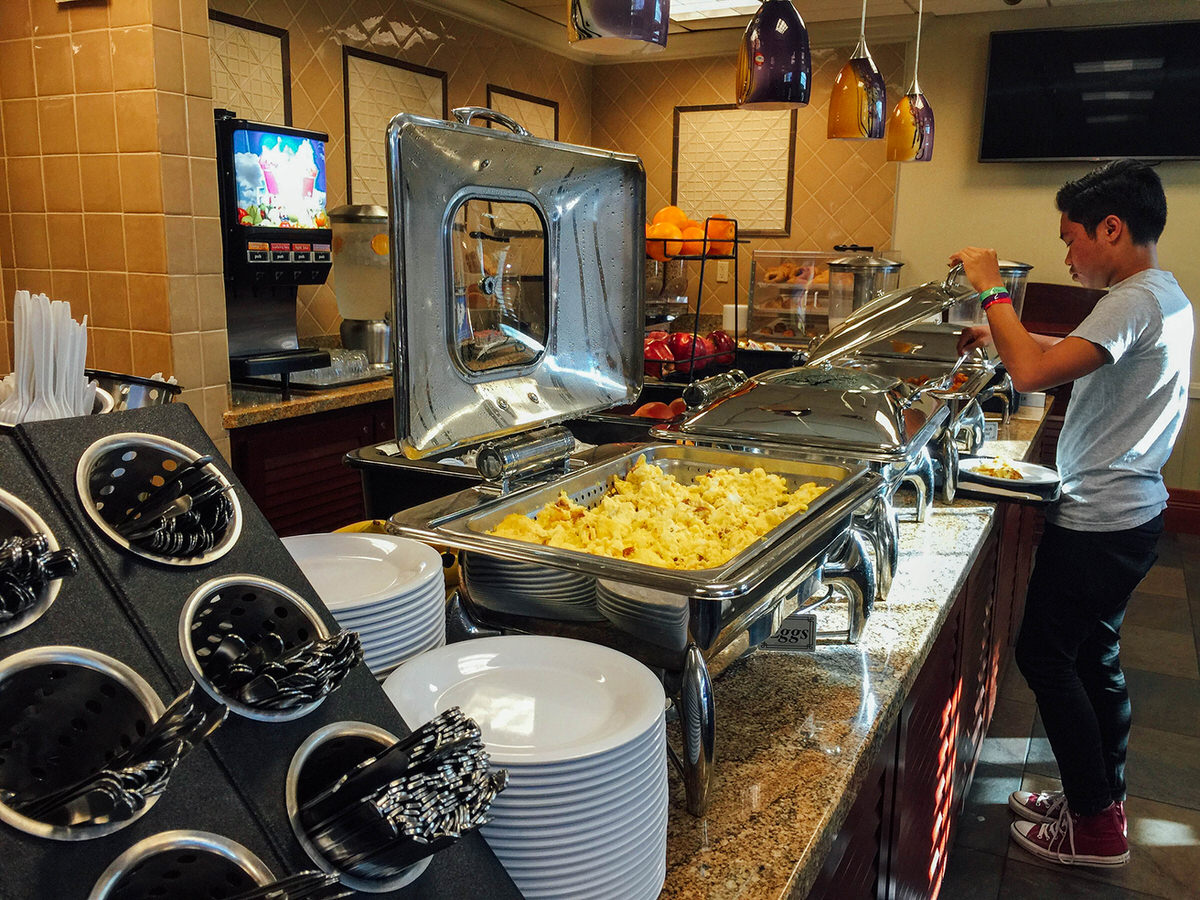 Hot breakfast comes complimentary at the hotel. (Photo: Michelle Rae Uy)
Hot breakfast daily
Breakfast to go (coffee, tea and pastries)
WiFi
In-room microwave and fridge
Two water bottles in room upon check in
Cribs and Pack & Plays
Hypoallergenic beddings upon request
Milk and cookies in the lobby before bedtime
Seasonal Wine/Beer Pour in the evenings
24-hour coffee and tea service
Shuttle service to many of Carlsbad's family-friendly attractions
Complimentary beach equipment (towels, chairs and toys)
Pop-Up Beach Party in the summertime (The hotel's friendly staff will drive you to the beach of your choice and set you up with beach chairs, umbrellas, towels, toys and a cooler to pack a picnic in!)
DVD movies (Most are new blockbusters and family-friendly)
Board games
Library of books
Rooms & Amenities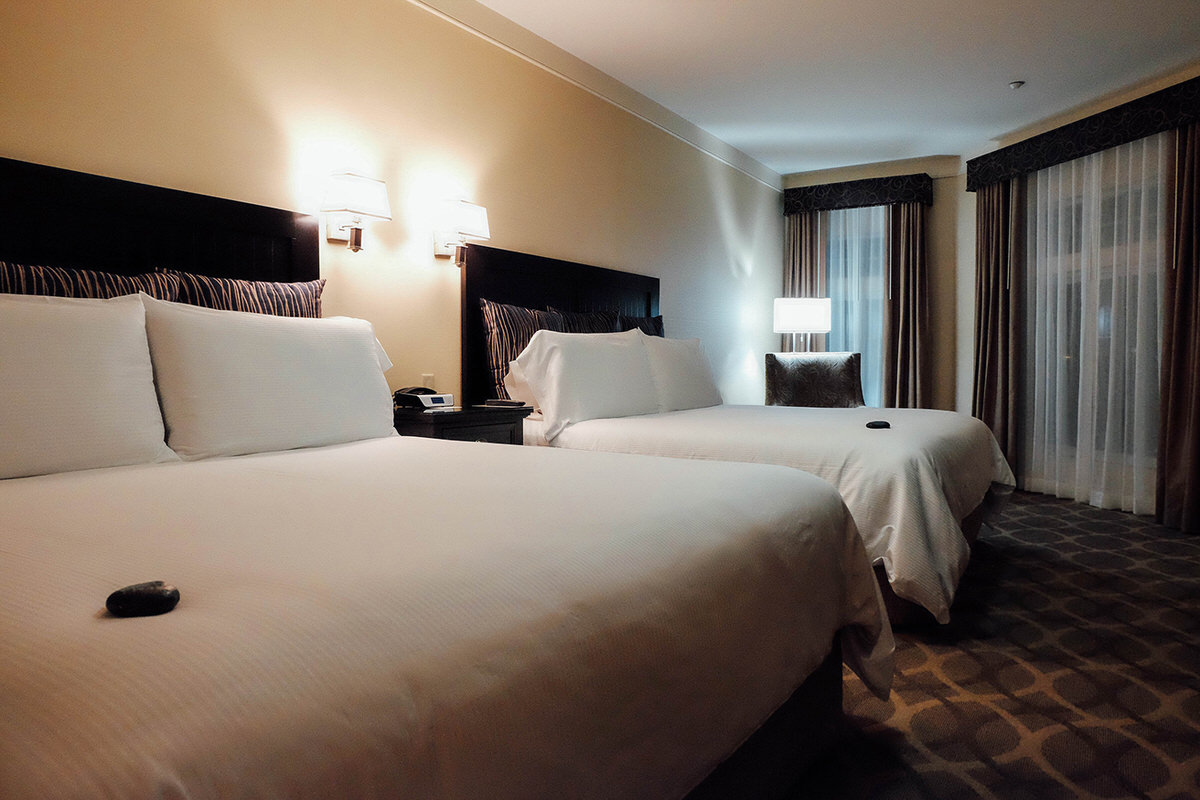 Double king suite at West Inn & Suites (Photo: Michelle Rae Uy)
It's plethora of complimentary amenities, while amazing, is not the only thing that makes West Inn & Suites so great for travelers and vacationing families. Every guest room and suite, 86 total, is also packed with lovely features that add to your comfort, some of them you wouldn't have thought you needed. It also comes with luxurious one or two king sized beds, so whether or not you're sharing a bed with someone, there's still enough space to spread out!
A double king suite boasts plenty of space, the usual amenities you'd expect from a regular hotel room, and a few other things that families will surely appreciate. There's a kitchenette with a microwave, fully stocked coffee bar, a small sink, glassware and a fridge; and a separate living area with an armchair, a pull out sofa and a second flat-screen-TV-and-DVD set. The suite also features a spacious bathroom with 2 sets of toiletries, plenty of towels, a step stool for the smaller kids, a bathroom scale, a vanity mirror with light and even a plunger. There are also two bathrobes, extra pillows and comforter, and plenty of closet space. Lastly, turndown service is available upon request.
Each room at West Inn & Suites is so well furnished and so well thought out that you wouldn't want to leave!
Dining
Breakfast, lunch and dinner come easy at West Inn & Suites, what with hot breakfast included in the stay, room service available, and two restaurants just a few steps away. Open for Happy Hour and dinner, Zagat-rated West Steak And Seafood serves some of the best steaks in the city and holds Prime Rib Sunday Supper, which is perfect for family Sunday dinner. The steakhouse is very popular and busy, so make a reservation ahead of time.
Next door, Bistro West offers family-friendly casual dining for lunch and dinner, with a wide range of delectable options – from pastas and pizzas to steaks and seafood. The restaurant's addictive Truffle Fries, made with Perigord Black Truffle, is a great starter while their fish entrees are light and delicious. The Shanghai-style Braised Short Rib is a great choice for meat lovers, and the kids will enjoy creating their own pasta or burgers.
The best thing about both restaurants is their farm-to-table approach. All dishes at both West Steak and Seafood and Bistro West are made with the freshest, seasonal ingredients harvested daily from the hotel's very own 3-acre farm, The West Farm.
Onsite Family Activities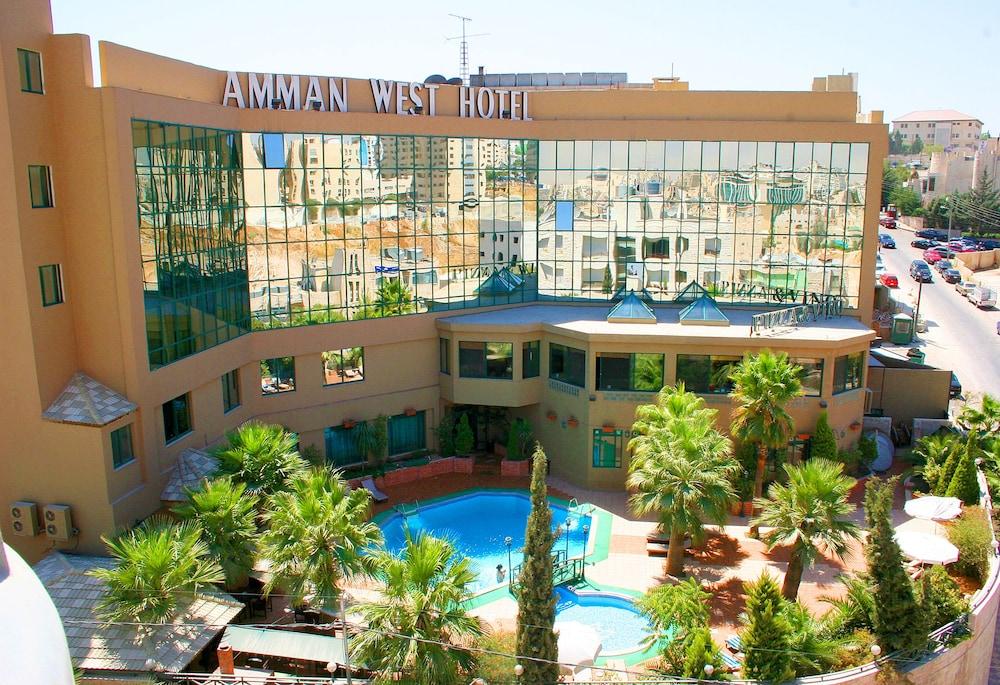 Pool and sundeck at West Inn & Suites (Photo: Michelle Rae Uy)
While not a destination resort, West Inn & Suites does offer some onsite activities that kids will enjoy and parents will appreciate, especially if they are planning on staying in for the day.
More than 200 popular movies, many of which are kid-friendly, are available for guests to borrow and watch in the comfort of their rooms.
Board games are also available for use.
Sunning at the hotel's spacious pool area is great for relaxing sunny days.
The outdoor pool, open from 7am to 10pm, is for all ages.
And there's also a hot tub spa in the pool area where kids are allowed with supervision.
Nearby Family-Friendly Attractions
Location is an important factor in choosing your hotel, especially in a destination like Carlsbad or San Diego where driving to the different attractions is unavoidable. Another great thing about West Inn & Suites is that it's in close proximity to many of Carlsbad's kid-favorite attractions and within an hour's drive from San Diego's must see ones.
The seasonal Carlsbad Flower Fields, popular LEGOLAND California, educational Museum of Making Music and beautiful beaches are all only a few minutes away. Since the hotel provides shuttle service to Carlsbad attractions, you won't even have to drive there yourself.
As for San Diego's favorite spots, the San Diego Safari Park, San Diego Zoo, Balboa Park and Birch Aquarium At Scripps, to name a few, are quick drives and definitely worth taking the kids to while you're in town.
(MORE: Insider Guide: San Diego)
Things We Love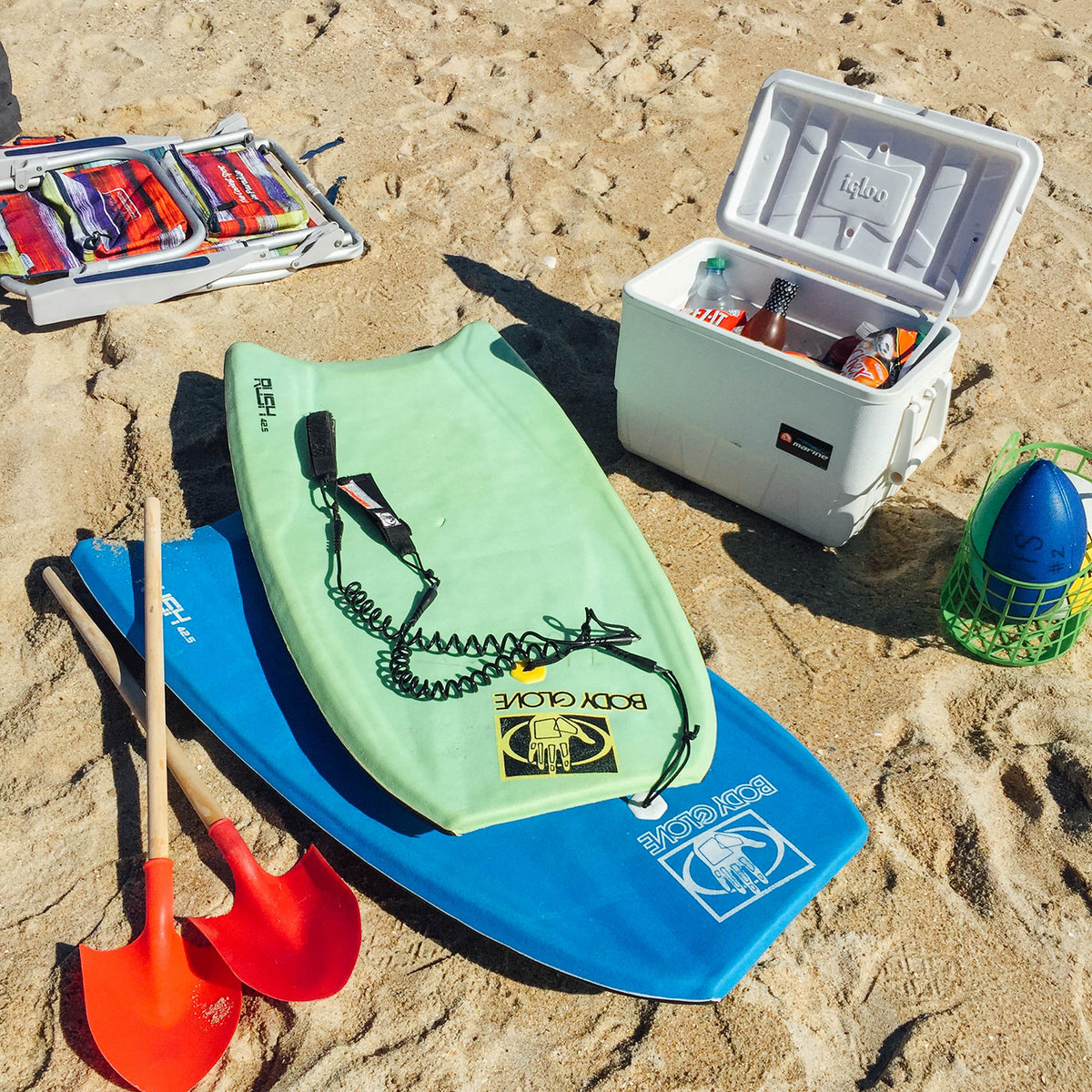 Beach toys and a cooler comes complimentary, along with beach towels, chairs and umbrellas, with the Pop-Up Beach Party. (Photo: Michelle Rae Uy)
Staying in for the night and ordering room service, especially after a busy day of exploration, has never been this comfortable (or affordable). You'll definitely find a film or two to watch from the hotel's movie library, so you won't have to pay an extra $15 or so for an On-Demand movie. Plus, Bistro West's plates are generous so you can do dinner family-style and share.
It's really the little things – the coffee mugs, the step stool, the two free bottles of water, and the extra set of beddings – that we adore about West Inn & Suites. Not many hotels go that extra mile for their guests for nothing!
The staff is not just friendly; they're welcoming and very accommodating to every guest's needs.
The Pop-Up Beach Party, available in the summertime, is simply a terrific, not to mention very convenient, amenity. Take advantage of it during your visit, and spend some relaxing time at the beach courtesy of the hotel. For drinks and snacks, there's a snack bar next to the lobby. For a proper picnic, Bistro West can whip up "Bistro to Go" lunches in a jiffy.
Our four-legged babies – dogs AND cats (maximum of two, $75 per night for a maximum charge of $150 from two nights onwards) – are very welcome, so long as you don't leave them in the room when you're out and about. The property even has special pet amenities like a cozy bed, water and food bowls, treats and pet aromatherapy spray available upon request.
Insider Tips
Discounted admission rates to some of the area's most popular family-friendly attractions are available at the hotel. Best sure to inquire with the front desk.
Don't miss the milk and cookies served in the lobby every night from 8am to 9pm. The cookies are delicious!
Same day dry cleaning service is available, as are laundry facilities.
Celebrating a special occasion? The staff would be happy to assist you with special arrangements.
Michelle Rae Uy contributed this to MiniTime. She is a travel writer based in Los Angeles and MiniTime's Head of Content, who spends her free time on adventures and film photography.