Amazing children stores in NYC
By WhereTraveler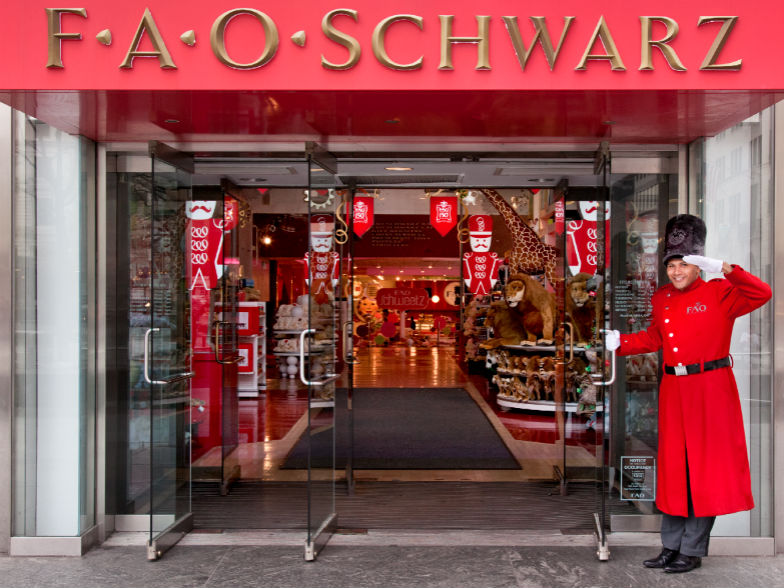 Dance on a piano at FAO Schwarz, the oldest toy store in America. (Courtesy Toys "R" Us)
Tiny shoppers aren't left out of the vast opportunities to explore the greatest retail city in America. Between an inside Ferris wheel to a stop for future fashionistas and gamers, there are many great shops to outfit and entertain kids in New York City.
Here are 10 of our favorite kid-friendly stores in NYC, whether the kids love toys, high fashion or books:
FAO Schwarz
If there's one spot not to be missed on a family trip to New York City, it's FAO Schwarz—the oldest toy store in the United States. Toy soldiers greet kids as they enter this mecca of all things imaginative and playful, a world of massive stuffed animals, DIY craft kits, classic and experimental candies, dolls, action figures, hard-to-find LEGO sets, instruments, tech toys and, of course, the famous dance-on piano. For a truly special experience, head to the customizable Muppet Whatnot workshop and build your own whimsical puppet.
Scholastic Store
One of the most beloved publishers of books for youngsters fosters a love of reading with thousands of titles, daily story time and an educational reference center at its sprawling SoHo storefront. The 6,200-square-foot bookstore helps famous book series come alive in its real-life version of "The Magic School Bus"—packed with science books and kits—and Clifford's Dog House (featuring the famous red dog). With a rotating seasonal section and regular events (such as movie screenings and meet-and-greets with popular literary characters), the Scholastic Store invites toddlers to teens to return often.
Bonpoint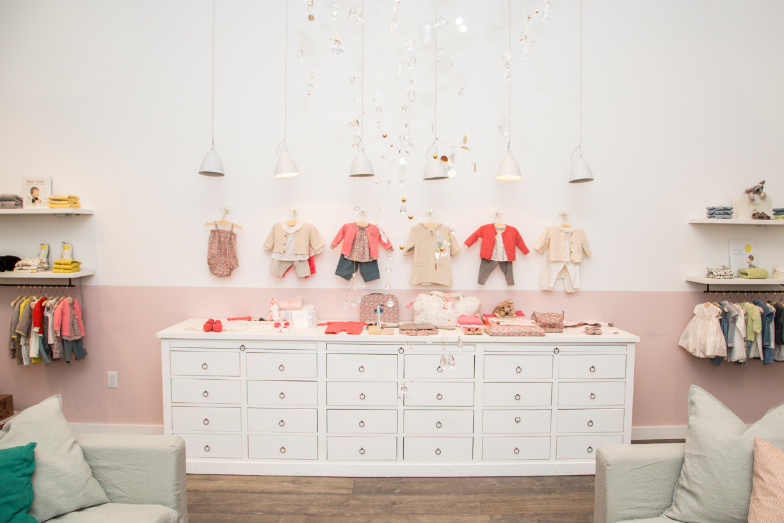 Keep up with the latest children's fashion at Bonpoint. (Courtesy Bonpoint)
A lofty Madison Avenue space contains the latest in Parisian-inspired apparel for mini sartorialists (and their moms). At Bonpoint, the meticulously crafted cardigans, pea coats, pajamas, swimsuits and other garments come in fine materials like silk, wool and cashmere and classy patterns, such as plaid, argyle and floral. Worn by celebrities' children, including Suri Cruise, Seraphina Affleck and Harlow Madden, the chic designs from the nearly 40-year-old brand have a cult following.
Mary Arnold Toys
This local toy store offers Upper East Side families the latest amusements on the market. Open since 1931, the family-run venture's longevity is a testament to its emphasis on customer service. Staff help customers find the perfect gifts from a floor-to-ceiling stock of items aimed at entertaining babies to tweens. Shoppers can find classics like pull toys and wooden blocks, NYC-specific items like Chrysler Building 3-D puzzles and toy taxis, and modern tech toys like robot cars controlled by smartphones.
American Girl Place
Dolls come to life at the NYC headquarters of the beloved collectibles. Little girls and their mini friends can shop for matching outfits (or design their own!) and accessories, then get "dolled up" at the doll hair salon before capturing special moments at the in-store photo studio. The American Girl Place also hosts multiple events each week, such as crafts, cooking classes and date-with-my-dad, that keep girls (and their parents) coming back again and again.
kidding around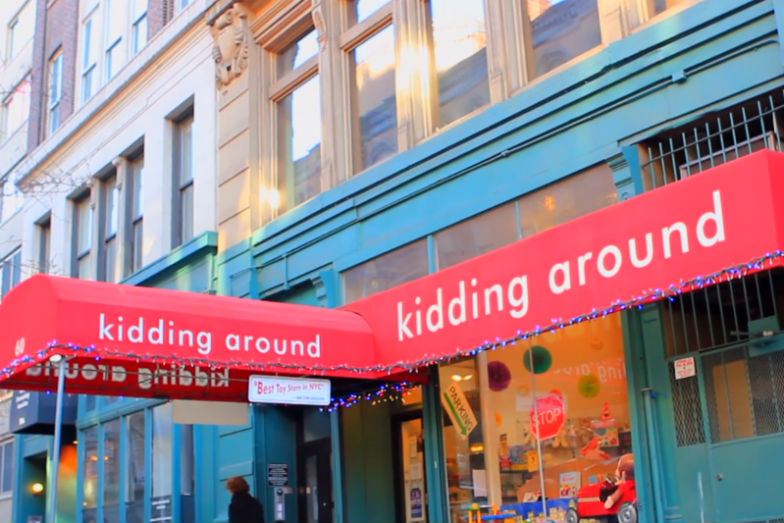 While in the big city, visit kidding around for unique toys for all ages. (Screenshot from Vimeo video)
Regularly ranked as "the best toy store in New York," kidding around embraces the spirit of independent retail with its selection of thousands of unique playthings for all ages. Locals and tourists alike can find kid-friendly items, such as floor puzzles, obscure games, shadow puppets, stuffed animals and craft kits that facilitate both fun and learning. Kidding Around also stocks a vast selection of the popular Playmobil play sets. Don't forget to stop by the Grand Central Terminal location on your way out of town—the model train that runs throughout the store is too cute to miss!
Nintendo World
From the latest games and systems to clothes and memorabilia featuring beloved video game characters, this store has everything to satisfy even the most devoted Nintendo fans. Kids can try their hand at rescuing Princess Peach or battling Bowser on the demo systems throughout the 10,000-square-foot store, while a mini museum upstairs showcases retro products, including a scorched, yet still functional, Game Boy that survived the Gulf War.
Brooklyn Superhero Supply Co.
A volunteer-run shop in Brooklyn helps shoppers transform into superheroes, both in costume and in spirit. The proceeds from every vapor blaster, invisibility suit, thunder inducer and leotard sold at the Brooklyn Superhero Supply Co. go to support 826NYC, a nonprofit organization created by award-winning author Dave Eggers that helps kids develop creative writing skills. Kids and adults alike will enjoy testing out their capes at the stores fan-blasted platform. No matter what superhero gear you select, the good deed of shopping here won't go unnoticed—even if you decide to keep your new identity top secret.
The LEGO Store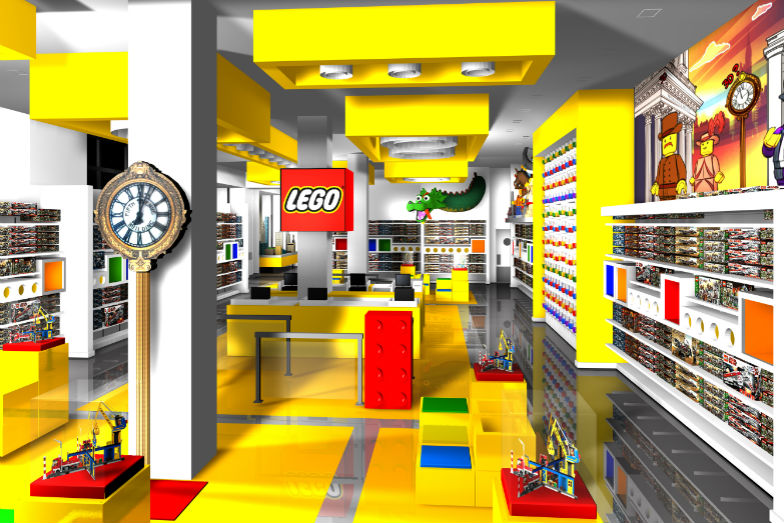 Purchase a new LEGO set to build or admire the Statue of Liberty model. (Courtesy The LEGO® Group)
This recently opened Flatiron flagship turns kids into engineers with its preschool building area and monthly mini model build activities for ages 6 to 14. In addition to pre-made building kits and boxes full of individual pieces, The LEGO Store also contains the stuff of petite builders' dreams: an 8-foot tall Statue of Liberty model, a miniland replica of NYC, working clock and murals of urban scenes—all made completely out of the popular mini bricks.
(MORE: Find great kid-friendly hotels to stay in NYC with the kids.)
Toys "R" Us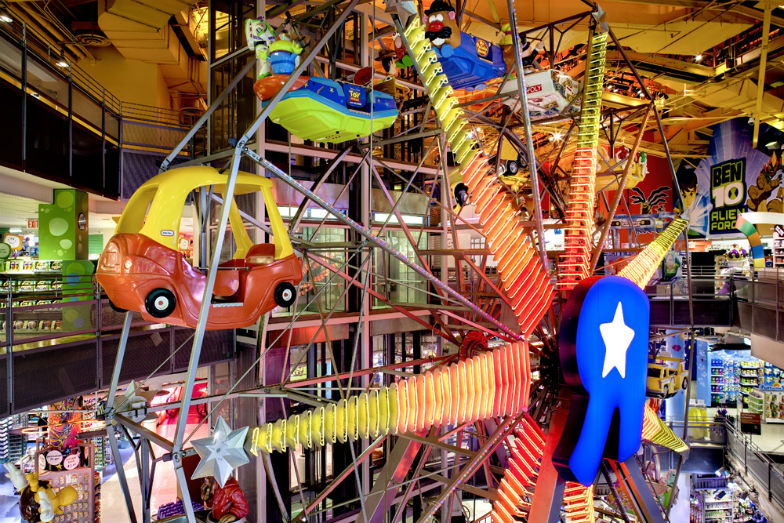 Stop by Toys "R" Us for its impressive stock of toys and catch a ride on the in-store Ferris wheel. ( © Richard Caden)
It may be a chain, but this toy store went all out to make its Times Square flagship a mesmerizing entity. Think: a 20-foot-high, animatronics Tyrannosaurus rex, in-store Ferris wheel, life-size Barbie dollhouse and interactive video-game displays. And in case tykes get hungry while shopping the store's 110,000 square feet of toys, bikes, electronics, candies, games, stuffed animals and other playthings, they can pop in for ice cream at Scoops "R" Us.
Author Joni Sweet is a New York-based writer and an editor for WhereTraveler.com.
More from WhereTraveler.com: