Travel with kids
By Ashley Burnett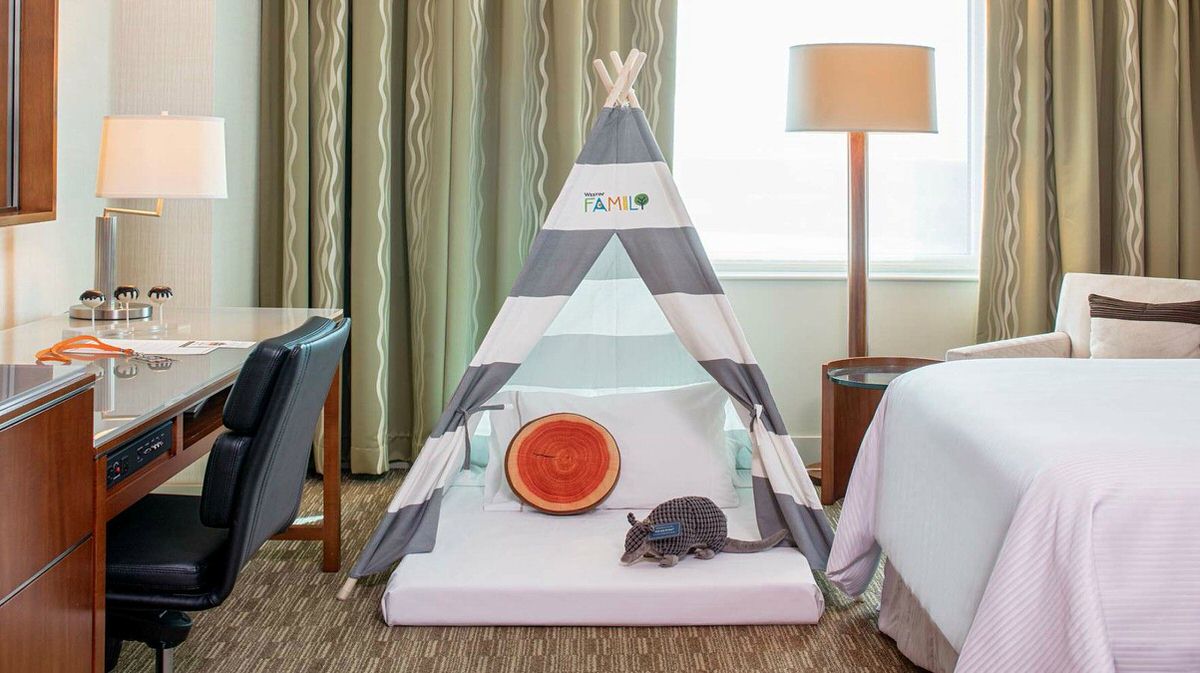 The Westin Hotels & Resorts' indoor camping amenity is one of the best hotel amenities for kids. (Courtesy Westin Houston Memorial City)
From a butler dedicated solely to helping you get a tan to room service for pets, several hotels offer luxe amenities. These sometimes over-the-top treats make your getaway truly feel special and set apart from your daily life.
However, where some properties truly shine is in what they offer their youngest guests. In-room tents, pint-sized toiletries and a tyke-centered turndown service are just some of the amenities on hand. By offering them, family-friendly hotels are making a truly memorable experience for children staying at their properties. These amenities are a part of making your family vacation memorable, alongside activities and attractions. Many of them are also something kids can take home as a souvenir—think: free toys, little gifts and more.
To that end, we've rounded up the best hotel amenities for kids, representing hotel brands found across the globe. From Turks and Caicos to Georgia, kids will love their vacation even more with these fun amenities.
(MORE: Best Family-Friendly Airlines, According to Family Travel Experts)
In-room tents at Westin Hotels & Resorts
Westin Hotels & Resorts takes glamping to a new level. Parents can have a tent set up within their suite for the kids to play with. Select properties also offer the Indoor Camping Adventure Package. This package comes complete with an in-room tent, plush toy, in-room family movie, and more. All of this makes the in-room tent experience at Westin properties one of the best hotel amenities for kids.
Kids' swim-up bar at Beaches Turks & Caicos Resort Villages & Spa
What is an all-inclusive vacation without a swim-up bar? At Beaches Turks & Caicos, kids can get in on the action with their very own smoothie swim-up bar. In-between splashing and pool games, they can enjoy a variety of sweet treats. The kids' swim-up bar is one of the best hotel amenities for kids, making the experience equal for all.
Kid-sized toiletries and free toys at Rosewood Hotels & Resorts
Rosewood properties make sure your kiddos feel included and pampered every step of the way. That includes child-sized bath robes and slippers to make their stay super comfy. Many properties even provide kid-sized hangers. Toiletries are also given out specifically to the kids, as are stuffed animals. With everything down to the hangers covered, it's no wonder Rosewood is on our list of best hotel amenities for kids.
Kid-friendly turndown service at St. Regis Hotels & Resorts
Known for their family-friendly hotels, it's no wonder St. Regis is on this list. For their 'family traditions' program, several St. Regis properties offer kid-friendly turndown services. Think: milk and cookies before bed, or teddy bears resting on your pillow. It's the little things that make this one of the best hotel amenities for kids.
(MORE: What's New at Universal Hollywood in 2017)
Teen-oriented concierges at select Omni Hotels & Resorts properties
Omni has plenty of family-friendly hotels in its roster and tries to include kids in on the vacation plans. Their Teen Concierge program, which began at Omni Berkshire Place, is available at several properties. Teens can get insight into the local hangout spots and restaurants specifically for their age group. By providing the older children a little more freedom, Omni gives us one of the best hotel amenities for kids ever.
Milk and cookies before bed at Sea Island Resort
One of the most family-friendly hotels around, kids will love the milk and cookies before bed at Sea Island. One of their amenities for kids, your tykes can enjoy milk and cookies just before turning in. Other overnight snacks are also available in case the whole family gets hungry.
Ashley Burnett contributed this to MiniTime.