Indian Wells, California
By Katrina Brown Hunt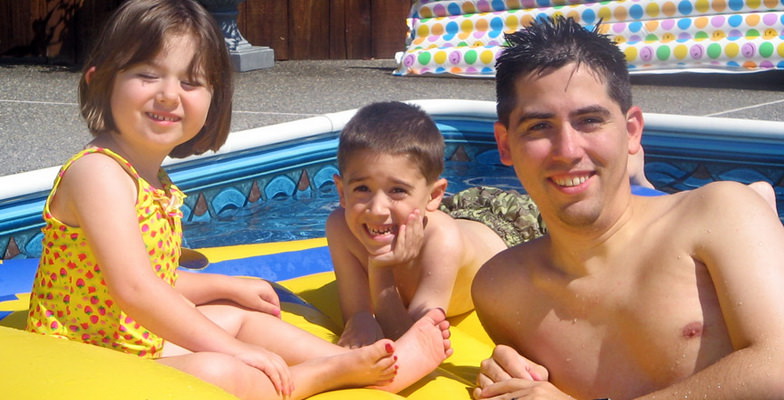 flickr:rx2web (flickr:rx2web)
Why Go: Palm Springs has always been a place full of contradictions, set smack in the middle of the desert yet positively teeming with flowers, towering palms, and an almost suspicious amount of green grass. This is thanks in part to the bubbling springs discovered by explorers in the 1850s, and also to the elaborate irrigation systems installed by the hoteliers and residents who started setting up camp not long afterward.
And what a camp it is. Given its relative proximity to Los Angeles—about 90 minutes by car—Palm Springs has been known as a playground for the rich and famous since the 1920s. Pick up an architectural map of the town, and you can cruise past Frank Sinatra's old house or the huge-windowed place where Elvis and Priscilla spent part of their honeymoon. While that kind of pedigree usually makes a locale exorbitant for mere mortals, that's not the case here, especially if you're willing to come in the summer. When temperatures soar to 110 (or even 120) degrees, hotel rates plummet to numbers often lower than those temperatures. It's a dry heat, and one that local businesses and hotels combat outside with open-air "misters" that periodically spritz passersby.
No surprise, the area is absolutely packed with pools. Which brings up another contradiction: Despite its image as a Hollywood haunt, Palm Springs is very family-friendly. Newer resorts have popped up over the past two decades in the communities just east of Palm Springs proper that put a big emphasis on pools, golf, tennis and, well, even more pools.
Indian Wells, just east of the Palm Springs city limits, is more conventionally upscale than kitschy. Exhibit A: The Hyatt Grand Champions Resort, Villas and Spa. The 530-room resort backs up to the Indian Wells Golf Resort, which is open to both hotel guests and locals, and has seven pools, a spa, tennis courts, a games area, and a Camp Hyatt program for kids 3 to 12.
When our correspondent, Katrina Hunt, visited the Hyatt Grand Champions in the spring with her husband and two preschool-aged daughters, she admitted that she was looking forward to some country-club plushness and was happy to find that this resort is all about dialing down the hustle-bustle. ("There is a general vibe here that the less you do, so much the better. It's a place where you could bring a book and actually get around to reading it.") And though the resort offers up a surprising array of free activities—including tennis, bike rentals, and lawn games—it was sure hard to compete with those pools. The Hunts even saw a surprising number of new parents with tiny babies in tow. ("This was a good, mellow setting for them.")
The Hyatt Grand Champions is beautiful and elegant, with many modern-design touches, but it still manages to be casual and comfortable. The Hunts booked a suite with access to the Regency Club, a concierge lounge with all-day food and snack buffets. ("Having quick access to fresh cold milk for my morning-grumpy 3-year-old was great, and being able to pop in for a bottled water, a few appetizers, or a cookie is a huge help with the little ones.")
The Hunts visited in late April—still considered high season, with temperatures only in the 80s—but they would love to return again in the summer. ("I was so intrigued by the talk of the summer heat that I want to check it out. It's so hard to beat those prices. We kept hearing how you truly don't notice the heat as long as you're by the pool.")
Getting Oriented: Indian Wells is about a half-hour drive east of Palm Springs. Like the neighboring desert towns, it is lined up along Highway 111, and located a short drive from a variety of restaurants and shopping centers. You can arrange a shuttle from Palm Springs airport for $35 per person.
The hotel has 530 rooms, including 35 suites and 43 villas. The latter are privately owned, but the hotel rents them out; they sit just opposite the spa and adult pool. The hotel's main building houses a restaurant, piano bar, gift shop, and coffee counter offering Starbucks.
The lobby feeds into a giant J-shaped wing of guestrooms. Most of the rooms in the J's crossbar overlook the golf course and mountains, while its stem curves around the pool area. The spa and gym are located in their own building, set between the main entrance and the self-parking lot. ("The spa is a generous space, and very nicely set apart.")
There are seven pools and two hot tubs. Outside the pool zone is an outdoor games area set under a canopy, with Ping-Pong, foosball and the like, plus croquet and badminton nearby on the grass. ("My girls liked walking around the grassy areas. There are a few little ponds, with a cute bridge, desert plants and flowers, and some ducks and the occasional bunny hopping around.")
The resort felt big to the Hunts, as it could take a few minutes to walk from their room to the lobby or any spot in between, especially with two pokey little ones in tow. Yet for the most part, the Hunts felt like they had the run of the place. ("We saw plenty of people, but we never had to wait for service in the restaurant or for a waitress by the pool. A bellman implied that the hotel had been full, but we often had the pools almost to ourselves.")
Getting Around: The Palm Springs area has a lot going for it as an escape, but it's not chock-a-block with varied activities. That can be a relief, giving you more time to kick back. Within a 30-minute drive are the Knotts Soak City Water Park and wildlife preserve Living Desert, which has a petting zoo and model train exhibit. Palm Springs also has a tram that scales nearly 6,000 feet of Mount San Jacinto, and a pedestrian-friendly downtown with t-shirt stores and ice-cream shops. Within a few minutes of the hotel are a wide variety of new shopping centers with supermarkets, casual restaurants, and some fast food.
To see any of this, you definitely need a car. The hotel has an on-site Hertz counter, with rental cars ranging from $45 to $100 per day. Self-parking is free and valet parking costs $25 a night.
We Are Family: During the Hunts' spring weekend visit, families made up at least half of the clientele. ("But you don't feel like you've come to a hotel that's just about kids. It's a grown-up resort that likes kids a lot.")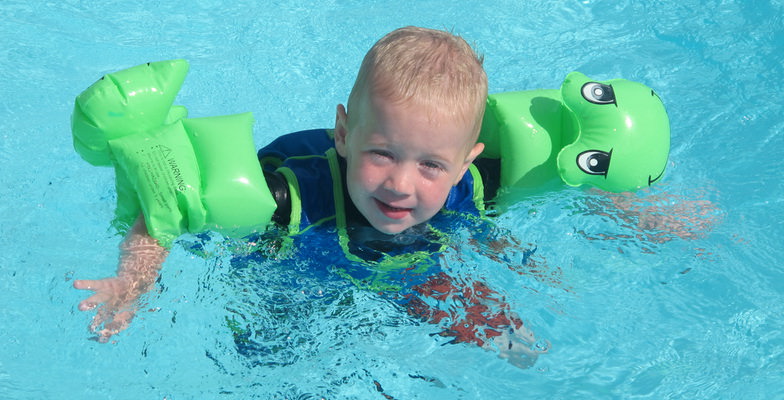 flickr:59195512@N00 (flickr:59195512@N00)
There are seven pools at the resort, all inside a large gated area that's accessible with your room card key.
Two good-sized, adjacent pools shaped like two halves of a butterfly, with depths of 3.5 to 5 feet, and with both step and ladder entries. ("These two seemed to attract the gradeschool kids with floating noodles or playing Marco Polo.")
One medium-sized oval pool of depths from 3 to 4.5 feet, with step and ladder entries, next to the main hot tub.
One medium-sized rectangular pool, ranging from 3 to 4.5 feet, with only ladder entries ("I saw a fair number of kids in this one, even without any steps.")
One small toddler pool, 1 foot deep, with step entry. ("We played a lot in the toddler pool, since the girls could just walk around themselves.")
A small pool, 3.5 feet deep, at the bottom of the spiral waterslide.
An adults-only pool shaped like an undulating wave, with a uniform depth of 3.5 feet. This pool is still within the gated main pool area, but set apart, with a sign indicating that it's for ages 18 and up. ("It was bustling when I walked through on Sunday—not a raucous scene, but definitely more crowded than the other, more family-oriented pools")
There are also two hot tubs—one by the adult pool, and one by the oval pool. The Hunts saw no age restriction on the hot tub by the oval pool. ("There were kids, including mine, in it. It wasn't too hot and bubbly for littler ones.")
Besides the toddler pool, the other pools were a little too deep for Hunt's preschoolers. Still, they spent most of their pool time at the oval-shaped pool. ("It was a little deep for them, but it had a step entry and was a good depth for us to help them practice their super-basic swimming skills. Plus, it offered a quick transition to the hot tub.")
The biggest kid-magnet in the pool zone is the 60-foot spiral slide, intended for riders at least 48 inches tall. The slide had a lifeguard (the only one Hunt saw) who didn't seem to mind the under-48 inch Hunt girls going down the slide on their dad's lap. ("Mirabel loved it and she went with Daddy many more times, while 3-year-old Caroline declared it too scary.")
Next to the slide are a sprinkler play area, the toddler pool, and a free ice-water station. At the main pool entrance, you can buy beach balls or floaties for $5 each. ("There seemed to be noodles and inner tubes floating around that didn't belong to anyone in particular, which we used sometimes.")
The mood at the pool area was festive but not crazy, with soft pop music playing in the background. Want extra privacy? Guests can book cabanas near the half-butterfly pools or the adult-only pool. The cabanas near the butterfly pools feature TVs, and can be rented for $25 (half day) to $50 (full day). The Hunts didn't bother, in part because it was always so easy to get a chaise with or without an umbrella. The adult pool's cabanas rent for $45 to $90 a day and feature fridges, Internet access, TVs and phones.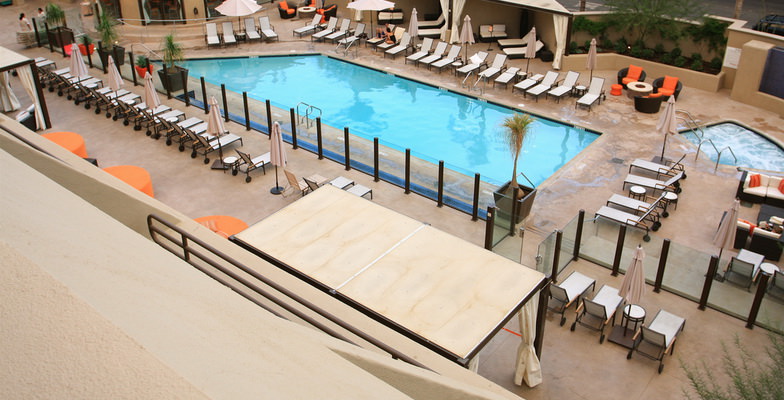 flickr:travelingotter (flickr:travelingotter)
The most striking thing about the outdoor area may be some of the extra—and free—activities. Tucked behind the pools is the semi-covered games area with foosball, ping-pong, badminton, and croquet. The area received pretty light use, from what the Hunts could see, though Mirabel and Caroline knocked some ping-pong balls around. ("Someone needs to restock it—we only found one croquet mallet, and the shuttlecocks looked pretty dilapidated. The girls still had fun with it, and if they were older I think we might have asked about replenishing.") The best freebie, though, were the complimentary bikes you could check out at the pool gates—comfortable-looking cruiser bikes, or smaller bikes suitable for a grade-schooler, with helmets, too. Even though the Hunts didn't use the bikes—too big for the girls, and Rodney had an injured leg—it still added to the atmosphere. ("It was pleasant just watching other guests pedaling along the paths around the resort. I love it when a hotel could charge for an activity but makes it free anyway.")
The girls took part in the resort's Camp Hyatt, the chain-wide program which has a reputation for focusing themed activities on the locale of each hotel. Hyatt Grand Champion's desert-themed camp, for ages 3 to 12, is very accessible: open every day year-round, while many hotel clubs are only open during peak seasons or weekends. Most kids staying at the resort seemed to be younger grade-schoolers who generally stuck to the pool with their parents. But the Camp makes it easy for parents to kick back for some alone time or use the spa.
The Camp Hyatt space isn't large, occupying a remodeled hotel room on the ground floor, just steps away from the pool area—but it's colorfully painted and features an art table, flatscreen TV, dolls and dollhouses, a bin of Lincoln Logs, and a bookshelf that would appeal to preschoolers and young readers (including lots of Dr. Seuss). In a nod to the desert theme, there is also a tank with an iguana peering out from behind the glass.
Hunt took Mirabel, 4, and Caroline, 3, for a morning session with lunch, which ran from 9am to 1pm ($50/child). Other options include a half-day afternoon session (noon-4pm, with lunch, $50/child); a shorter afternoon session (1pm-4pm, no lunch, $40/child); and a full-day session (9am-4pm, with lunch, $75/child). Kids can choose their meal from an expanded version of the kids' menu in the main restaurant. Hunt had booked Camp Hyatt a few days ahead with no problem, and the counselors said they frequently take last-minute campers. The typical number of kids varies by season and day of the week, but staffers estimate that in high season they can have 15 to 20 kids per day. The ratio can be no more than five kids per counselor.
At drop-off, Hunt filled out a form with basic information on each child, including parents' cell phone numbers and the name of the adult who would be picking them up. Hunt found the counselors very friendly and thought they seemed to relate quite well to her girls that day. ("I was impressed that when my girls arrived and made a beeline for some Princess Barbies in one corner, the counselor followed and casually asked who their favorite Princess was, adding that hers was Belle. Savvy move—instant friends.")
Both girls reported afterward that they'd had a good time. Although they could have gone swimming, Hunt had told the counselor that they'd probably have as much fun staying dry, so they took a nature walk outside, played with dolls and created lots of artwork. ("They made beaded necklaces to take home, as well as these surprisingly nice-looking butterfly ornaments. The counselor also helped them make a coloring book with pictures of Barbie. They were very proud of them.")
The clubroom scene would appeal mainly to younger kids—from preschool to about 7 or so—but older kids would do fine, Hunt felt, assuming that the counselors took them out to the pool or outdoor game area. Depending on how many kids are attending, the camp sometimes offers t-shirt tie-dyeing, scavenger hunts, and temporary body-art tattooing. ("Camp Hyatt was pricey enough that I wouldn't put my kids in every day, but it definitely delivered a decent value for one day.")
For kids under 3, the resort can help arrange babysitting from outside services ($15-$16/hr for one child, $18/hour for two kids; four-hour minimum). Otherwise, the general atmosphere at the resort is mellow enough that toddlers will still have fun here, between the toddler pool and the grassy games area. ("I was struck by how many tiny babies were here, but then it made sense—an easy-drive getaway, and no pressure to do much.") With its wide walkways and some long hallways, a stroller would be helpful for transporting little ones.
Teens have no structured kid's program and many will be too young for the spa (minimum age is 18) and gym (minimum age is 16). The tennis, games area and bicycles offer more grown-up diversions, but the expansive pool area would likely be the biggest draw. ("There's plenty of room for them to sit apart if they wanted.")
Where to Eat: There isn't a wide selection of restaurants at Hyatt Grand Champions—which is no tragedy, since there are plenty of mid-priced options (and even fast food) within a 10-minute drive or so.
Lantana is a sit-down, three-meals restaurant that embraces the hotel's elegant but comfortably un-fussy vibe. Dinner for grown-ups includes grilled fish, seafood and steaks, while the kids' menu is pleasantly predictable, with chicken strips, burgers, mac 'n' cheese and the like. The wait staff were friendly and kid-sensitive (crayons and paper at seating, and expedited service on their food) and even let Hunt's tiny eaters share one mac 'n' cheese meal. (Dinner entrees: $24- $35. Kids menu items $5-$6)
Roadrunner Café is a pool-area restaurant that has tables and also poolside wait service. The lunch menu includes burgers, sandwiches, and salads. ("I had a big salad with grilled mahi mahi on top—very fresh and tender.") For kids, the menu featured hot dogs, a small-sized burger, and chicken strips. (Average entree, $9-$10. Side items, $4-$5. Kids' meals, $6-$7)
Pianissimo is a lounge that sits across the lobby from Lantana and features a piano, easy chairs, a few tables and a TV. The bar menu is reasonably extensive: salads, cheese plate, chicken nachos and wings, as well as sandwiches, burgers and even small pizzas. (Items, $11-$15)
Espresso Deli, located just inside the hotel entrance, is a good place to pick up morning coffee. It has the sleek look of a Euro-style coffee bar with high tables and stools, and sells pastries and ready-made sandwiches. (Items, $2-$6)
A bonus for the Hunts came from staying on the 5th floor, where the Regency Club is located. Guests on this VIP floor have access to a concierge lounge that serves a free continental breakfast in the morning, snacks and drinks throughout the afternoon, hors d'oeuvres before dinner, and a treat in the evenings (you must be 18 to enter after 5pm). The Hunts enjoyed one breakfast there—cereals, pastries, bagels with lox, yogurt with granola and fresh berries—and picked up some cookies, trail mix, and drinks on another afternoon. During happy hour, the Regency Club offered cheeses, asparagus spears, and olive salad, with cocktails going for $7 to $12. ("The bedtime treat one evening was a strawberry shortcake that was a little too gourmet for my girls—I think it had goat cheese in it—and some cookies. But overall it was a great way to ease our food spending and still indulge.")
Nightlife: During holiday weekends and other peak times, the Hyatt Grand Champions puts on dive-in-movies, but otherwise evenings are pretty quiet here. The Hunts observed guests lingering in Lantana and lounging in Pianissimo. ("If we didn't have kids it would have been nice—it looked mellow but not empty.") The pool area, which closes at 10pm, was completely deserted after dark.
Want a date night without the kids? Camp Hyatt offers an evening camp for $50 per child, which runs from 6pm to 10pm and includes dinner from the kid's menu. Kids play games, do crafts, take a night "adventure" walk and see a movie. ("We opted not to do it—the girls wouldn't make it until 10pm very well, and it just didn't seem like a good value for us. Comparatively, the babysitting service would have come to about $80 for two kids before the tip, a decent deal compared to the kids' club.")
Where to Stay: The resort's lodgings are distributed between five floors, with rooms overlooking the golf course and mountains, the pool area, and the front entrance area, which is shrouded in palm trees. ("Wherever you are, you'll always get some mountain views.")
The Hunts' 5th-floor suite was spacious, quiet, and very comfortable. The gently-modern decor was punctuated by squared-off furnishings and sleek lines in the bedroom, and colors that included butter-yellow, brick red and blue. Artsy photos and abstract paintings lined the walls.
The suite had a living-room area with fireplace, sofabed, coffee table, flatscreen TV and a table flanked by an upholstered bench and chairs. There was a powder room off the living room, and just outside it a stocked mini bar and coffeemaker. Next to the fireplace, there was an empty mini fridge. ("That was nice. Usually our first chore upon checking in at a hotel is to clear out the mini bar so we have room for our own drinks, yogurt, and other essentials.") There was cable TV with Nickelodeon, PBS and Disney for the girls, and an On Demand feature with some Disney Channel shows for $2.99 a pop. Rooms don't have VCRs or DVD players, but you can request a free DVD player.
The bedroom had a king-sized bed, desk, and end table, a generously-sized dresser, and another flatscreen TV. The master bath contained a large closet, a double vanity and a tub, with a separate room for the toilet and a glassed-in shower.
For the Hunts, one of the suite's nicest features was the balcony with table, chairs and two chaises; it extended the length of the suite and overlooked the golf course. All of the resort's rooms feature balconies or patios, but not necessarily this large. ("Rodney and I hung out on the chaises in the evenings after the girls went to bed. There were great breezes outside.")
Families traveling with a baby or toddler can request a crib for free. It's a good idea to call ahead the day of your arrival.
Price Tag: In the winter, rates can start at $169 and go up to nearly $300 for a regular room. Rooms with access to the Regency Club start at $229 and climb to $329 for a suite like the Hunts had. The Regency Club offers a good value when a whole family eats breakfast there and makes good use of the free drinks and snacks throughout the day. (Note: The Regency Club will be closed from July 6 through September 3.)
Summer is for bargain hunters, when the resort's rates start at just $99 for a regular room, and $259 for a suite like the Hunts had. There is also a daily resort fee of $25.
Check the resort's web site for deals. At press time, we found a Classic Family Vacation Package available through September 7. It includes daily breakfast, 15% off dining and spa services, a free half-day at Camp Hyatt for one child, and, if you want it, a second room for 50-percent off the regular rate. Enter offer code FAMVAC when you book.
Overall, the Hunts felt that there was value to be had here—especially if you came during the low season. ("The summer rates totally got us thinking that it would be great to come back then. At our kids' ages, they're all about the pool anyway.")
Insider Tips:
If your kids are old enough to ride a bike, take advantage of the resort's free bicycles ("I wish we could have!")
Pack layers of clothing, as evenings can get chilly in the desert.
Look into the Regency Club rates when booking, especially if you want a suite or will be booking two rooms.
Book spa services in advance. ("The spa was more booked up than I thought it would be. I did get an appointment, but I had to juggle times more than I would have thought.")