Scottsdale, Arizona
By Carole Tyne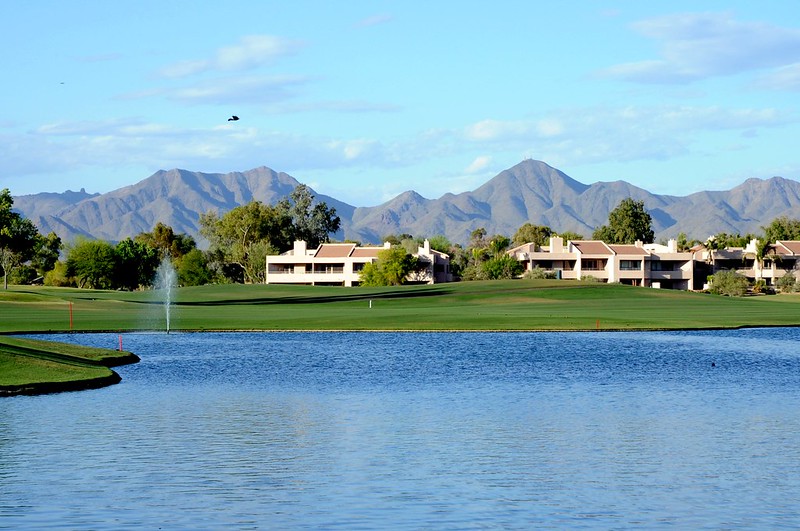 Why Go: Scottsdale has a well-earned reputation for poshness and pampering, and is a hotbed (and, come summer, a three-digit-temps hotbed) of resorts, golf courses and spas. It is a lush oasis set smack in the middle of a desert, a setting owed to the ingenuity of the Hohokam, a prehistoric people who lived in the desert Southwest from 300BC until the 14th century and then mysteriously disappeared. Skillful irrigation farmers, these ancient people created an elaborate system of canals that European settlers later used as a template. No doubt, neither group could have imagined that their hard work would make it possible not only to grow crops but to sustain an abundance of putting greens, swimming pools, and fountains.
But the moneyed ambience is only part of Scottsdale's allure. This city northeast of Phoenix also embraces its connection to Native Americans, cowboys and, more recently, legendary 20th-century architect Frank Lloyd Wright, who designed many buildings in the area, including his rustic winter home, Taliesin.
The Hyatt Regency Scottsdale Resort & Spa at Gainey Ranch is classic Scottsdale: With its verdant grounds, fountains, and lake, this doesn't seem like the middle of the Sonoran Desert. The resort offers a broad range of classic resort enticements: golf, a world-class spa, tennis courts, hiking trails and 10, count 'em, 10 pools.
But what really sets the Hyatt apart from the other well-heeled Scottsdale resorts-and there are plenty-is that it caters so well to families. Its kids' program has to be the most extensive in town. When our correspondent, Carole Tyne, and her family visited for a holiday weekend in February, they also loved that the resort had something for everyone. ("It really can be what you make of it-luxurious or laid-back.")
Another huge plus for the Tynes was the way this resort goes all out to make everyone feel included. The resort showed its kid-friendly ethos at a clutch moment that every parent dreads: During the Tynes' stay, one of their girls got sick in middle of the night and threw up on the bed. ("Housekeeping was gone for the night, but the front desk was quick to come replace the bedding, and had a pleasant demeanor about it, too.") In general, the staff goes out of its way to make kids feel welcome. ("Everyone was very attentive to our children, and seemed to truly enjoy having them there. They treated them as people, instead of baggage standing behind parents.")
Getting Oriented: The Hyatt is located 10 minutes north of downtown Scottsdale, set against the McDowell Mountains and bordering a man-made lake. ("There are mountain views from almost every direction.") The entrance is grand in a natural, Frank Lloyd Wright sort of way: There are giant glass-block walls both outside and inside (the one inside even moves), which play beautifully off the sunlight ("At night it looks like big ice blocks with mountains in the background.")
The 490-room hotel feels big, but never crowded. The hub of the 27-acre resort is the main building, which is shaped like two connected "H"s, and houses 477 of the rooms, the two main restaurants and the 21,000-square-foot Spa Avania. The lobby level of the main building also features The Native American and Environmental Learning Center, which educates visitors, museum-style, about the Sonoran Desert and the people who have lived there.
Outside, several courtyards surround the buildings and include flowering gardens as well as a waterway that encircles the resort and is populated with fish, ducks and geese. The hard-surface tennis courts sit next to the spa, and three 9-hole golf courses lie behind the resort. The showstopper, though, is the Water Playground, where one finds the 10 pools and 28 fountains.
The Hyatt Regency Scottsdale is a 25-minute drive from the Phoenix airport. There is no shuttle from the airport, and a cab costs roughly $40.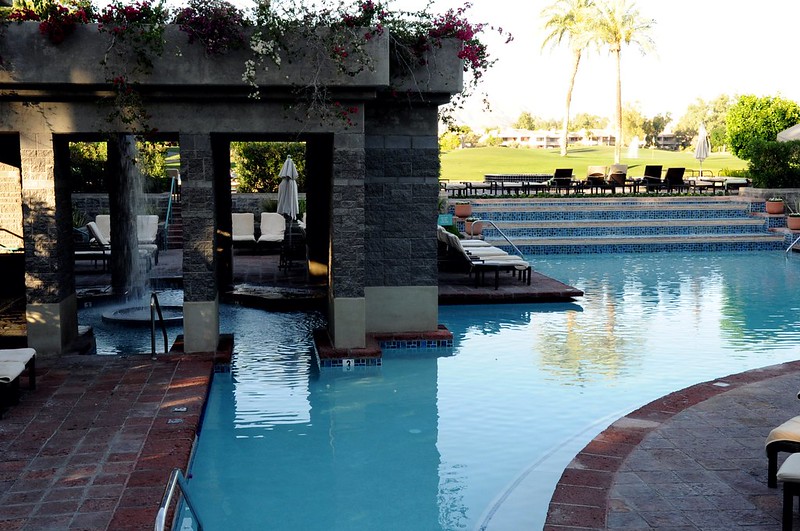 Getting Around: With all of the diversions at the resort, you could arguably stay put for your entire stay. Yet given how much there is to do nearby-scenic Taliesin, lots of shopping and the kid-friendly McCormick Railroad Park are all just minutes away-you'll likely want to venture out. The Hyatt has a free (and frequent) shuttle that can ferry you to major shopping areas such as Scottsdale Fashion Square, Old Town and Kierland Commons, but you can also rent a car from the resort's Hertz counter, with rates starting at $60 a day. (If you want a car for longer than a single day, you're better off renting at the airport and saving on the cab fare, too.) Self-parking is free at this resort; valet parking costs $28 a day.
We Are Family: Tyne estimated that families comprised about 80% of resort guests on the busy holiday weekend they visited. Those parents all faced the same conundrum: Some of the Hyatt's most tempting pursuits, such as golf and the spa, obviously don't lend themselves to having kids in tow. Happily, there is a solid kids' program, Camp Hyatt Kachina. Hyatt offers Camp Hyatt at all of its properties, but it began here, and it shows. Camp Hyatt Kachina (named after the Native American dolls) is extensive and, unlike many resorts' kid programs, truly reflects the locale and gives children a sense of place. ("The kids were not just kept in one area. They walked around the grounds to feed the ducks, geese and fish, or went to the Native American culture center at the hotel. I would come again with the children.")
Camp Hyatt Kachina lets you either drop off the kids for a few hours or an entire day, and offers a huge range of activities, from desert-themed scavenger hunts to Native American children's games, lawn bowling and hula-hoop contests. The Camp also has an indoor center-complete with mini-kitchen, computers, craft area, TV and mini-tree house-and an impressive variety of indoor activity options, such as Western Sand Art, native beading or Aztec masks.
Kids are divided into two main age groups-3 to 5 and 6 to 12. Rates work out to $10 an hour, which can include a meal (ordered off the restaurants' kids' menu) if your child is at camp during lunch time. Camp Hyatt caps attendance at 24 children a day, and while the resort's spokesperson says they rarely reach that number, it's a good idea to book your child's spot as soon as you can (even a few weeks before your arrival, if you're coming over a holiday). Note that if you cancel within 24 hours of your reserved time, you'll be charged 50 percent.
Even given their timing (a holiday weekend in the middle of peak winter season), the Tynes had no problem booking on-the-spot for their children. They felt the Camp was a good value. ("It's worth it if you are taking some couple time, going to the spa, or playing golf. If you go to the spa, the camp is just across the way.")
The Tyne kids spent one day at Camp Hyatt during the weekend visit, and liked it. Their day included crafts-painting a wooden yoyo or gecko, creating butterflies from cardboard and velvet-but the highlight for them was exploring the outdoors. ("They liked feeding the ducks and ordering their own food. And they learned a little about the Native Americans and animals in the desert.")
Tyne felt the counselors were very good. ("Extremely nice and attentive to the girls-they really made you feel comfortable leaving the children in a new place. We saw them later by the pool and they were just as friendly, engaging again with the girls.") During the Tynes' stay, the program averaged about five grade-school-aged kids enrolled daily. The resort spokesperson says that the typical ratio is 4 or 5 kids per counselor.
For the under-3 set, the Hyatt Regency Scottsdale doesn't offer a lot. There is a tot-friendly playground near the pool area, but childcare is limited to a list of local nanny services you can call to book for babysitting. Teens, too, don't receive much age-specific structure, though the pools alone would probably please many teenagers. The spa does allow guests as young as 17, and the golf course offers a $25 greens fee for junior golfers (aged 15 or younger) when playing with an adult. Greens fees for adults fluctuate significantly, from about $70 to $198, depending on the season and whether you play on a weekday or weekend.
The vast majority of activities at the resort are either free or covered by the resort's $15-a-day resort fee (tennis, bike rentals, the shopping shuttle bus). If you want bigger (but not free) activities off-site, the concierge can help set up all sorts of excursions, including desert Jeep rides ($95/adult, $65/child), horseback riding ($80/person) and hot-air balloon rides ($195/adult, $160/child).
During holiday periods, the Hyatt Regency Scottsdale also offers a Family Camp option, though it may be more of a perk for younger kids. Everyone in the family can do (almost always complimentary) activities such as taking flora-and-fauna tours, creating cactus gardens, watching a puppet show about endangered species, or joining around a campfire for singing.
One of the best family activities is available year-round: Taking an evening gondola ride on the resort's seven-acre lake, cruising along the hotel's shoreline, the golf course or private homes. ("The boat driver sings to you in Italian once you are out on the water. It was wonderful.") Each boat fits 4 to 6 people, and the ride is free if you eat at the resort restaurant Alto and ask for a pass. Otherwise, the ride costs $10 for adults and teens, $5 for kids 4-12, and free for children 3 and under.
Grown-ups with down time can often snag an impromptu tee time for one of the three 9-hole golf courses and for treatments at the spa. The spa embraces a wellness philosophy and even fine-tunes its treatments and amenities based on the time of day: The morning means energizing peppermint oils, as well as orange slices in the drinking water, for boosting energy; afternoon is about balance (mint leaves, ginger) and the evening promotes relaxation with cucumber, honeydew and lavender. Treatments start at $80, with 60-minute treatments typically costing $165.
During holiday periods, adults can also take advantage of the Four Worlds Program-most often free-in which you can learn about Southwestern cooking or basket making, or even do a guided tequila tasting.
Afterward, the whole family can reconvene at the pool-or make that pools. The Water Playground covers two and a half acres, accented with grassy areas and cement pillars. ("The pools almost seem to flow into each other. The look and feel was that of Frank Lloyd Wright meets the Greeks.") There are 10 pools, including one for adults only, one with a three-story water slide, one for water volleyball, another for laps, and one with a sandy bottom and small beach. There's one hot tub in the main pool area, which kids can use only with an adult, so there are no worries about the middle-school crowd hogging the scene. None of the pools go deeper than four feet, except for the one with the water slide, which goes to 8 feet and has a lifeguard keeping watch there. ("With the separate pools it felt very safe for the wee little ones.")
The best pool for little kids would be the main, sand-bottomed pool, which has a zero-depth entry. The sand on the beach is great for digging and castle building and there is a playground nearby, as well as a station where you can buy food to feed the fish and birds (25 cents for a heaping handful). ("It's fun to watch the big fish come up for the food. Kids love it.") You can also rent inflatable rafts for $20 a day or $5 an hour. The main pool is usually maintained at a balmy 82 degrees, though it was downright chilly when the Tynes visited; the heater was down and the replacement was caught in a storm.
One especially nice thing about the variety of pools is that its helps separate the loud splashers from people who just want to relax in peace. ("Though there were several families in the pool area, you could always find a quiet spot to read a book overlooking the lake.")
Where to Eat: There are two main restaurants, both of which opened in fall of 2007. SWB (as in, Southwest Bistro) is the more casual of the two, with an open kitchen, some terrace seating, and fire pits on the patio. You can either sit inside and watch your steak be prepared, or out by the fire to take in the mountain scenery. A "wood-fired" motif runs through the menu, too, which features grilled salmon, seared chili shrimp, steaks and tempting homey sides such as cheese grits. The kids' menu has the usual hot dogs, chicken tenders, and mac 'n' cheese. For the four of them, the Tynes typically spent about $60 for lunch and $120 for dinner, and tipping was up to their discretion. ("I felt the meals cost just as much as if you were to go out to eat in your home town.") The Tynes' favorite part of SWB was the level of service. ("We were treated very well. They addressed us and other guests by name. When you approached the restaurant, the host would greet the children in the same way they'd greet the adults.")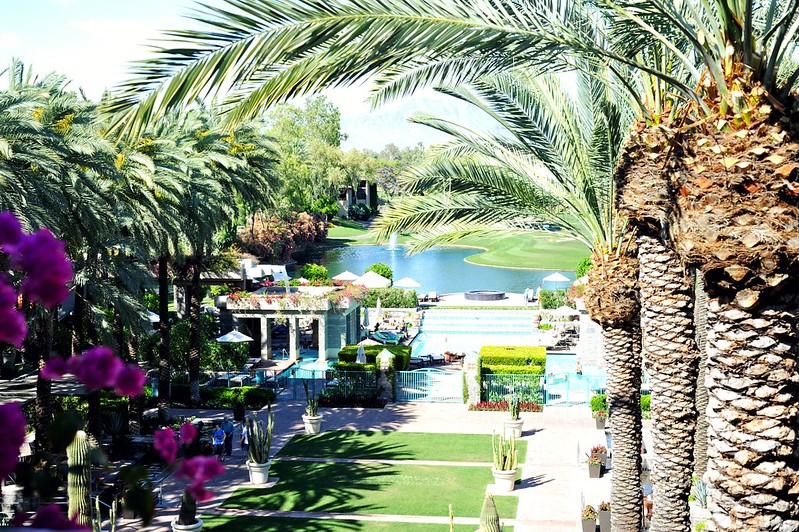 The second restaurant, Alto, is a little more formal, and has an Italian bent-say, buffalo-mozzarella ravioli, a pesto rib eye or prosciutto-wrapped veal-even boasting a wide selection of artisan meats and cheeses. Though you'd be hard pressed to find many kids who get fired up about artisanal cheeses, Alto still has a family-friendly atmosphere. The waiters sing operatic arias as they work (and take requests), which can be fun for some kids. The Tynes didn't get to experience this firsthand, though: Perhaps because their visit was over a holiday weekend, Alto was booked both nights they were there.
For really casual dining in the pool area, the Water Garden serves sandwiches, salads, burgers and paninis.
The best value for the Tynes, ironically, came as a result of their upgrade to the Regency Club, a concierge level on the third floor, which normally adds about $60 to your nightly rate. You can use the dedicated concierge there, rather than the main one in the lobby, for booking restaurants or activities. Its lounge area has a TV, computer, free wi-fi and, in the morning, a free continental breakfast of fruit, pastries, even bagels and lox ("More of a continental breakfast, but still a great spread. I thought it was great that we didn't have to all go down and pay for breakfast.") During the afternoon you can get free chips or candy bars and, come evening, hors d'oeuvres and an honor bar. The happy-hour phase is only for adults, and the Tynes saw that being enforced. ("We all walked in one evening and they said, 'No, it's just for adults, but you can make a plate and take it back to your room.' I thought it was good that they keep the kids out when they have the honor bar.")
Nightlife: After sundown, the activity centers in the area surrounding the Lobby Bar, where there is a nightly entertainment of, say, flamenco guitar, Brazilian jazz or marimba. When the Tynes were there, they saw Native American dancers (a Friday night regular), and felt the atmosphere was fine for their grade-school-aged girls.
You can swim in the pool at night-and it's tempting, with the dramatic lighting, as long your kids are good swimmers. ("It looks beautiful all lit up.") Once a week during spring breaks, and on Saturday nights during the summer, the pool has a family-friendly "dive-in" movie projected on a wall by the pool. Any time of year, you can also do the gondola rides, or just buy a s'mores kit for about $10 from SWB and make your own dessert at the big campfire or over one of the fire pits.
When grown-ups want an evening to themselves, Camp Hyatt runs in the evening from 5 to 9 p.m., though only on Fridays and Saturdays. It costs a little more than the day camp-$50 for 4 hours ($12.50 an hour)-but includes dinner and features a kid-friendly movie such as "Underdog."
Where to Stay: Given the main building's double-H design and four-story height, you have a great chance of having a good view, whether it's of gardens, a pond or mountains. There are standard rooms (spacious at 400 square feet) and "casita suites" in the main hotel, and also eight casitas (small cottages) by the lake. Rooms are priced by size and view.
The Tynes stayed in a 1,000-square-foot, two-bedroom casita suite, which they found to be spacious and comfortable. Best of all, they had an excellent-and downright interactive-view. ("Our room had a wonderful view overlooking the lake and we had several herons or Canadian geese perched up on the rail. We were able to feed them and the fish right off our patio.") Their suite was comprised of a regular hotel room, with two queen beds, adjoining a one-bedroom suite, which had a king bed. The living room had a wet bar (with mini-fridge), fireplace and a Southwestern motif, in rich earth tones, accented by terra-cotta pots on ledges just below the ceiling. Inside the two marble-clad bathrooms, plush robes hung for guests' use. There was also a roof deck, with kid-safe stair access, and a large, wrap-around patio with a grill and heat lamp. ("That was nice, but I did think it odd, since there wasn't a full kitchen.")
There is cable TV (including Disney), and DVD players are available to rent for $20. You may not need to, though-you can buy in-room movies for $14, and the selection often includes some first-run movies (the Tynes saw Juno right before the Oscars in February).
For the best views, ask for rooms facing north or south; rooms facing west have the least colorful views (read: no mountains). The Tynes were in 5208 and 5207. ("Perfectly situated on the water. You can watch the boats go by at night with their small candle-like lights.")
Price Tag: Overall, the Tynes felt they got good value because they enjoyed their stay so much. While dining can seriously inflate your vacation bill, the Tynes found that the combination of the moderately-priced restaurants and the free breakfast at the Regency Club kept those costs down to earth. That said, the Tynes also recognized that they were visiting at a peak time-winter, when prices can skew higher.
Indeed, rates can vary substantially, even within the same season, so search using a few possible dates. For instance, during winter or spring, rates fluctuate between $289 and $419 a night for a regular room, and can climb as high as $539 for a preferred view. If you don't mind some dry heat while you sit by the pool, consider visiting in the summer, when room rates start as low as $175, or $205 for a preferred view. (Golf greens fees tumble during the summer months, too.) Better yet, from June 1 through Sept. 7, the "Summer Value" package starts at $199 a night and includes a $50 daily credit that can be used in the restaurants, spa or Camp Hyatt.
Remember, also, that rates do not include the flat $15-a-night resort fee. We are not a fan of these hidden fees, though this one is not nearly as steep as we've seen at some other upscale resorts.
Insider Tips:
Pre-book your activities and, if desired, a table at Alto, on the hotel's eConcierge system, especially if you're coming during a holiday period.
Think about springing for a room on the Regency Club level (closed in summer), which includes breakfast, all-day snacks and evening cocktails.
Don't miss the boat ride with the family-and time it to follow your dinner at Alto, if you plan to eat there, so that you can ride for free.
Don't miss those evening s'mores.
Pack for dressing in layers, perhaps even including a jacket. Year round, the difference between early morning, midday and evening temperatures can be dramatic.