Advice from folks who've been there
By the MiniTime Community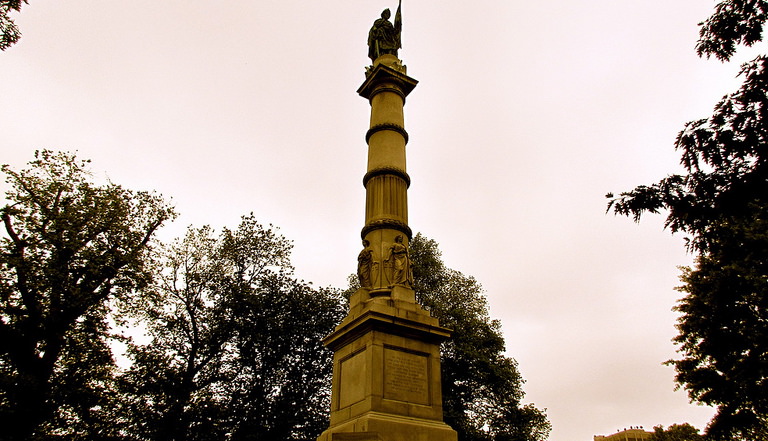 Monument in Boston Common (Flickr: jeffgunn)
Why Go: What's not to love? Boston has beauty, brains, and all the character you could hope to find in a city break. To start with, she's a looker, with her pastoral gardens, sailboat-filled harbor, and heady mix of pre-Revolutionary, colonial, industrial, and modern architecture. Sixty-some-odd colleges and universities lend a winning intellectualism to this city, bolstered by scores of interesting bookshops and a world-class array of museums, musical events, art galleries, and cultural pursuits. Then there's the passionate side of Boston. This town positively breathes history, proudly wearing her Revolutionary heart on her sleeve. Remarkably, Boston has grown only three-fold since the 17th-century, and much of the city still follows a 400-year-old street pattern based on former cow paths. Parts of Old Boston remain a cobblestoned labyrinth of alleys, one-ways, dead ends, and streets that change name without notice. Sigh. All part of the ol' girl's charm.
The only thing more admirable than a city that revels in the past is one that thinks forward to the future. This city has a distinguished record for breaking new civic ground—the first subway system, the first public library, the first public park, the first city to require that its children attend school. We can hardly wait to see what's coming next.
(MORE: Find more kid-friendly city destinations.)
Sleep
Best hotel:
The Westin Copley Place (10 Huntington Ave.; 262-9600 or 800/937-8461.)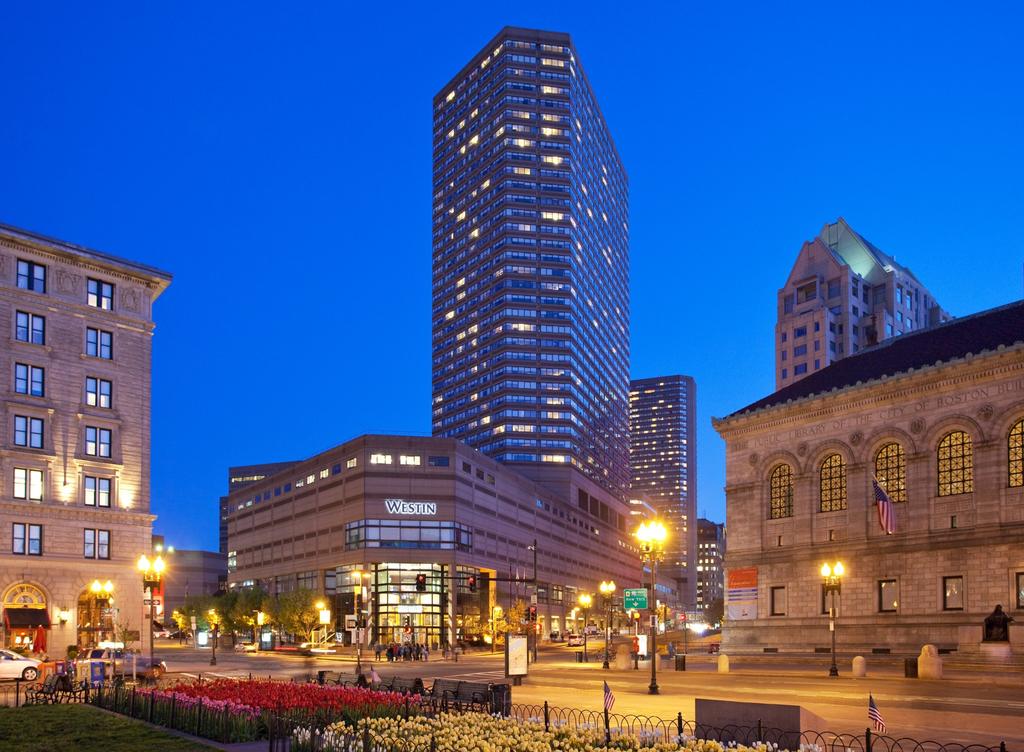 This swish Back Bay hotel makes kids families feel welcome with kids' gift packs, a nice indoor pool, and a top-notch concierge. Traveling with a baby or toddler? Many travel essentials—from cribs to strollers to bottle warmers to extra diapers—are provided free.
Boston Marriott Long Wharf (296 State St.; 227-0800 or 888/236-2427.)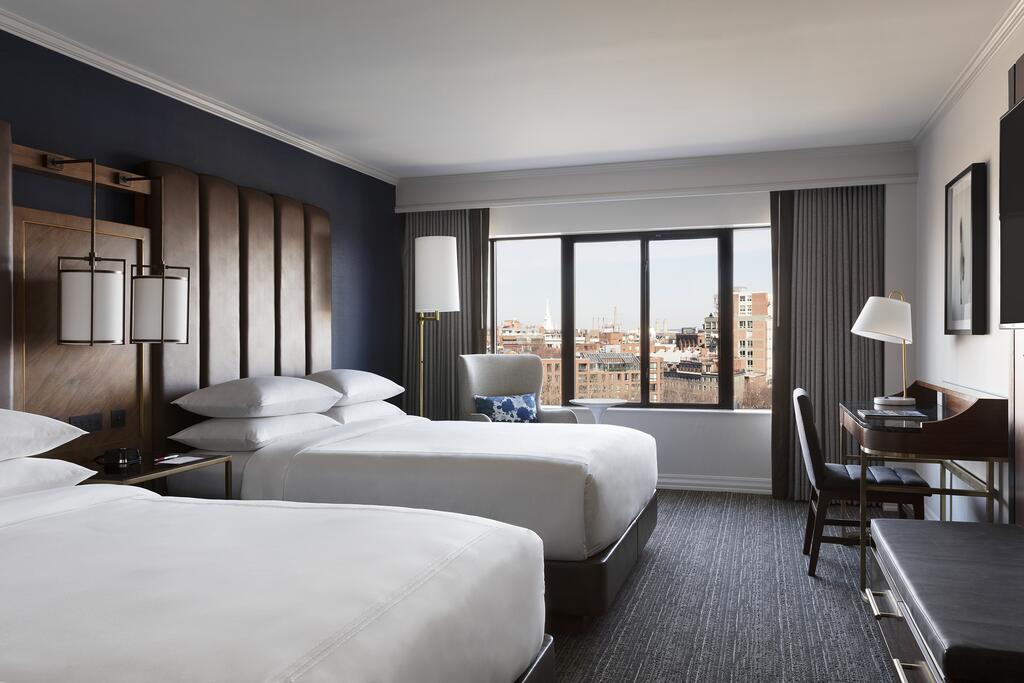 It's got a killer address, right next to the New England Aquarium and just a few blocks from Quincy Market, and a beautiful indoor pool overlooking the harbor. Ask about family packages which let kids eat free.
Sheraton Boston Hotel (39 Dalton St.; 236-2000 or 800/325-3535.)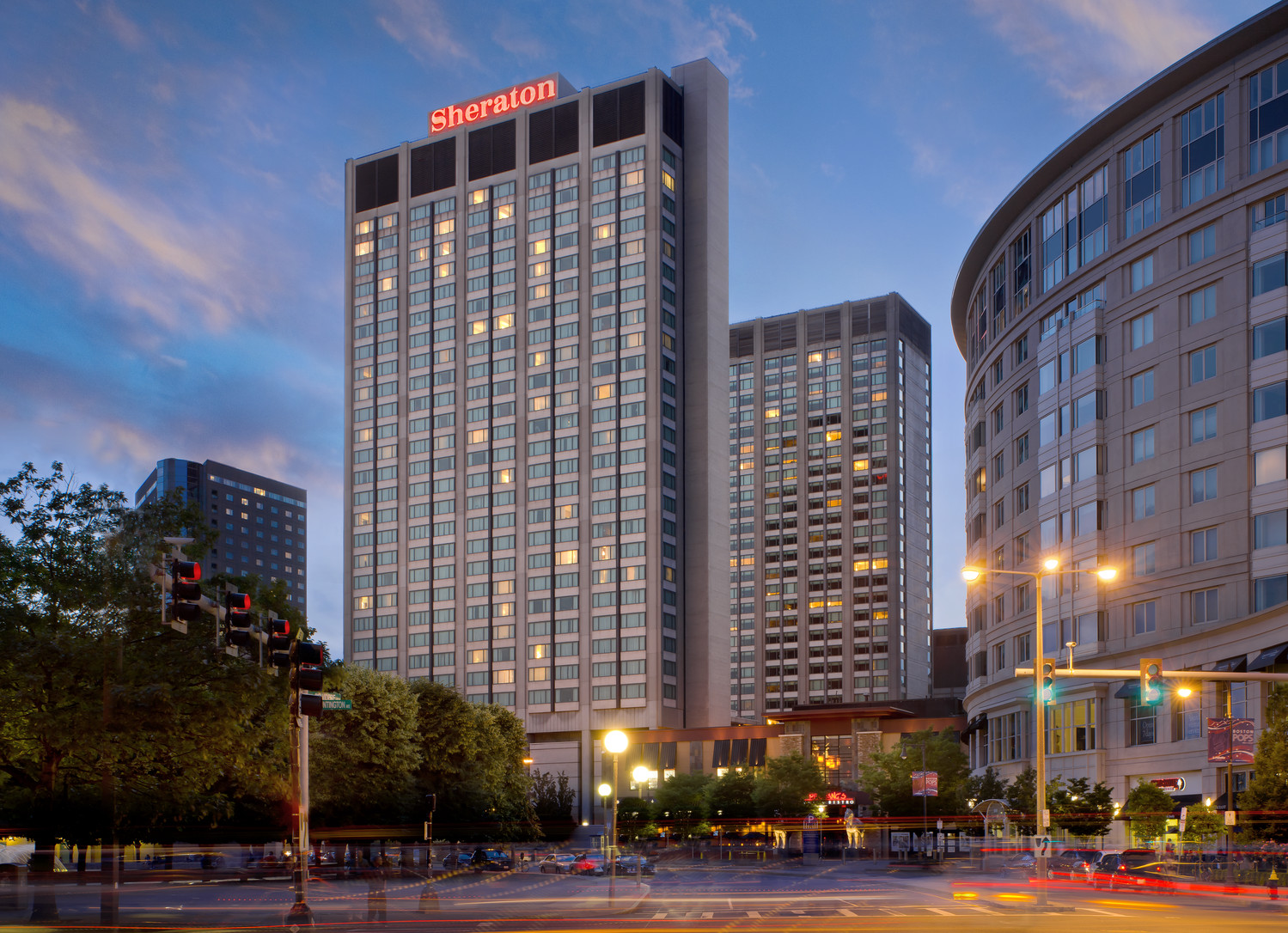 This hotel has a great Back Bay location and is connected to the Prudential Center and its 200 shops. But the clincher is the "supercool indoor-outdoor pool with a retractable roof."
Hilton Boston Back Bay (40 Dalton St.; 236-1100.)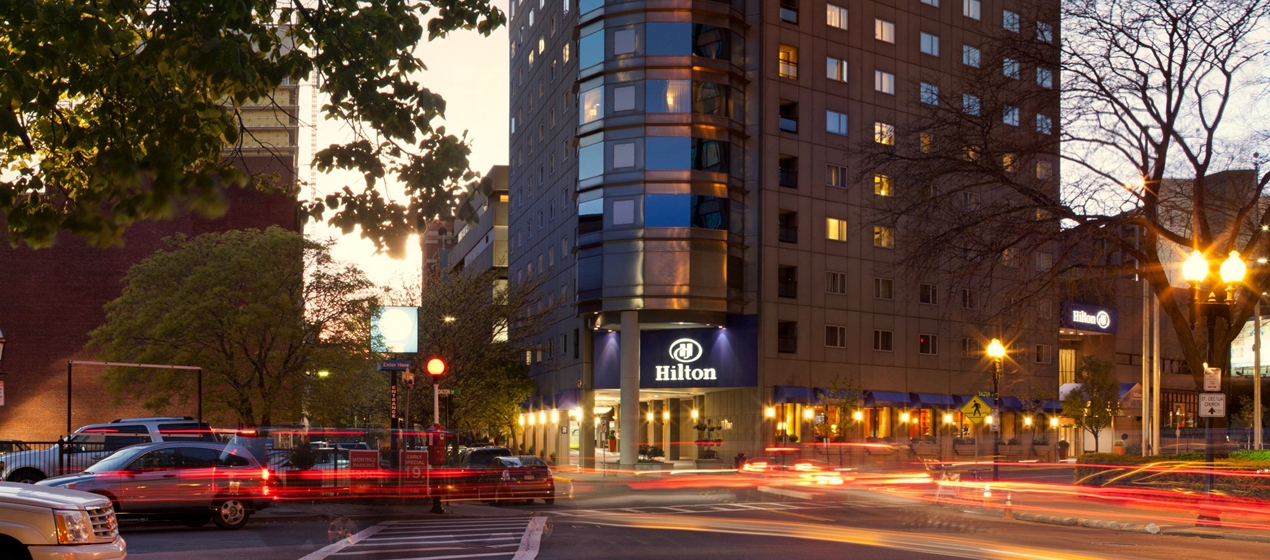 Yet another place with a convenient Back Bay location, near the Prudential Center. "The skylit indoor pool is a hit with kids after sightseeing." Ask for a room on one of the top floors with "an incredible, far-reaching view" over the Charles River.
Hotel Tria (220 Alewife Brook Pkwy., Cambridge; 491-8000.)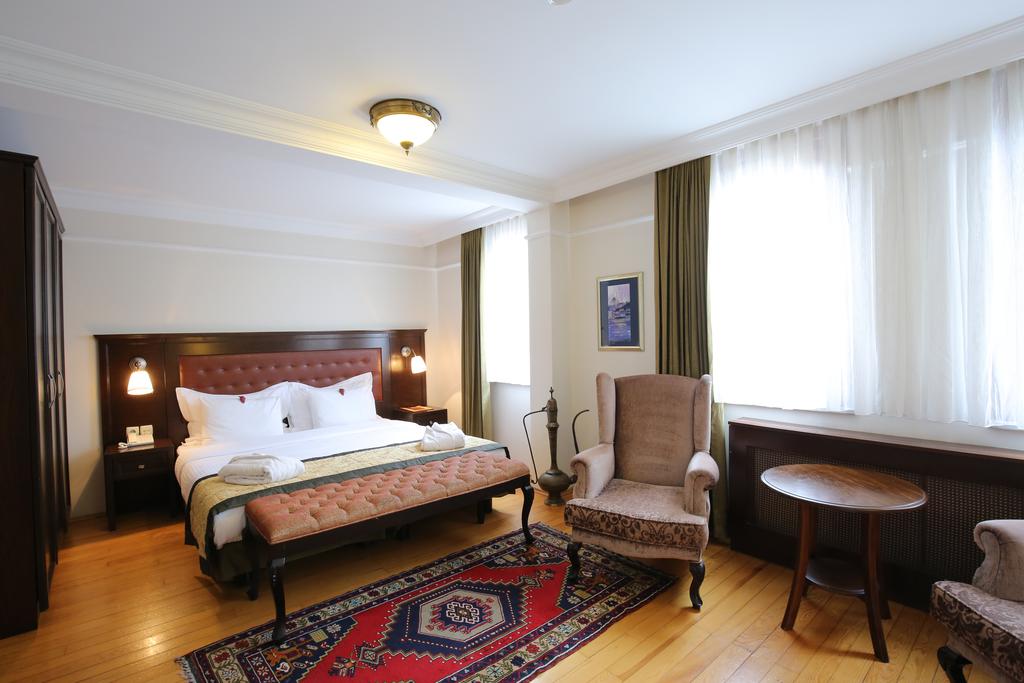 "This Best Western property was recently renovated, is reasonably priced for families, has good parking and a free shuttle into Harvard Square."
Get Your Bearings
If you're going to be doing a lot of sightseeing, consider buying the Boston CityPass. It lumps the admission fees of six major attractions (including the New England Aquarium, Museum of Science, and Skywalk Observatory) into one price ($44/adult, $24/child 3-11). Another key perk: You can jump to the front of all the lines, which is so handy during the peak tourist season. To figure out whether the CityPass makes sense for you, do the math. It's a bargain if you were planning on visiting at least three of the six sites that are included.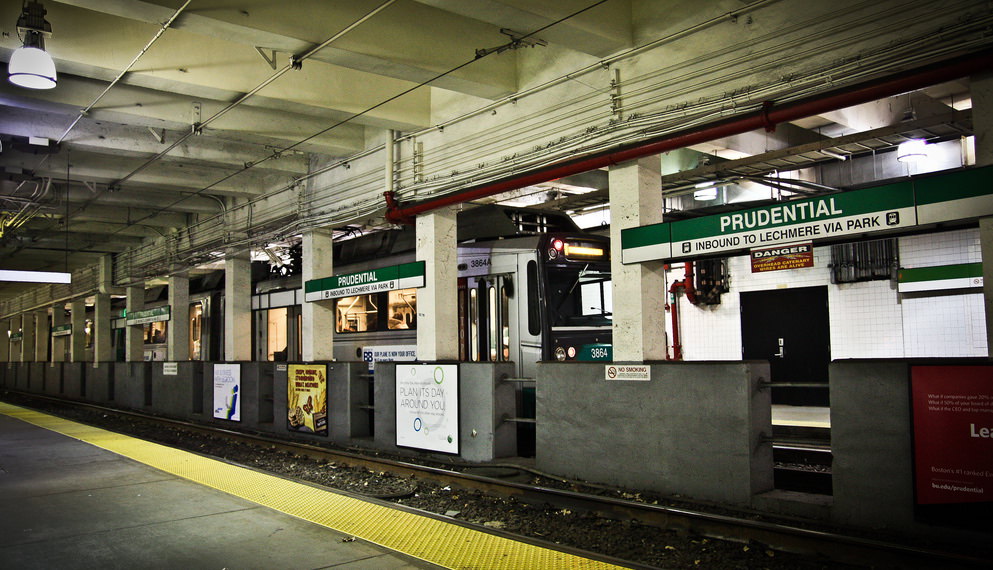 Subway in Boston (Flickr: Alun K. Wu)
Most fun way to get around:
On foot. Beantown bills itself as "America's Walking City," and by far the easiest and most pleasurable way to get around is on foot. Think about parking fees (good luck even finding a free spot to park), gridlock, those famously derring-do Boston drivers, and the confusing street layout. Yep, you're better off without a car. Wear comfortable shoes.
Trolley. Several companies operate old-fashioned trolleys with narrated hop-on, hop-off services to all the major sightseeing areas of Boston. The best one for families is CityView Trolley Tours (363-7899; One-day ticket: $29/adult), since it uniquely allows kids under 12 to travel for free when tickets are booked online (2 free kids' tickets per paying adult). "You can see everything in one day. There are stops all over the city."
MBTA Inner Harbor Ferry (Long Wharf, near the New England Aquarium; 227-4321; $1.70/person.) The ferry that connects the busy aquarium area with the Charlestown Navy Yard is "an insider's way to see the inner harbor," not to mention "the best way to get to and from the USS Constitution and the Bunker Hill Monument." And you definitely can't beat that price.
Subway. Get around like locals do on the "T". Before your trip, print out this handy subway map. "Take the T from Boston to Cambridge. You get a great view of the skyline and sailboats on the Charles River."
Best local tour:
Boston Duck Tours (267-DUCK or 800/226-7442; tickets $29/adults, $19/kids 3 to 11, $5/kids under 3; plus 10% driver gratuity.) Offered April through November, duck tours are "touristy, but even the locals do it once in a while," though "this is definitely one of the pricier ways to see Boston." Starting at the Prudential Center or at the Museum of Science, you board a reconditioned World War II amphibious landing craft for an 80-minute narrated tour that hits the major sites around the city before heading down a ramp and splashing into the Charles River. You can buy tickets online or in person at the Prudential Center, the Museum of Science, or Faneuil Hall. Tours run from 9am to sunset, and usually sell out. (Tip: Buy tickets online before your trip, or arrive first thing in the morning for same-day tickets.) "All in all, a great way to see the city. And the kids will love it!"
Boston By Little Feet Tour (Begins at Faneuil Hall; 367-2345; $8/person) is an hour-long guided walking tour along The Freedom Trail with commentary specifically aimed at kids 6 to 12. "The guide was fantastic and really made the sites alive for my kids in a way that I could never have done. And they loved their free explorers' maps!" Tours run May-October, on weekends.
"Birth of a Nation" Harbor Tours (Rowes Wharf; 542-8000; $17.50/adult, $13.50/children.) Get on board an old-fashioned steamship for this "highly enjoyable" 45-minute tour, which focuses on the role Boston Harbor played in our nation's history. There are accounts of the Boston Tea Party, Paul Revere's ride, the Boston Massacre, and key naval battles. "Partway through the cruise, the ship docks at the Charlestown Navy Yard."
The Hahvahd Tour (Harvard Square, Cambridge; 674-7788; $10/person.) Across the river in Cambridge, "Harvard students give a light-hearted, fun, unofficial tour of the university's campus." The company also offers walking tours of Boston's Freedom Trail.
Best view:
Skywalk Observatory (50th floor of Prudential Center, 800 Boylston St.; 859-0648; open daily winter 10am-8pm, summer 10am-9:30pm; admission $11/adults, $7.50/kids under 12.) Boston's highest point offers a 360-degree view of Greater Boston and beyond. There's also an audio tour to point out the many historical places of interest. "A breathtaking view of the city!"
Zephyr On The Charles Restaurant (Hyatt Regency Hotel Cambridge; 575 Memorial Drive, Cambridge; 441-6510). "If you want a meal for the kids to remember, come here." Sure, the food is good (and there's a kids' menu), but the real attraction is the view. Enormous picture windows make for a stupendous vision of the city, as seen from Cambridge. "The whole restaurant spins to take in a view of the Charles River and all of Boston."
Longfellow Bridge (off Charles St., West End.) Known locally as the "Salt and Pepper Shaker Bridge," the structure spans the Charles River and links Boston to Cambridge. "Go at twilight on a clear evening, and you'll swear you see the moon shine right out of the Hancock Tower. Awesome!"
Soak Up the Local Scene
Best peoplewatching:
Faneuil Hall Marketplace, a.k.a. Quincy Market (Between North, Congress, and State sts. and Atlantic Ave.; 523-1300.) This huge, five-building complex comprises an enormous food court, with hundreds of restaurants, bars, and shops of all kinds. The scene is vibrant, drawing street performers and crowds from all over the world, which makes it "ground zero for peoplewatching, no question." Its convenient location near the harbor means that you can end your visit with a stroll along the water. (Note: The original Faneuil Hall building dates from 1742 and was a center for free speech leading up to the Revolution. National Park rangers give free 20-minute speeches every half-hour from 9:30am to 4:30pm in the second-floor auditorium.)
Harvard Square (Massachusetts Ave. and John F Kennedy St., Cambridge) "There are always musicians, jugglers and street performers throughout the summer and fall." From Boston, take the T red line to the Harvard stop.
Best weekend family hangout:
Central Wharf, on the piers near the New England Aquarium. "There is always lots to see—seals, boats, souvenir vendors, performers—right on the harbor."
Best sightseeing attraction:
The Freedom Trail (Begin at The Boston Common; 357-8300) A red stripe painted on the ground leads you to all the main landmarks of the Revolution for "a fantastic cram history course for the whole family." The 2.5-mile route is "too far for small kids to walk, so bring a stroller and take in some history." There are 16 stops along the way (only three charge admission), beginning with Boston Common and taking in the Granary Burying Ground, Old Corner Bookstore, Old South Meeting House, Paul Revere House and the Old North Church (of "One if by land, two if by sea" fame) before tackling the USS Constitution and Bunker Hill Monument.
Fenway Park. What? Not a Red Sox fan? Uh, Buddy, you might want to keep that information to yourself. Nothing will unveil more about the Boston psyche than attending a Sox game or taking a behind-the-scenes tour of America's most beloved ballpark. "Bostonians think of Fenway as a holy shrine."
Let the Fun Shine In
Best park:
The Public Garden, Back Bay (Bordered by Arlington, Boylston, Charles, and Beacon streets.) This botanical garden is magnificent, "especially in the spring and summer when everything is abloom." Since 1877, a ride on one of the people-powered paddle boats known as the Swan Boats has been "a summertime tradition for Bostonians and out-of-towners alike." (At the lagoon. Tickets: $2.75/adults, $1.50/kids 2 to 15). Each boat has five benches, carrying a maximum of 20 passengers. A guide takes you for a 15-minute tour of the lagoon, passing under a tiny suspension bridge, and back again.
The Boston Common, Beacon Hill (Bordered by Charles, Boylston, Tremont, Park, and Beacon streets.) It's not just the oldest public park in America, but "one of the best." In the summertime, the Common pales slightly in comparison to the flower power of the smaller Public Garden, located just across Charles Street. Yet the Common is the park of the people—much bigger, and offering more variety and wide-open space for running around. In the winter, the Frog Pond gets transformed into "the most glamorous ice-skating rink" in the city.
Best picnic spot:
Charles River Esplanade, Back Bay. "Choose a grassy spot and watch the scullers go by."
Long Wharf, on the harbor. Pick up provisions at Faneuil Hall, then head here to "watch ocean liners, sailboats, gulls, and even the occasional seal."
Best playground:
Charlesbank Playground, a.k.a. Esplanade Playground (Charles St. at Longfellow Bridge, West End) is "a magnet for families with kids." Safely fenced in and covered with bark mulch, this play area is beautifully situated on the banks of the Charles River, with swings, climbing structures, a long play tunnel, and lots of open space for running. "In the summer, there's a snack bar that sells Popsicles." (Tip: Combine playtime with a trip to the nearby Museum of Science. You can see the back of the museum from the playground.)
Christopher Columbus Park (Atlantic Ave., Commercial Wharf, behind Marriott Long Wharf Hotel) is a North End favorite that makes a good stop before or after visiting Faneuil Hall. There's a very large climbing structure with ladders and slides, but not a swing in sight. Parents will enjoy "a wonderful view of Boston Harbor." (Tip: go early morning or late in the afternoon to avoid crowds.)
Walk on the Wild Side
Best animal experience:
New England Aquarium (Central Wharf; 973-5200; $19.95/adult, $11.95/child 3-11. Separate admission to Simons IMAX Theatre: $10/adult, $8/child 3-11. Discounted aquarium/IMAX combo ticket: $24.95/adult, $16.95/child 3-11.) This fantastic aquarium is home to over 15,000 species of marine life, including crowd-pleasing penguins and seals. Other kid magnets include the huge jellyfish tank and the Giant Ocean Tank, a four-story, 200,000-gallon glass pool filled with sharks and an endless variety of fish. "Every kids should see it," but "go first thing in the morning to avoid crowds, especially on weekends." The 85-foot by 65-foot IMAX screen shows "3-D films about the ocean and nature" that are "truly impressive but leave you feeling wiped out."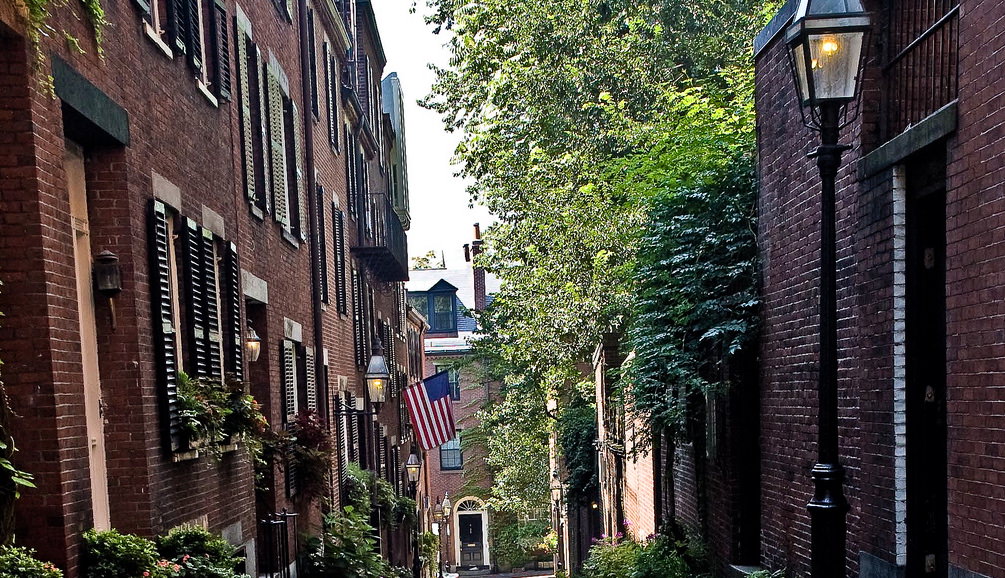 Alley in Beacon Hill (Flickr: Wolfrage)
Feed your Culture Vulture
Best museum for kids:
Boston Children's Museum (300 Congress St., Museum Wharf; 426-8855; $10/adult, $8/children 2-15, $2/1-year-olds, free for infants.) This "amazingly fun, interactive, and engaging museum" has "plenty for kids and adults alike," though the target age group is kids 11 and under. There's a special play area for little ones under 4, and plenty of well-conceived, hands-on exhibits for school-age kids: Buildings to construct, science experiments to perform, boats to float, puzzles to solve, a two-story maze to navigate, and costumes to dress up with. Plus, "there always seems to be some fun kid's character dropping by for a visit." Tip: On Friday evenings from 5pm to 9pm, the admission price is $1 for everyone.
Museum of Science (Science Park, off O'Brien Hwy., on bridge between Boston and Cambridge; 723-2500; $17/adult, $14/children 3-11, free for kids under 3. Separate admission to IMAX Mugar Omni Theater or Charles Hayden Planetarium: $9/adult, $7/children 3-11, free for kids under 3.) It's "impossible to visit without learning something," since the exhibits are executed with such fun that kids "don't even realize that they're doing science." Most exhibits are hands-on. You can find out how much you would weigh on the moon, use a computer to figure out ways to unblock traffic jams, and tackle mind-bending scenarios that trick the eye. The laws of physics are demonstrated with everyday items like skateboards and playground equipment. "Definitely plan to see a show in one of the two IMAX theaters—either the Mugar Omni Theater or the planetarium— since "they are both intense, wow experiences."
Harvard Museum of Natural History (26 Oxford St., Cambridge; 495-2341; $9/adult, $6/child 3-18, free for kids under 3.) "We love this museum, which contains more than 500 animals, dinosaurs, 3,000 rare minerals and meteorites, great exhibits such as 'Language of Color' with live poison dart frogs. See the renovated Great Mammal Hall with three huge whale skeletons and a 15-foot stuffed giraffe."
Paul Revere House (19 North Sq.; 523-2338; $3/adult, $1/child.) Listen, my children, and you shall hear of the midnight ride of Paul Revere. While Longfellow immortalized Paul Revere's exploits in his famous poem, this two-and-a-half-story house makes his story more tangible. Revere, a successful silversmith in his day, lived here with his 16 children. The many period artifacts, including some of his silver pieces, give visitors a good feel for the risk Revere took. "Even if you don't have time for the whole Freedom Trail, this is one site you should definitely see."
Mapparium (Mary Baker Eddy Library for the Betterment of Humanity, 200 Massachusetts Ave.; 450-7000; $6/adult, $4/child 6-17, free for kids under 6; closed Mon.) "This is the coolest thing ever." This three-story stained-glass globe was created in 1935 "and so the countries are quite different than they are today, particularly in Africa." The Mapparium measures 30 feet across, but the kicker is that you don't just look at it; you walk inside of it—right across a narrow bridge that represents the Equator, so that you are literally surrounded by the world. "It's fun for kids because if you whisper in one corner, you can hear it in another corner." The library is located next to the Christian Science Plaza, where "there is a great fountain that kids can run through in warm weather."
(MORE: Find more kid-friendly museum destinations.)
Best for live performances:
Boston Children's Theatre (Performances at The Grand Lodge of Masons, 186 Tremont St.; 424-6634; Tickets: $12-$18.) Going strong for more than 55 years, this theater company produces amazingly professional live theater "for kids, by kids."
Passim Folk Music & Cultural Center (47 Palmer St., Cambridge; 492-7679; Tickets: $10-25/adult, $5-$20/child.) Joan Baez sang here in the 1960s "and there are often special kids' and family music events scheduled on weekends."
Eat
Best bakery:
Finagle a Bagel (Faneuil Hall Marketplace. Also 303 Congress St., 367-9720; across from the Children's Museum, and other locations.) Seventeen varieties of bagels, plus salads, bagel pizzas, and a huge array of bagel sandwiches. "Make sure you point out the bagel slicer to your kids."
Best atmosphere:
Durgin-Park (340 Faneuil Hall Marketplace, North Market building; 227-2038) In business since 1827, this noisy and very popular place "is an institution" in Boston, as much for the famously cranky waitresses as for the big portions of excellent New England comfort food. Think chowders, broiled fish, lobster, "incredible Baked beans," and huge prime ribs and luscious lamb chops. "A must if you're at Quincy Market. Have the strawberry shortcake for dessert."
Best brunch:
Brasserie JO (Colonnade Hotel, 120 Huntington Ave., Back Bay; 425-3240) Located in the Colonnade Hotel, just across from the Prudential Center, this stylish rendition of a French brasserie offers a "fabulous weekend brunch" on Saturday and Sunday from noon to 4pm. The extensive menu offers "a big step up from what you normally find at kid-friendly places." You'll find it hard to choose between the "delicious waffles, omelets, French toast, and awesome fries."
Best pizza:
Pizzeria Regina (11½ Thacher St., North End; 227-0765). "A classic," with red-and-white-checked tablecloths and huge oven could be mistaken for a movie set. Then you take one bite and discover that "this is the real deal." A legion of Bostonians swears by "the za," whose thin crust has a slightly smoky flavor.
Bertucci's (Faneuil Hall Marketplace, 227-7889; and 43 Stanhope St., Back Bay, 247-6161) is a chain with a kid-friendly vibe (coloring materials are handed out to little ones while they wait) and pizza that comes from a wood-burning oven. "Order a basket of the rolls made from pizza dough" and don't forget about the "excellent pasta, too."
Best burgers:
Brigham's (109 High St., near Faneuil Hall; 338-7315) This place is as Boston as they come, an old-style joint with terrific burgers, hot dogs, grilled cheese sandwiches, ice cream sodas, and other kid faves. Not meal time? Grab a booth and "kick back with ice cream or a chocolate frappe—a yummy milkshake made with ice cream."
Best hot dogs:
Fenway Park. "No contest. I could kill for one of their dogs right now."
Best seafood:
Legal Sea Foods (800 Boylston St., in the Prudential Center, Back Bay; 266-6800) and other locations. "Justifiably famous for excellent seafood cooked every way possible." Legal's might be "a one-trick pony, but in the best possible sense. It does that one thing better than anyone else." Prepare to enjoy "the freshest seafood you might ever have in your life."
Ye Olde Union Oyster House (41 Union St., 227-2750). Like history? Take a seat at America's oldest restaurant, in continuous service since 1826. Come any day of the week, and you'll find a happy crowd shucking and tucking into platefuls of oysters. Don't expect fancy-shmancy; the dishes are simple, the atmosphere is casual, and there's even a kids' menu. And let's be clear: "Locals eat here, too." Proof lies with the plaque at Booth No. 18, which designates where hometown hero JFK used to sit.
Best ice cream:
Herrell's (15 Dunster St., Cambridge; 497-2179.) Boston has spoken. This place consistently gets voted tops for ice cream in local polls. The big draw: "Smoosh-ins! You can mix M&Ms, marshmallows, nuts, chocolate bits—anything you like—into your ice cream." It's a good excuse to cross the river into Cambridge, and "well worth the trip."
J.P. Lick's (352 Newbury St., Back Bay; 236-1666) Decadent, creamy, rich, "nirvana-esque" ice cream that's "made the yummy, old-fashioned way." Take your pick of soft-serve or hand-dipped ice creams, frappes, frozen yogurts, fruit smoothies, or specialty coffees.
Shop
Best for kid fashion:
Red Wagon (69 Charles St., West End; 523-9402.) "Absolutely adorable duds for babies and kids," and a smart collection of quality wooden and interactive toys.
Best for toys:
Harvard Museum of Natural History (26 Oxford St., Cambridge; 495-2341.) "There are great toys, games, books, puppets, and plush animals in the museum shop."
Best for souvenirs:
Faneuil Hall Marketplace. The place to go for cheap and cheerful tee-shirts, jewelry, hats, and "funky crafts and mementos."