Things to do with kids in Freeport, Bahamas
By Holly Rosen Fink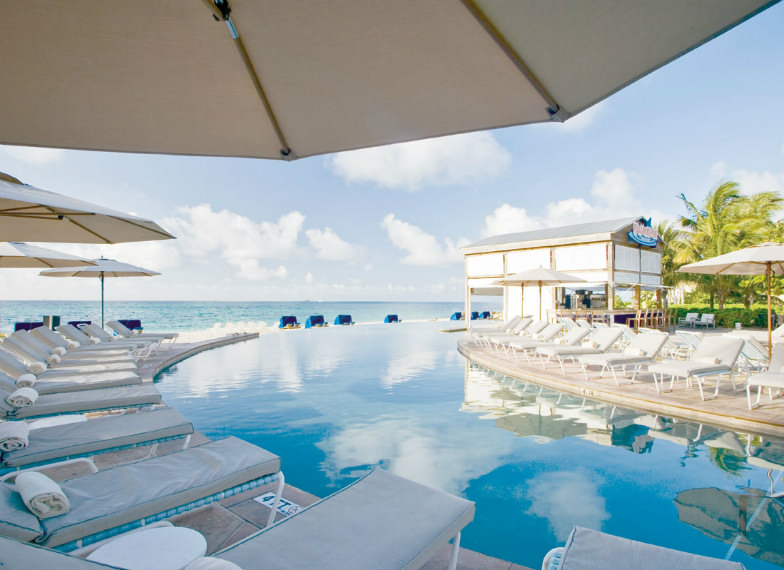 Lounge by the Pool at Grand Lucayan (Lounge by the Pool at Grand Lucayan)
If you're looking for a laid back weekend getaway with the family, you should consider Freeport in the Grand Bahama Island. Located less than 70 miles from the coast of Florida, this family-friendly island is 539 square miles in size and features long stretches of secluded beachfront, wildlife habitats, tropical gardens, charming neighborhoods and plenty of things to see and do. It's rarely crowded which makes it possible to have a variety of experiences that everyone will remember. From beautiful white sand beaches and fun filled activities to open-air markets and affordable culinary options, the island is an ideal destination for any traveling family.
There are also golf courses, casinos and reefs swimming with all forms of sea life, as well as swimming pools complete with water slides at most hotels that kids will love. If you're lucky, your hotel will also offer a kid's club staffed by lovely Bahamians or you'll find a quiet stretch at a beach to spend an afternoon creating sand castles and swimming in the clean, blue water.
Here's a short list of things we recommend on your next trip to the region with the kids in tow.
Where to Stay:
Set on 7.5 acres of lush beaches and land that boasts palm trees and other local foliage, the Grand Lucayan offers 740 guest rooms and suites. The renovated rooms are comfortable and breezy with ocean views. They're spacious with enough room for the kids to spread out and play. There is a variety of dining options on site from casual grill to Asian to Bahamian cuisine, each complete with Kid's Menus. They offer 24-hour room service, a nearby Kids Club (at Memories, a new hotel next door), a daily activities schedule, a life- sized chessboard, three pools, a hammock, a Jacuzzi and a swim-up bar. For parents with free time, they offer a full-service spa, a golf course, a tennis course and the nearby ample local shopping.
(MORE: Find more kid-friendly hotels in Freeport.)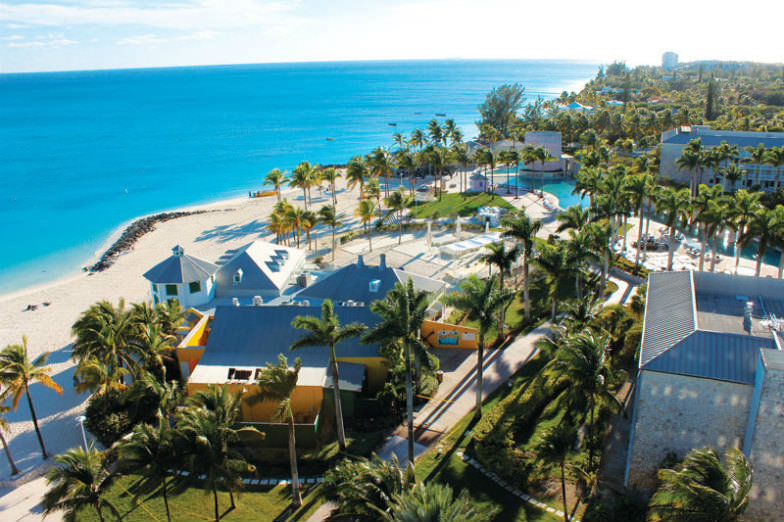 Memories Beach Grand Bahama Beach and Casino (Memories Beach Grand Bahama Beach and Casino)
The Memories Beach Grand Bahama Beach and Casino is another option, located right next door to the Grand Lucayan. It's an all-inclusive, beach front resort that opened up in January of this year. The hotel offers first-class amenities, gourmet dining, a list of daily activities and a kid's club (Grand Lucayan guests can have their children attend for a fee) with a water slide and big water playground for kids. There is also a supervised teen's club and a dedicated splash pool for kids. The hotel boasts 504 rooms with top quality sheets, towels and the ultimate in comfort. The hotel also offers theatrical programming for children, including a show that they put on for them at the end of the day. Your children won't want to leave.
Trip Itineraries
Whether it's your first time in the Bahamas, or you've been there before and looking for a more specific type of visit this time around, we have some fantastic suggested itineraries our family travel experts have created for you.
For your first visit in the Bahamas with the kids, top attractions are a must. See which ones travel expert Jordan Estrada recommends: 3 Days in the Bahamas for All Ages – Top Attractions.
Adventure lovers will be happy to know this family-friendly destination has a plethora of activities outdoors and expert Mimi Slawoff has some wonderful ideas on how you can spend your visit: 5 Days of Adventure in Nassau with Teens and Tweens.
What to See and Do:
Pristine Beaches:
The beaches at the Grand Lucayan and Memories offer white sands and crystal clear water. Kids can spend hours building sand castles, riding the waves and or you can choose an ocean activity, from snorkeling to sea kayaking.
You can also hit a nearby local beach – Taino Beach, Coral Beach, Silver Point Beach, East Point Beach or Gold Rock Beach, the most popular beach on the island. Gold Rock is secluded and especially good to visit during low tide. From the Grand Lucayan and Memories, it can be reached by tour bus or rental car and offers opportunities for picnic. North of the beach, across the road are the Lucayan Caverns, the world's longest underground surveyed cave system, another experience for the entire family.
Dolphin Experiences: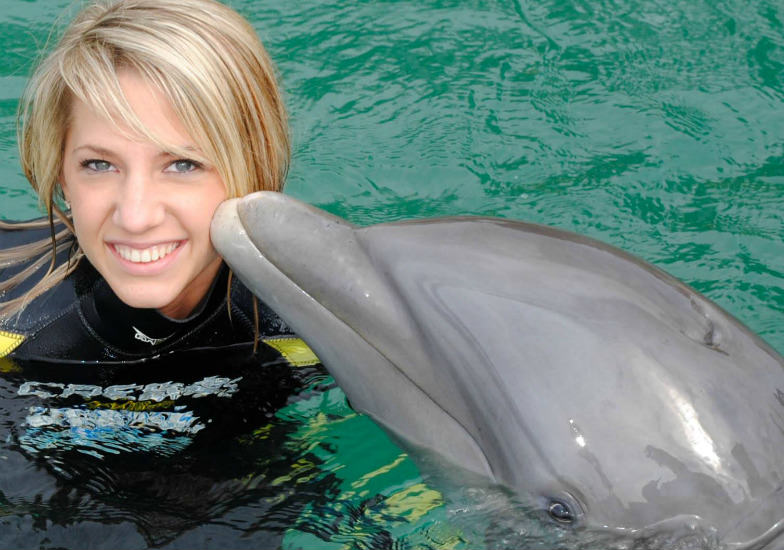 Get a Kiss from a Dolphin (Get a Kiss from a Dolphin )
Directly across the street from the Grand Lucayan is Unexso, the Underwater Explorers Society, which offers professionally led dolphin experiences. Children must be at least 55 inches tall to swim with the dolphins but younger kids can do the "Encounter" experience. The company takes tour goers by boat to a protected lagoon about 20 minutes away from the port to meet a group of Atlantic dolphins. There they demonstrate how the dolphins are fed, how to stroke their skin, have them swim around the group and get a kiss from the dolphins. They also do tricks that will dazzle the kids. For older kids and parents who choose to the swimming experience, they get to dive and move around the pool, playing with the well-trained dolphins. This is an experience you can't replicate anywhere else on the island.
Cycling Around the Island: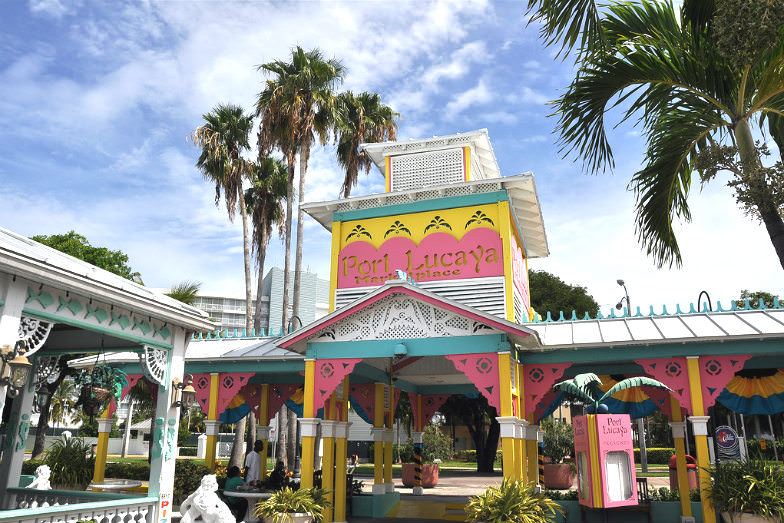 Port Lucaya Marketplace (Port Lucaya Marketplace (Flickr: Christopher Connell))
You can rent bicycles or scooters at the Port Lucaya Marketplace. Both are very affordable. You can take a bike for $10 for two hours. It's a wonderful way to experience local color, riding by their red leafed trees, Royal Poincianas, and natives. You can ride through local neighborhoods to see how suburban Bahamian life is and to local beaches for a swim and picnic.
Nature:
A relaxing stroll through the Garden of the Groves, the island's botanical garden is also highly recommended and will serve as a day of wander to your children. The gardens are an 11-acre botanical garden full of lush vegetation, waterfalls, ponds and fountains. Kids will enjoy running through the Labyrinth, learning about 10,000 species of plants, bird watching, playing in the playground or petting zoo or wandering through the hanging garden or banana plantation. It's also a great place to stop for lunch at the Garden is the Garden Café and Bar where you can eat healthy food in a peaceful setting.
(MORE: Want to experience more of this paradise? Look for other kid-friendly resorts in the Bahamas.)
Where to Shop and Eat:
Port Lucaya Marketplace is a waterfront shopping center directly across the street from the Grand Lucayan and Memories. It has over 80 boutiques, vendors and restaurants and is a good place to pick up gifts or local art (it's important to remember that sales tax is included in all your purchases). Located on the water, it's also good for kids to run around or you can take a boat ride from the pier. There is also a variety of restaurants from Greek to Bahamian to American to Chinese to Italian to Mexican and more, as well as a homemade ice-cream parlor. Don't leave the island without trying the local specialty, conch!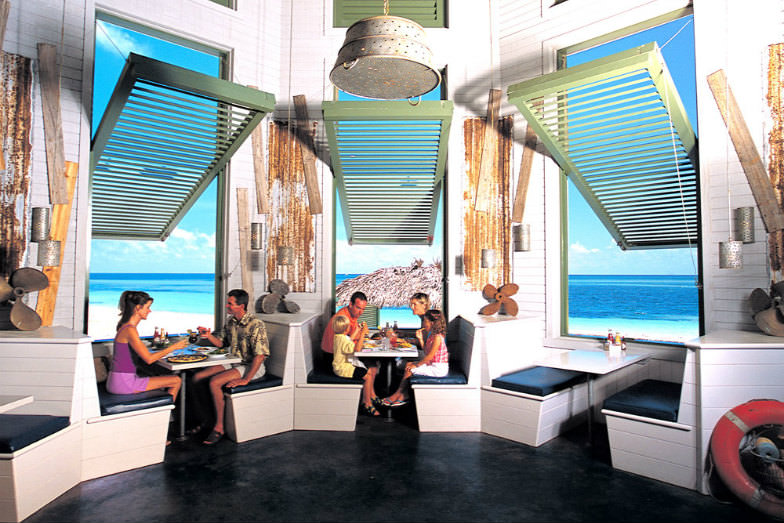 Dine with the Kids at Grand Lucayan (Dine with the Kids at Grand Lucayan)
After a long day out, it may be easier to dine in with the kids, in which case the Grand Lucayan and Memories have several casual options, from Iries (Caribbean food) to China Grill at the Grand Lucayan to the H Steak House, Japanese Teppanyaki & Sushi Bar Nagano and Beans Café and Scoops Ice Cream Bar.
Holly Rosen Fink of The Culture Tripper contributed this to www.MiniTime.com.