A kid-friendly guide to Los Angeles, from our LA-local family travel expert.
By Mimi Slawoff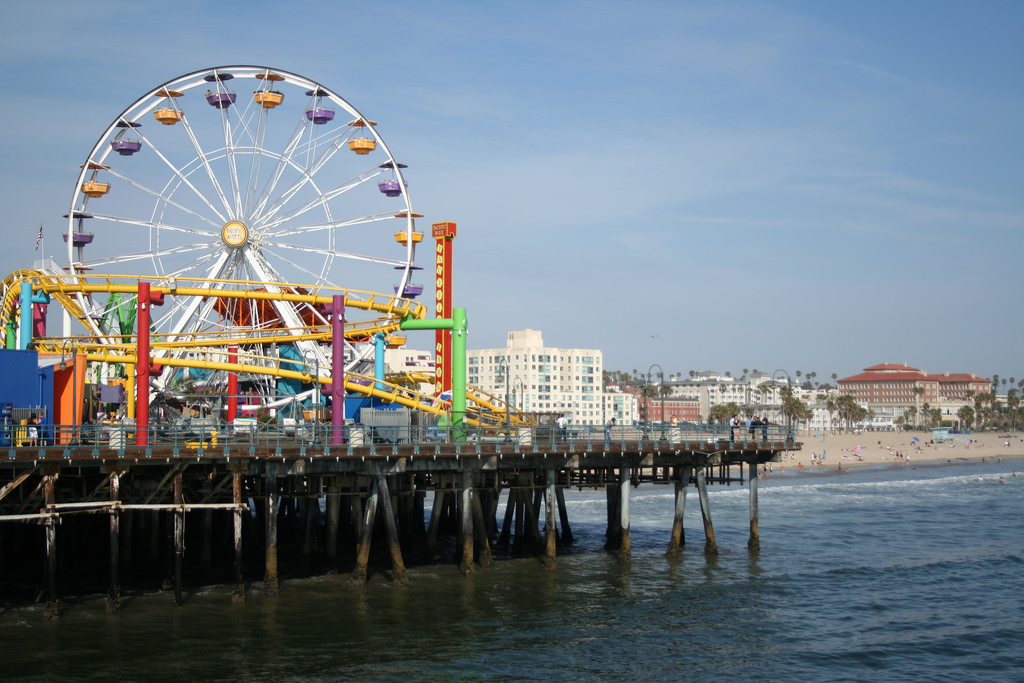 Santa Monica Pier in Los Angeles (Flickr: Phil Scoville)
Why Go: A world-class destination, the City of Angels has so many diverse regions and attractions that each time you visit you will experience something new. LA has it all — beaches, parks, mountains, ethnic neighborhoods and incorporated cities within the county. And of course there's the glitzy side. With numerous TV, movie and music studios stationed here, there are also opportunities for sneak peeks and behind-the-scenes tours.
Here's a sample of fun things to do with kids in Los Angeles, written by one of our own family travel expert and an LA local herself.
Sleep
Best kid-friendly hotels: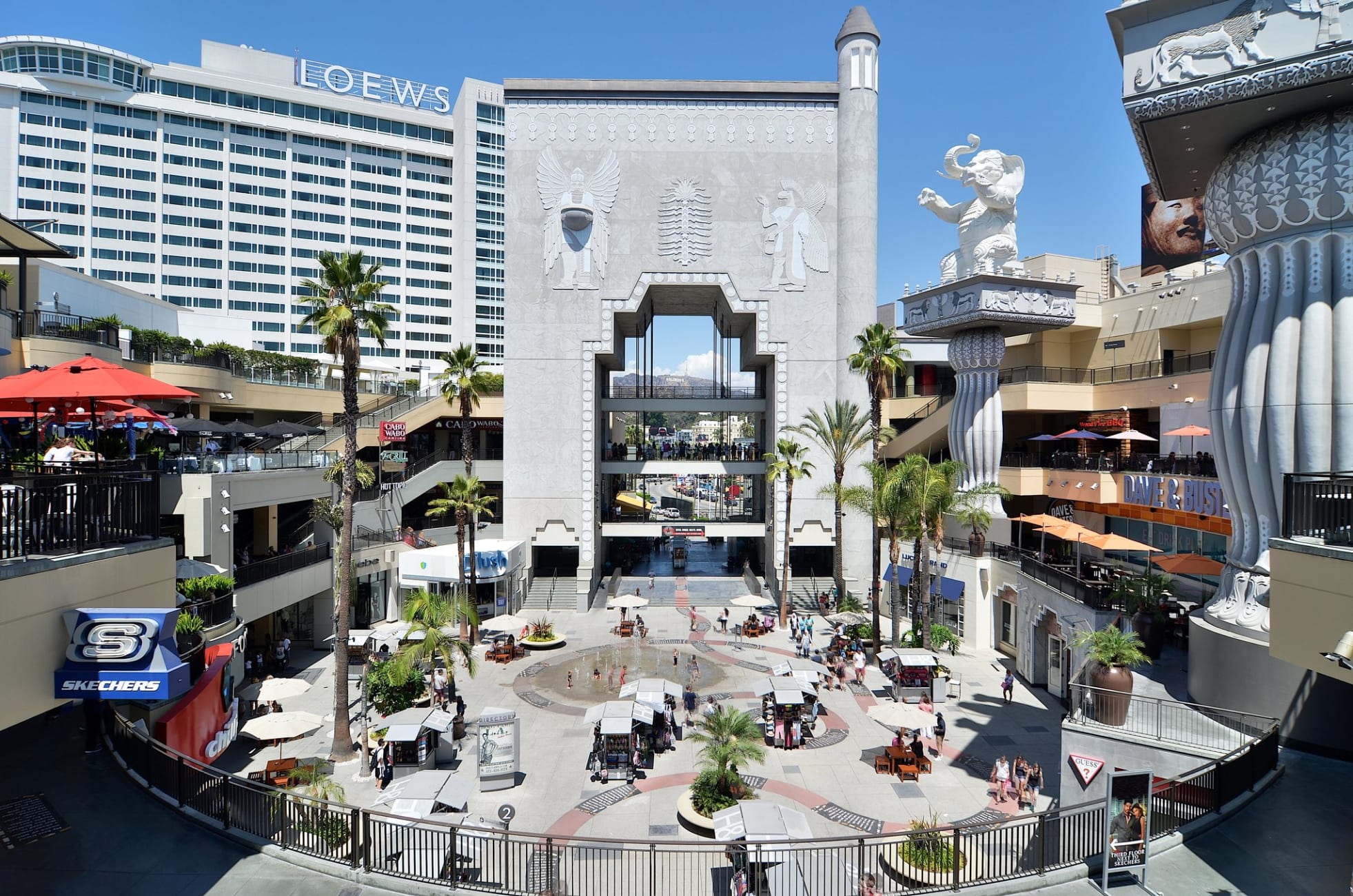 Loews Hollywood Hotel (Courtesy Loews)
Loews Hollywood (1755 Highland Avenue, LA; 323-856-1200). Staying in Hollywood puts you in the middle of the action near the Hollywood Bowl (cool concert venue) and Universal Studios Hollywood.
J.W. Marriott (900 West Olympic Boulevard, LA; 213-765-8600). A rooftop pool, babysitting and free WiFi are the only family amenities, but the hotel's downtown location is in the midst of sporting and entertainment venues.
Loews Santa Monica (1700 Ocean Avenue, Santa Monica; 310-458-6700). Steps from the beach, the Loews Loves Kids, and Teens Too program offers toys, books and more for ages under 10, and access to music download cards, Gameboys, DVD players and board games for those older.
Get Your Bearings
Located in southern California, LA is bordered by the Pacific Ocean, Orange County to the south and Ventura County to the north. It lies about 342 miles south of San Francisco and is divided into more than 80 districts and neighborhoods.
Best local tours:
Starline Tours Hop On, Hop Off. Grab a seat on a double decker bus and visit more than 50 sites or choose specific tours. Hop on and off the bus at any designated stop.
Legends Beach Bike Tours, Santa Monica and Venice. Get the scoop on local history and landmarks on two-hour, family-friendly bike tours.
Bikes and Hikes LA. See iconic L.A. sights on guided excursions for cyclists and hikers of all abilities. Kids should be at least 54 inches tall to ride the bikes.
(MORE: Find family-friendly hotels to stay in during your Los Angeles family vacation.)
Soak Up the Local Scene
Kid-friendly studio tours:
Universal Studios Hollywood. Aboard a spacious tram with narrated audio, see the magic of special effects as you drive through movie sets on the famous Studio Tour.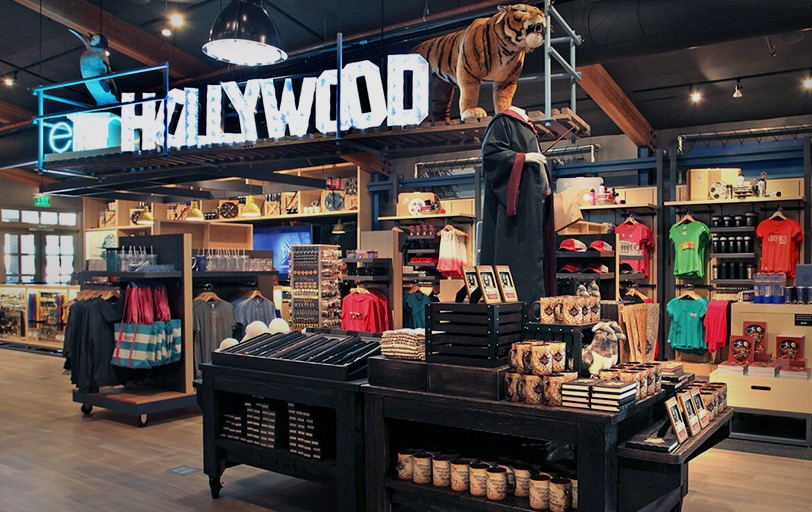 Warner Bros. Studio VIP Tour (Courtesy Warner Bros.)
Warner Brothers Studios, Burbank. Ages 8 and older get a behind the-scenes look at movie sets, wardrobe department and museum housing props and scripts.
Paramount Pictures, Hollywood. Chances of spotting a celebrity are good during this classic two-hour golf-cart tour for ages 12 and older. See TV and film soundstages, although doors are closed during taping.
Whale watching and harbor cruises:
Spirit Cruises. See cargo ships, tankers and freighters from all ports of the world, sea lions and maybe dolphins on a one-hour cruise through the Los Angeles Harbor. On two-hour whale watching cruises (Dec. – March) you'll most likely see gray whales and maybe orcas, blue whales and humpback whales. Keep your eyes open for pods of dolphins!
Best beaches:
Zuma Beach, Malibu. A quintessential California beach, Zuma is a clean, wide sandy beach with good waves for body surfing, numerous lifeguards, food huts (that serve freshly grilled burgers), swings, restrooms, showers and ample parking.
Dockweiler Beach near Marina del Rey. Although situated right beneath the LAX flight path (the jets are noisy, but fun for kids to watch), this is a surprisingly great place to swim, bask in the sun, fish by the jetties, or play volleyball. Later, gather around a fire pit and watch the sunset. It's L.A.'s only beach with fire pits.
Santa Monica State Beach. Smack dab in the middle of beach culture, this wide stretch of sand anchors the Santa Monica Pier, home to an amusement park, carousel, aquarium and restaurants. There's also a paved bike path.
Leo Carrillo State Beach, Malibu. Away from crowds, the one-plus mile beach is dotted with sea caves, tide pools and picnic areas. Check out the visitor center's interpretive displays, guided nature walks and campfire programs.
Best views: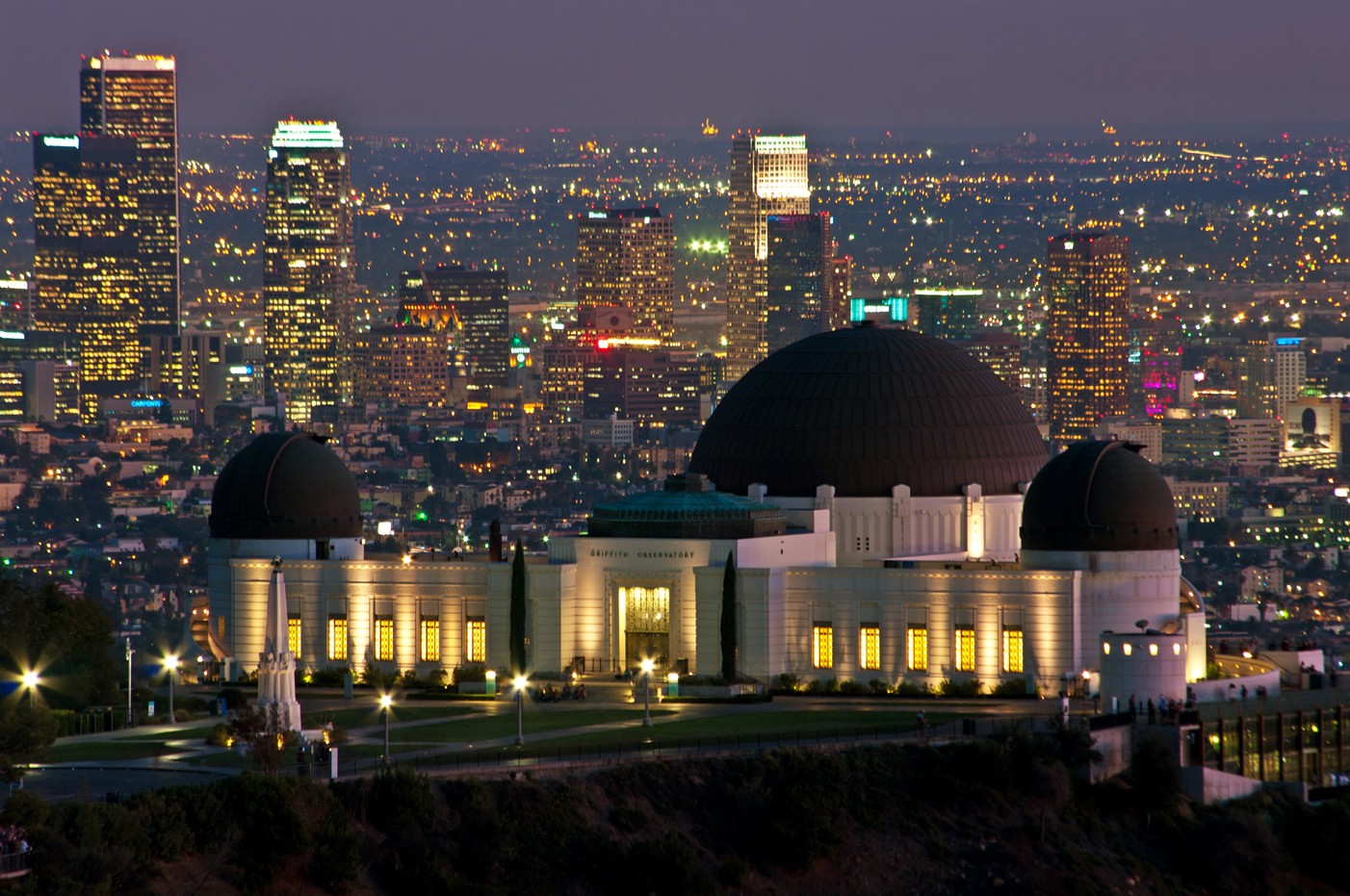 Griffith Observatory (Flickr: Ron Reiring)
Griffith Observatory. Day or night, see amazing city and sky views. Scope out sun, moon and visible planets during free monthly public star parties hosted by local astronomers.
Let the Sun Shine In
Best picnic spot:
Ferndell, Griffith Park. More than 50 species of ferns adorn the woodsy enclave in Griffith Park. This cozy area of the park has footbridges, a seasonal brook, a children's play area and picnic tables. There's also a small cafe and trailhead for the two-mile hike to the iconic Griffith Observatory.
Point Dume, Malibu. A sandy beach, rocky coves, cliffs and crashing waves create a scenic picnic spot year-round.
Best nature spot:
Whittier Narrows Nature Center
Before hitting the self-guided trails at the 400-acre riparian woodland, visit the nature center. Borrow binoculars and bird books free of charge. During guided Night Hikes, look for bats, coyotes, skunks, opossums, owls and animal tracks.
Eaton Canyon Nature Center
Just minutes from a major freeway, this 190-acre park has a nature center, picnic area and several trails. The three-mile roundtrip Eaton Canyon Falls hike leads to a 30-foot waterfall. The Fire Ecology Trail is a short loop that winds through coastal sage scrubs, sycamores and oaks.
Best outdoor playground:
Shane's Inspiration, Griffith Park. The universally- accessible playground includes an airplane with cockpit controls, slides with a bouncy landing pad, and a space shuttle. Amenities: restrooms and picnic tables.
Clover Park, Santa Monica. Little aviators have full control over the observation tower, flight seat, telephone tubes and flight graphics at this large park with big shaded trees, picnic tables, walkways and restrooms.
Walk on the Wild Side
Best zoo:
Los Angeles Zoo & Botanical Gardens. The beautifully landscaped zoo houses more than 1,100 mammals, birds, amphibians and reptiles. Check times for interactive animal shows and take a peek at the zoo's newest residents in the nursery.
Best Aquarium:
Aquarium of the Pacific. It is home to more than 11,000 animals in three main galleries representing the diverse regions of the Pacific Ocean. More than 50 indoor and outdoor exhibits showcase fish, sharks, turtles, penguins, coral, kelp forests and more. Also, look into harbor tours, family festivals and children's educational programs.
Cabrillo Marine Aquarium. Families that like hands-on projects will dig this aquarium, which offers programs, such as hatching grunion and beach clean-up days.
Most kid-friendly stables:
Sunset Ranch Hollywood. One- and two-hour guided tours for ages 8 and older meander through Griffith Park. Some rides include lunch, dinner or BBQ.
Wagon Wheel Ranch, Palos Verdes. Watch for tail hawks, birds and rabbits as you ride along the Palos Verdes bluffs boasting ocean views. In addition, hoof care and the proper way to bridle and unbridle a horse are demonstrated before and after your trail ride. One- and two-hour guided trails are suitable for all ages and weight.
(MORE: 15 Fun Places to Visit with Kids in Hollywood)
Feed Your Culture
Top tourist spot:
Hollywood. Visit during the day to see the Hollywood Walk of Fame, TCL Chinese Theatre and other landmarks. Catch a movie, slurp ice cream or go bowling at Lucky Strike.
Best kid-friendly neighborhood:
Olvera Street. LA's oldest section is festive with mariachi music, Mexican food, street vendors and stalls stuffed with trinkets.
Best kid-friendly outdoor market:
Original Farmers Market. Find a cornucopia of food items, cafes, family entertainment and gifts at this historic farmers market.
Best museum for kids: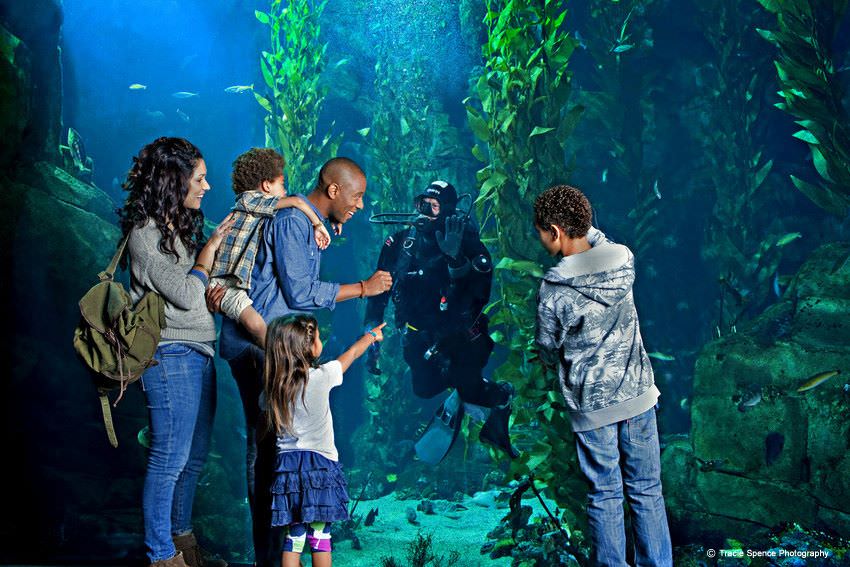 California Science Center (Courtesy California Science Center)
California Science Center. The place is crawling with kids exploring themed, interactive exhibits about ecosystems, world of life, the universe, the massive Space Shuttle Endeavor and more. Free museum admission. Tickets are sold for IMAX and special exhibits.
Page Museum and La Brea Tar Pits. See 30-plus complete skeletons of fossil mammals and birds, watch scientists restore and catalog fossils in the paleontology laboratory, and tug on a handle to feel the asphalt that entrapped so many animals thousands of years ago. Outside, follow your nose to the tar pits, one of the world's most important sources of Ice Age fossils.
The Getty. Young kids may be overwhelmed with the massive collection of European drawings, paintings and sculptures. Keep it simple. Pick up a family guide at the information desk and visit the Family Room, featuring activity coves and treasure-hunt walls. Choose a gallery or two, then kick back in the Central Garden, a creative maze of trees, flowers and water features.
Best theater for kids:
El Capitan Theatre, Hollywood. See first-run Disney movies and live stage shows. Next door, grab a bite to eat at Disney's Soda Fountain & Studio Store.
Theatre West Storybook Theatre, Hollywood. Based on fairytales, the interactive productions are geared for ages 3 – 9. All shows have a good moral lesson.
Dining
Most kid-friendly restaurants:
Carney's, Hollywood and Studio City. Climb aboard a 1920s Amtrak passenger car for a mouthwatering selection of burgers, hotdogs and fries.
Roscoe's House of Chicken 'N' Waffles. Sounds like a strange combo, right? But sweet cinnamon-flavored waffles paired with crispy, southern-style fried chicken makes this a winner with families.
Pitfire Artisan Pizza. With several locations, it's easy to find this kid-friendly pizza and pasta joint. Kid-size pizzas, mini mac & cheese, organic soft serve ice cream and pizza making parties make this a fun place to eat out with the family.
Mimi Slawoff of WriteMimi.com contributed this to MiniTime. She is a Los Angeles-based journalist and a seasoned family travel expert who explores the world with her three children and writes about their journeys.