Montreal, Quebec
By the MiniTime Community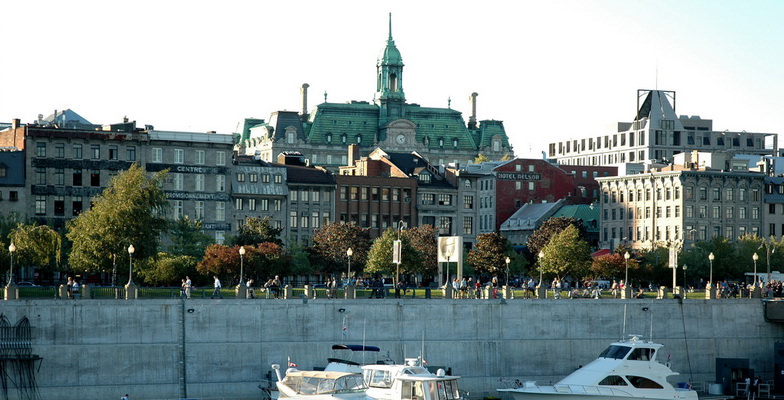 flickr:mricon
Why Go: Cette ville, comme elle est belle! Whether you come to practice your French or just appreciate this beautiful, cosmopolitan city, you will find that Montréal delivers a sophisticated urban experience with a little something extra. Though often considered a Francophone city, Montréal actually has a much richer multicultural palette, with over 80 ethnic communities and a reputation for excellent dining and a vibrant artistic scene.
The Iroquois lived in this area for thousands of years before the Europeans came in the 1500s. The French were the first Europeans to explore the area, led by Jacques Cartier and later Samuel de Champlain. In the 1600s, a fur-trading post called Ville Marie was established and became a beacon of New France until it was surrendered to the British in 1760, at the end of the Seven Years War. A hundred years later, Montréal had grown to be the largest city in British North America and the economic and cultural center of Canada.
Like its rich and textured history, Montréal is a place marked by contrasts of cultures and the juxtaposition of the old and the new. The skyscrapers of downtown can be seen from the wide open green spaces of Mount Royal and Pôle des Rapides. Modern structures such as the Olympic Stadium, the Montreacutreal Biodôme (created for Expo 67), and I. M. Pei's landmark building at Place Ville-Marie happily co-exist with the charming, cobblestoned ruelles and neo-gothic churches of Old Montréal.
Sleep
Best hotel:
SpringHill Suites Old Montréal (445 rue Saint-Jean-Baptiste; 866/875-4333 or 875-4333). Each suite in this hotel offers a sitting area with a pullout sofabed, mini refrigerator, microwave, flatscreen TV, and MP3/iPod docking station. You also get a free breakfast buffet, plus a killer location in Old Montréal near the Vieux Port and science center.
Get Your Bearings
If you're only going to be in town for a few days, book a hotel in Old Montréal so that your family will spend time in the most beguiling part of the city. Vieux-Montréal is pure eye candy, with its cobblestone streets, fantastic waterfront, darling storefronts, and an Old Port area that buzzes with recreational opportunities and fun attractions. The city was born along the St. Lawrence River in 1642, and this area is still the beating heart of this town, bordered by the port to the south, rue Saint-Antoine to the north, rue Berri to the east, and rue McGill to the west.
Just north of Vieux-Montréal, downtown Montréal is where the city's business gets done. It is organized on a grid, with streets running roughly east-west and north-south. North-south street numbers start at the St. Lawrence River and increase as you travel north. All east-west street numbers begin at boulevard St-Laurent, which bisects Montréal in half. Street names that end in Est are east of boulevard St-Laurent; Street names that end in Ouest are west of boulevard St-Laurent.
Perhaps the most unusual section of Montréal is its underground city, la ville souterraine, a 4.6-square-mile labyrinth of tunnels and indoor complexes linking 10 métro stations, seven hotels, more than 2,000 apartments plus hundreds of restaurants and shops, several train and bus stations, and dozens of office buildings, as well as movie theaters, three colleges, and the Bell Centre amphitheatre and sports arena. Even in the middle of winter, it is possible for some Montréalers to leave their apartment, shop for groceries, do their banking, and go to work or school without having to put on a coat.
North of downtown is Mount Royal Park, Montréal's largest green space. At 764 feet, Mount Royal might be called a hill anywhere else, but we'll let it slide, given the region's otherwise flat landscape. Mount Royal Park was designed by Frederick Law Olmsted, who also laid out New York's Central Park.
Most fun way to get around:
On foot in Old Montréal. Montréal is a very walkable town, especially Old Montréal. "You could easily spend an entire day or even two just roaming around the cobblestoned streets of Old Montréal and the Old Port area. As long as you know where the river is, you won't get lost. It was great not having to rely on the subway or taxis."
Métro. The Montréal subway is filled with public artworks by some of the biggest names on the Québec art scene from the 1960s through the 1980s. Each station in the system is unique in its design and decoration, reminiscent of the subways in Paris and Moscow. "We found the mé to be accessible, easy, clean and affordable. It was such a fun and interesting way to get around. My kids loved the artworks and they thought the idea of the underground city was so cool."
Best local tour:
Les Saute Moutons (Quai de l'Horlogue, Old Port; 284-9607; daily May-Oct, 10am-6pm. Fees: $65CAD/adult, $55CAD/teen 12-18, $45CAD/child 6-12). Bring your sense of adventure to this one-hour "wet and wild outing on the river," where you'll cruise the St. Lawrence River and navigate the Lachine rapids on a jet boat. Prepare to get drenched. "It is definitely pricey, but also very memorable." "Wow! This was sooo much fun! Who knew you could do this in a city?"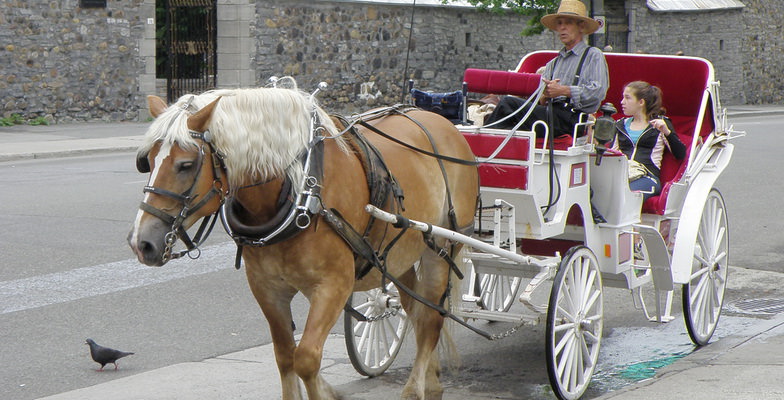 flickr:smerikal
Guidatour walking tours of Old Montréal (meets in front of Notre Dame Basilica; 844-4021; daily at 11am. Fees: $19.50CAD/adult, $10.50CAD/child 6-12). "This tour lasted about 90 minutes and gave us a terrific feel for the old part of the city. Our guide pointed out all the major sights and provided nice insights about history and architecture."
Best view:
Kondiaronk Lookout, Mount Royal Park. "All the uphill paths lead to it, and at the top there is a chalet with beautiful views of downtown."
Olympic Stadium Observatory (4141 avenue Pierre-De Coubertin, Olympic Park; 252-4614). Ride the funicular up the world's tallest inclined tower for "a spectacular view of Montréal." "The ride takes just a few minutes to the observatory, which has three floors. You can see all the way to Mount Royal and across the whole city."
Lighting Tour of Old Montréal, Old Montréal. When darkness falls on the city, head to the vieux quartier to see its streets and historic buildings illuminated with a complex system of gas lamps, LED lights, and fiber optics. "Our evening stroll through Old Montréal was absolutely magical, and one of the memories that stayed with us long after we returned home." "Our favorite was Sainte-Hélène Street, which is lined with 22 gas lamps. We heard that it is a popular movie set."
Soak Up the Local Scene
Best food market:
Marché Jean-Talon (7070 rue Henri-Julien; 277-1588; daily 7am-5pm). You'll find the city's best market in Little Italy, north of Mount Royal Park. "This was a little farther out than we anticipated, but worth the trek. We love hanging out and watching the locals buy their produce, and it seemed like every chef in the city was there that morning. We bought yummy baguettes and cheeses for a picnic in the park."
Best peoplewatching:
Place Jacques-Cartier, Old Montréal. The most beautiful square in Vieux-Montréal "is always a hub of activity in the summertime," with its outdoor cafés, street performers, and flower vendors. Les caleches, horse-drawn carriages, depart from the downhill end and offer tours of the old quarter.
Best weekend family hangout:
Quays of the Old Port, Old Montréal. The quays of the old port is a lively hub, with restaurants, cafés, an IMAX theater, and the amazing science center. The promenade is a haven for rollerbladers, cyclists, and strollers, and there's even an ice rink in the winter. "This was a fantastic place for a picnic, and a great place to spend a half a day."
Let the Fun Shine In
Best park:
Mount Royal Park. This park, built on the city's highest point, is where Montréalers go to play. "This is where to bring your kids to work out any pent up energy. Starting downtown at rue Peel, it took us about an hour to walk up the paths in the park to the chalet on the top of Mount Royal. We hung out to enjoy the views, then headed back down. Next time we visit, we'll definitely plan a picnic there."
Best picnic spot:
Quays of the Old Port, Old Montréal. Picnic tables dot the grassy esplanade between rue de la Commune and the promenade that borders the quays of Old Montréal. Grab some sandwiches and enjoy your lunch, watching the world—and the boats—go by."
Best fun attraction:
La Ronde, Sainte-Hélène Island. Eastern Canada's largest amusement park opened as part of Expo '67, but today it is run by Six Flags. There are about 40 rides and attractions. "If you're adventurous, you need to try The Goliath, which is one of the biggest roller coasters in North America. We screamed our heads off."
Walk on the Wild Side
Best animal experience:
Montréal Biodome (4777 avenue Pierre-de-Coubertin, next to the Olympic Stadium; 868-3000; Admission: $16.50CAD/adult, $8.25CAD/child 5-17, $2.50CAD/child 2-4; free for under-2s). Originally built as the velodrome for the 1976 Olympics, this building now houses a living museum that replicates four ecosystems: tropical rainforest, Laurentian forest, St. Lawrence River, and the arctic. "Most animals are not behind glass, so you can see some of them as you walk along the pathways. The rainforest was the most exciting section overall, and it was fun to see the penguins in the arctic section." The only ecosystem behind glass is the arctic region.
Feed your Culture Vulture
Best museum for kids:
Montréal Science Center (King Edward Pier, Vieux Port, Old Montréal; 496-4724. Admission to exhibits only: $12CAD/adult, $11/child 13-17, $9/child 4-12, $38CAD/family of four). This is one of the best science museums in North America, with a tremendous number of interactive exhibits aimed at 8 to 15 year olds. "Unlike most science museums, this one is targeted at older kids. The exhibits on the second floor are particularly unique and fabulous, so start there if you're pressed for time." There is an IMAX theater in the complex, but "think twice before buying IMAX tickets unless you have all day. You'll definitely want to leave enough time for the exhibit areas."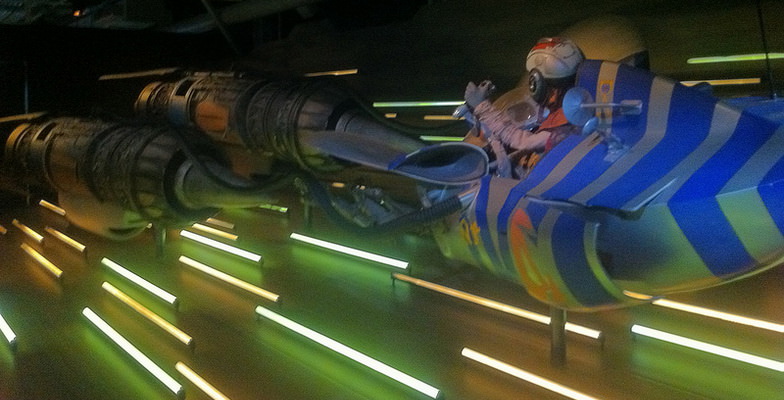 flickr:tsmith22
Montréal Planetarium (1000 rue Saint-Jacques, métro Bonaventure; 872-4530; closed Monday. Admission: $8CAD/adult, $4/child 5-17, free for 4-and-unders). There are many exhibits on the stars, galaxies, planets, and other astronomical topics, but "the highlight is watching one of the astronomical show in the Planetarium's theater" (on weekends, English-language shows take place twice a day).
Montréal Insectarium (4581 rue Sherbrooke Est, métro Viau; 872-1400; closed Monday. Admission: $14CAD/adult, $7/child 5-17, $2/child 2-4, free for under-2s). Kids love to watch the tarantulas, scorpions, and misunderstood bugs of all kinds at this museum dedicated to creepy crawlies. "Though I'm not normally a big fan of bugs, the exhibits were engaging and a lot of fun—and very interesting for the whole family."
Eat
Best bakery:
Claude Postel (75 rue Notre-Dame Ouest, Old Montréal; 844-8750). This pâtisserie-cum-sandwich shop is "a super find for picnic fare in Vieux Montréal." Along with a tempting array of croissants, baguettes, and pains au chocolat, you can also order made-to-order paninis and sandwiches.
Olive et Gourmando (351 Saint-Paul West, Old Montréal; 350-1083). This "chic bakery feels like a breath of Provence. It is great stop for lunch or an afternoon snack. The menu features tasty organic breads, pastries, sandwiches, and paninis." "My kids absolutely loved the 'extraordinaire brownies'"
Best deli:
Titanic (445 rue Saint-Pierre, Old Montréal; 849-0894). For a light meal or snack in Montréal, this place "has a wonderful way with sandwiches, like ham and brie served on a freshly baked baguette." Also on offer: Free wi-fi.
Shop
Best toy store:
Le Valet d'Couer (4408 rue Saint-Denis, Downtown; 499-9970). This enormous toy and games store stocks "a gazillion jigsaw puzzles, plus an interesting array of chess sets and other games." "Definitely a good place for a unique souvenir for a child."