Planning your trip to South Dakota
By Suzanne Rowan Kelleher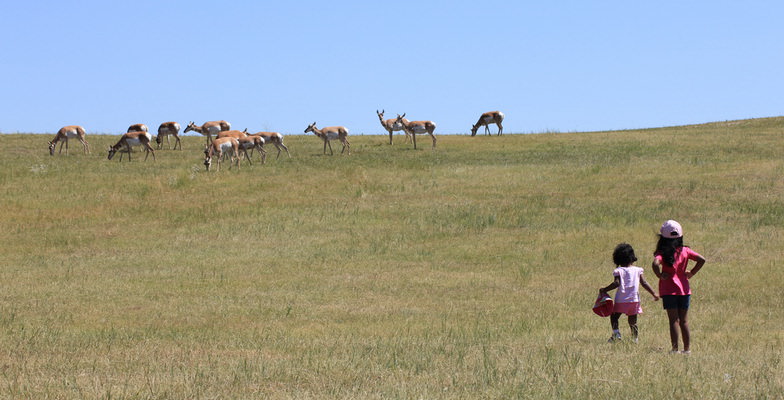 Set in the geographical heart of the country, South Dakota is spoiled with wide-open spaces and scenic riches. To the west lies the glorious Black Hills, which boast the highest point east of the Rockies and a wealth of outdoor adventures amid jaw-dropping scenery. In its central and eastern region are handsome rolling prairies and serpentine rivers. The state has so much to offer that you may need a week to fully explore its myriad sights and attractions, though you'll likely spend most of your time in the northwestern section of the state, where many of the most prominent sites are clustered.
Getting There & Getting Around
South Dakota has two major airports: Sioux Falls Regional (605/336-0762) and Rapid City Regional (800/357-9998). Amtrak has no service in South Dakota.
South Dakota has two major interstates. I-90 runs east-west, and I-29 runs north-south. The South Dakota Office of Tourism has 11 Interstate Information Centers along these two highways. There are plenty of attractions within an hour's drive of both the Sioux Falls and Rapid City airports, but expect to do a good bit of driving, especially if you're traveling in the central or eastern part of the state.
Where to Stay
If you and your family love the outdoors, you'll love South Dakota. And if you love camping out in the great outdoors, you'll have plenty of options to choose from here. If, on the other hand, you love the idea of sleeping close to nature but prefer a comfy bed to a bunk or a sleeping bag, don't worry: You can find an abundance of cabins, hotels, and motels in the Black Hills, including vintage lodges that provide warm, hospitable accommodations right in the bosom of scenic parkland. As for chains, you'll find the usual suspects throughout the state—as well as plenty of high-end and historic options in the major urban areas.
Custer State Park
Custer State Park Resorts: In addition to 11 reserved campgrounds and hundreds of campsites, Custer State Park has four park lodges; accommodations range from basic, comfortable wooden cabins to full-service lodge rooms. The State Game Lodge, set in a mountain valley with a creek running behind the lodge, was the Summer White House for President Calvin Coolidge in 1927. The multi-bed cabins (some with kitchens) are great for families. Families are also beautifully accommodated at the Legion Lake Lodge, with family-size cabins nestled in the forest. The lodge is right on Legion Lake, which offers fishing, boating, and swimming activities. Higher up in the hills is the Sylvan Lake Lodge, which has both lodge rooms and family-size cabins. Blue Bell Lodge is more like a cowboy ranch, with chuckwagon dinners, Western entertainment, and rustic log cabins. (Custer State Park; 888/875-0001; Blue Bell Lodge is open year-round; all others, open May-Oct 31. State Game Lodge: Rates $120-$525/night; Legion Lake Lodge: Rates $120-185/night; Sylvan Lake Lodge: Rates $125-$345/night; Blue Bell Lodge: Rates $130-$240/night.)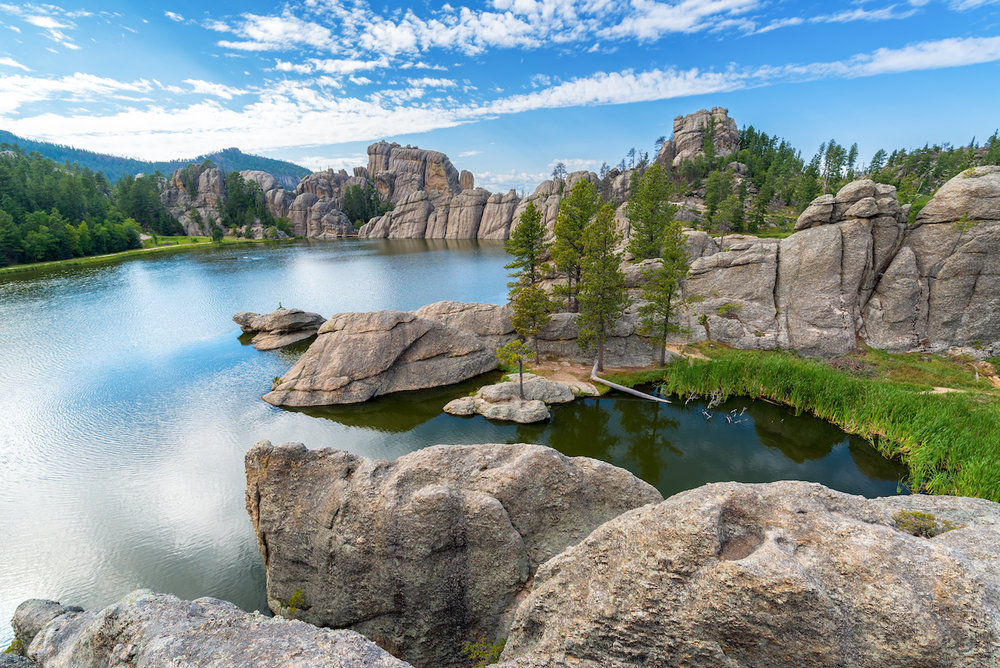 flickr: DC_Colombia
Rapid City
Hotel Alex Johnson is a historic downtown hotel that first opened its doors in 1928. The original chandeliered lobby features Native American motifs and artwork. The hotel has a cinematic history as well: It starred in Hitchcock's North by Northwest (which also featured Mount Rushmore). The two-bedroom family suites are a good bargain (just $20 more than regular suites), and the presidential suites (3- and 4-bedroom) have a full kitchen and an entertainment center and can sleep up to 10 people. (523 Sixth St, Rapid City; 800/888-2539; Suites $99-$169/night in summer, $69-$99/night in winter; presidential suites: $395-$495/night.)
Hot Springs
Allen Ranch is a family-owned campground located close to popular Evans Plunge—billed as "the world's largest warm-water swimming pool"—a waterpark fed by a warm underground spring, and the Mammoth Site. The ranch provides kids with a totally cool experience: a stay in one of the Sioux tipi "lodges"—basic outdoor tipis—which sleep 4 to 6 people. Kids will also love tubing in the nearby warm-water Minnekahta River and horseback riding. (Just off Hwy 18/385, Hot Springs; Open: May-October; Tipi lodges: $30/night; campsites: $15-$25/night.)
Where to Eat
Custer State Park
Custer State Park Resorts: All lodges have full-service restaurants offering traditional all-American cuisine plus such hearty local fare as buffalo and trout. The Legion Lake Lodge has a deli, a bakery, and a burger joint. The Blue Bell Lodge even offers an old-fashioned hayride to a chuckwagon cookout in a secluded valley. (Custer State Park; 888/875-0001; Open: May-Oct 31 for breakfast, lunch, and dinner.)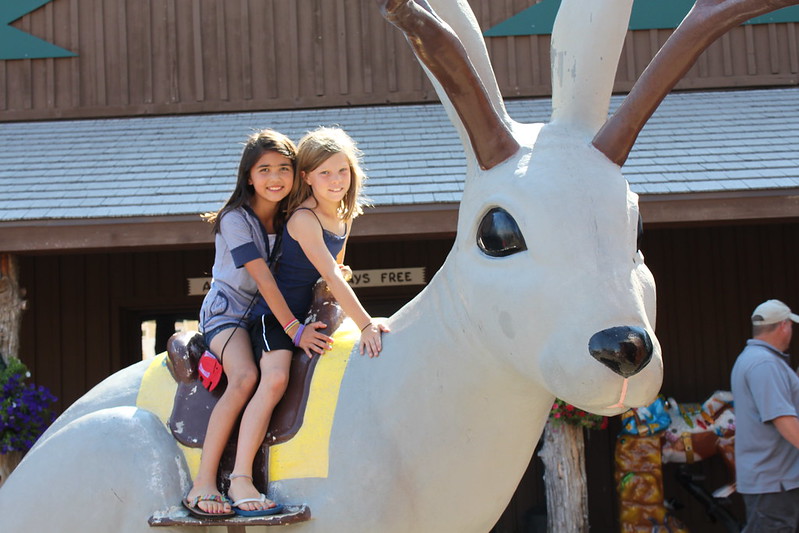 Rapid City
The Corn Exchange is a celebrated local restaurant that has been featured in Bon Appetit, Every Day with Rachel Ray, The New York Times, and Better Homes & Gardens. The owner, M.J. Adams, cooks almost entirely organically, and uses local products whenever possible. So you might find yourself eating fresh buffalo meat from South Dakota's own 777 Ranch and vegetables and fruit from local farmer's markets. Children feel welcomed by the bistro-casual atmosphere and kid-friendly favorites like chicken, pasta, and homemade desserts. (727 Main St, Rapid City; 605/343-5070; Open Tues-Sat, 5-9pm.)
Chuckwagon dinners were traditionally meals eaten by cowboys around the campfire at the end of the day's cattle drive, with the chuckwagon serving as restaurant, supply hall, and social center. These days, full-meal chuckwagon dinners are held throughout the state and often feature accompanying entertainment, often in the form of Western-style or country-music revues. In the Rapid City area, check out Circle B Ranch's Chuckwagon Dinner and Western Music Show. Circle B's menu includes roast beef, barbecue chicken, Cowboy Beans, and homemade biscuits. Little Wrangler Meals for kids 3 and under feature hot dogs, applesauce, ginger cake, and lemonade. The Flying T Chuckwagon Supper & Show, also in Rapid City, features a stage show of cowboy music and singalongs, and a menu that includes barbecue beef, chuckwagon potato, hot biscuits, and unlimited lemonade. (Circle B Ranch: 22735 Hwy 385, Rapid City; 800/403-7358; Open May 25-Labor Day, Mon-Sat 6pm; Admission: $18-$24 adults, $10-$16 kids 4 to 11, $4.50 kids 3 and under. Flying T Chuckwagon: 8971 S. Hwy 16, Rapid City; Open May 18-late Sept, daily dinner 6:30pm; Admission: $18 adults, $17 seniors, $9 kids 9 to 12, $4.50 kids 3 to 5, free for kids 2 and under.)
Where to Shop
It's been called the store that swallowed up a town. Wall Drug may be the original drive-through drugstore and sprawl-mart, but it's so full of history and kitschy charm that it's become a must-do destination in its own right. Wall Drug's journey from a small-town (population: 231) drugstore to a giant mall began in 1936 with its offer of free ice water to thirsty drivers. Today, while parents shop, kids get to play in the Back Yard, where they can mine for gems and fossils, get wet in the Train Station Water Show, or have their picture taken next to a miniature Mount Rushmore. In any case, you can't miss this place, thanks to the 80-foot replica apatosaurus towering over the freeway. (510 Main St, Wall; 605/279-2175; Open daily 6:30am-6pm; Free admission.)
More South Dakota with Kids:
Click to rate this post!
[Total:

0

Average:

0

]