Editorial: Swimming with Dolphins
By Katrina Brown Hunt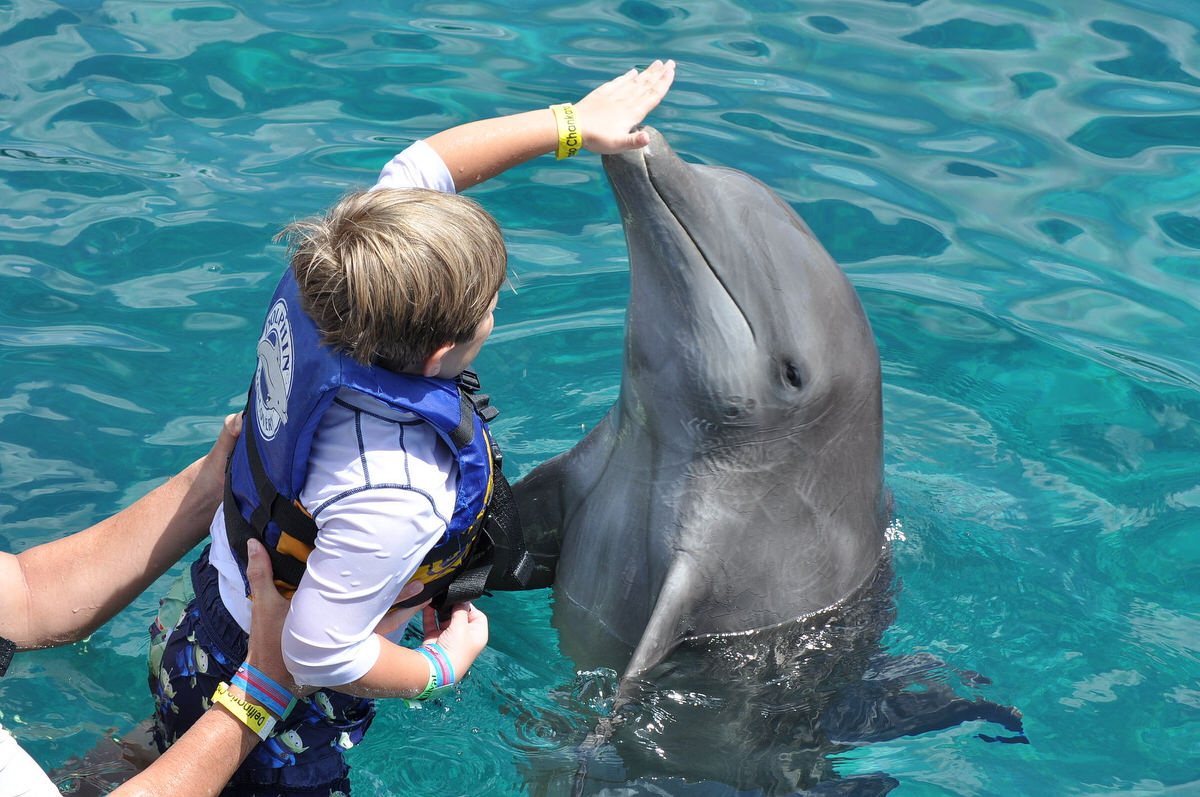 Swimming with dolphins: good or bad? (Flickr: Josh Grenier)
They're smart. They're adorable. And they seem to love people. Who wouldn't want to get in the water and swim with a dolphin?
But as more information comes to light about these popular Swim with the Dolphins (SWTD) attractions—found at marine centers and some resorts—these experiences can start raising more nagging questions than excitement. Whether the captive or in the wild, such experiences most likely get you too close for comfort—as in, the dolphin's comfort.
(MORE: Kid-Friendly Wildlife Adventures from North to South America)
Dolphin Diplomacy
In the past few years, there has been increasing concern about the ethics surrounding captive marine animals—most publicly regarding orca whales at theme parks, an issue explored in the 2013 documentary Blackfish.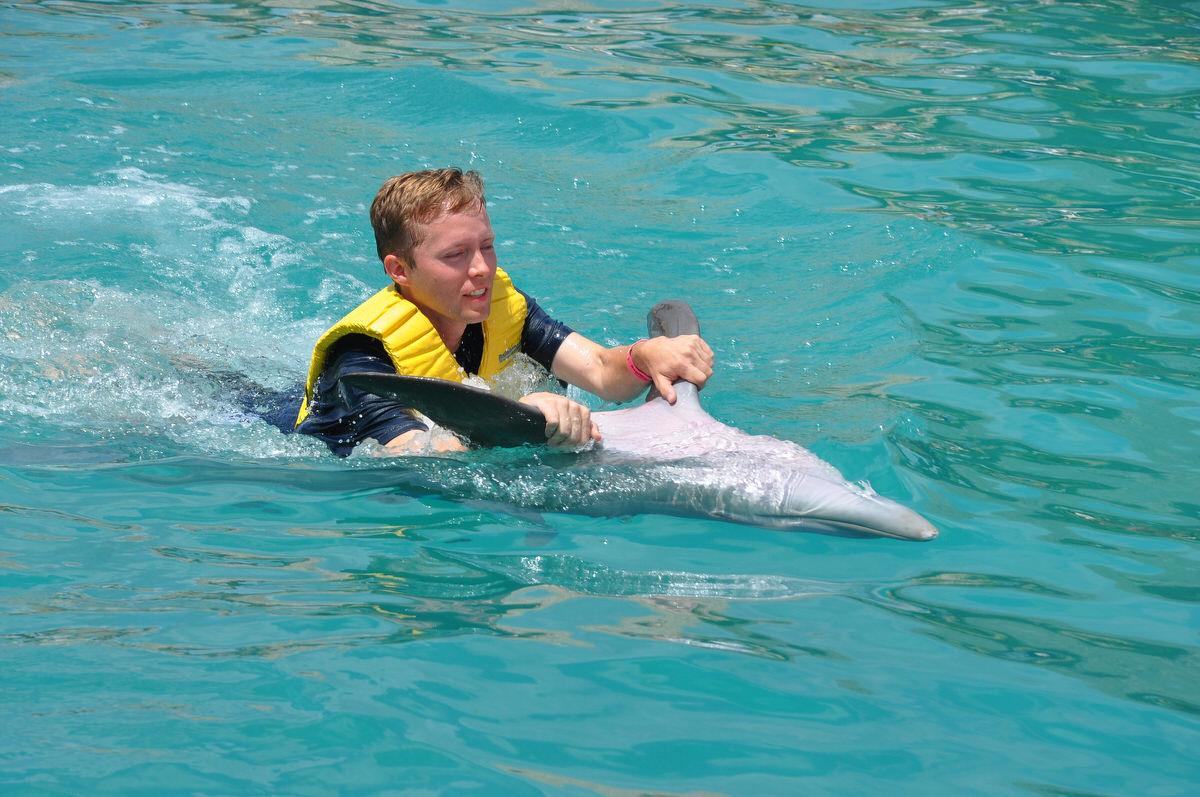 Dolphin ride in Cozumel (Flickr: Jeremy Bradford)
Dolphins, however, have long seemed like a separate issue: they're known to be friendly creatures who can even offer therapeutic benefits for humans. And certainly, interacting with dolphins helps people appreciate them, and paying for such experiences can often help support conservation efforts that help all dolphins and marine wildlife. Operators like DolphinQuest, in Hawaii and Bermuda, says that it has donated millions to marine research studies. Some organizations are actively working on behalf of dolphins, too: Florida's Clearwater Marine Aquarium, which offers non-swim dolphin interactions, rescues injured dolphins, rehabilitates them and, if they can survive in the wild, releases them when they're ready.
But people tend to forget that, even in a seemingly controlled environment, these animals are still wild: there have been reports of dolphins acting aggressively toward and injuring people in interactive situations. Also, many would argue that a life in captivity, even if seemingly safe, is not natural for the animals and borders on abuse in itself. "Dolphins can travel long distances each day, sometimes swimming in a straight line for a hundred miles … and [they] spend only 10 to 20 percent of their time at the surface," according to a statement from the HSUS. "Dolphins are always swimming, even when they 'sleep.' Understanding this, it is difficult to imagine the tragedy of life in captivity for these ocean creatures."
A Captive Audience?
While it is hard to pinpoint which parks house which kinds of dolphins, some SWTD experiences use wild-caught dolphins and some use captive-bred dolphins—both of which trouble animal rights experts (wild animals are often caught under violent circumstances, and captive-born dolphins would likely never survive in the wild). Various reports have found the pens that dolphins live sin to be too shallow, crowded or filled with debris.
Under what circumstances, then, would captivity and human interaction be safe and comfortable for dolphins?
Overseas, there are very few rules about dolphin experiences, but in the 1990s, the USDA's APHIS (Animal and Plant Health Inspection Service created a list of requirements for SWTD experiences in the U.S., covering such issues as the size of a dolphin's pen (at least nine feet deep), the ratio of humans to dolphin at any time (no more than 3 to 1) and the amount of time each day that a dolphin should be "on duty" (no more than two hours a day).
Many critics, however, argue that these regulations have never been enforced, and a basic look at some of the most popular dolphin experiences in the U.S. and Caribbean raises questions about how much those parameters are met. At SeaWorld's Discovery Cove, for instance, the dolphin-experience description says that anyone participating should be able to swim with the dolphin in an area that's three feet deep—not nine. Dolphin Cay at Atlantis, meanwhile, offers one experience that's held in waist-high water, with 10 guests per dolphin. Dolphinaris, on the other hand, says on its site that it conforms to USDA-APHIS recommendations, even though their parks are based in Mexico.
(MORE: 4 Up-Close Encounters with Sea Creatures)
Booking Smart and Going Wild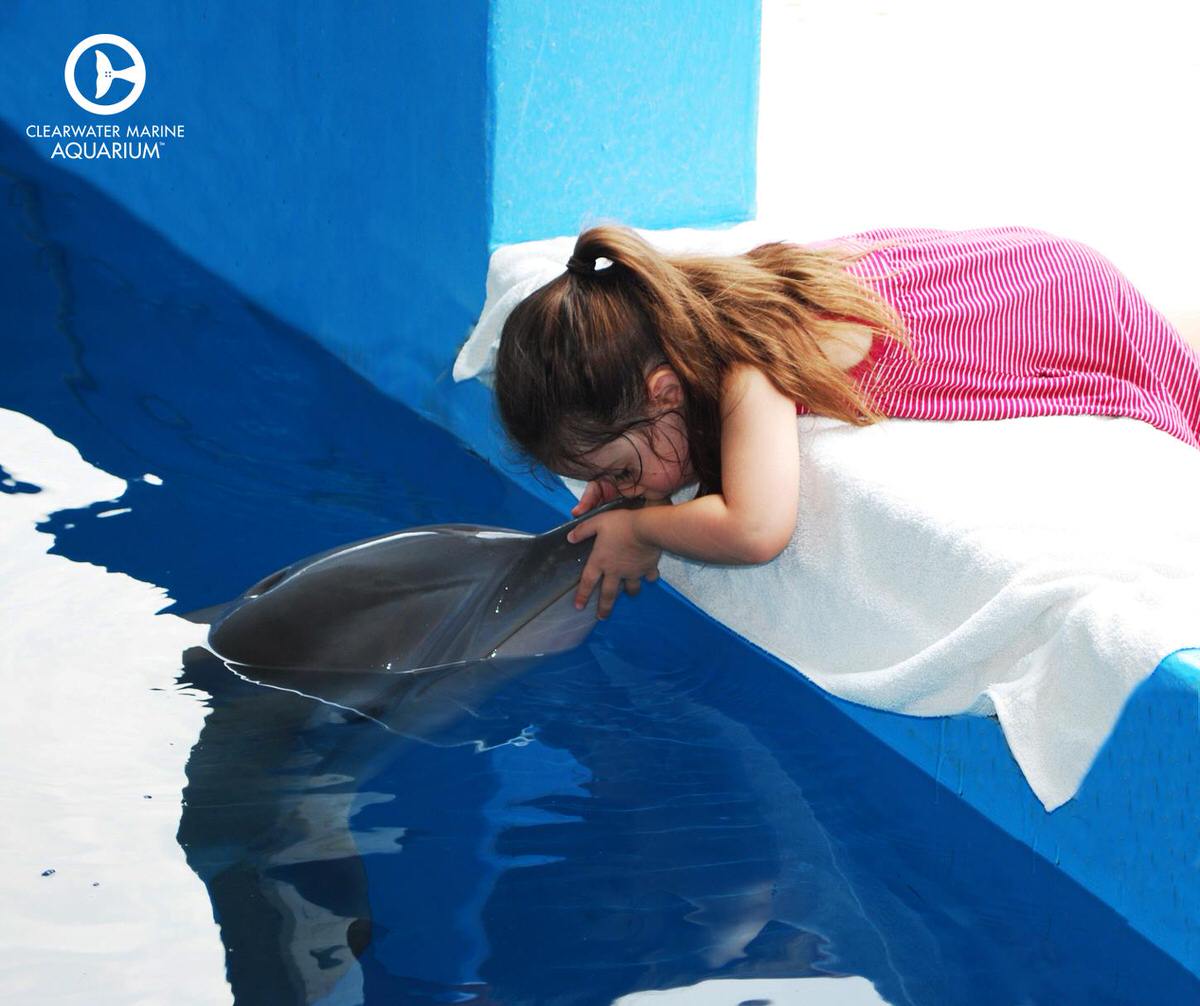 Dolphin interactions at the Clearwater Marine Aquarium (Courtesy Clearwater Marine Aquarium)
The lesson here: before you book any swim-with-the-dolphin experience, a look at its basics—like the depth of water and the number of people allowed—should give you a glimpse at how much the organization is following the letter, or even the spirit, of the U.S. guidelines.
What about swimming with dolphins in the wild? Some tour operators offer excursions into wild-dolphin-rich waters (and you might always just encounter them on your own, especially in Hawaii, where spinner dolphins have been known to rest near shore). The National Oceanic and Atmospheric Administration (NOAA) advises, however, that participants stay at least 50 yards away from wild dolphins at all times during such excursions, and limit viewing time to just 30 minutes. "We love for people to have a great experience viewing animals in the wild, but we think there is a potential hazard with interaction with them in the wild," says Jean Higgins of the NOAA's Protected Resources Division.
To find wild dolphin experiences that have been approved by the NOAA, check out their listing of "Dolphin SMART" experiences. Or, you can stick with non-swim dolphin interactions, like the ones at Florida's Clearwater Marine Aquarium, where you can have poolside interactions or help trainers.
Otherwise, your better bet is probably just to skip it. A tour where you can watch the animals in their own habitat at a safe distance—living the way they were born to live—is the best education for your family, and the most exhilarating for everyone involved.
Katrina Brown Hunt contributed this to MiniTime. Katrina is based in San Diego and writes about travel, business and lifestyle for publications and websites.