Kid-friendly horseback riding trails in Los Angeles
By Mimi Slawoff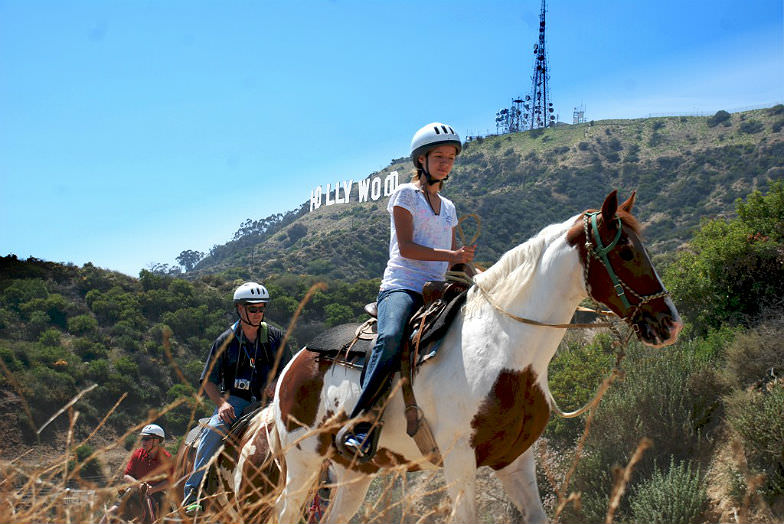 See Griffith Park on horseback with Sunset Ranch Hollywood (Courtesy Sunset Ranch Hollywood)
Just minutes from busy freeways are quiet, scenic horseback riding trails that wind through canyons and forests and atop bluffs with ocean views. Whether you're a newbie or an experienced rider, a number of equestrian centers offer wrangler-led tours for families. Little cowboys or cowgirls chomping at the bit to ride can even celebrate their birthdays at some stables.
Ready to hit the trails? Be sure to wear long pants and closed-toe shoes. Call ahead for reservations and show up about 45 minutes prior to riding time. Note that most stables accept cash or checks only.
Round up the family for a few hours of equestrian fun at these 6 kid-friendly Los Angeles stables.
Sunset Ranch Hollywood
Saddle up for guided tours through Griffith Park and views of downtown LA, the Griffith Observatory and the Hollywood sign. Join a one- or two-hour guided tour or opt for rides that include lunch, dinner or BBQ. Minimum age: 8. Rates start at $40/one hour. Children's parties include a 30-minute group lesson and a one-hour ride. $50 per person.
Westside Riding School, Pacific Palisades
Guided trail rides meander through the scenic grounds of Will Rogers State Historic Park. Get the scoop on the early 20th-century cowboy and actor's life while riding on his beloved trails. The rides start by Bone Canyon in the historic zone, and head up in the mountains to Inspiration Point for views of the park, the Los Angeles basin, the ocean and Catalina Island. Minimum age: 8. Rates: $75 for about 50 minutes. There's also a $12 parking fee.
Wagon Wheel Ranch, Palos Verdes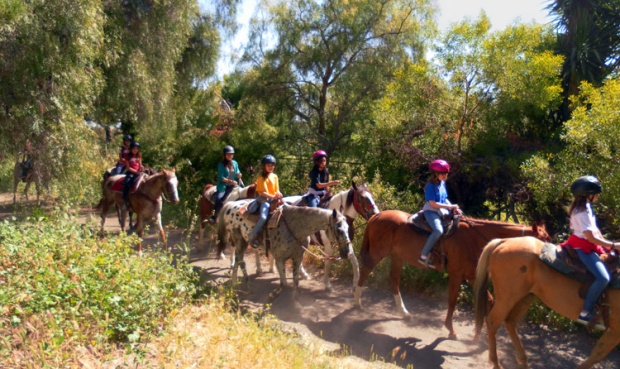 Wagon Wheel Ranch in Palos Verdes (Courtesy Wagon Wheel Ranch)
Ride along the Palos Verdes bluffs for views of the sparkling Pacific, hills, canyons and wildlife, such as red-tail hawks, squirrels, blue jays and rabbits. In addition, hoof care and the proper way to bridle and unbridle a horse are demonstrated before and after your trail ride. One- and two-hour guided trails are suitable for all ages and weight. Rates: From $50/hour. Birthday parties and horse camps are also available.
Griffith Park Horse Rentals at the Los Angeles Equestrian Center in Burbank
If you don't mind being part of a large group, join a tour that includes mostly walking with some trotting on trails in Griffith Park. There's also a three-hour Sunset Dinner Ride to a Mexican restaurant. Kids too young or small to meet the requirement can still saddle up on a hand-led ride with a guide. Parents are welcome to walk alongside them. Minimum age: 6, minimum height: 4'0". 20 minutes/$25. Regular trail ride rates vary depending on weight but start at $25/hour under 200 pounds. Dinner rates are extra.
Los Angeles Horseback Riding, Topanga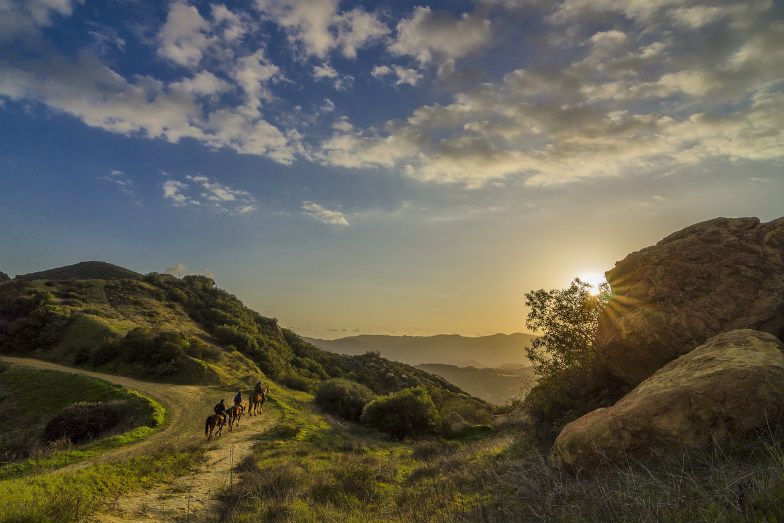 Topanga Canyon seen on horseback with Los Angeles Horseback Riding (Courtesy Los Angeles Horseback Riding)
Situated at the summit of the Santa Monica Mountains bridging Topanga to Malibu, the ranch offers several picturesque guided tours, which include economy, sunset and moonlight rides. The 60-minute economy rides are ideal for first timers and children who prefer easy trails. A gourmet sandwich picnic is served on the two-hour ride. Birthday parties for ages 6 and older include a guided trail ride and an hour of festivities at the facility. Minimum age for trails: 6. Rates vary depending on weight.
(MORE: Find more great things to do with the kids in Los Angeles.)
Malibu Riders, Agoura Hills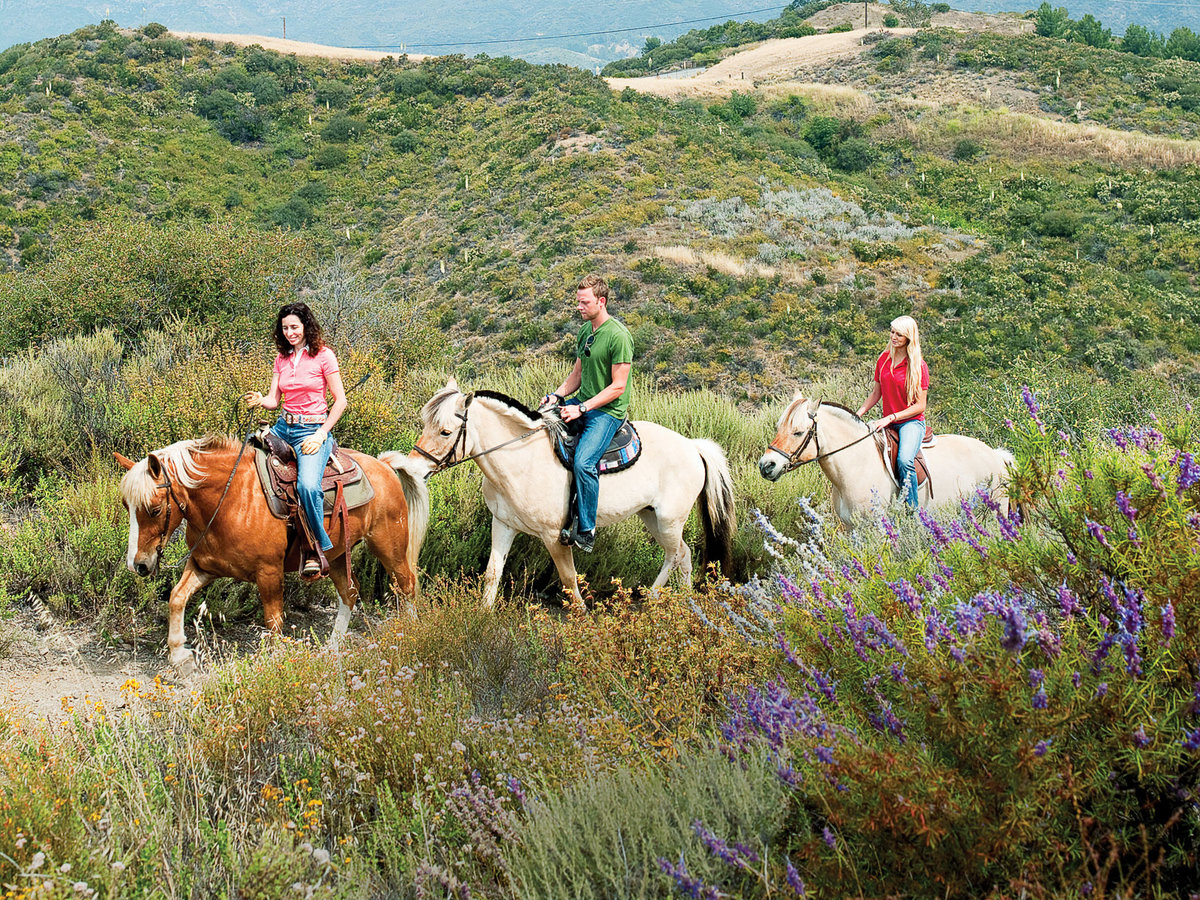 Explore Malibu with Malibu Riders (Courtesy © Andrea M.)
Riders can choose from three guided tours through the mountains. The one-hour ($50) Malibu Creek State Park trail ride, for ages 8 and older, starts at Paramount Ranch National Park and continues through a majestic forest that opens up to stunning views of Malibu Lake. The two-hour ride ($100) continues deeper into the Santa Monica Mountains. The popular, one-hour Paramount Ranch ride visits a western town used in hundreds of movies and winds through forests with streams and wildlife. Keep your eyes open for deer and coyotes. Minimum age: 6. $50/per person. The Zuma Canyon trail traverses a forest with ocean and island views. Rate: $75.
Mimi Slawoff, a Los Angeles-based journalist, contributed this to MiniTime.