Free Things to do in Anchorage
By Erin Kirkland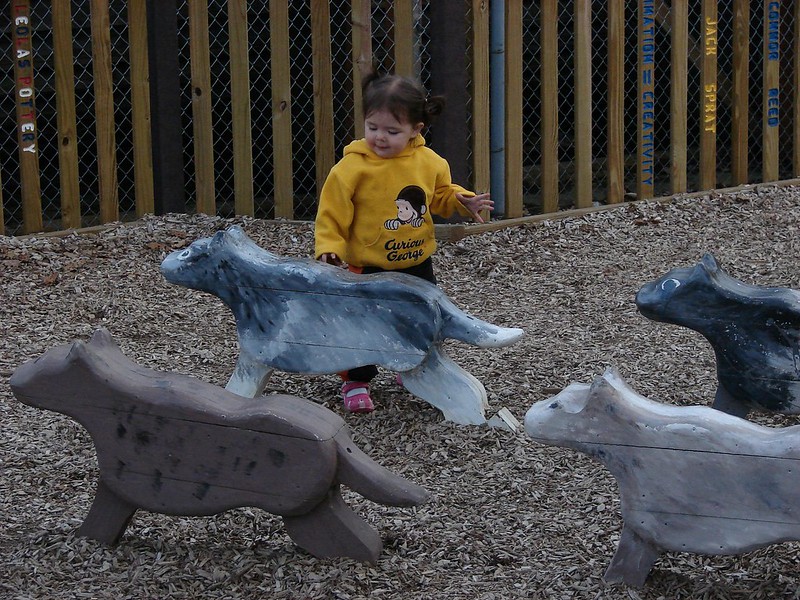 Erin Kirkland is a wife and mom of two young children who writes about her family's adventures in the 49th state in her blog, AKontheGO.com. In today's guest post, she shares five free things to do with kids in Anchorage.
Campbell Creek Science Center: With a gazillion acres of wilderness at our back door, Anchorage residents flock in droves to hundreds of family-friendly trails just minutes from home. Campbell Creek Science Center offers 740 acres of well-maintained tracks that suit every age or ability and provides fabulous maps, loaner backpacks filled with interesting items for exploration, and knowledgeable staff who cater to a kid's sense of adventure. Park in the center's main lot and try connecting the Coyote and scenic Airstrip trails that skirt a small, federal air field. The tread is wide and flat, and kids love to frolic among the birch and spruce trees while parents ogle at a stunning view of the Chugach mountains. Take heed, however, as bears and moose frequent the area, so read up on critter safety before venturing out.
Alaska State Trooper Museum: Alaska has a long history with law enforcement, beginning with a cooperative effort between State Troopers and Royal Canadian Mounted Police way back when. Check out this little free museum on 5th Avenue in downtown Anchorage and immerse yourself in the world of cops and robbers, Alaska-style. The free museum boasts an interesting display of handcuffs, fire equipment, guns, and even a Hudson Hornet straight out of the "Cars" movie. Try on a sergeant's hat, read how forensic specialists solved Alaska's most baffling crimes, and look through enough photos of real-life busts to satisfy even the most CSI-savvy teen or 'tween. If you have time, stop next door at the Midnight Sun Cafe and hot chocolate for the kids and a latte for yourself. Open weekdays 10 am-4pm and Saturday noon-4pm.
Eklutna Village Historic Site: For more than 10,000 years, Alaska Native people have eked out a living from a harsh and frozen landscape through with a traditional subsistence that continues to fascinate the rest of the world. Of Alaska's 25 unique tribal communities, the Eklutna can be explored at this village, 20 miles north of Anchorage on the Glenn Highway. The site is home to a cemetery, church, and small visitor center. Grave sites are marked by brightly decorated "spirit houses" designed to comfort the deceased on their journey to their ancestors. You can wander among ancient and newer houses, most carefully maintained, and wonder about the sometimes confusing blend of ancient Native spirituality and more recent Orthodox beliefs. Occasionally a priest will be on site to answer questions and lead one through the church, whose interior is beautifully adorned with gold, silver, and lace, a stark contrast to the rough-hewn exterior. The Eklutna do not openly advertise this site but welcome visitors. A stop here is a reverent, teachable moment for children of all ages. The tribe does ask for donations, but give as you are able.
Girdwood: If you're looking for an affordable daytrip, head about 45 miles south along the spectacular Seward Highway to this small but fun resort town. Girdwood hosts hordes of skiers during winter months (read: most of the year) and mountain bikers, hikers, and berry pickers the rest of the year. Alyeska Resort owns the ski hill, a swath of real estate to the south offering views of seven Alaskan glaciers from slopeside trails and oodles of fun to wander through any time of year. In the lobby, kids love to see the statues of a polar bear and other Alaskan critters and grownups enjoy hanging out in the cozy fireside lounge area just right for taking a break on a chilly Alaskan summer day. A wealth of walking paths cross the property and, if lucky, you might even spot a black bear frolicking among the berry bushes. If kids need to burn off some energy, try the beautiful community playground at the entrance to Girdwood, with a skate park and enormous wooden play structure. It is our favorite stop along the highway, and we all enjoy an opportunity to run the ya-ya's out of our son after a long day of road tripping.
Summer in the Park: Make no mistake: Alaska thrives on tourism. With the advent of warmer weather and the annual arrival of cruise ships, Anchorage comes alive with a wealth of family-friendly events. A favorite is the thrice-weekly "Summer in the Park" series of free musical, whimsical events that feature local artists who love nothing more than to engage a pack of kids and tourists each week. Bring a picnic, a warm jacket (sometimes the wind comes up), and your singing voice to join in. We love the crowd diversity, as cruise ship passengers mingle with moms and tots and office workers on a lunch break. Concerts are held at Peratrovich Park on Fourth Avenue in downtown Anchorage, right next to the Anchorage Visitor Center.