Best family-friendly attractions in London
By Sonia Esther Soltani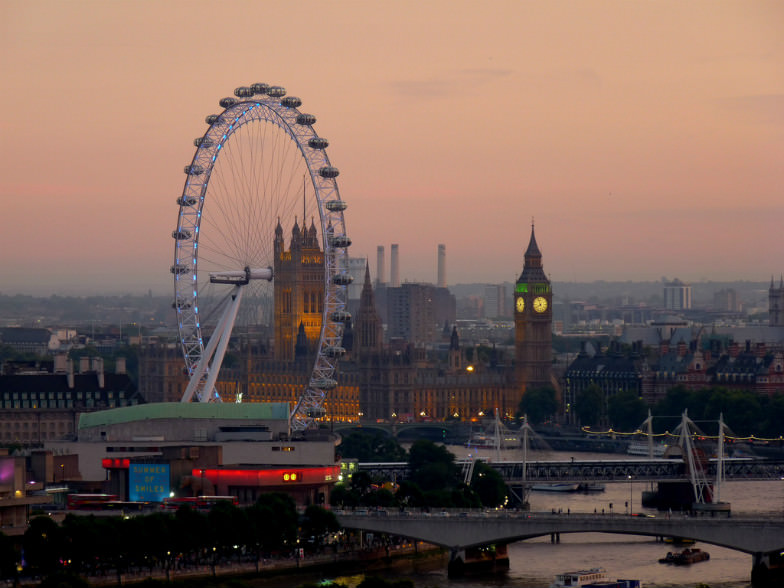 Beautiful London skyline (Flickr: Megan Eaves)
To make a family trip to London less daunting and more comprehensive, the British capital should be seen as a collection of distinct neighborhoods, each rich in cultural and entertainment attractions, as well as great shopping opportunities and outdoor spaces. Whether you're staying for a weekend or taking a week-long vacation with the kids, here are some ideas of what to do to get a real feel for this fascinating metropolis — combined with great tips from local parents.
West London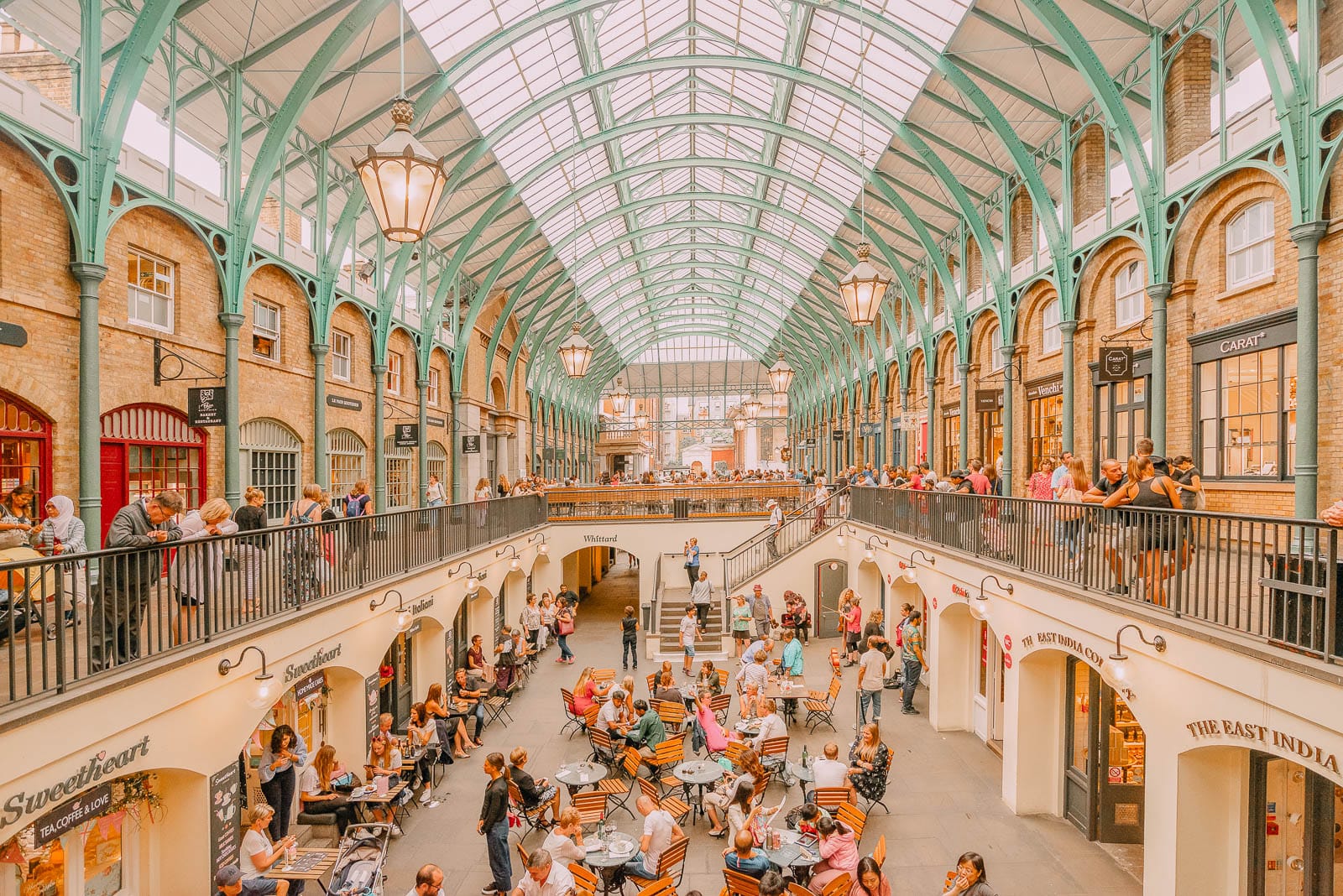 Covent Garden (Photo: handluggageonly.co.uk)
During the day wander around historic Covent Garden, whose piazza is a great place to watch jugglers and other performers. Kids love the brilliant Transport Museum</strong>; and to admire British grandeur, a walk from Trafalgar Square up the Mall to Buckingham Palace is a must.
If yours kids are history buffs, take them to Westminster Abbey, a gem of gothic splendor where some of the most lavish ceremonies of the British monarchy have taken place, including coronations and more recently Prince William and Kate Middleton's fairytale celebration. Another moving experience is to visit Churchill War Rooms, where the prime minister and his government worked and lived during WWII.
Teens will thank you for a trip to Carnaby Street, the heartland of the Swinging Sixties. The groovy vibe of its 1960s heyday might have been diluted by trainer outlets and fashion chains, but the legendary street remains one of the most popular pedestrian thoroughfares in the city.
Meanwhile, South West London is home to wonderful (and free of charge) museums including the National History Museum, Victoria & Albert Museum (V&A), and Science Museum. And to chill out, there's no better place than Hyde Park. Spread across 350 acres and with more than 4,000 trees, Hyde Park was once the hunting ground of King Henry VIII. You can rent a boat and sail on the lake, join the skaters, or listen to the famous Speaker's Corner's participants. Other highlights include the Serpentine Modern Art Gallery, Kensington Palace, and Apsley House. Kids will be captivated by the great variety of waterfowl in the Hyde Park pond and enjoy feeding the ducks in the Serpentine.
A trip to London is not complete without a night out (or matinees if you have young children) at one of the vibrant Theatreland's venues. The West End doesn't play second fiddle to Broadway with its spectacular shows sure to charm adults and kids alike — Charlie and the Chocolate Factory and the Lion King are hits with theater-goers.
Local moms recommend: Princess Diana Memorial Playground for its boat, water play, and sand (warning: at the weekends there's a long queue). The V&A has a brilliant paddling pool for kids. Take scooters to Regents Park, home to great playgrounds, or rent pedal boats.
North London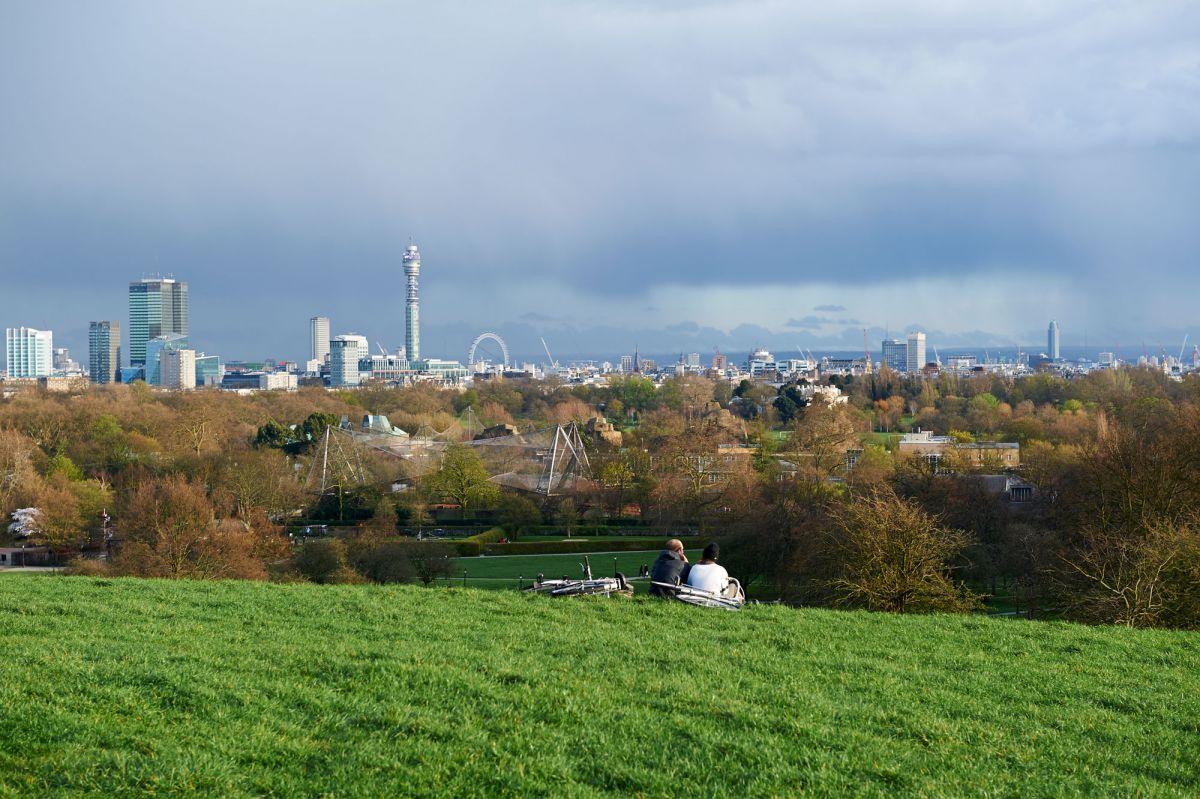 Primrose Hill (Photo: royalparks.org.uk)
The leafy district is home to intellectuals and artists that favor the calm, elegant streets and lanes lined with cottages around Hampstead and Primrose Hill. Both parks are a major pull for visiting families. Hampstead Heath offers stunning panoramic views and 790 acres of natural open space. Stop at Kenwood House, the stately home perched on the heath and explore a neoclassical architectural gem designed in the 18th century. It's a wonderful venue to initiate kids to European masters such Vermeer, Rembrandt, Turner, and Gainsborough. Another type of attractions awaits families at Camden Market, where the show is as much on the street as in the stores. The largest market in London attracts crowds of punks, goths, hippies, and tourists drawn to the alternative atmosphere and the unusual shopping experience. Crafts can be found at lock market, antiques at stables market, clothes around Camden Canal market and Buck Street market, and fashion at the Electric Ballroom and Inverness Street.
Local moms recommend: During the summer there's a paddling pool at the foot of Parliament Hill which great views over London. Take a traditional canal narrow boat from Camden Lock to Little Venice and discover some fine examples of regency architecture leading on to the ZSL London Zoo.
South London
Westminster Bridge (Photo: Nigel Hopes)
Cross the Thames either on Westminster Bridge or Millenium Bridge and get ready for your trip to the South Bank bursting with cultural attractions, including the impressive Tate Modern (free entrance), Sea Life London Aquarium, mesmerising HMS Belfast ship, and Globe Theatre, meticulously replicating William Shakespeare's original. If your kids are old enough and not easily scared, the London Dungeons make for a creepy but fun experience. And there's also the London Eye to admire sweeping views over the city.
Hop on a boat from the South Bank to Greenwich, home to the Royal Observatory, Cutty Sark, and National Maritime Museum, all great educational destinations.
Local moms recommend: If you are in the South Wimbledon are take the kids to Eddie Catz Soft Play Centre and Deen City Farm. Arty families will love the Merton Abbey Mills, which features a water wheel and pottery workshop and Biscuit Ceramic Cafe in Greenwich where kids can do handprints or paintings on mugs and plates.
(MORE: Find affordable rates on kid-friendly hotels in London.)
East London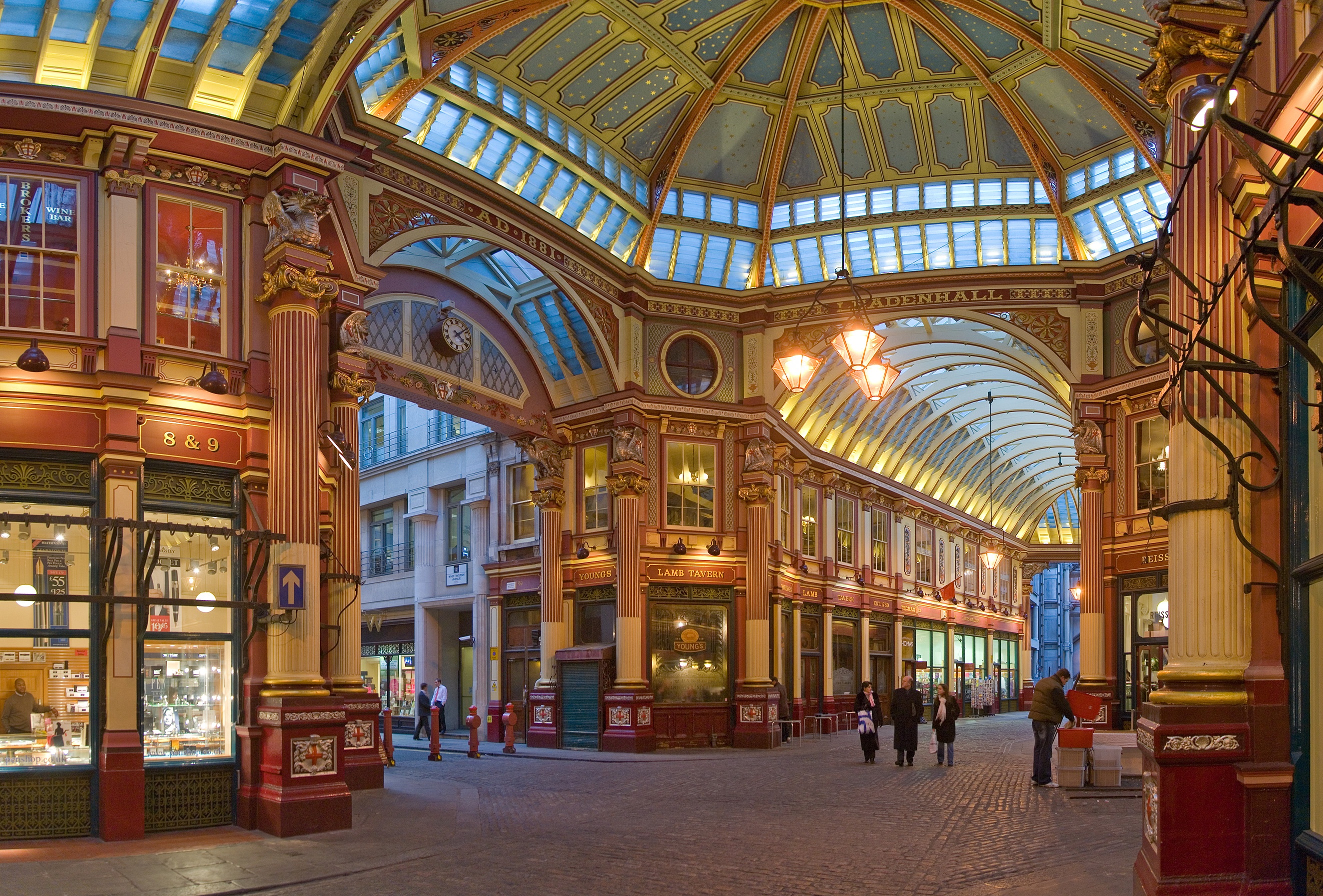 Leadenhall Market (Photo: Diliff)
London's eastern district is home to the venerable Bank of England, fantastic London Museum and financial quarters, as well as some of the trendiest areas. Explore Brick Lane for its Indian curry houses, vintage stores, and bohemian vibe. The Museum of Childhood is a must-see and promised an enchanting experience to families. Shop at the beautiful Leadenhall Market and wander around the City of London where majestic Victorian buildings seamlessly cohabit with cutting edge architecture such as the famous Foster-designed Gerkhin and the newest addition to the cityscape, the Shard created by Renzo Piano and soaring to impressive heights on the southeastern bank of the Thames.
Local moms recommend: Corams Fields in Holborn is brilliant for kids as it has a kids-only park to sit for lunch, goats, and big adventure playground. Kids also love Mudchute Farm. Victoria Park has two amazing playgrounds for families venturing further east.
Sonia Esther Soltani contributed this to MiniTime.