Best Theme Park Holiday Attractions for Families
By Katrina Brown Hunt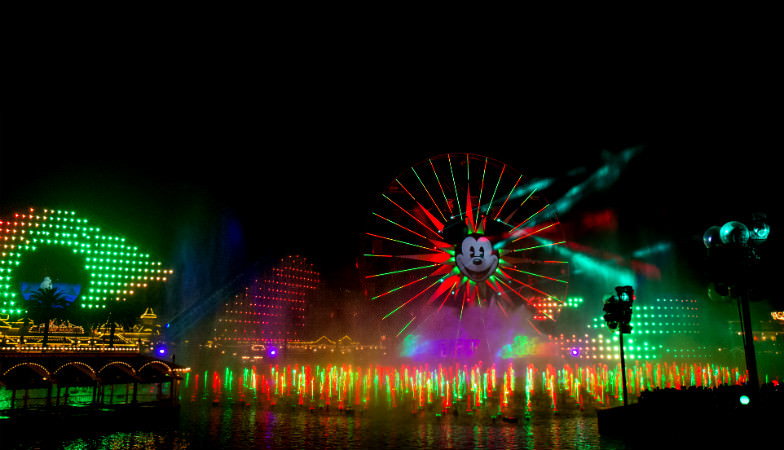 World of Color Winter Dreams in Disneyland Anaheim (Flickr: Anna Fox)
For families, the holidays can be an emotional rollercoaster — which may be all the more reason to embrace the chaos and head to the land of live-action roller coasters.
Indeed, a theme park is the last place you expect to a pass a Silent Night — but in the name of joy to the world, the best theme parks in the U.S. err on the side of extreme in their holiday celebrations. These six parks do a lot more than just deck the halls, and here are their most fabulously over-the-top festivities:
World of Color — Winter Dreams (Disneyland Resort, Anaheim, California, Through January 6)
No one pulls off the holidays quite like Mickey et al: this time of year, Sleeping Beauty's castle is festooned with ornaments, It's A Small World gets a holiday makeover and, these days, Elsa, Anna and the other characters of Frozen are Letting it Go all over the park. You can even ice skate on Olaf's pond in Downtown Disney. The biggest showstopper, however, is the "Winter Dreams" holiday edition of the "World of Color" water show on California Adventure's Paradise Bay: Frozen's Olaf emcees, and characters sing and dance (including a Toy Story-esque rendition of Nutcracker) against huge colored fountains and a giant mist screen. Even cynics and Scrooges will be impressed.
Dollywood's A Christmas Carol (Dollywood, Pigeon Forge, Tennessee, Through January 3)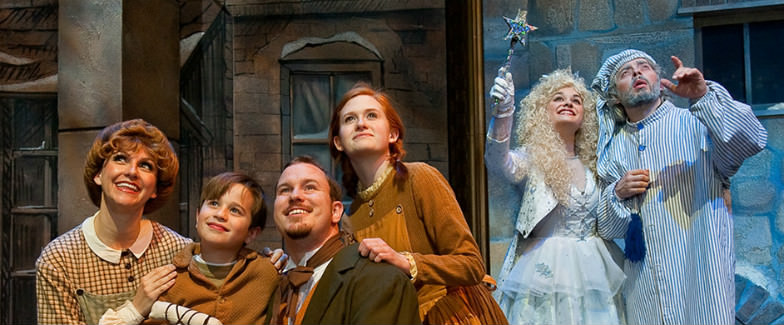 Dollywood's A Christmas Carol (Dollywood)
Forget Santa appearing out of the sky: At this Pigeon Forge mainstay, a hologram of superstar and park founder Dolly Parton performs during the park's musical interpretation of A Christmas Carol. Dolly plays the Ghost of Christmas Past and has penned seven new songs for the 45-minute show. The park's Smoky Mountain Christmas also features a meet-and-greet zone where you can rub shoulders (or noses) with Rudolph, Clarice and Bumble from the TV specials, as well as other live music shows, including the unplugged-style Appalachian Christmas.
Macy's Holiday Parade (Universal Studios Florida, Orlando, Florida, December 7 – January 4)
Missed the Thanksgiving Day parade on TV? Then watch it again—live this time—once it gets transplanted from the wind-chilled streets of Manhattan to this balmy avenue in the Orlando park. You'll see many of the actual floats and balloons from the original parade. The park also hosts Mannheim Steamroller for live concerts on select Saturdays and Sundays during the holidays.
O Tannenbaum (Busch Gardens, Williamsburg, Virginia, Through December 31)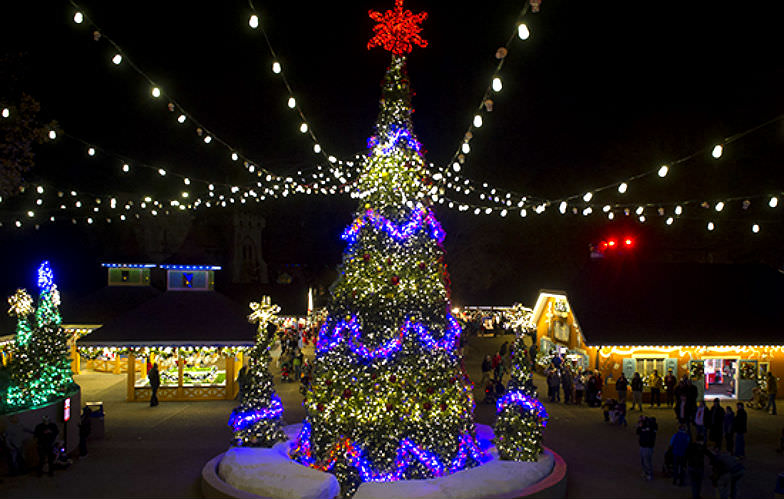 O Tannenbaum in Busch Gardens (Busch Gardens)
The Christmas Town section of the Williamsburg theme park boasts 1,500 decorated trees and more than 6 million lights this time of year—but the centerpiece is its musical show O Tannenbaum, which is a long way from Charlie Brown's needle-dropping twig. The 50-foot tree that acts as the focal point of the show has more than a half million lights on its own, and is surrounded by 10 more trees; the booming orchestral music syncs to the lights. The theme park also offers such seasonal shows as Gloria, a retelling of the first Christmas, and the Dickens-inspired Scrooge No More.
An Old Time Christmas (Silver Dollar City, Branson, Missouri, Through December 30)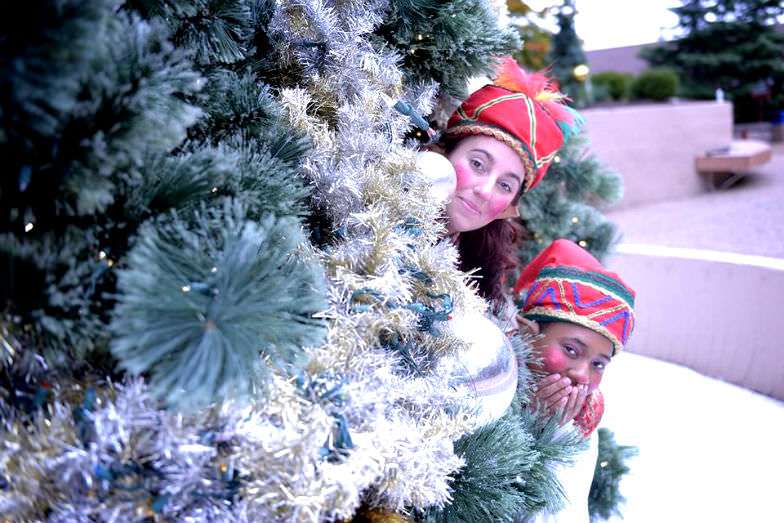 An Old Time Christmas in Silver Dollar City (Silver Dollar City Attractions)
Christmas Eve is every day at this midwestern theme park, where a Living Nativity performance takes place each day along the riverfront, complete with wise men, shepherds and the beaming mother. The Old Time Christmas celebration also includes a Cajun-music holiday show, a huge prime-rib buffet and a five-story-high Christmas tree, which is the focus of the light-and-music show that happens every 15 minutes during the evening.
(MORE: Celebrate the holidays with more Christmas attractions to see at World Disney World with the kids.)
The Osborne Family Spectacle of Dancing Lights (Disney Hollywood Studios, Lake Buena Vista, Florida, Through January 4)
Every town has that one house that goes overboard with holiday lights. But the Arkansas-based Osbourne family has achieved a level of fame most will only dream of: their millions-of-lights holiday display has been recreated for a few years now at Disney World, complete with its giant canopy and rotating carousels. To get the full effect, you can pick up some "Glow With the Show" mouse ears that pulse with light along with the musical display.
Katrina Brown Hunt contributed this to MiniTime.