Best gingerbread house display around the country
By Katrina Brown Hunt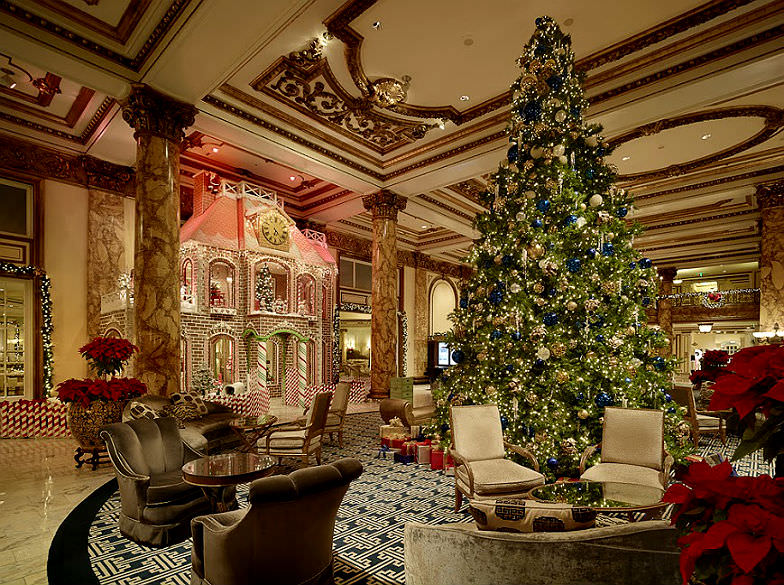 The Fairmont Gingerbread House (Fairmont Hotel)
It's one thing to buy one of those little gingerbread-house kits at the supermarket and make your own edible cottage — or at least a sugar-covered shanty, depending on your skill level.
Making one yourself, though, might make you better appreciate the craftsmanship, man hours — and, frankly, the sheer number of eggs to be cracked — that goes into a 16-foot-high version. It may seem a shame to eat such houses afterward, but you can do just that with some of the most extensive gingerbread creations in America; other spots offer little demonstrations on making them yourself at home.
Here are six places around the country where you can behold the best candy-covered masterpieces:
The Fairmont Gingerbread House, Fairmont Hotel, San Francisco, California
This grande dame hotel has been decking its halls for more than 100 years: this year's gingerbread house, in the lobby, stands two stories high and was made with 7,750 pieces of home-baked gingerbread, 1,500 pounds of royal icing and 700 pounds of candy. Kids can also attend the Fairmont's Gingerbread Holiday Teas on select dates through Dec. 31, featuring a Christmas Fairy, a Balloon Elf and more gingerbread cookies to decorate. The big house will be on display until Jan.1.
Gingerbread White House, Washington, D.C.
Forget a cozy cottage made of cookies: the White House holiday-season décor features a regal gingerbread version of the First Family's home. It weighs in at more than 300 pounds — including an edible skating rink and marzipan reindeer — with 80 pounds of gingerbread dough, 40 pounds of marzipan and 250 pounds of pastillage for the white exterior. There are some free in-person tours during the holiday season, but spaces are limited; you can also take virtual tours of the White House online.
Gingerbread Mansions of Newport, Newport, Rhode Island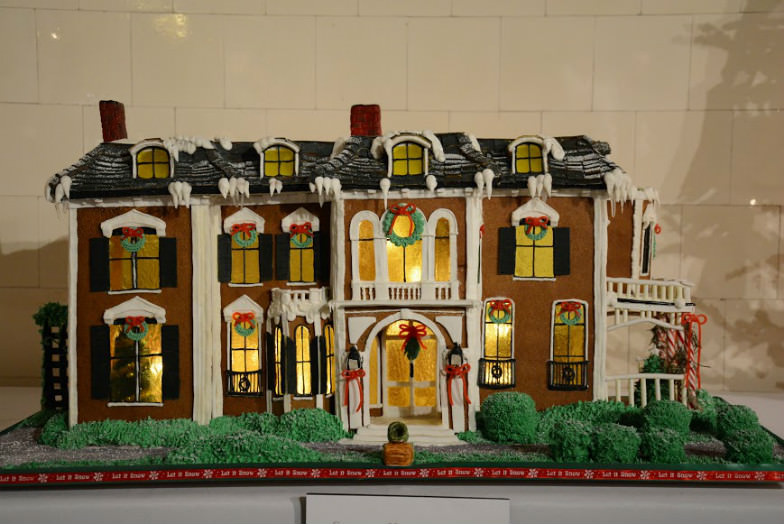 Gingerbread Mansions of Newport (The Preservation Society of Newport County)
Let them eat fondant: The Gilded Age palaces in this Newport town go all out during the holidays — with trees, decorations and sumptuously-set tables. At the Breakers, you can also see gingerbread models of some of the most famous homes; this year also features a model of the Vanderbilt family's New York Central Railroad. The gingerbread houses are on display until Jan. 4. Admission to the main three mansions costs $28 for adults and $9 for children 6 to 17; children under 6 are free.
Gingerbread Castles and Carousels, Disney World Resort, Orlando, Florida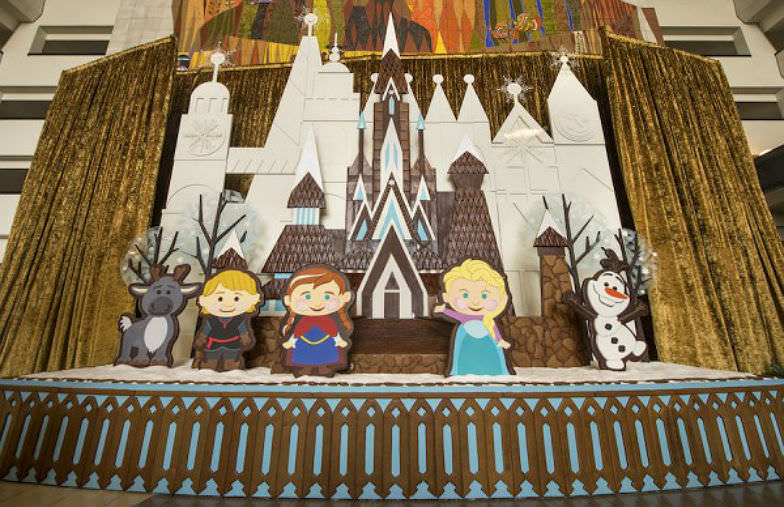 Gingerbread Castles and Carousels at Disney World (Disney)
The Orlando resort takes its gingerbread art to epic proportions: Its most famous gingerbread tradition — 16 years running — is at Disney's Grand Floridian Resort & Spa, where the house is 16 feet tall and features more than 10,000 pieces of gingerbread, 1,000 pounds of honey and 180 pounds of apricot glaze. (You can also watch gingerbread-house-decorating demonstrations here every day but Sunday.) Disney's Beach Club Resort has a gingerbread Holiday Carousel: a life-size, spinning carousel with ponies made of chocolate and fondant; Disney's Contemporary Resort, meanwhile, has a Frozen gingerbread ice castle featuring Anna, Elsa, Olaf and Kristoff, decorated with chocolate and candy.
Not to be outdone, across the country in Anaheim, Disneyland's Grand Californian Hotel & Spa debuted this year a 12-foot-wide gingerbread version of the gorgeous Arts-and-Craft-style hotel, made with 500 pounds of gingerbread. The displays will be up through the first week in January.
The National Gingerbread House Competition, The Omni Grove Park Inn, Asheville, NC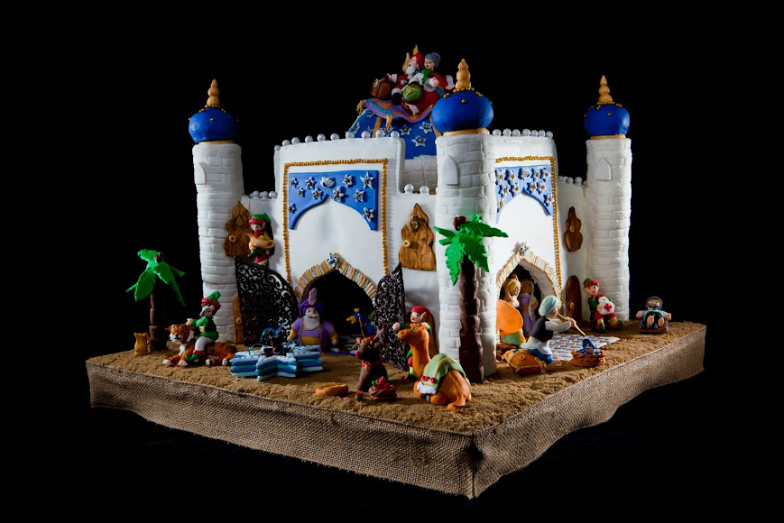 The National Gingerbread House Competition in Asheville, North Carolina (Omni Grove Park Inn)
The Super Bowl of gingerbread architecture happens at this resort in charming Asheville. Don't expect a giant line-up of mere houses, though: This year's winners include a giant gingerbread chessboard (called "Pawn Stars") and a "Hometown Christmas Parade." The judging happened in November, but the entries will stay on display until Jan. 1. The display is open to the public on Sunday through Thursday, excluding holidays; admission is free, but there is a $10 parking charge per vehicle.
(MORE: Find more Christmas attractions to visit with the kids.)
Gingerbread Lane, New York Hall of Science, New York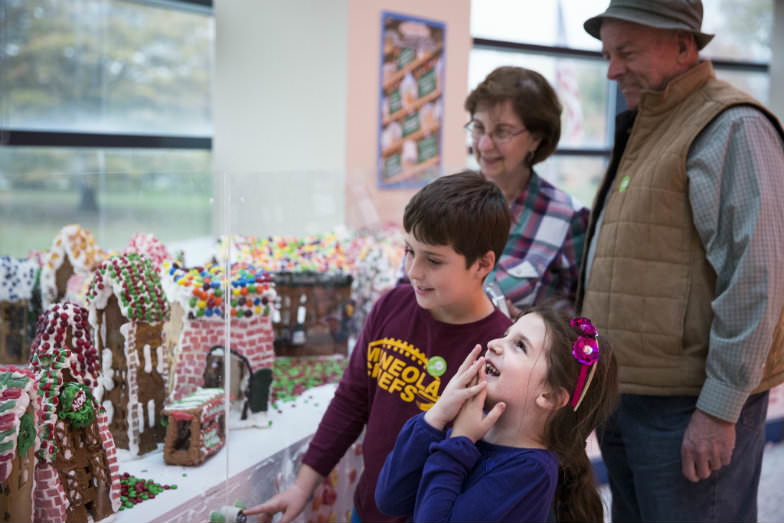 Gingerbread Lane at the New York Hall of Science (New York Hall of Science)
Jon Lovitch, the executive chef at Manhattan's legendary Algonquin Hotel, spent much of this past year prepping this huge gingerbread neighborhood: his version for 2013, with 157 houses, won the Guinness World Record for the largest gingerbread village. This year's version — on display at the New York Hall of Science, in Queens — dwarfs that, with 1,000 houses, 95 trees, six cable cars, and an underground candy subway station, featuring 3,000 pounds of icing and 600 pounds of candy from 14 countries. On December 27, you can take a house-making workshop with the chef himself ($10), and if you come on the last day of the exhibit, Jan. 11, you can take home one the display's houses for free — on a first-come, first-served basis. Museum admission is $11 for adults and $8 for kid ages 2 to 17.
Katrina Brown Hunt contributed this to MiniTime.