Rev up for road trips with little ones
By Suzanne Rowan Kelleher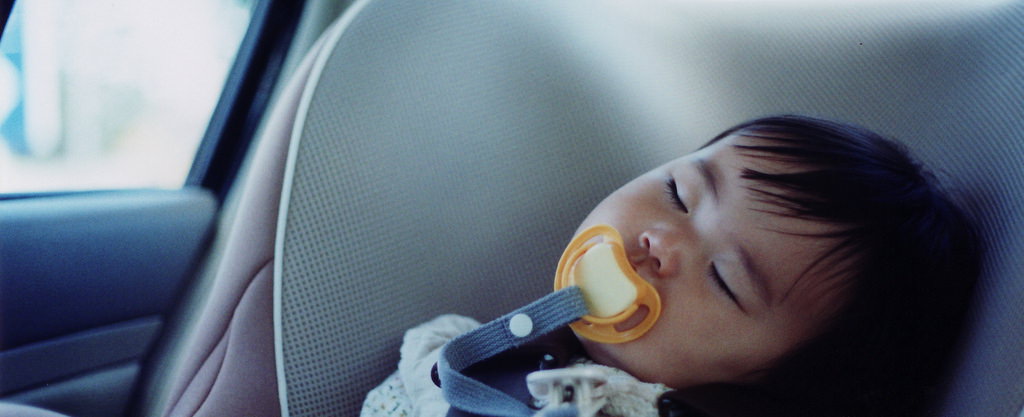 Avoid road trip meltdowns. (Flickr: MIKI Yoshihito)
As the price of air travel moves steadily upward, driving to your vacation destination is almost always the cheapest way to go. Taking the car also gives us control of when and where to stop, which is important when there's a baby or toddler on board. So tune up the car and start packing. We'll tell you how to make the most of your time on the open road:
Time it right. If your baby sleeps well in the car, plan your departure time to coincide with his regular nap time or bedtime so he'll sleep through part of the journey. If your baby sleeps better in his own bed, consider leaving first thing in the morning or right after he wakes from his nap. Try to bend to your baby's regular schedule as much as possible, and he'll be a happier traveler.
Break up the journey. It's unrealistic to think you can drive for seven hours straight with a baby strapped into her car seat. When she's sleeping, stay on the road. When she's awake, plan to stop every few hours so that everyone can get out and have a break.
(MORE: View a family trip itinerary: 7 days on the road with kids.)
Make a clean change. Think ahead about where to stop for diaper changes and, when baby gets older, potty breaks. When you need a clean bathroom with a changing table, head for local businesses that attract families. In our experience, you'll usually find relatively clean rest rooms in fast food chains, large grocery chain stores, and major retailers such as Wal-Mart and Target. Remember to give the changing table a quick scrub with a baby wipe, in case it hasn't been sanitized recently.
Reader tip: "When you are on a road trip and need a bathroom break, keep a lookout for a budget chain hotel. They are easy to find, often conveniently located just off highway exits. They tend to have rest rooms in the lobby area and, in my experience, these bathrooms are usually much cleaner than those in gas stations and fast food restaurants." –Amy from Kingston, NY
Stick to your bedtime routine. Is it time for a nap? If you and your baby go through a ritual before bedtime at home, go through the same motions in the car. Make sure your baby is fed, clean, and dressed comfortably (maybe even in her pajamas), use pull-down window shades to block out the sun, put on a CD of favorite lullabyes… and hopefully those little eyelids will start drooping.
Reader tip: "About a month before a long car trip, I rethought my baby's nap and bedtime routine. I brought a mini stereo into his bedroom and played the same Mozart CD at every single nap and bedtime. When it was finally time for us to take our trip, I made sure I had that CD with us in the car. Every time my son started getting fussy due to being tired, I put on Mozart. My son would soon calm down and then quietly drift off to sleep." –Denise from Manhattan Beach, CA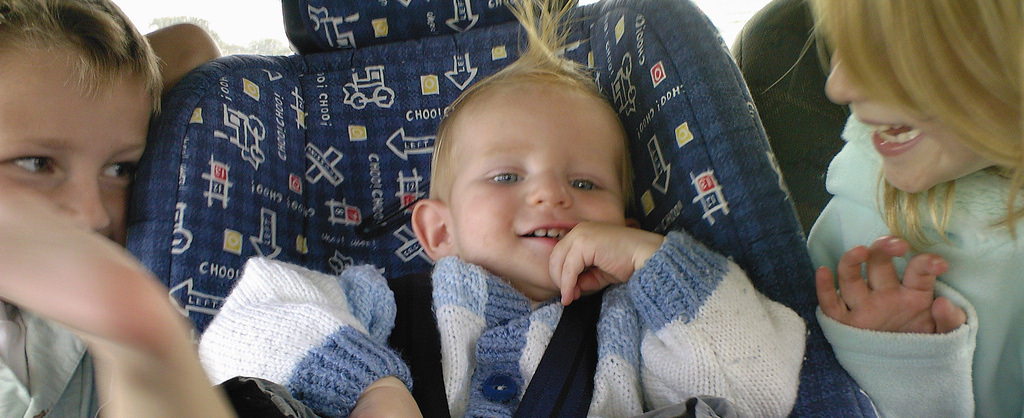 Give baby a buddy as well as toys and games. (Flickr: viralbus)
Give baby a buddy. It's no fun to have the backseat all to yourself. If a second adult or older child is traveling, have one person sit in the back next to the baby to keep her company. Reading books, singing songs, and playing peek-a-boo will pass the time, and the extra interaction will keep your baby content for longer spells. Funny puppets are always welcome.
Bring a toy box. If there is room next to your older baby's car seat, place a large bin of her favorite toys within her reach. Let her pick out her favorite board books, cuddly toys, and pretend phone when she feels like it. This works especially well when there's a second person in the backseat to pick up dropped items.
Save with do-it-yourself fixes. Sure, you could buy a gizmo or gadget for every situation, but wouldn't you rather save your money for something more fun, like souvenirs? Besides, with a little ingenuity, you can often achieve the same results for a few pennies.
Reader tip: "I have discovered that a roll of low-tack painter's tape has a zillion uses on car trips. I can use it to tack up a spare tee-shirt to the car window to block the sun from bothering my 17-month-old daughter when she's trying to sleep. I use it to pin fun pictures of her favorite TV characters to the seat in front of her. In the hotel room, I use it to cover electrical sockets and pin up curtain cords out of my daughter's reach. Best of all, it comes off at the end of the trip without damaging upholstery, painted surfaces, or wallpaper." –Patti from St. Paul, MN
Reader tip: "Whenever we go on a trip (even a daytrip), I pack a mini first-aid kit in my backpack or handbag. I use a small flat Tupperware-like container, but even a sandwich-size Ziploc bag would work. My first-aid kit typically contains about 10 Band-Aids of assorted shapes and sizes, a small bottle of hand sanitizer, small tube of bug bite sting reliever, several antiseptic wipes, small tube of antibiotic ointment, several individual packets of Advil and Children's Tylenol, and a few stickers or temporary tattoos that I give my patients after their treatments." –Beth from San Bernardino, CA
Don't forget snacks. Bring along an assortment of favorite snacks and drinks and remember to bring food for yourself, too. Having snacks along gives you the flexibility to save your stops for when your baby is fussing.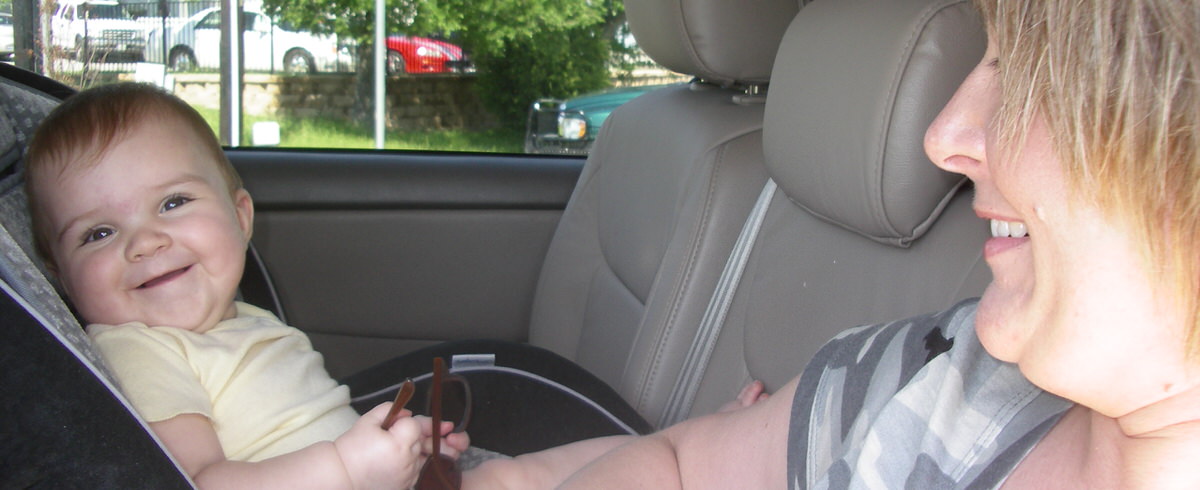 Make your trips fun for your kids. (Flickr: yugenro)
Reader tip: "I sat in the backseat with my 18-month-old daughter with a cheap Styrofoam cooler next to me. I had packed it with a small carton of milk, some yogurt, water, and juice boxes. I also brought various finger snacks, like goldfish crackers, graham crackers, and Cheerios, in spill-proof snack cups. This saved us a ton of money and it also ensured that my daughter wouldn't get hungry. She had all her favorite foods!" –Amanda from Sparks, NV
(MORE: Read additional road trip tips here.)
Pack the essentials. There are a few items that always come in handy, no matter where you're heading. On our short list:
A box of one-gallon Ziploc bags. Put some in your purse, your daybag, and your diaper bag. They're indispensable for keeping anything that's gooey, wet, and messy away from everything you own that's clean, dry, and unblemished. Use them in your cooler to store half-eaten fruit and open juice boxes. And because it seals in odors, a Ziploc is a good place to put a dirty diaper and it makes a stellar barf bag.
Anti-bacterial hand sanitizer, for pre- and post-picnic clean ups.
A small bottle of bubbles. Stuck in traffic? Waiting in line? Anytime you need to entertain your baby for a short spell, bubbles always seem to do the trick. And hooray, they won't leave a mess in your car. (When not in use, store in a Ziploc.)
Extra garbage bags. Pick up. Discard. Repeat.