South Dakota with Kids
By James Holland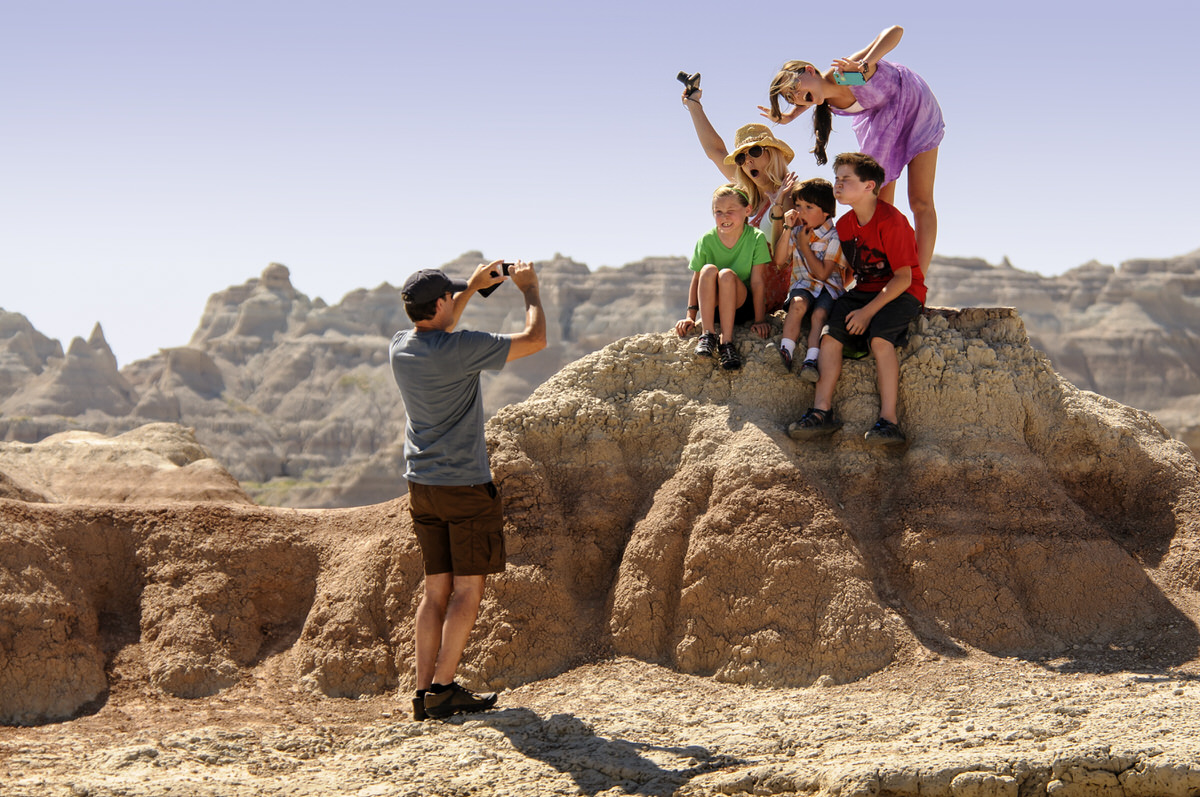 There's a lot of family fun to be had exploring the best outdoor attractions in South Dakota. (Courtesy South Dakota Department of Tourism)
From the Black Hills to the Eastern stretches of the state, South Dakota is defined by wide expanses. The open space, American as apple pie, stretches for miles and miles. While a good portion of the land hugging both sides of the Eastbound I-90 is ranchland, there's plenty for travelers to see.
Outdoor attractions in South Dakota will most likely be a big part of any trip to the state, and for good reason. Hike the Black Hills, dotted with an oddly distinct red dirt poking through lush green foliage. Or take in the desert-like panoramas of the badlands. There are so many family-friendly attractions to check out. And some of the most wonderful ones are wildlife refuges and zoos. Children will see some all sorts of incredible wildlife including that most American of animals, the Buffalo.
(MORE: South Dakota: Larger than Life)
Custer State Park
One of the best ways to experience the Black Hills is a visit to Custer State Park. It is one of the best outdoor attractions in South Dakota. Those 71,000 acres of gorgeous, rolling hills are home to a whole host of wildlife. The most famous, of course, is the 1,300 strong herd of Bison. One of the best ways to experience the park and see the Bison is to take the family-friendly Buffalo Safari Jeep Tour. The tour loops through a portion of the park where the herds roam. You're more than likely to come across them more than once, and they might even hang out on the road. You'll also see Pronghorn Antelope, Bighorn Sheep, and colonies of prairie dogs who might bark at you if you get too close.
Mount Rushmore
The most enduring icon of South Dakota, Mount Rushmore is one of the must-visit outdoor attractions in South Dakota. The Avenue of Flags leads you to the viewing platform for those four iconic presidents facing the sun. Spend time in the attached Lincoln Borglum Museum. Learn how they could have been Wild West characters like Buffalo Bill instead of the four presidents.
The newly renovated Carver Cafe is a perfect family-friendly stop for a bite on your way out. It's on its way to becoming a completely green, four-star facility. If nothing else, treat the kids (and yourself) to a scoop of ice cream based on Thomas Jefferson's original recipe.
Bear Country
State and national parks are must visit destinations, but they're not always the easiest places to find wildlife. An exciting family-friendly outdoor attraction in South Dakota gets you up close and personal with all sorts of wildlife. Bear Country USA, near Rapid City, is that experience. As a drive-thru wildlife park, you'll see a whole host of animals. There are Bison, Bighorn Sheep, Bobcats, and arctic wolves, among many others. The highlight might be the large Black and Grizzly Bears hanging out, sidling up to your car, and adorably blocking traffic.
Badlands
Millions of years of erosion have created one of the most otherworldly vistas you'll find in America. The Badlands National Park, little over an hour east of the Black Hills, should be part of every trip to South Dakota. There's plenty of hiking available for all levels. Some very family-friendly trails include the Fossil Exhibit Trail, a boardwalk complete with fossil replicas and educational exhibits. Keep an eye out for Buffalo, prairie dogs, and Bighorn Sheep, which you might see scaling the steep rock formations. If you're hungry, make a stop at the Cedar Pass Lodge for some traditional fry bread with wojapi.
(MORE: Into the Great Wide Open)
Falls Park
At 123 acres, Falls Park near downtown Sioux Falls might be one of the smaller outdoor attractions in South Dakota. It is an essential stop, if only for a photo op. Falls Park does have more to it, however. The ruins of the Sioux Falls Light and Power Building, and the Queen Bee Mill give Falls Park a rustic character. The Falls Overlook Café now occupies the quartzite building, serving family-friendly fare. The Falls Park visitor information center offers a 5-story viewing tower for a picture perfect panorama.
James Holland of Another Spur on the Road contributed this to MiniTime.