The best hotel water features on the Grand Strand
By Katrina Brown Hunt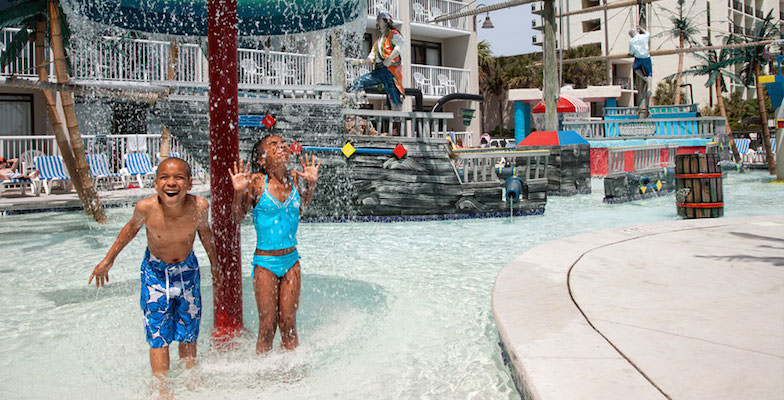 Captain's Quarters Resort Myrtle Beach
It's not often that an ocean gets upstaged by a river, but in Myrtle Beach, the rivers rule—lazy rivers, that is.
No doubt, Myrtle Beach is resoundingly family-friendly: it offers reasonable prices and a wealth of hotels with suite-style accommodations with kitchens. Even more important, perhaps, there's no shortage of pools, from "bubble" pools to teen-friendly pools with basketball hoops, crowd-pleasing lazy rivers, and kiddies-pool playgrounds with climbable pirate ships. (Indeed, kids may leave Myrtle Beach with the impression that, years ago, a shockingly high number of brightly-colored pirate ships ran into trouble along the coast here.)
While pools are not necessarily huge, they make up for it in the sheer number of kid-friendly features, from showering umbrellas to slides and even rainy-day indoor lazy rivers. Here are the seven hotels where you get the most variety:
Captain's Quarters Resort Myrtle Beach
The high-rise Captain's Quarters Resort has an indoor-outdoor pool area with 15 water features, including three ocean-facing pools, a lazy river, kiddie pools and a splashy Shipwreck Lagoon Kids' Waterpark (not to mention a dolphin mascot named Salty). As insurance against any chilly weather, the resort also has a 20-lane bowling alley, a video arcade, and pool tables.
(MORE: View a family trip plan: 2 days in Myrtle Beach with kids.)
Dunes Village Resort
The family-friendly Dunes Village Resort—all studios, suites and condos— has an outdoor, oceanfront pool with a lazy river as well as a 30,000-square-foot indoor waterpark, which also has pools (including a teen pool with basketball and volleyball), a lazy river, slides and three hot tubs. The resort also has dry-time diversions such as mini golf, foosball and basketball courts.
Coral Beach Resort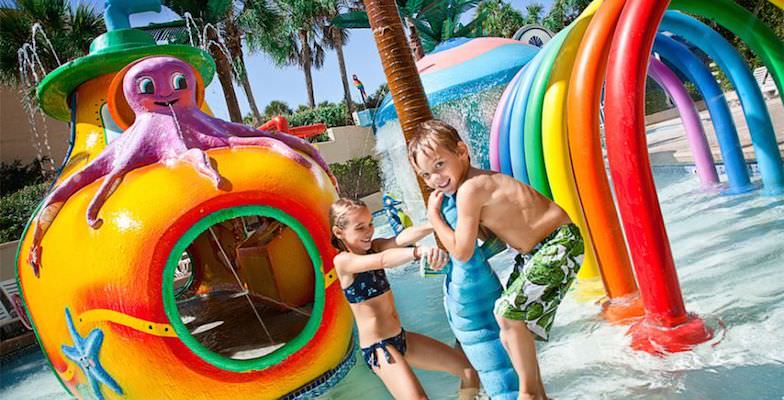 Coral Beach Resort
The are a total of 10 pools, kiddie pools lazy rivers, and hot tubs at this resort on the main strip, including a water playground with showering umbrellas and a shipwreck play structure. There's also an indoor pool (heated to a balmy 86 degrees), an eight-lane bowling alley and arcade.
(MORE: Find kid-friendly attractions in Myrtle Beach.)
The Breakers Myrtle Beach Resort
The splashy centerpiece at this 70-year-old resort in the Grand Strand area is its huge, climbable pirate ship, which connects with two of the outdoor pools. The resort, which offers one-, two- and three-bedroom suites, also has a 418-foot lazy river, indoor pools, and some familiar names—Ben & Jerry's and Starbucks—among its dining and snack options.
Sand Dunes Resort Myrtle Beach
The Sand Dunes Resort in quieter North Myrtle Beach offers suites, condos, and villas, plus a waterpark area with six pools, water slides, a lazy river, a fountain-like "bubble pool" and kiddie pools. Indoors, there are two more pools with hot tubs, as well as a game room and kids club.
Landmark Resort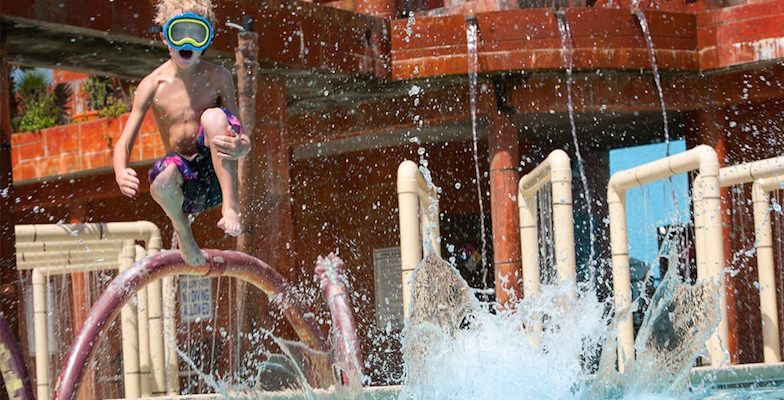 Landmark Resort
Along with a big oceanfront pool and 300-foot lazy river, the Landmark Resort boasts the H2Oasis Water Park, which features a wading pool with waterfalls, barrel bucket dumps, rain tree umbrellas, tunnels, plus a four-foot deep lap pool. There's also a 9-hole Putt-Putt course —as well as free shuttles to and from the airport.
Compass Cove Resort
This Grand Strand resort features a total of six indoor and outdoor pools, with three new tube slides, five kiddie pools, and three lazy rivers. For non-swimming times, there are giant and checker sets, a game room and a kids club that offers activities such as tie-dyeing, sand sculptures and rubber duck races all summer long.
Katrina Brown Hunt contributed this to www.MiniTime.com.