Carlsbad with kids
By Michelle Rae Uy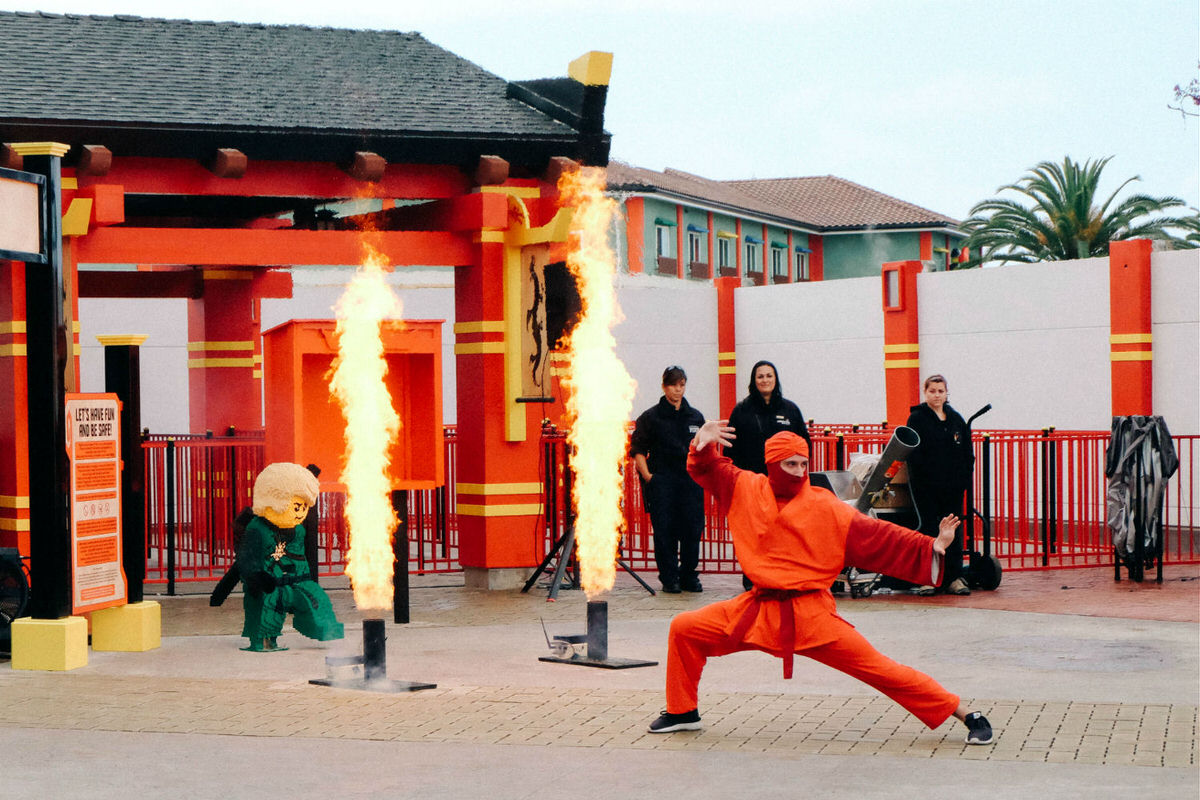 Kai, Master of Fire, showing off his skills at LEGOLAND California's NINJAGO World. (Photo: Michelle Rae Uy)
It's no secret that kids love to play heroes—some like to play superheroes, some medieval knights, and some awesome ninjas that can scale walls and do cool martial arts moves. No wonder Lego Ninjago has become a huge hit with kids all over the world, spawning games, comic books and readers, a TV show, and soon a movie that is expected to hit the big screen in 2017.
It only makes sense, of course, to give Ninjago its own land and ride at the LEGOLAND parks. Following the opening of NINJAGO World at LEGOLAND Billund in Denmark, Ninjago World at LEGOLAND California is slated to open on May 5th, soon giving pint-sized Ninjago fans plenty of opportunities to immerse in their favorite world and go on ninja adventures.
(MORE: Unforgettable Adventures for Families in the Sea of Cortez)
We just came back from checking out Ninjago World at the very kid-friendly theme park during its press preview, and we are happy to report that kids will definitely love and enjoy the new offering. Here are a few fun things you and your kids can expect there:
Meet the Cast
The kids will get a chance to meet and greet their favorite ninja/s. Whether it's Kai, Master of Fire, Jay, Master of Lightning, Cole, Master of Earth, or Zane, Master of Ice, one of the Ninjago masters is bound to make an appearance at NINJAGO World. Make sure to keep an eye out and your cameras ready.
Go on an Adventure, the Ninja Way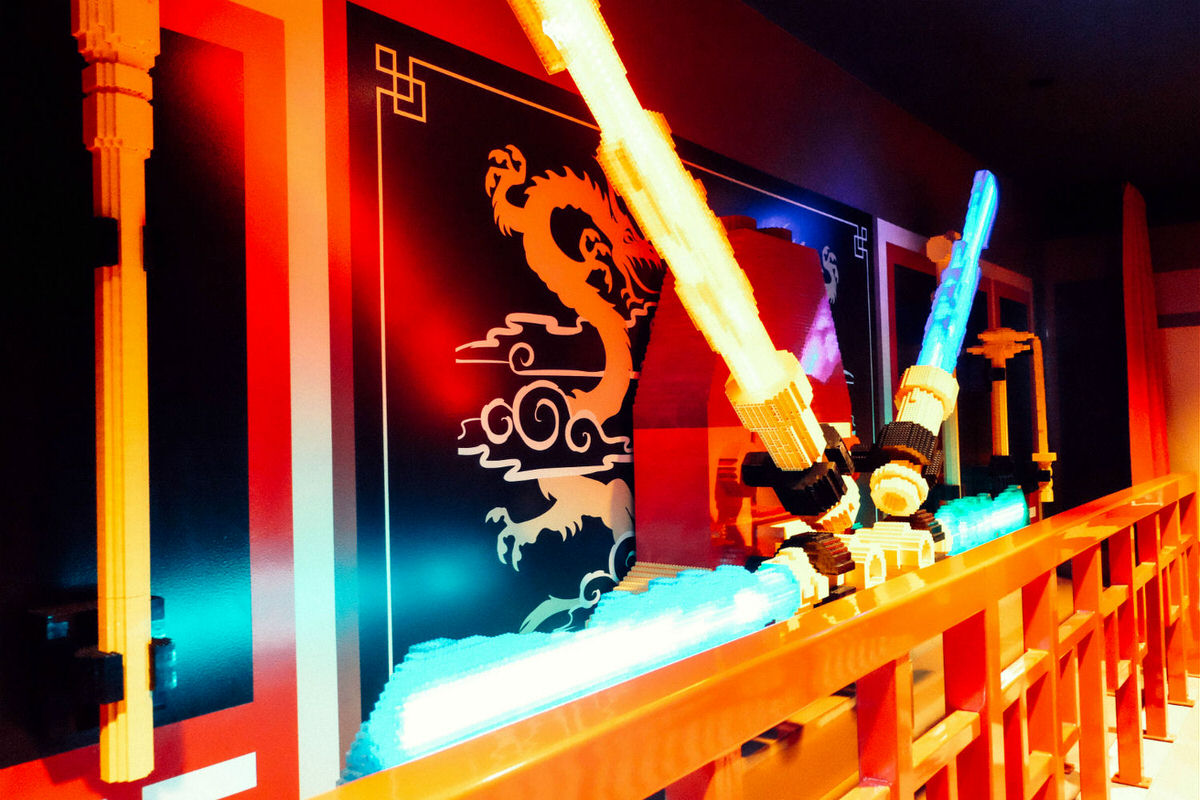 Inside NINJAGO The Ride (Photo: Michelle Rae Uy)
The vibrant NINJAGO The Ride, created using Triotech's Maestro technology, gives both kids and their parents a rare chance to go on an exciting adventure with Kai, Jay, Cole and Zane, and help them beat Lord Garmadon's battalion of Skulkins. Test your Spinjitzu skills on this multi-sensory ride that incorporates 3D technology with heat, smoke and wind for an immersive interactive experience. First, there's some hand training to be done; but don't be nervous, it's all in the wrist! And the best part, there's neither age nor height restriction so the little ones can join in on the fun.
Train in the Art of Spinjitzu
The kids' Spinjitzu training doesn't end when the ride is over. At Cole's Rock Climb next to Wu's Warehouse, kids can develop their strength and agility while learning rock climbing skills. Balance is an integral part of being a ninja, and at Kai's Spinners, kids can hone that skill as they stand on a spinning platform. At Jay's Lightning Drill, kids can put their speed to the test in the speed cage. And finally, at Zane's Temple Build, they can put their imagination to work by building Ninjago-inspired LEGO models. Creativity, after all, is much needed when you're saving the world from the conquering Skulkins.
Feast of Delicious Fusion Food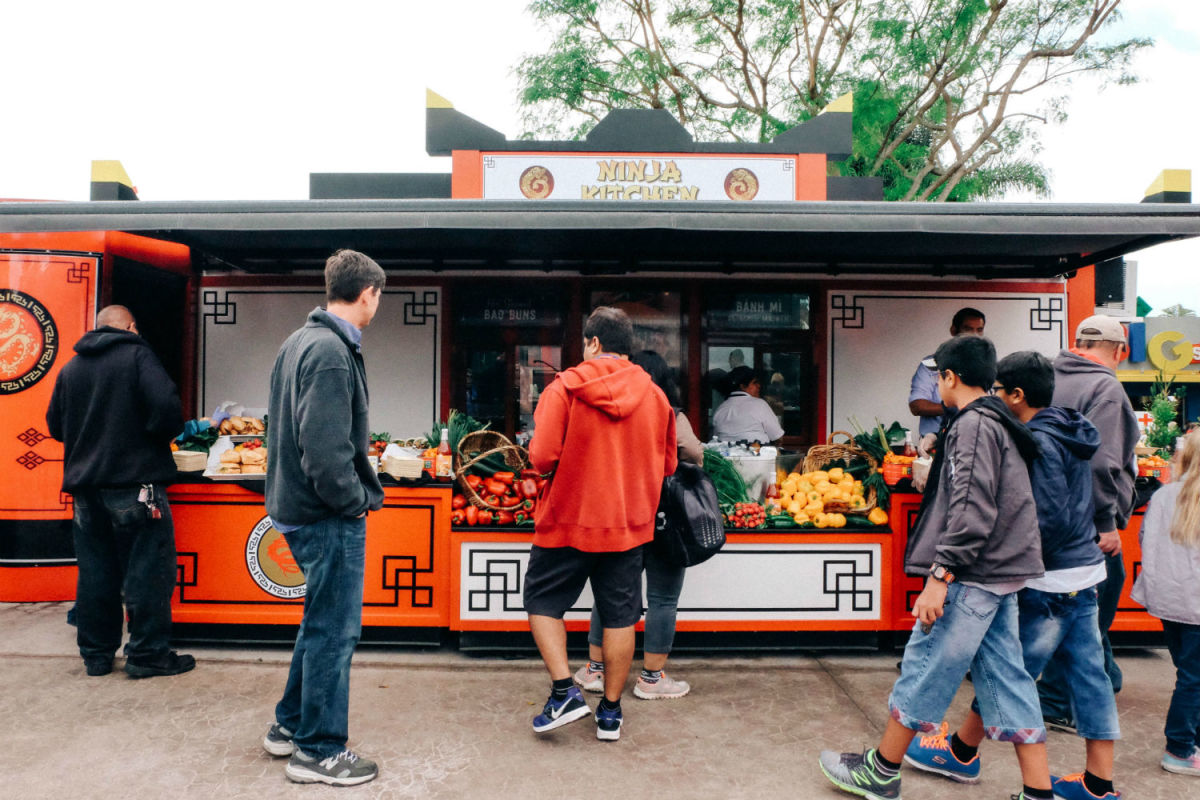 Sample some delicious Asian street food at NINJAGO World. (Photo: Michelle Rae Uy)
All that training will make anyone hungry. After working up an appetite, head to Ninja Kitchen near the land entrance for a delectable and kid-friendly take on Asian street food. We've tried their Chicken Banh Mi Vietnamese sandwiches and their Steamed Bao Buns with Pork Belly ourselves, and we were very impressed! The kids will love these offerings, for sure; but the parents will appreciate them even more as they are a few steps above that usual bland theme park food.
Ninjago Shopping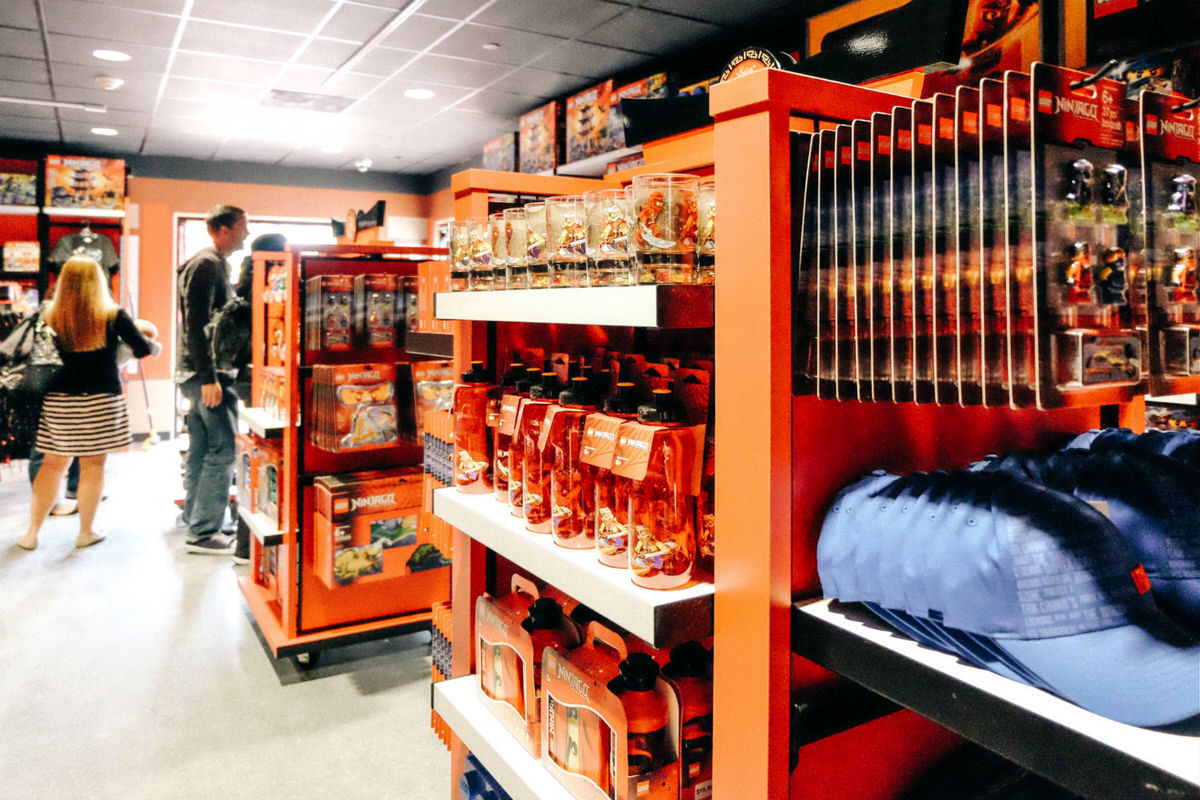 NINJAGO merchandise at Wu's Warehouse (Photo: Michelle Rae Uy)
You cannot leave Ninja World without proper retail therapy. Take some cool Ninjago merchandise home to remember your visit by. At Wu's Warehouse, which you'll get a chance to visit after battling Skulkins on the ride, there are all sorts of fun things—from Ninjago LEGO sets and Ninjago-inspired ninja suits and weapons like sais and swords (safe and kid-friendly, of course) to Ninjago tumblers, water bottles, lunch sets, caps, shirts and bags! Be ready to spend some dough, or if on the budget, make sure to limit the kids to one or two items each.
(MORE: Eco-Friendly Trip Ideas for Eco-Conscious Families)
And of course, as is the LEGOLAND tradition, there will be a few LEGO models—22, to be exact—around NINJAGO World. Keep a sharp eye out for Ninjago-inspired LEGO models like the Guardian Dragons, which took more than 380 hours and 77,000 LEGO bricks to make, the Ninjago Monastery, and the Ninjago Dragon that boasts a more-than-seven-feet-long wing span.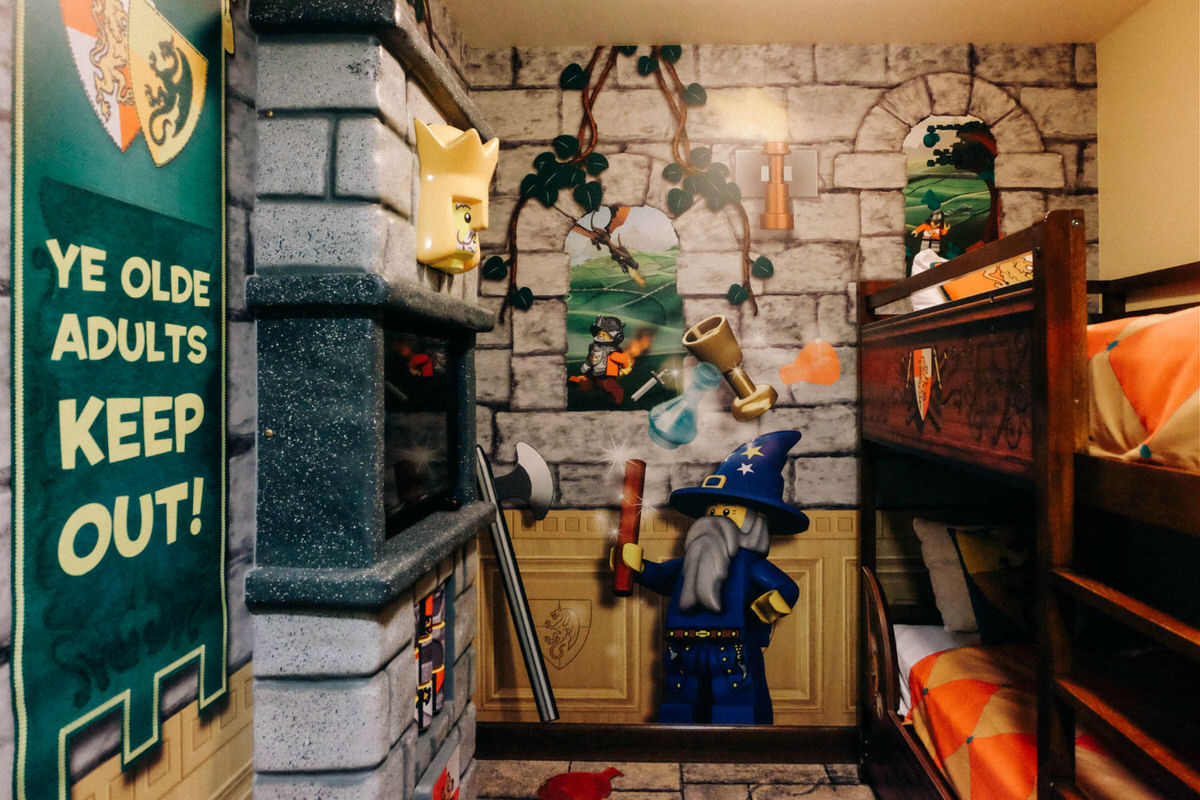 Themed kids' area at the LEGOLAND Hotel (Photo: Michelle Rae Uy)
To complete your LEGOLAND California visit, we recommend staying at the colorful and super kid-friendly LEGOLAND Hotel, which boasts kiddie flairs such as an indoor play area, a zero-entry outdoor pool, as well as themed rooms that feature a kiddie door peephole, a treasure chest, a lovely bathroom with a child toilet seat and a low tub, and a separate "kids-only" area with bunk beds, its own flat screen TV and a child-proofed wall outlet.
Michelle Rae Uy contributed this to MiniTime. She is a travel writer based in Los Angeles and MiniTime's Head of Content, who spends her free time on adventures and film photography.