Ski resorts in New Mexico for families
By Mimi Slawoff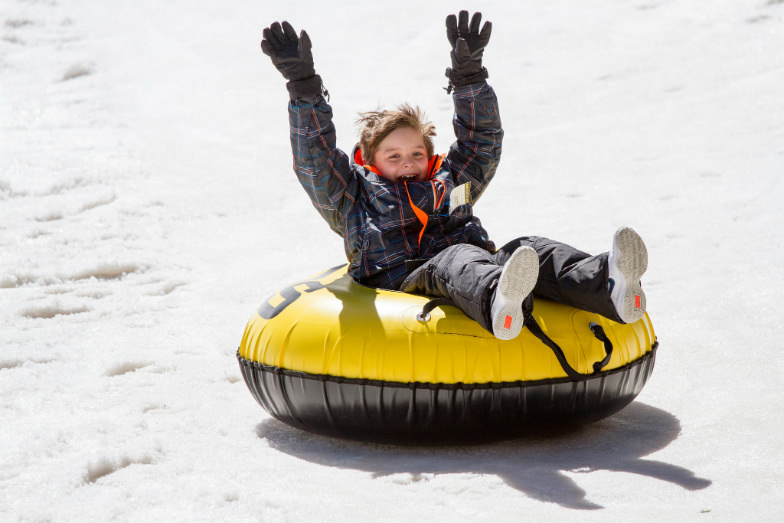 Child snow tubing at Taos Ski Valley (Flickr: Josh Grenier)
Snowy slopes in cozy mountain towns may not come to mind when you think of New Mexico. Yes this southwestern state — best known for dramatic desert landscape, adobe buildings and chili-based cuisine — also has world class resorts with terrain for skiers and snowboarders of all levels. Many of New Mexico's ski areas are family-owned, creating a laid-back, intimate ambiance. Don't be surprised to find resort family members selling lift tickets, grooming slopes or riding a chairlift with you.
Here's a sample of New Mexico ski resorts that welcome families with open arms.
(TRIP PLAN: Check out what kid-friendly attractions one family visited in New Mexico.)
Taos Ski Valley
Nestled in a cozy European-style village with restaurants, shops and slope-slide lodging, Taos Ski Valley has been in the hands of the Blake family for more than 60 years. Kids as young as 6 weeks are embraced in the children's center equipped with daycare, pint-sized chairlifts, special terrain and an equipment shop. Kids ages 5 to 15 are grouped according to age and ability for ski and snowboard lessons. Younger children are supervised in Bebekare (ages 6 weeks to 12 months) and Kinderkare (ages 1 to 3). In the Mini Elite program, kids weighing at least 23 pounds are introduced to skiing on shorter equipment.
Fun fact: If your birthday is on March 24, the same as Taos Ski Valley founder Ernie Blake, you ski free on your special day.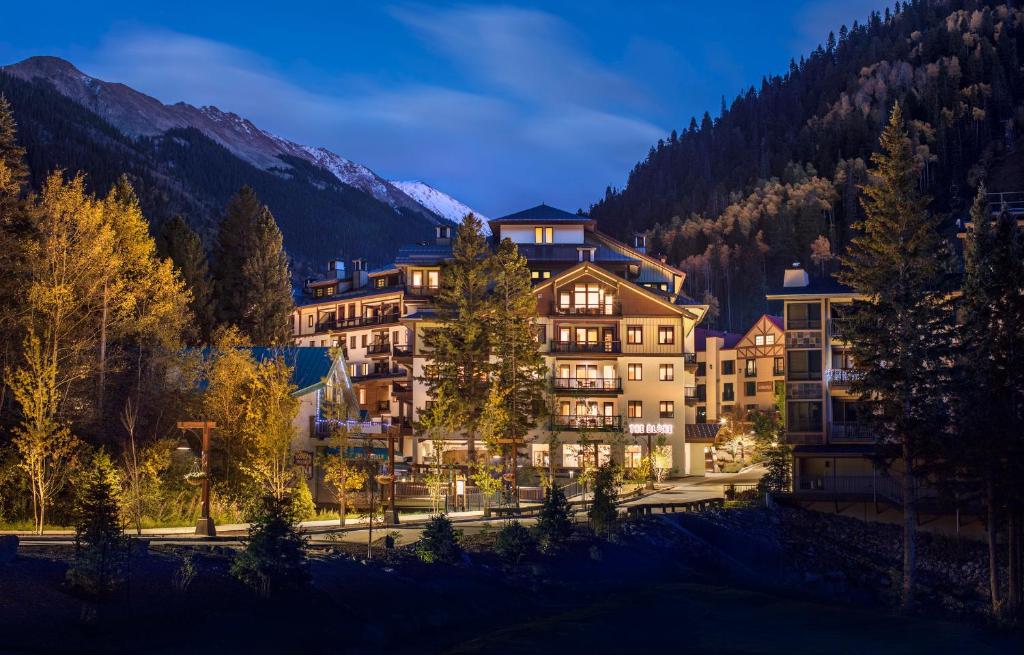 The Blake at Taos Ski Valley (Photo: booking.com)
Want to spend an unforgettable time at Ski Valley? The Blake at Taos Ski Valley is located on Mirror Lake, and it takes 5 minutes to walk to Lake Placid Olympic Village. This delightful location has a secluded beach area, classic design, luxurious beds, and wooden furnishings. It exudes a mood of natural joy.
Activities to enjoy: Visitors may unwind in the hot tub or sauna or swim in the indoor pool. There is also a fitness center accessible.
Great resort fun: Both the on-site Roomers Nightclub and the Straight Shot Lounge provide live entertainment. The Golden Arrow Lakeside Resort is only a few steps away from the boutique and specialized shopping.
Enjoyment for foodies: Every day, Generations Restaurant serves breakfast, lunch, and supper. Locally produced, fresh dishes are available on the menu.
Red River Ski Area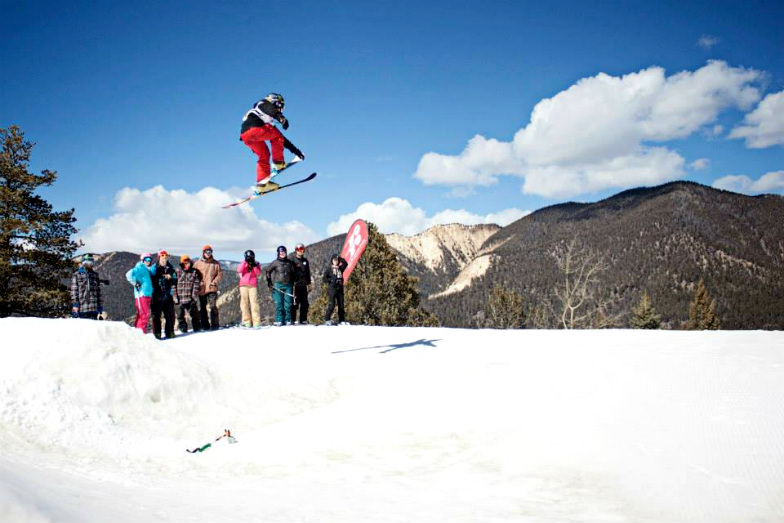 Snowboarder at Red River Ski Area (Red River Ski Area)
Feel right at home at the laid-back, Judycki family-owned property in northern New Mexico. Although the resort is small, the staff is big on friendly service on and off the slopes. Comfort food is served in the cafeteria and at the ski in/ski out Lift House restaurant. Ski and snowboard lessons are available for ages 4 and older. The Youth Ski & Ride Center makes skiing and riding fun for ages 4 – 12. New this year is a Full Day Ski/Snowboard Camp (ages 10 – 12) for skiers and riders of all levels. Includes lunch. Ask your kids to show you fun mountain features, such as the Moonstar Mining Camp, Animals of the Forest and an Indian village. Après-ski, it's just a few steps to lodging, shopping and dining in the three-street, western-style town.
Tip: Take a Snow Coach Dinner to the Ski Tip Restaurant. The fun begins with a heated snowcat ride up the mountain.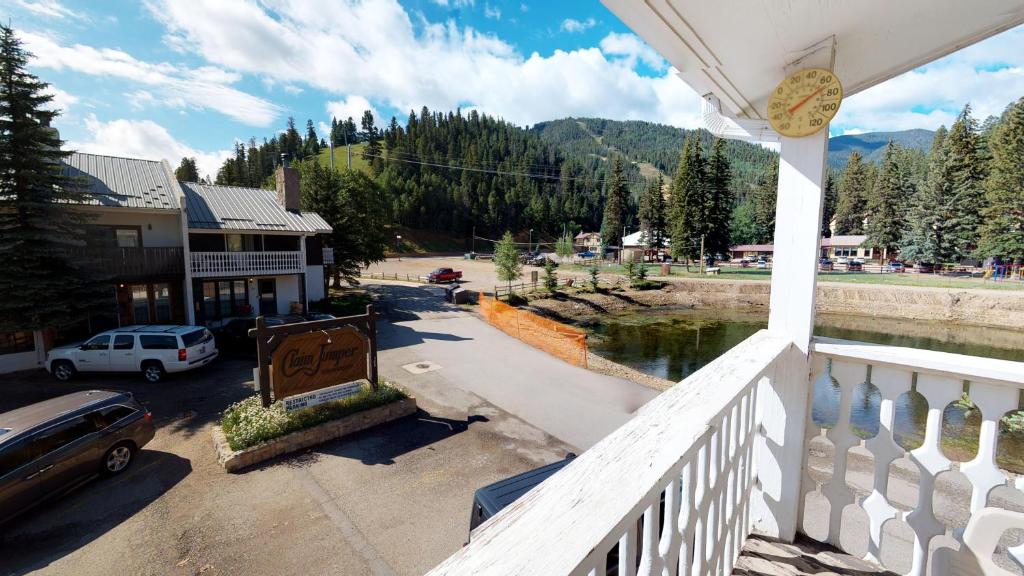 Claim Jumper #8 Townhouse (Photo: booking.com)
While visiting the Red River Ski Area, you will surely benefit from staying at Claim Jumper #8 Townhouse – 600 m from Red River, as it is only a few steps away from all that the area offers. Visitors have access to a fully equipped kitchen, a dining room, a living room with cable TV, and private parking with free-of-charge access.
Comfort for your family: After an adventurous day on the slopes, you can relax in three bedrooms, a flat-screen TV with cable channels, a full kitchen with a dishwasher, an oven, a washer, a burner, and a toaster are all included in the apartment's amenities. The unit provides linens and towels as well.
Convenience and proximity: The apartment is located 9 kilometers from Moly and 19 km from Questa. Claim Jumper #8 Townhouse is 58 kilometers from Taos Regional Airport, which is the closest airport.
Fun adventures for couples and friends: Skiing tours and other outdoor activities are available in the area. The ski resort offers various trails for all levels. You can also go ice-skating, sledding, or snowmobiling.
Couples' night out: Red River has a lot to offer when it comes to nightlife and dining. There are several bars and restaurants in the area that will surely satisfy your cravings.
Ski Santa Fe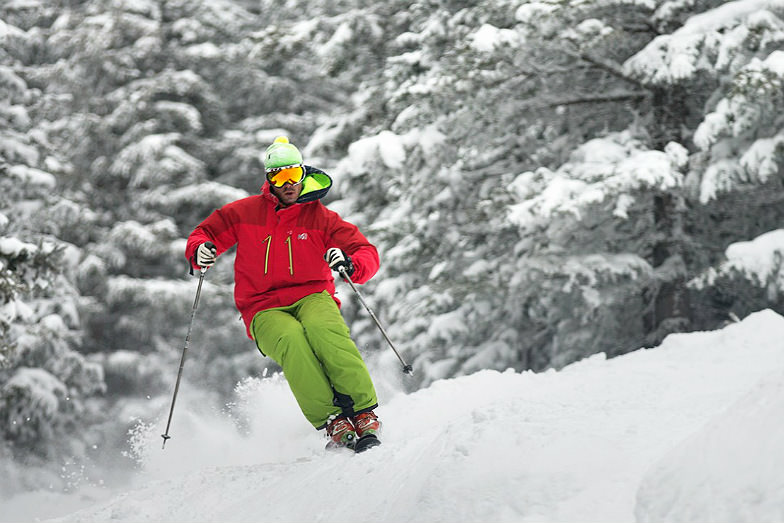 Skier at Ski Santa Fe (Ski Santa Fe)
Located in the Sangre de Cristo Mountains 16 miles from Santa Fe, the resort is owned by the Abruzzo family who carved out a kid-friendly ski area. The children's center has a nursery (from ages 3 months), snow play (ages 3 and 4) and ski and snow board lessons (ages 5 to 11). At the hub is the La Casa Lodge, housing a large cafeteria (with a diverse cuisine), ticket sales, rental services, a sport shop and restrooms. The mid-mountain Totemoff's Bar & Grill is a great place to relax with family inside or out on the sunny deck.
FYI: The resort doesn't have lodging, but you'll find plenty, such as El Dorado Hotel & Spa in Santa Fe.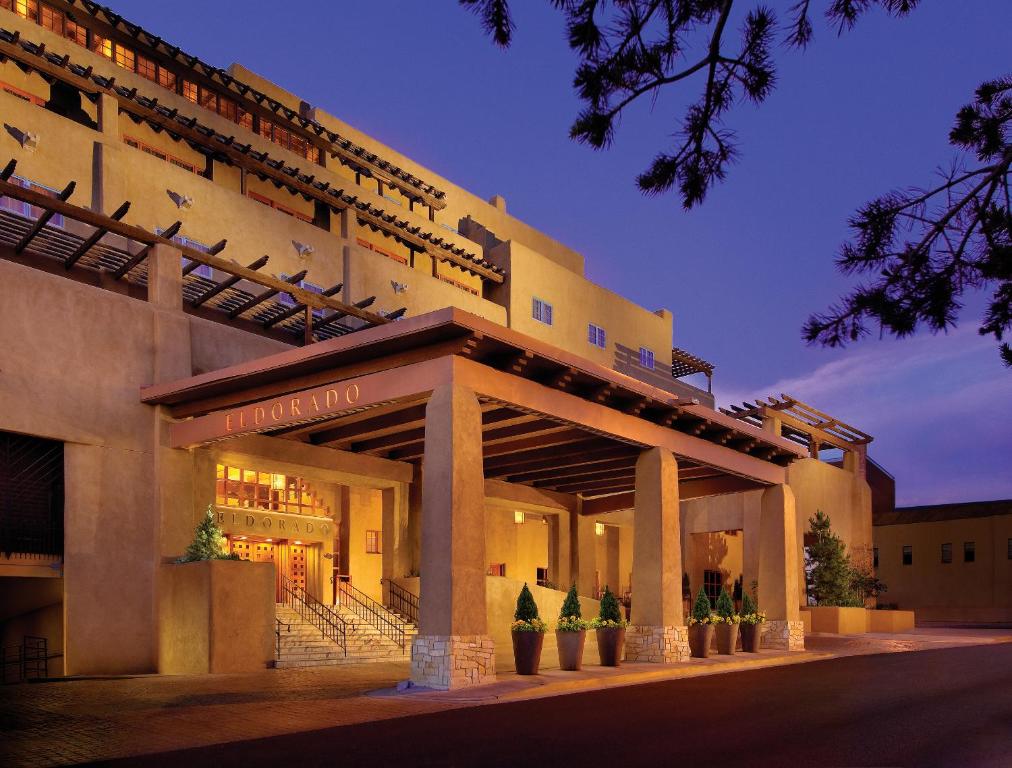 Eldorado Hotel and Spa (Photo: booking.com)
Eldorado Hotel and Sp is the closest accommodation to the Ski Santa Fe, being only 1.4 kilometers away. This New Mexico hotel, home to the full-service Nidah Spa, is a 6-minute stroll from the famed Santa Fe Plaza. There are on-site restaurants, a heated rooftop pool, and rooms decorated in the American Southwest.
The comfort and amenities: All guest rooms have a TV with cable channels, a coffee maker, and a private bathroom with free toiletries. This elegant hotel features an on-site restaurant, a fitness center, a bar, and free WiFi throughout the property.
Food enjoyment: Open for breakfast, lunch, and supper, The Agave Restaurant & Lounge serves inventive food made with regional ingredients. Live music is performed Thursday through Saturday at Eldorado Lounge.
Places nearby to enjoy: The Georgia O'Keeffe Museum and the New Mexico Museum of Art are both 5-minute walks from Eldorado Hotel. The Santa Fe Opera is 15 minutes drive away.
Sports and activities: a panoramic view at the gym or borrow a bike to explore the area. After a day of skiing or hiking, you can relax in the hot tub or take a swim in the seasonal outdoor pool.
Sandia Peak Ski and Tramway
The Abruzzo family also own this small ski area, about a 45-minute drive from Albuquerque. It's ideal for families looking for a laid-back experience. Ski in the morning, eat lunch and ride on the one of the world's longest aerial tramways for 2.7 miles to the peak of the Sandia Mountains at 10,000-feet elevation. Kids' snow sports lessons include Cubby Corner for ages 4 – 6 (they may even meet Cubby the Ski Bear) and various packages for ages 7 and older according to ability. Private lessons available for ages under 4 years.
Tip: Enjoy views and a family meal at Sandiago's Mexican Grill. Watch for bobcats and deer.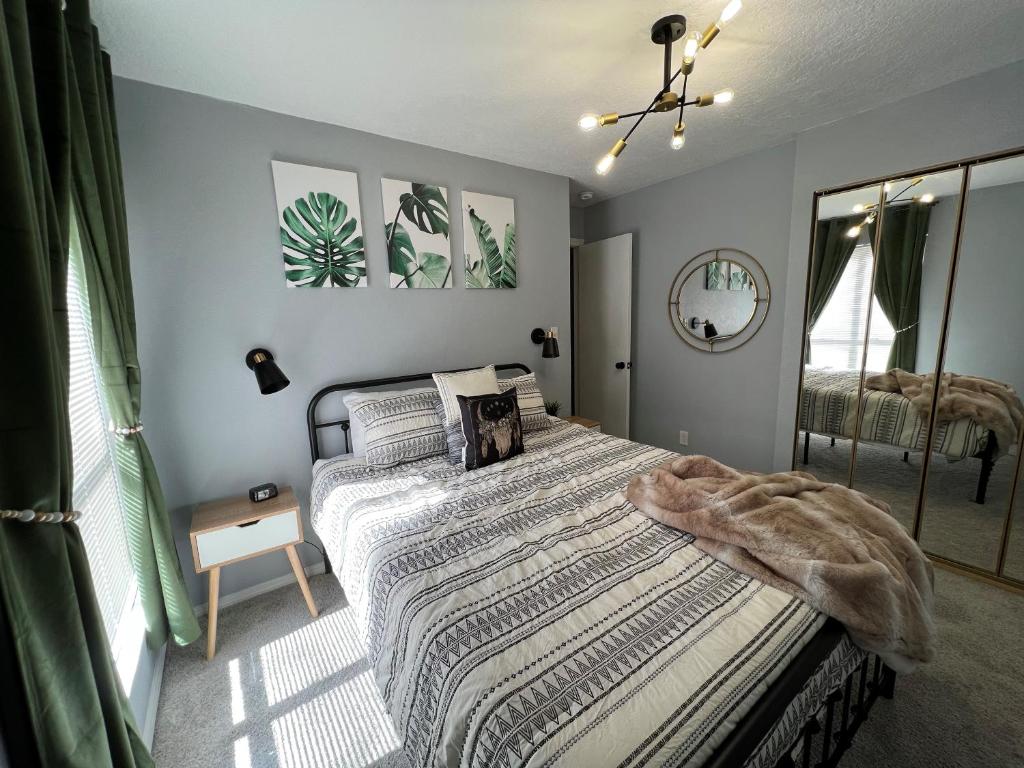 The Burque Boho House (Photo: booking.com)
Whether you are enjoying a solo trip at Sandia Peak Ski and Tramway, The Burque Boho House is the best place for you as it is only a few minutes drive away from all that Albuquerque has to offer. The accommodation will provide you with a TV, air conditioning, and a DVD player. There is also a full kitchen with a dishwasher and an oven.
The fun doesn't stop there: The Burque Boho House, located in Albuquerque near Cliff's Amusement Park and 14 km from Bernalillo Metropolitan Courthouse, offers guests a shared lounge, air conditioning, free private parking, a shared kitchen, and free WiFi.
Easy access to everything you might need: The Burque Boho House is located at 14 km from Albuquerque Convention Center and Kimo Theater. The nearest airport to the property is Albuquerque International Sunport Airport, 16 km away.
(MORE: Find New Mexico kid-friendly hotels recommended by parents like you.)
Angel Fire Resort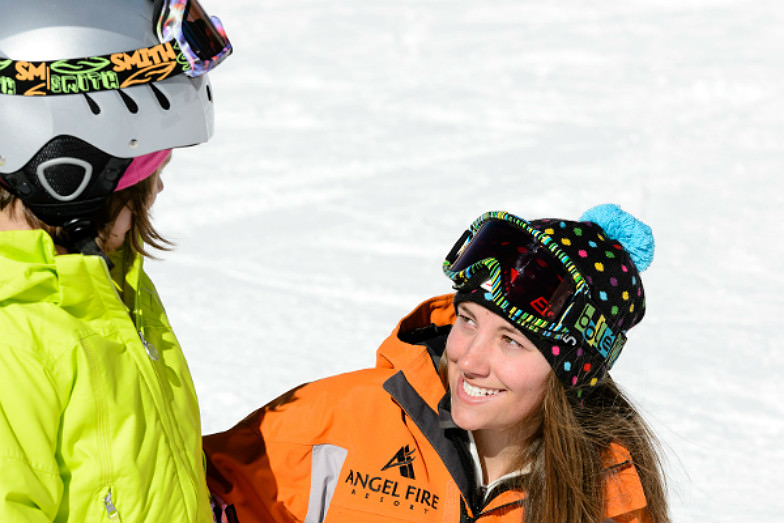 Ski school at Angel Fire Resort (Angel Fire Resort)
This family-friendly, full-service resort features an indoor pool, Nintendo games and pet-friendly rooms. Mountain fun includes skiing, snowboarding, sleighing and tubing. Kids ages 3 – 12 are placed in grouped in small classes for maximum learning. Since each child is equipped with Flaik GPS technology, you can track your child's travels at day's end. The High Five program reaches out to newbies. The five-day progressive program gets you off the bunny hill and up the mountain. The Children's Center provides supervised child care for ages 6 weeks to 11 years.
More fun: The property also offers nighttime skiing, tubing and a zip line.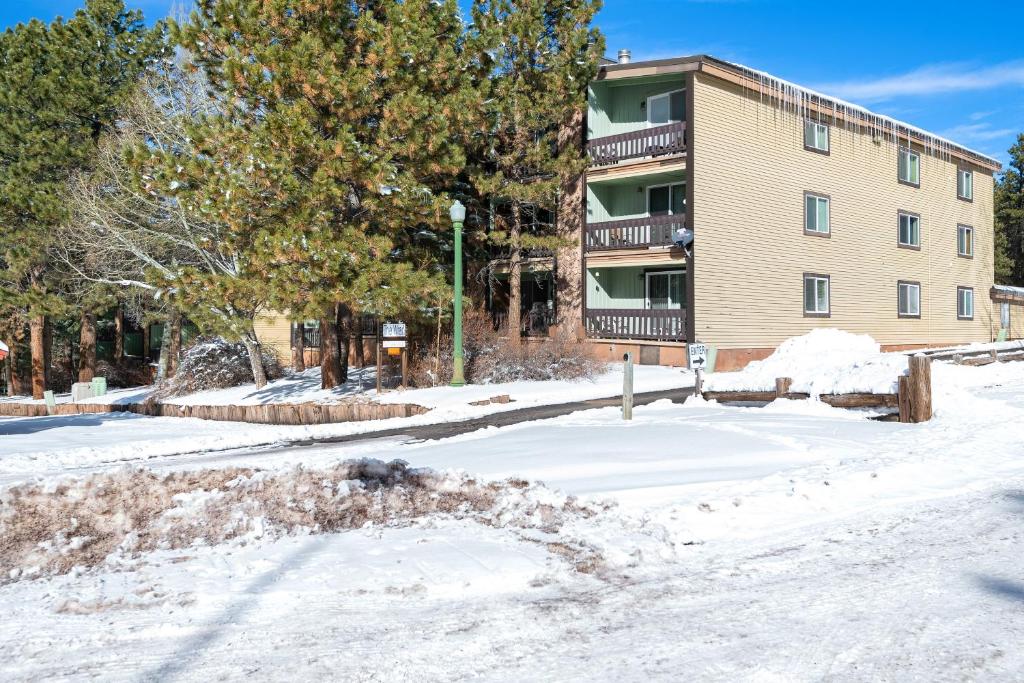 Wren 306 (Photo: booking.com)
If you wish to make your time at Angel Fire a really memorable experience, Wren 306 is a really great option. Wren 306 is 18 kilometers distant from Black Lake Resorts, while Valle Escondido is 21 kilometers away. Taos Regional Airport, which is 54 kilometers away from the hotel, is the closest airport. Whether you're looking for a romantic getaway or a family vacation, it's a wonderful place to stay.
Activities and Attractions: Skiing and cycling are only a couple of the activities available to guests at the lodging in and around Angel Fire. There are plenty of other things to do in the area, such as golfing and hiking. You can also go rafting, fishing, or horseback riding.
All the sightseeing is in close proximity: Agua Fria is 5.9 km away, the airport at Angel Fire is 5 km away, and Angel Fire is 1.5 km away from the property. There is free WiFi and a terrace with mountain views in every accommodation.
For families who cook their meals: Each hotel room has a seating area, a TV with cable channels, a kitchen, a dining area, and a private bathroom with a hairdryer, a shower, and complimentary amenities.
Overall, the Wren 306 is a great choice for your stay in Angel Fire Resort. It's close to all the attractions, has plenty of activities to keep you busy, and offers comfortable accommodation.